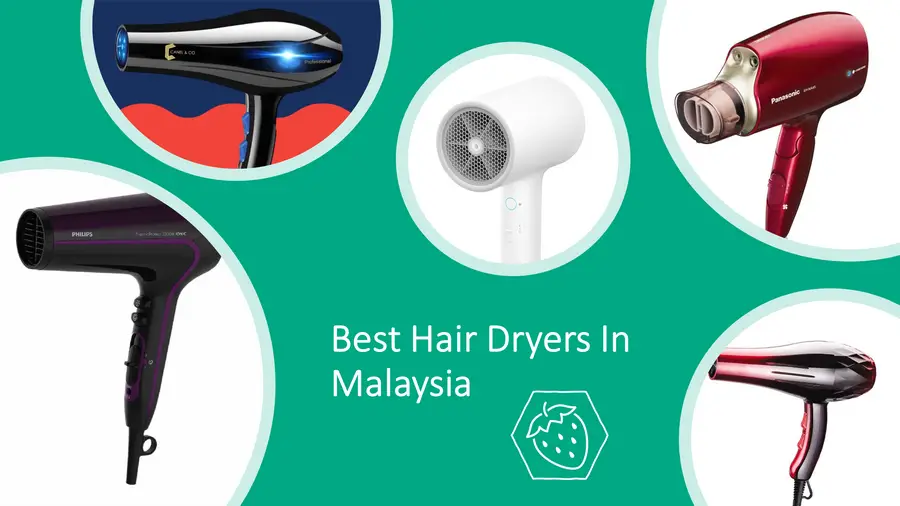 Hair dryers can prove to be very handy if you are looking to dry your hair quickly especially when there is a rush factor involved.
In Malaysia, there are different brands selling hair dryers on major websites such as Lazada and Shopee.
Therefore in this article, I'll share with you the best hair dryers in Malaysia that offer the best value of your money.
Top 5 Best Hair Dryers in Malaysia
Take Note:
Malaysia is Hot & Sunny! Don't go outside without Sunscreen!
Don't Miss Out These:
---
Types of Hair Dryers in Malaysia
A hair dryer is an electrical appliance that is used to dry the hair by employing certain mechanisms.
There are basically two main types of hair dryers that are sold out throughout the world including Malaysia namely Ionic and Ceramic. Both of these types serve the same purpose which is to dry the hair efficiently except that their working principles are different.
Ionic hair dryers use negatively charged ions to break down the positively charged ions occupied by the water molecules in the hair. So when this reaction occurs, hair gets dried hence, the desired result.
Also, negatively charged ions of the ionic hair dryer do not affect the hair cuticle as long as the drying speed is optimum and the recommended barrier is not crossed. Faster drying speed damages the hair at the cost of a faster drying result.
Ceramic Hair dryers, on the other hand, employ a ceramic coating in their working which helps with the even distribution of the heat. The result is that lesser heat is produced while producing faster drying speeds.
Ceramic dryers emit infrared heat that is used to dry the hair. Additionally, it also uses negatively charged ions in its working, but the ions are not produced as much as they are in Ionic hair dryers.
Pros of Ionic Hair Dryers: Ionic hair dryers are faster in their working and take lesser time to dry the hair
Cons of Ionic Hair Dryers: Faster dry rate may damage the hair
Pros of Ceramic Hair Dryers: Even distribution of heat and employ infrared heat in its working
Cons of Ceramic Hair Dryers: If you are looking for a high dry rate then, Ceramic dryers are not for you.
---
The 5 Best Hair Dryers In Malaysia Reviews
Below is given a list of hair dryers of both Ionic and Ceramic, based on the research, testing, and customer reviews, to help the readers better choose the hair dryers of their need.
1. Philips HP8233 2200W Ceramic Ionic Hair Dryer Review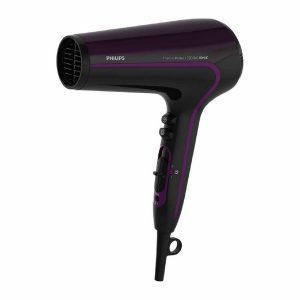 The first product in this list of Best hair dryers in Malaysia is Philips HP8233 hair dryer. Philips is a well-known brand when it comes to electronic products and covers a wide variety of different appliances.
Equipped with various features, Philips HP8233 claims to provide faster drying results to its users. It comes with different speed and temperature modes.
HP8233's ceramic element helps dry your hair effectively while its Ionic care releases negative ions to effectively deal with the water molecules. It also features a thermo protect tech that claims to protect your hair from overheating.
Some highlights of this product are:
A 2200 watt hair dryer for a powerful airflow
Turbo boost mode for extra fast drying
Comes with 6 modes of speed and temperature for different tastes
Thermo Protect temperature setting to not let the hair overheat
Pros: Philips is considered a reliable brand as far as beauty appliances are concerned. This hair dryer is also equipped with some great features to provide a good overall drying experience for your hair.
Cons: While the brand name and its features are the main attraction of this product, its price tag of around RM150 may still keep the customers at bay as the competition is getting better and better.
---
2. PRADO 2200W Ionic Travel Hair Dryer Review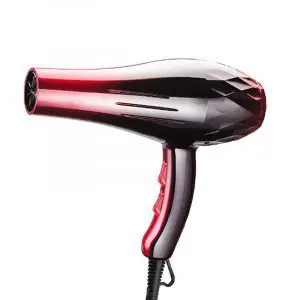 The next entry in this list of hair dryers is the PRADO Ionic hair dryer. The product page lists multiple features of this hair dryer to make your buying decision a bit easy. Under the hood, it employs a 2200W technology for faster drying. It also has dual setting buttons and 2 modes selection.
Moreover, it comes with a nozzle to blow straight the hairstyle. It is equally suitable for home, salon as well as for travels as it comes with a 3 pin European standard plug. Additionally, it comes with a honeycomb design so that your hair does not get entangled in it.
Some main points of this product are:
2 different modes for desirable drying results
A powerful 2200W hair dryer for faster drying outcome
Comes with a nozzle for straight hairstyle
Includes around 4 different combs for the customers
Pros:
With above 2100 5 star ratings on Lazada, this hair dryer sounds to be a fan favorite especially when it is readily equipped with basic hair drying functions at a modest price tag of RM15.99
Cons:
There are products in the market providing 5 or more speed and temperature variations which seems to be lacking here but the price tag justifies their exclusion just fine.
---
3. Xiaomi Mijia CMJ01LX 1800W Ionic Hair Dryer Review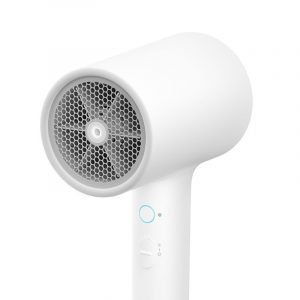 Xiaomi is a famous brand when it comes to electronics and Mijia is their sub-brand for the lifestyle product category. Hence, this product has a good brand name behind its back apart from the features that it has to offer. It basically employs the ionic hair treatment in its working.
In ionic hair treatment, negatively charged ions produced from the hair dryer are used to reduce the positively charged ions of the hair moisture and thus, produce a drying effect.
Another tech that this product feature is NTC intelligent temperature control which largely reduces the damage to hair caused by overheating.
Some highlights of this product are:
Features a magnetic anti-scalding 360-degree tuyere which is freely rotatable and results in a faster dry rate
Comes with a 2000rpm motor and airfoil blades to better control the wind noise
ABS materials are used in its production
Pros:
A solid-looking Xiaomi hair dryer that employs intelligent temperature control for a better drying experience
Cons:
This hair dryer costs around RM126.95 and delivers the above-listed features but for most people, the price might be a deal-breaker.
---
4. Panasonic EH-NA45 1600W Ionic Hair Dryer Review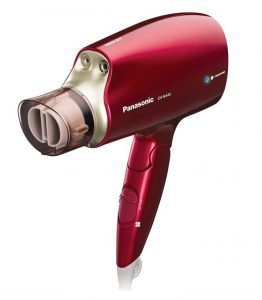 Panasonic is a good name among the competitors in the lifestyle electronic product category and that's the reason we would like to conclude this list through this product.
Panasonic EH-NA45 features different perks to justify its brand name. It comes with nanotechnology that delivers ultra-fine mist and maintains moisture content in the hair for a smooth feel. It also features a 1600W mechanism for optimum drying experience.
Moreover, it employs a double ion technique to provide a moist booster to hair to keep them healthy. It also comes with a quick-dry nozzle that dries hair from its roots for better health of the scalp.
Some notable points of this product are:
Comes with 2 speed setting for variable drying experience
Also has 3 heat setting for faster drying
Nano and Platinum technology for better moisture handling
Pros:
A great-looking hair dryer that promises to deliver a good drying result by employing a number of technologies such as nano-tech and variable temperature and speed settings.
Cons:
Panasonic EH-NA45 has a price tag of RM335.40 and that's almost thrice as much as the Xiaomi Mijia hair dryer and even more than the other products listed in this article. Hence, it is entirely up to the customers if they respect this much price for the features listed above apart from the brand name that it carries.
---
5. CANEL&CO Professional Blue Ray Ionic Hair Dryer Review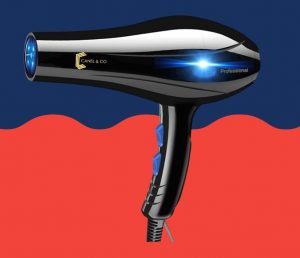 Another product on this list is CANEL&CO Ionic hair dryer with 850W power. Its key benefit listed on its web page is the advanced ionic technology used in this product that affirms to provide a salon finish while staying at home.
It also promises to deliver twice as fast-drying experience while reducing the frizz at the same time.
Some highlights of this product are:
The main reason to include this Ionic hair dryer in this list is that it has received more than 11k 5-star reviews on Shopee which is quite a remarkable milestone.
Its price tag is only RM15.90 which might be perfect to not knock you out of your budget
It also features a Malaysian 3 pin plug switch for a worry-free experience
Pros:
A good choice in the world of hair dryers especially when you are tight on budget and want something that serves the purpose of hair drying at home
Cons:
There is no listing of different temperature modes or speed variations on the product page so the usage of CANEL&CO Hairdryer may be restricted.
---
How to Choose the Best Hair Dryer In Malaysia [Buyer's Guide]
There are certain factors that influence the purchase decision for a hair dryer such as follows:
Hair Type
For thick hair, usually, Ionic hair dryers are preferred as they feature a more powerful mechanism compared to the Ceramic hair dryers.
On the other hand, Ceramic hair dryers are considered a good choice for thin hair as they tend to distribute heat in an even manner thus, reducing the damage that may be caused by ionic hair dryers.
Weight and Size
Both of these factors are important in choosing the best hair dryer that you can easily handle. A hair dryer that is both heavy and big or comprises any of these factors should be better left unpurchased as such hair dryer will only put a strain on your arm resulting in reduced productivity.
Power and Budget
A high wattage hair dryer delivers a faster drying experience but if the heat is not controlled by some mechanism then, its continuous usage will cause harm to the scalp instead of any added benefit. Similarly, a well-priced hair dryer with a good amount of features poses to be a desirable product.
---
Conclusion for Best Hair Dryers in Malaysia
So, this was the list of the best hair dryers in Malaysia that worth your money.
I hope that this article will narrow down the list of hair dryers for you to choose a product that matches your needs.
Thanks for the read!
Read Next: