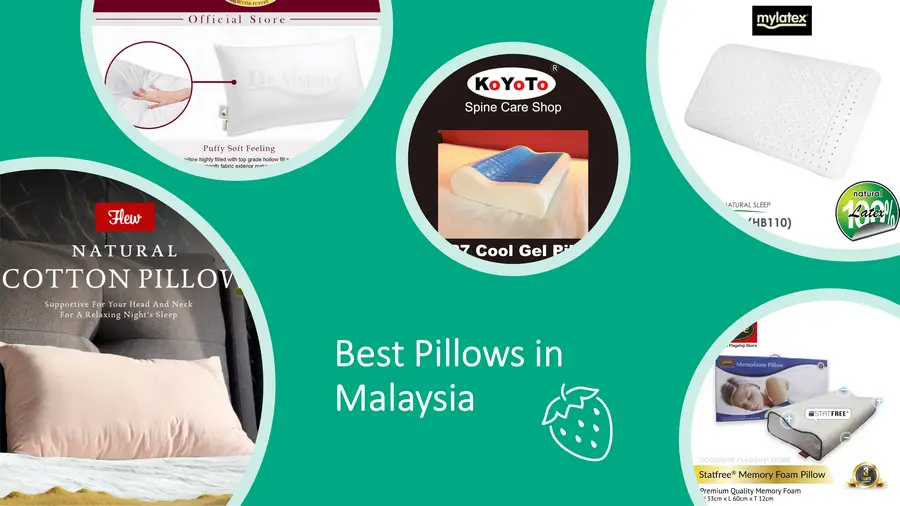 Pillow is more of an essential part of a good night's sleep.
A night without a comfortable pillow below the head seems like a car without good fuel as one might struggle with sleeping without it.
There are different types of pillows available depending upon the types of fillings inside the pillow covering.
So in this article, I'll talk about the 5 best pillows in Malaysia that will improve your sleep quality significantly.
Top 5 Best Pillows in Malaysia
Here are the top 5 best pillows from reputable brands that worth your money.
Why Do You Need the Right Pillow?
Pillows are not there just to fill the quota of fancy pieces of luxurious bed items, they are a lot more than that.
Pillows support different parts of the body such as the head, neck, shoulder, spine, etc. Pillows release the pressure from several points of the body resulting in a comfortable sleeping experience.
They are used for reducing different types of pain such as neck pain, back pain, and some other forms of joint pain.
During the day, our body has to go through different physical and nervous challenges.
A good night's sleep can release the pressure of these challenges but that depends drastically on certain factors such as the choice of pillows.
Pillows help the spine to rest better hence, helping with different problems associated with it.
Moreover, pillows are also important for a good posture as the posture itself depends upon the spinal position and condition.
Hence, choosing the right type of pillow is crucial to obtain these benefits.
Types of Pillows in Malaysia
There are different types of pillows available in Malaysia depending upon the type of filling.
Latex Pillow
Latex is a rubber-like material found both in natural and synthetic forms.
Latex pillows tend to take the shape of the body part such as the head and its contours, resulting in a good sleeping experience.
Advantages:
Latex is considered durable, can last up to years
Hollow spots are hardly formed
Generally good reviews on the internet
Disadvantages:
It may flatten over time
May cause heat buildup
It May have a chemical or rubber-like smell at the beginning
Synthetic (Polyester) Pillow
Polyester is a man-made material used for several purposes including pillows as well.
Polyester pillows are widely available and tend to have lower prices compared with the competition.
Advantages:
Usually machine washable and hence can be kept clean
Mostly available in different forms and shapes
Cheaper
Easily available in different stores
Disadvantages:
Tends to have a shorter life span
Develops lumpy shapes overtime
It May sound noisy to some people
May cause allergies to some individuals
Memory Foam Pillow
Memory foam pillows, as the name suggests, contain memory foam as the main filling.
The property of this material is that it tends to take the shape of the head and neck, and retains the shape until the weight is removed back.
Advantages:
Takes the shape of the body part for a comfortable experience
Can last up to 3 or 4 years
Generally good reviews from the users
Disadvantages:
Usually on the expensive side
May have odor during initial use
Maybe a bit firm for some users
Cotton Pillow
Cotton is an important material used in the fabric industry.
Cotton pillows date back to the 1950s as cotton was present way before the other materials of its league.
Moreover, cotton also gives these pillows a natural feel as cotton is a natural material unlike polyester or other synthetic materials.
Advantages:
Contains natural cotton, mostly free from artificial materials, giving a natural feel
Stays cool to the skin unlike polyester
Disadvantages:
Over time, cotton tends to flatten and hence, can cause irritation
Can develop lumpy shapes that can also cause annoyance
Best Pillow Brands In Malaysia
Here are the reputable brands that produce some of the best pillows in the market.
mylatex
Goodnite
Flew
KOYOTO
Dr.Alstone
The 5 Best Pillows in Malaysia for Neck Care, Back Pain, and Quality Sleep [Review]
Now you know about the different types of available pillows in Malaysia, it is time to go through the 5 best pillows that are high-quality, safe, and with positive ratings from users.
1. Mylatex HB110 100% Natural Latex Pillow Review
The first product in this list of best pillows in Malaysia is a Latex pillow brought up by the Mylatex brand.
It is said to be made up of 100% pure latex that is naturally extracted from the trees in Malaysia.
It also claims to have a natural ventilation system that circulates the air and releases body heat to provide comfort.
Moreover, mylatex claims that this product is biodegradable which means that it will not cause harm to the environment.
Mylatex pillow products are also certified from Malaysia as well as Germany.
Some highlights of this product are:
Made in Malaysia product to give you a word of trust
100% natural latex with premium quality
It is safe and clean plus breathable and healthy
It is also Dust-Mite resistant
Claims to provide 1 year of local manufacturer warranty for the peace of mind
Pros:
Natural latex, hence, free of synthetic materials
Made in Malaysia which might be a dealmaker for Malaysian people
Cons:
As discussed before, latex may have some smell in the initial use that might cause irritation to some users
---
2. Flew Natural Cotton Pillow Review
The second pillow in this list is this natural cotton pillow offered by a brand named Flew.
This natural cotton pillow supports your head and neck and provides you with a better night's sleep.
It also comes in two color options namely Khaki and Milk White. As it is made up of cotton, it also has a traditional organic smell which for many users will be another attractive point.
Some highlights of this cotton pillow are as follows:
Comes in two color options
Has natural smelling cotton for a natural feel
Also claims to block dust-mites and other allergens to avoid allergic reactions
Provides good support to the head and neck for a good night's sleep
Pros:
Contains Cotton which is a naturally derived product, giving natural vibes to the users
Very cheap, price from RM10+
Cons:
As it is made up of cotton, it might flatten up over time or may end up resulting in hard cotton flakes
---
3. Goodnite Statfree Premium Memory Foam Pillow Review
This is one of the best memory foam pillows offered by Goodnite.
It comes with a fabric named Statfree which is patented by Goodnite and claims to help with a good sleeping experience.
This product also asserts to be long-lasting, soft, comfortable, and breathable.
It is also free from allergens and is an anti-dust mite.
Whether you want to sleep on your side or your back, this memory foam pillow is a good option for you to have a better sleep.
Some highlights of this memory foam pillow are:
Claims to keep a consistent shape over time
It's breathable and long-lasting
Good for a relaxing posture
Contains a high-density memory foam filling inside
Comes with a massive 3 years of local manufacturer warranty
Pros:
As it is a memory foam pillow, hence, adjusts to the body contours
Free of allergens and Anti-dust mite
Usually long-lasting
Cons:
On the expensive side, around RM130
---
4. Dr.Alstone Hollow Fill Soft Polyester Pillow Review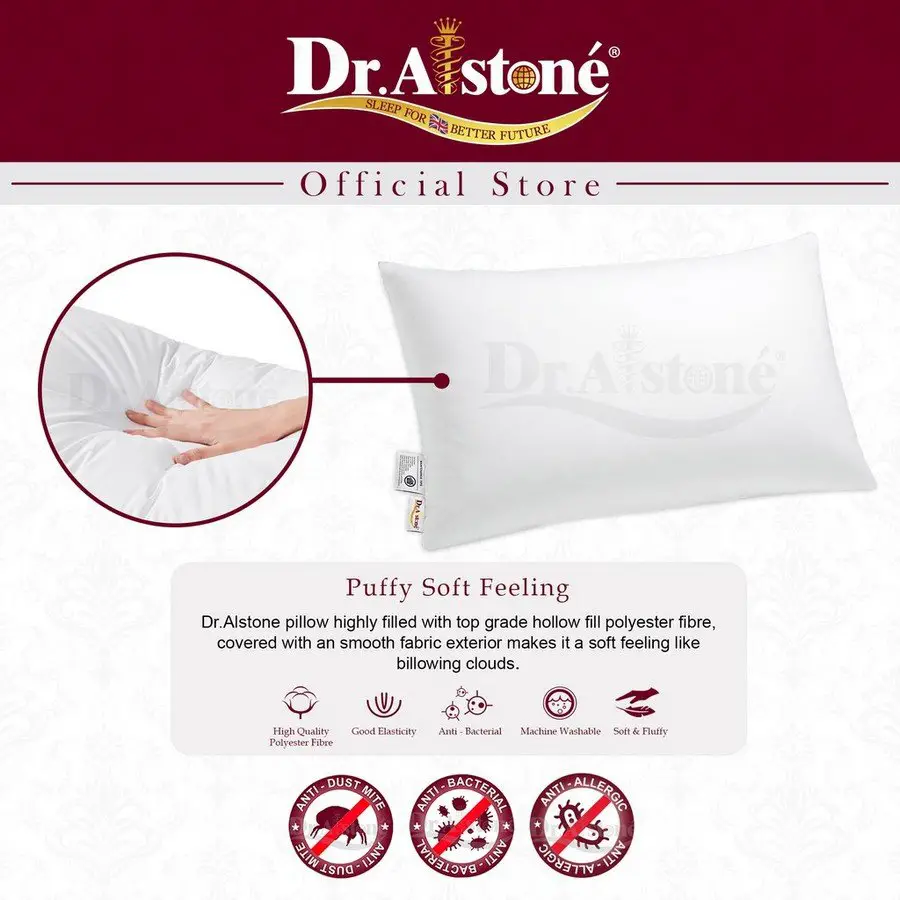 Polyester pillows are a good addition to the pillow market as they provide competitive prices and a good sleeping experience.
This pillow offered by a brand named Dr.Alstone also comes with a said top-grade hollow-fill polyester fiber inside.
It is both soft and fluffy and gives a good sense of comfort to its users.
Further highlights of this product are given as follows:
It is anti-dust mite, anti-bacterial, anti-hypoallergenic
Comes with a breathable fabric and deploys a UK technology
It also comes with heat insulation technology for a cool night
It has breathable fabric and is also washable
Pros:
A cheap pillow as polyester is a cheap but reliable fiber
Provides a good and comfortable sleeping experience
Cons:
No warranty
May worn out in a shorter time period as the lifetime of Polyester product is not too long
---
5. KOYOTO K-127 Cooling Gel Large Size Memory Foam Pillow Review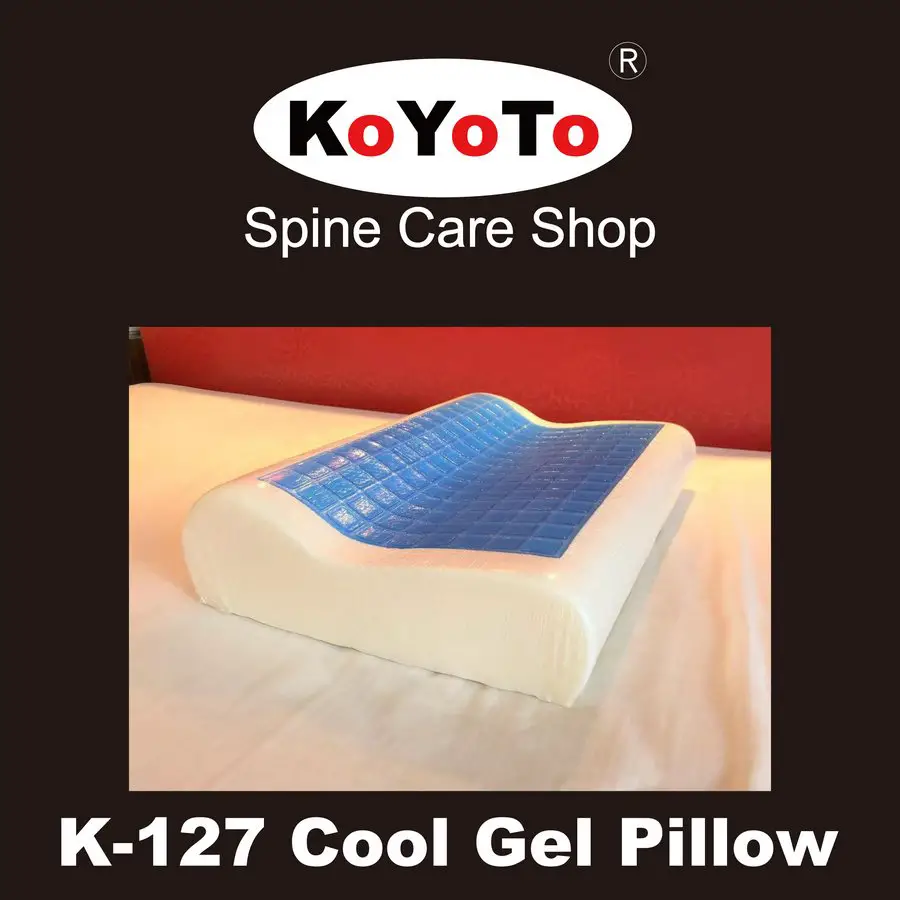 The last product in this list of best pillows in Malaysia is a Memory Foam Pillow offered by KOYOTO.
What this product claim is that it deploys a technology of cooling gel to provide a cooling effect to the user.
It prevents the heat buildup so that you can stay calm in your sleep. Its outer cover is machine washable and is zip removable.
Moreover, as it is a memory foam pillow, it also employs the same slow rebound effect as the other pillows of the same league do.
Further highlights are given as:
Relieves neck pain and provides a cool sleeping experience
Fits the contours of the head and neck to provide a good comfortable experience
The memory foam is also anti-bacterial and dust mite resistant
Pros:
Has a layer of cooling gel to provide a cooling effect
Memory foam is usually considered durable and can last for a good number of years
Cons:
A bit more expensive than the rest, priced at around RM145
---
FAQs for Pillows in Malaysia
1. Which pillow brand is the best in Malaysia?
Some of the best pillow brands in Malaysia are mylatex, Goodnite, Flew, KOYOTO, and Dr.Alstone.
2. Why do you need a good pillow?
A good pillow can support your neck, spine, and joints for maximum comfort during sleep time and prevent you from getting neck pain, back pain, and joint pain.
3. What is the price of a pillow in Malaysia?
The price of pillows in Malaysia can vary from RM10 to RM200, depending on the fills, quality, and brand.
Conclusion
So this was the list of the 5 best pillows in Malaysia that I've compiled based on personal testing, research, comparison, and user reviews.
I hope it will help you in making the best decision in buying the best pillow for your good night's sleep.
Read Next: