A gaming chair is an especially designed chair to better support the gamers for their gaming sessions. These days, many Twitch streamers and Youtube stars can be seen sitting on sporty-looking gaming chairs in their videos.
The first gaming chair was introduced back in 2006 and since then, more and more gaming chairs are being sold. What makes gaming chairs special from conventional chairs or office chairs is that they contain adjustable headrests and armrests that are added for a more comfortable experience.
This article is specially written to help you in choosing the best gaming chairs in Malaysia.
Top 5 Best Gaming Chairs In Malaysia
---
Best Gaming Chair Brands In Malaysia
Wondering which brand of gaming chair is the best in Malaysia?
Here are the recommended gaming chair brands:
TTRacing
GTGAMEZ
Kaleuill
Kemilng
---
The 5 Best Gaming Chairs in Malaysia Reviews
Below is given a curated list of gaming chairs derived from famous websites in the Malaysian Market.
1. GTGAMEZ Gaming Chair GMZ-GC-YG-721 Review
The first product in this list of Best Gaming Chairs in Malaysia is the GTGAMEZ gaming chair that they claim to be made for long workdays.
It has various features to its name; to start with, it contains different reclining modes to cope with different positions. It starts from 90° of recline and goes up to 155° that can be adjusted depending upon whether you are working or want to take a nap.
The height of this chair is also adjustable while its base is made up of strong material. Moreover, it contains Linkage Armrest to support your arms.
Further highlights of this product are given below:
Claims that it gets locked at any angle between 90° to 150° to recline in the best position
Comes up with adjustable pillows for both neck and lumbar support
Also comes with high-quality leather and a high-density cold cure foam fill
Strong in its build and contains chrome chair leg for a long-lasting experience
Pros:
A gaming chair that provides multiple features such as adjustable pillows, high-quality leather, lumbar support, and more to get you through a hard session of gaming at a competitive price.
Cons:
A fixed headrest could have been better.
---
2. TTRacing Swift X Gaming Chair Review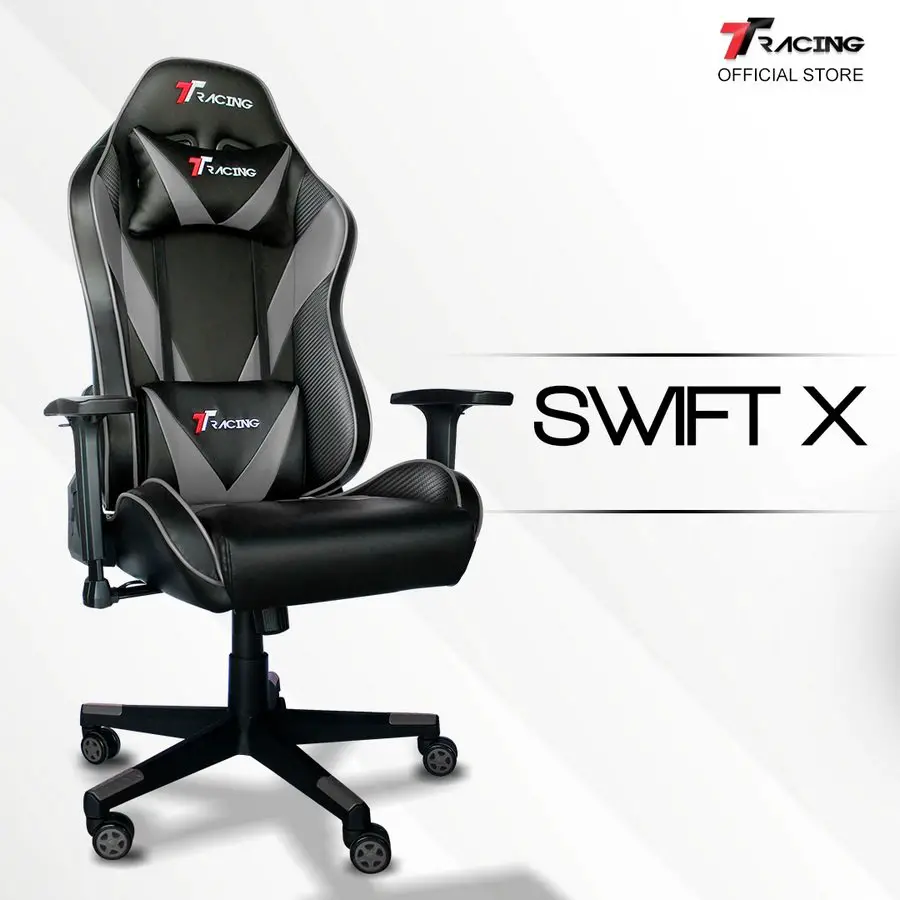 Another gaming chair on this list is TTRacing Swift X 2020 chair. It offers an enclosing curvature which ensures that the posture stays in the correct position. It also features wider lumbar support as well as a shoulder support.
Additionally, it has soft cold cure foam beneath the high-quality faux leather as per the company's claims. The Swift X 2020 also features a recline of up to 165° that can be handy for long gaming sessions or for intermittent naps.
TTRacing also mentions on the product page that this chair comes with steel frame structure having a lifetime warranty.
Some highlights of this product are:
Features a height-adjustable armrest covered in PU and cushion body material that is also wider in the area to adjust your arms in a better manner
Contains head and lumbar support. Head support is slightly curved out to support the neck in a good manner while lumbar support is made for a comfortable spine position
Also has a full tilt mechanism that can be used to allow the chair to rock and turn itself into a rocking chair
Pros:
Features quite a some of features and great build quality as claimed by TTRacing
Cons:
All this in a price tag of around RM600 may sound a bit heavy on the pocket.
---
3. TTRacing Duo V3 Gaming Chair Review
This is yet another chair offered by TTRacing but at a much lesser price, almost RM 200 discounted here compared to the Swift X mentioned above. As the pricing differs, features also supposedly take a hit.
In fact, TTRacing has introduced this gaming chair for the entry-level market while compromising evenly on the quality of the chair. It is said to be built with Carbon Fibre PU leather. Unlike Swift X, this one offers 155° of recline which must not be much of a big deal in comparison to the cheaper model.
Moreover, it also comes with a breathable Italian Elastic Cloth for better heat dissipation for a good sitting experience.
Other highlights are given as:
Features a so-called butterfly mechanism that contains a knob that can be rotated in both directions for adjustable rocking tensions
Comes with a Heavy Duty SGS (Safety Gas Spring) Certified Hydraulic for better adjusting of the chair
Contains a Nylon base that is both lighter and durable. The company claims that it can handle a weight 10 times the weight of the chair.
Pros:
A modest gaming chair that comes with good quality under the price tag of RM 399
Cons:
Apparently, there is no headrest and no adjustable armrest available here.
---
4. Kaleuill Professional E-Sports Gaming Chair Review
Kaleuill E-sports chair is also a gaming chair that comes with the basics of its category such as backrest, armrest, reclining seat at a base price tag of around RM200. The materials used in its making include high-density foam and premium leather as well as Stainless Steel.
It also comes with adjustable height and with SGS (Safety Gas Spring) for a comfortable experience. The company also claims that this gaming chair is specially built for E-sport gamers and game streamers.
Some highlights of this product include:
A 90° – 135° reclination angle for a comfortable sitting experience
Comes with height adjustability and with armrest/backrest
Also comes with a lumbar massage pillow
Premium materials used in its production
Pros:
A feature-wise good looking gaming chair at a good price
Cons:
No listing of breathable fabric for the seating and armrests seem to be fixed
---
5. Kemilng Adjustable Gaming Chair Review
The final product in this list of best gaming chairs in Malaysia is a gaming chair carrying a brand name called Kemilng. Like other gaming chairs, this gaming chair also offers a reclining seat, steel frame, and comfortable seat.
Moreover, it also features wear-resistant leather, a pneumatic rod, and rugged chassis. Furthermore, it also comes with the basic parts of a gaming chair such as armrest, headrest, and lumbar support.
Some notable points are:
Comes with low-noise and wear-resistant pulley wheels
A streamlined appearance and a comfortable experience
Reinforced steel frame structure for a solid build
Pros:
With a price tag of RM193 and equipped with the standard features of a gaming chair, Kemilng chair seems to be a good deal.
Cons:
Low price tag means that some compromises will have to be made especially if you are looking for premium features.
---
What to Consider When Buying a Gaming Chair
As we have seen from the different products listed above, there are some things that make a gaming chair different from normal chairs.
Material
Material matters as it is the very basis of a gaming chair. If the material lacks strength, it will be very hard for the chair to bear the fatigue over time. Hence, a stainless steel chair or some other material of similar or better strength must ensure that the product is durable and will stay with you for a good time to come.
Apart from the structure, comfort is the 2nd thing for a gaming chair that is of utter value. A chair having an uncomfortable sitting experience will make you worried about the investment that you have made in your gaming chair. Hence, a high-quality leather cushioning or something of equal level should prove to be very good for longer gaming sessions.
Design
What makes a gaming chair unique in its looks is the design language of a chair. These chairs feel no less than a chair right out of a racing car and that has become the very criteria of an ideal gaming chair these days. An aerodynamic, streamlined, and symmetrical design are the exact properties that a good-looking gaming chair will possess.
Head, Arm, and Back Support
These are pretty much vital features of a gaming chair. A headrest is necessary to support your head for intense gameplay while an armrest is equally important when your arms feel tensed.
Moreover, Back support also known as Lumbar support is also necessary to better support the back and avoid those back pains.
Adjustability and Budget
Finally, last but not least are these 2 factors that play a big role while making a purchase decision for a gaming chair. If the gaming chair has a well-varied reclining angle, and also has adjustable armrests and height, then the chair very much fulfills the criteria of a gaming chair.
And then remains probably the most important thing which is the budget that you can afford in your pocket. It should be considered normal to sacrifice a feature or two for the sake of an economical gaming chair if you are tight on the budget.
---
Gaming Chair vs Normal Chair
As the names suggest, a gaming chair is supposed to look like a race car front seat with some features such as adjustable height, armrest, headrest, lumbar support, reclining seat, and more to better suit intense and long gaming sessions.
Conversely, a normal chair may borrow some of these features to look better than other normal chairs but its purpose is diversified which is to let people sit on it for office work or just for plain regular sitting sessions rather than an excitement-filled gaming sitting which can prove to be tiresome on a normal chair.
---
Conclusion
A decent gaming chair will definitely make a significant impact on your gaming experience, especially for long gaming sessions.
I hope that this article can help you in deciding the best gaming chair for yourself.
Read Next: