A good washing machine is a great addition to any home. It can help do your laundry without any hassle. Doing your laundry without the best washer machine is a time-consuming process. For that reason, it is a vital appliance in any home. However, you need to choose the right product.
When looking for washing machines, it's important to consider some vital factors. This article will provide you a brief overview of different types of washing machines in Malaysia and our top 5 picks to help you make a well-informed decision.
Top 5 Best Washing Machines In Malaysia
---
Type of Washing Machine
There are different types of washing available. Here are 3 common types of washer machines in Malaysia.
Top Load Agitator
Such type of a washing machine has been around us for almost sixty years. The top load agitator models are traditional ones. When you open the lid, there is a long agitator in the middle which provides the main washing power. It gets the clothes clean by swishing against them.
Front Load
If you do not want to buy a top load agitator model, then a front load washing machine is a great alternative. It depends on rubbing against each other, thus the cycle is gentle on clothes. Most importantly, such kind of machine does not use much water. This type of washer is ideal for large items.
Top Load Impeller
These models are the latest additions to washing machines. As the name suggests, it uses an impeller at the bottom rather than an agitator. Such a machine swooshes the clothes back and forth to thoroughly clean them.
These three types of washing machines are very popular out there. All you need is to choose the best washing machine in Malaysia depending on your needs.
---
Best Washing Machine Brands In Malaysia
Wondering which brand of washing machine is the best in Malaysia?
Here are them:
Midea
Sharp
Electrolux
LG
Beko
---
The 5 Best Washing Machines in Malaysia Review
Are you looking for a great washing machine to buy? Below, you will find our top 5 picks of the best washing machines.
1. Midea 7.5KG Top Load Fully Auto Washing Machine MFW-EC750 Review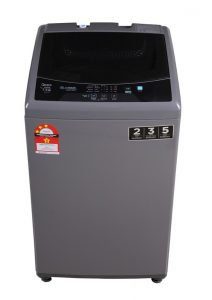 With the help of fuzzy logic, it provides optimum washing settings for almost every kind of laundry. For that reason, Midea Top Load Fully Auto Washing Machine MFW-EC750 is one of the smartest washers in Malaysia.
It helps wash your clothes without any need for customizing each setting. It is smart enough to detect how dirty your laundry is to adjust the washing settings (such as speed of spinning and water level) accordingly.
It is a type of a top-load machine so you can easily throw your clothes, which is a plus point if you have to do enough laundry daily. The machine is easy to use with a one-touch feature.
Pros
Top load for easy loading
Smart washing machine with auto settings
Faster drying thanks to the air-dry feature
Cons
---
2. Sharp 12KG Top Load Fully Auto Washing Machine ESX1278 Review
Do you want your dirty clothes to get rid of all grime, dirt and detergent traces? This is where the Sharp Top Load Auto Washing Machine comes in handy. It is designed to thoroughly clean your clothes with the help of 3-directional water flow technology.
It is a fully auto washing machine that dissolves detergent and fabric softener and then penetrates the dirty clothes to get them washed off quickly.
Most importantly, it is the best washing machine in Malaysia if you or your family have a sensitive skin type. Additionally, it can detect the load weight using fuzzy technology to customize the settings accordingly.
Pros
Fuzzy control technology
Large capacity is ideal for more wash load
3D water flow technology for thorough washing
Cons
Agitator takes much space inside
---
3. Electrolux 7.5KG Front Load Washing Machine EWF7524D3WB Review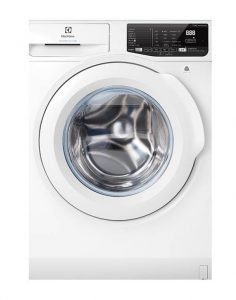 The Electrolux Front Load Washing Machine is an ideal choice if you wish to wash your clothes without any wrinkles. It can reduce wrinkles by 22% thanks to its Vapour Care Technology. Most importantly, this powerful machine can also kill 99% of dust mites and germ allergens. As a result, you can have not only cleaner but healthiest laundry ever.
It is a front loading machine that can be loaded up to a large amount of laundry. For that reason, it is one of the best machines for a large household.
Pros
Kills 99% percent of dust mites and allergens
Add clothes feature for convenient use
Wrinkle-free and clean laundry
Cons
Requires more maintenance
---
4. LG 8kg 6 Motion Inverter Direct Drive Washing Machine WD-MD8000WM Review
Many people believe that powerful machines are noisier. But that's not the case with this LG 6 Motion Inverter Washing Machine.
With its Inverter Direct Drive Technology, it produces less noise as compared to many other machines. It gives you a quiet washing experience even with more action. Therefore, it is the best washer machine when you need to do your laundry at night.
What makes it so special?
It offers 6 different models that you can select depending on your fabrics. For instance, the stepping, filtration and scrubbing mode are perfect for a powerful wash. The tumble, rolling and swing modes are ideal for a more gentle and delicate wash.
If any problem occurs in the machine, it is very easy to diagnose it. All you need is to download the app and call the LG hotline. After that, place the phone on your washing machine and you will know what needs to be done within minutes. It avoids you from the hassle of calling in a technician in your home.
Pros
The problem can be easily diagnosed
6 different washing modes
Powerful performance with less noise
Cons
---
5. Beko 8kg Washing Machine BTU8086W Review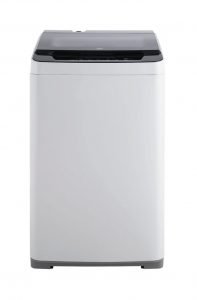 Beko Washing Machine BTU8086W is one of the most reliable and fastest machines ever. It can handle a whole load of laundry quickly as compared to many other machines.
As a result, you can save enough time in doing your laundry, especially if it's your routine work. This Beko washing machine is ideal if you need a large capacity.
It is a popular brand in Malaysia that provides you 12-year motor warranty. This is what makes it stand out amongst the competitors. People trust the quality of this washing machine. It ensures top speed and ultra-reliability.
Pros
8 kg capacity
12-year motor warranty
Fast and quick laundry times
Cons
The material doesn't feel sturdy
---
How To Choose The Best Washing Machine In Malaysia
Some factors can play a vital role in choosing the best washing machine. Let's take a look at them.
Capacity
Capacity is foremost the most important factor you should consider when buying a machine.
Consider how much do you need to wash each time?
If you have a large household, you will need to buy one with more capacity. Remember, a washing machine with more capacity will cost higher than the one with less capacity.
Type
Choose from different types of washing machines available in Malaysia. Determine whether you want to buy a top-load or front-load washing machine. Make sure to choose one that fits your needs and provides you utmost comfort.
Energy consumption
Buying a washing machine is an important investment. Make the right choice to save money in the long run. It is important to choose an energy-efficient washing machine. A front-load model is more water-efficient so it can reduce costs on bills.
Budget
Always consider your budget when looking for the best washer machine in Malaysia. If you are tight on budget, opt for a traditional type of washing machine without compromising on the quality.
---
Front Load vs Top Load Washing Machine
When looking for a washing machine, you will need to choose between a front load and a top-load machine. It can be overwhelming for you to make the right choice.
It is important to examine both models in order to get a better understanding. Let's consider some important features that can help make the right decision.
Ease of loading up your laundry
When it comes to loading up your laundry, a top load washing machine makes it much easier. It helps you to load the clothes in while standing up. This type of machine is ideal for those with back pain.
Moreover, the bigger opening of the machine makes it quicker to load your whole laundry.
Washing time
If you choose a top-loading model that has an agitator then it provides a faster washing cycle as compared to the front loading machine. An agitator can clean your clothes quicker with more movements and vibrations.
However, many front load machines come with a quick wash cycle option so you can choose one that cleans your laundry relatively quickly.
Price
Top load washing machines cost less than front-load models. Price is an important factor that you should consider when buying the best washing machine in Malaysia.
A front-load washing machine uses less water so it can save money in the long run. Always choose a model that comes from a reliable brand.
---
Conclusion
The best washer machine is a great addition to any home. It can help do your laundry with much ease and quickly.
Never overlook important factors such as capacity, price, energy consumption and type when looking for a washing machine in Malaysia. Choose from a reliable model like the ones listed above.
Read Next: