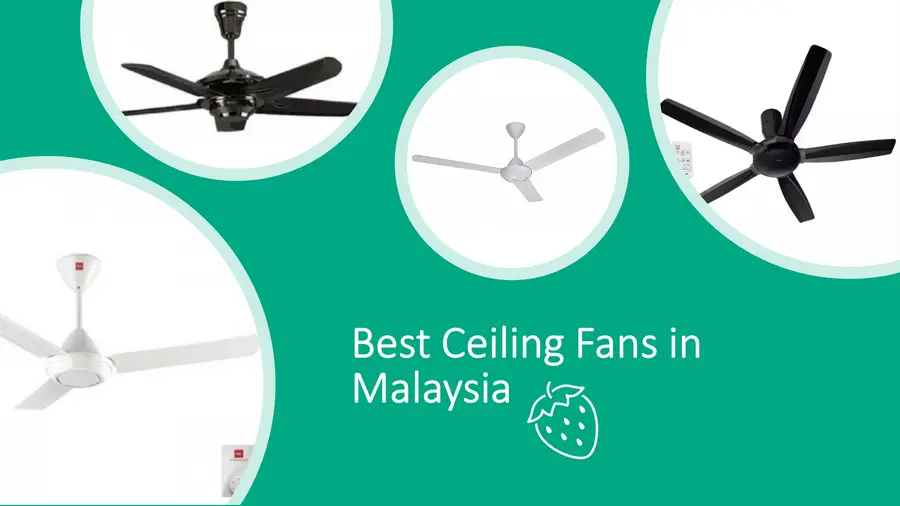 Looking for the best ceiling fan in Malaysia for your new home?
Or, you simply want to buy a new one to replace your old ceiling fans?
I believe more than 90% of families in Malaysia have at least one ceiling fan in their home because they are the most effective air-circulating device in the market, the volume a ceiling fan can circulate is a lot more than the stand fan or desk fan.
In this article, I have researched and compared over 30 models of ceiling fans in Malaysia in terms of their features, quality, price, and real user reviews to come with the list of top 5 best ceiling fans in Malaysia.
Top 5 Best Ceiling Fans in Malaysia
A ceiling fan will help you overcome the heat in Malaysia (all months), and the price of ceiling fans is minimal compared to air conditioners.
Here are the top 5 best ceiling fans in Malaysia:
Why Do You Need a Ceiling Fan?
Because Malaysia's weather is HOT!
I cannot imagine anyone can survive without a fan in Malaysia, and among the different type of fan, the ceiling fan is the most sought-after fan type.
Ceiling fans are known to be one of the most excellent options for cooling a room.
And let's talk about why you need a ceiling fan in your home.
In reality, the ceiling fans do not decrease the temperature of the house. The air they disperse, though, will make the environment feel three or four degrees lower.
Ceiling fans operate by bringing down the air, generating a wind that helps to cool the skin by evaporation. There are ceiling fan with the blades that can be inverted, or the direction of rotation can be adjusted, so that the ventilator forces the air upwards instead, but it is rarely available in Malaysia because we don't need it.
The combined effect of ceiling fans making the room feel cooler by circulating the air and distribute the heat in the room.
Ultimately, one of the most significant advantages of ceiling fans is that they can cool both indoors and outdoors. They are among the few ways to lower the temperature in an outdoor or semi-outdoor area, like a porch.
Best Ceiling Fan Brands in Malaysia
Here are the best ceiling fan brands in Malaysia that manufacture durable ceiling fans.
KDK
Alpha
Panasonic
Khind
The best ceiling fan brands gain a reputation in the Malaysia market with their long-lasting ceiling fans.
The 5 Best Ceiling Fans in Malaysia Reviews
Now, let's dive into the in-depth review of each of the best ceiling fans in Malaysia.
1. Panasonic Ceiling Fan F-M14DZ/5 Review – Best Ceiling Fan (Overall)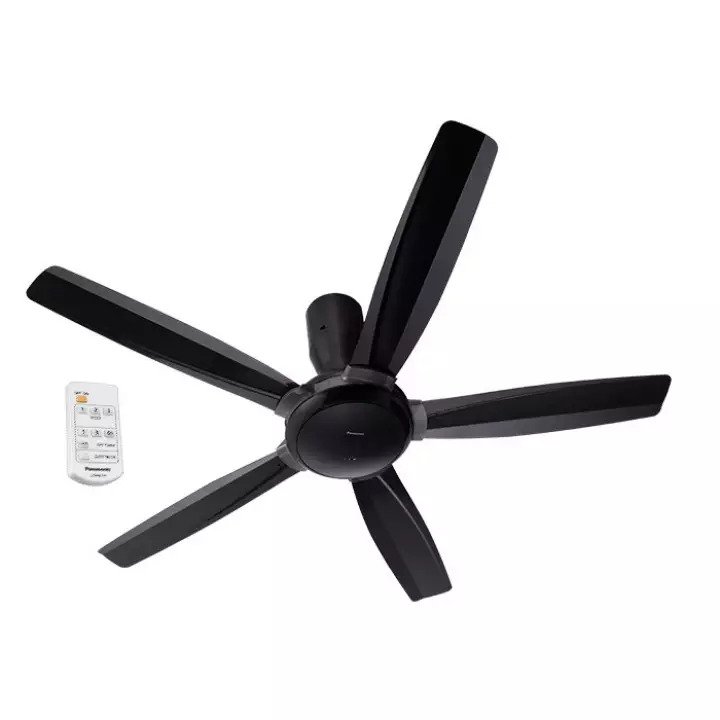 Features
56 inch blades
5 blades
1, 3, 6-hour off timer
Fan speed RPM from 95 to 183
3, 6-hour sleep timer
Panasonic Ceiling Fan F-M14DZ/5 is possibly Malaysia's most famous ceiling fan. With its 5-blade configuration, it can produce a lot of ventilation from each blade transition.
In short, it's the best ceiling fan in Malaysia for overall features.
Pros:
The quite efficient 5-blade airflow system
3-speed power, countdown, sleep mode
Available in the dark blue, brown or white
---
2. KDK Fan Ceiling K15V0 Review – Best 3-Blade Ceiling Fan for Large Room
Features:
60 inch blades
3 blades
Energy saving motor
Hexagon decorative cover
RPM from 81 to 264
Capacity of 8122 CPM
With its massive 60-inch 3-blade configuration, it can produce powerful winds even at low temperatures. A medium-sized room can cool down very comfortably.
For safety purposes, the fan blades are fitted with a protective edge so that they won't be sliced even if you accidentally touch them.
The three 60-inch large wings make it the best ceiling fan for large room and living room.
Pros:
60-inch strong fan blades
Low price for the highest quality
Edges protected by a safety plate
Large capacity of 8122 CPM
---
3. KDK Ceiling Fan K12V0 Reviews – Best Ceiling Fan for Small Room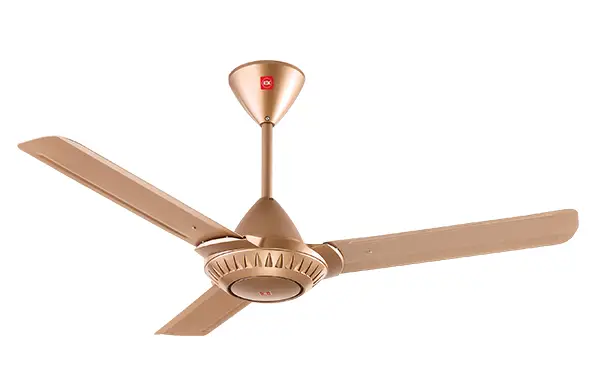 Features:
48 inch blades
Hexagon decorative cover
Energy efficiency condenser motor
RPM from 131 to 333
Capacity of 5721 CPM
It has 48-inch blades that can fit in a standard-sized room without any problems, making it the best ceiling fan choice for small rooms.
It's very cool, even on a hot day. The best part is that this impressive ceiling fan is accessible at a very affordable price.
Pros:
Quite cooling, especially in high settings
Right size for standard rooms
Rated 5 out of 5 for energy efficiency
---
4. Khind Ceiling Fan CF611 Review – Best Budget Ceiling Fan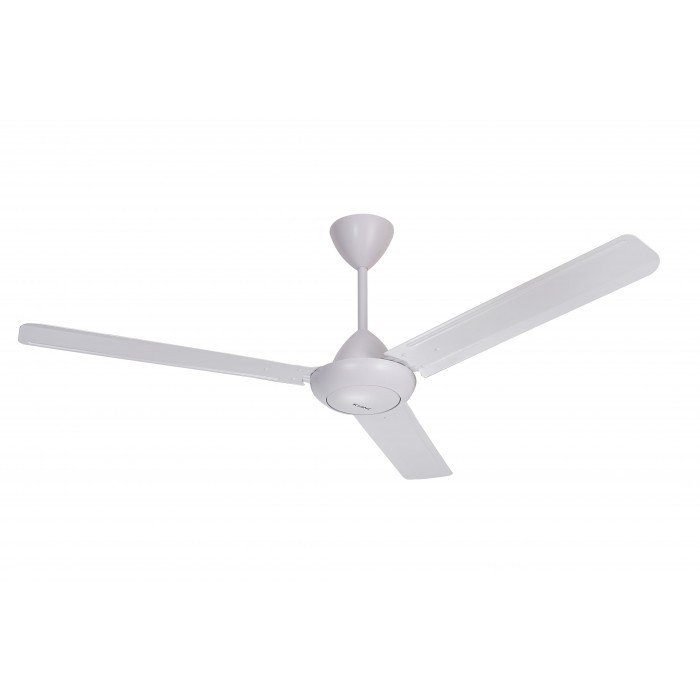 Features:
60 inch blades
3-blade design
Corrosion resistant fan blades
Durable
With a 5-speed control, you can use it appropriately to cool down the room quickly when you use the top speed.
While it's cheap, it's a pretty good quality ceiling fan. Its blades are made of corrosion-resistant material, and the electric motor is reliable too.
This is the best ceiling fan for budget that you can find in Malaysia, it only cost about RM100 on Lazada Malaysia.
Pros:
The surprisingly small price tag
Durable standard blades and motor
Power effective efficiency
---
5. Alpha Cosa 998 4 Speed Ceilings Review – Best 5-Blade Ceiling Fan for Medium Room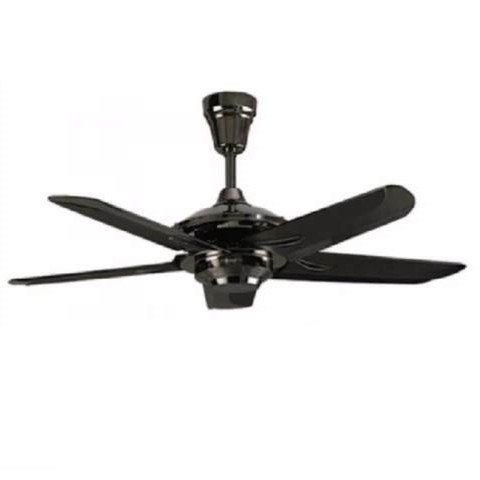 Features:
56 inch blades
5-blade design
4 speeds control
1, 3, and 5 hours timer
Come with remote control
This fan is easy to install and operates relatively silently in the first three-speed settings. The blades have anti-rust properties, which means that it will not ruin by the Malaysian atmosphere's humidity.
The five 56-inch blades and features make this the best ceiling fan in Malaysia for medium rooms.
Pros:
Lightweight
4-Setting the velocity
Timer (can be set up for up to 6 hours)
High-speed motor
---
What is a Ceiling Fan?
A ceiling fan is a device, typically hanging on some room's ceiling. Rotating blades are installed in the ceiling fan and are used to circulate the air in the room.
A ceiling fan rotates slower than a stand fan or desk fan, but the volume of air it can circulate is much higher than the other type of fan due to its large fan blade and ceiling position.
Ceiling fans rarely generate cold air unlike air conditioning devices, but they use considerably less electricity and cheaper.
How to Choose the Best Ceiling Fan for Your Home?
There are a few factors to consider before buying a ceiling fan for your home, and they are:
Features
Size of the room
ceiling fan design
Budget
Features:
First of all, decide your requirements and the sort of controls you'd like to have.
Ask yourself these few questions:
Do you need a remote control?
Do you need 3 speed or 4 speed or 5-speed options?
Do you need a timer?
After you know what features you need, let's move on to the next step.
Size of the Room
Next, determine the size of the room where you want the ceiling fan to be mounted.
Or more specifically, the areas that you need to cover with the ceiling fan.
Most of the time, the bigger the room required a ceiling fan with larger blades, try to aim for a 50% ratio for your ceiling fan and ceiling.
For example, if your ceiling is 18ft x 18ft, then you need a ceiling fan with 48-inch (4ft) blades has a diameter of 9 ft including the motor at the center.
Ceiling Fan Design
Even though ceiling fans are on the ceiling, but when your guests walking into your room, they will see them.
Thus, if you care about the aesthetic of your room, then buy ceiling fans that match your home interior design.
Budget
The budget is crucial to everyone, even though ceiling fans are considered an affordable home appliance.
If you are on a low budget, a ceiling fan with a regulator is a good option. If you have a small room, a short-bladed fan is ideal because it allows ample room to funnel the air down.
As far as materials are concerned, there is nothing to worry about as fans are built for Malaysia conditions and should last for many years of use.
How Does a Ceiling Fan Work?
Ceiling fans have developed into the most often used and powerful ventilation devices. The ceiling fans did not differ far from the initial design, but technology and design have improved, making them the popular home appliance until today.
The number of blades is merely functional, although the fan's movement and the path will allow the airflow more effective based on the slope of the blade
The electric motor of the ceiling fan is drive by the capacitor. When the electrical current reaches the motor, it contacts the wire coils that are stretched around the metal frame. And when current travels through the cable, it produces a magnetic field that tends to generate force in the clockwise direction. Through this process, the electrical energy is converted into mechanical energy, which allows the motor coils to turn. The blades connected to the engine often tend to shift with the turning of the coils.
Difference Between 3 Blades, 4 Blades, and 5 Blades Ceiling Fan
The critical distinction between the fan of 2, 3, 4, and 5 blades is based on laws that expand as the number of blades increases, the fan appears to be louder and fewer air circulates.
The additional blades raise the friction on the motor of the ceiling fan and slow it down.
This is one of the reasons why industrial fans (like wind turbines) typically only have two or three blades as they can go quicker and transfer more air volume, and with less vibration.
Most ceiling fans built for home use come fitted with three or five blades.
Summary
Here is the summary and comparison table of the top 5 best ceiling fans in malaysia.
| | | | |
| --- | --- | --- | --- |
| Model | Blades | Reason to Buy | Price |
| Panasonic F-M14DZ | 5 (56″) | Best Overall | Show |
| KDK K15V0 | 3 (60″) | Best for Large Room | Show |
| KDK K12V0 | 3 (46″) | Best for Small Room | Show |
| KHIND CF611 | 3 (60″) | Best for Budget | Show |
| Alpha Cosa 998 | 5 (56″) | Best for Medium Room | Show |
FAQ
1. What blade size should I choose?
It depends on your room size, usually, the larger the room, the larger blade size you need.
2. 3 blades vs 5 blades ceiling fan, which one is better?
For a higher volume of airflow, choose 3 blades ceiling fan; for a quieter environment, choose 5 blades ceiling fan.
3. Should I use ceiling fan or stand fan?
The ceiling fan is the preferred choice due to better ventilation and durability.
Bottom Line
The 5 best ceiling fans in Malaysia are chosen according to Malaysia's weather conditions, and I hope this review can help you a little bit in making the decision.
I've done the hard work for you, so all you have to do find out which type of ceiling fan suits your home more and then go for it.
Good Luck!
Read Next: