Wondering what are the best things to do in Kuching Sarawak? Worry not as we have prepared a list of the best places to visit in Sarawak and the fun activities you can do with your family and friends!!!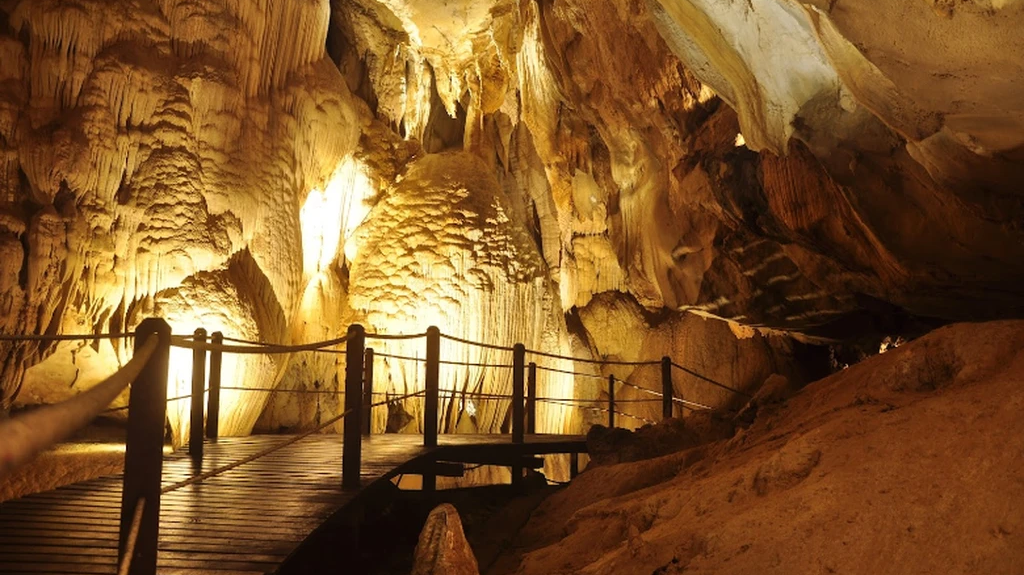 Sarawak, located in the Malaysian Borneo, is a vibrant state known for its diverse culture, breathtaking natural beauty, and rich indigenous heritage.
From the majestic rainforests and exotic wildlife to the fascinating longhouses and delicious traditional cuisine, Sarawak offers a unique and enchanting experience for travelers.
In this article, you will find the following:
Best places to visit in Sarawak
Top attractions in Sarawak
Fun indoor and outdoor activities in Sarawak
Let's dive right in!
9 Things to Do In Kuching Sarawak with Family & Friends
Without further ado, here are some of the best things you can do in Sarawak, including the unique places, top attractions, and fun activities.
1. Things to Do In Sarawak – Explore Kuching
Kuching is a charming city located in Sarawak, East Malaysia. The city's name has an interesting origin story. Legend has it that when James Brooke, the discoverer of the region, asked the locals about the name of the ground on which the city stands, there was a miscommunication.
The indigenous population, thinking he was pointing to a stray cat, responded with "Kuching," which means cat in the local language. The name stuck, and Kuching became synonymous with the city. Situated on the island of Borneo, Kuching shares its border with Indonesia.
As you explore Kuching, you'll discover the tranquil beauty it exudes. Nestled alongside the serene Sarawak River, the city has a calm and relaxed atmosphere that invites you to unwind. One popular activity is taking a leisurely tour along the river, allowing you to soak in the picturesque views and immerse yourself in the city's peaceful ambiance.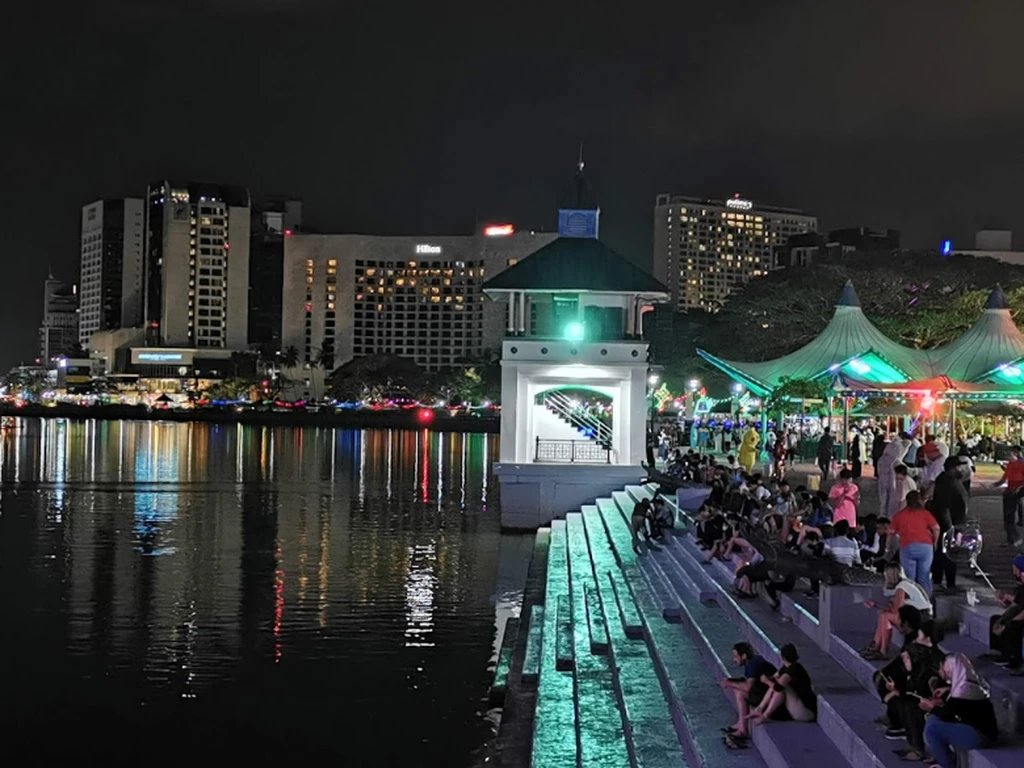 Kuching is also known for its colonial architecture, a remnant of its historical past. Fort Magherita stands as a prominent example, showcasing the city's colonial heritage.
Walking through the streets, you'll come across numerous cat statues, paying homage to the city's namesake and adding a whimsical touch to its character. These feline sculptures are a delight to spot and serve as a playful symbol of the city's identity.
In addition to its captivating history and charming aesthetics, Kuching offers a range of experiences to engage with. Explore the local markets to discover an array of vibrant produce, unique handicrafts, and delicious street food.
Immerse yourself in the rich cultural heritage of the indigenous communities through traditional performances and festivals. Take the opportunity to engage with the warm and friendly locals, who are always eager to share their stories and traditions.
Kuching is a city that seamlessly blends the old and the new, offering a delightful fusion of history, nature, and cultural experiences. Whether you're strolling along the riverfront, capturing photos of the distinctive cat statues, or delving into the local cuisine, Kuching promises a memorable and enchanting visit for every traveler.
Sarawak Cultural Village Half Day Tour from Kuching: Book Here
2. Things to Do In Kuching Sarawak – Explore Gunung Mulu National Park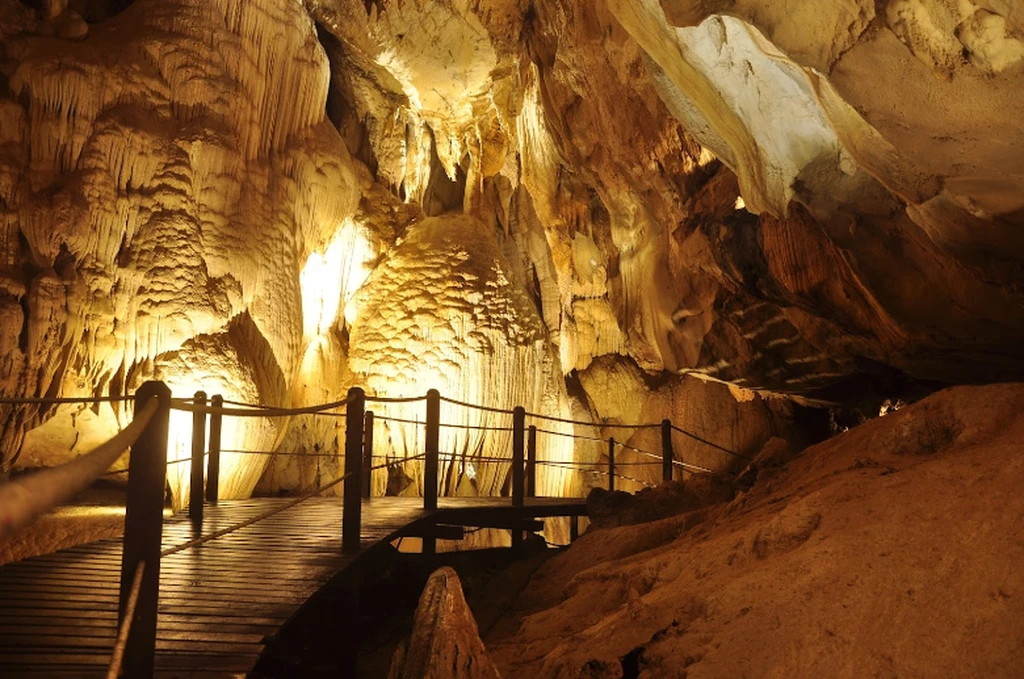 Gunung Mulu National Park is a captivating UNESCO World Heritage Site located near the town of Miri in Sarawak, East Malaysia. This remarkable park is renowned for its stunning caves, majestic karst formations, and abundant rainforest, offering an array of thrilling activities and experiences for adventure enthusiasts.
At the heart of the park stands Mount Mulu, the second-largest mountain in Sarawak, reaching an impressive height of 2,376 meters. Embark on a trek up Gunung Api, where you'll be rewarded with breathtaking views of jagged limestone peaks that stretch as far as the eye can see.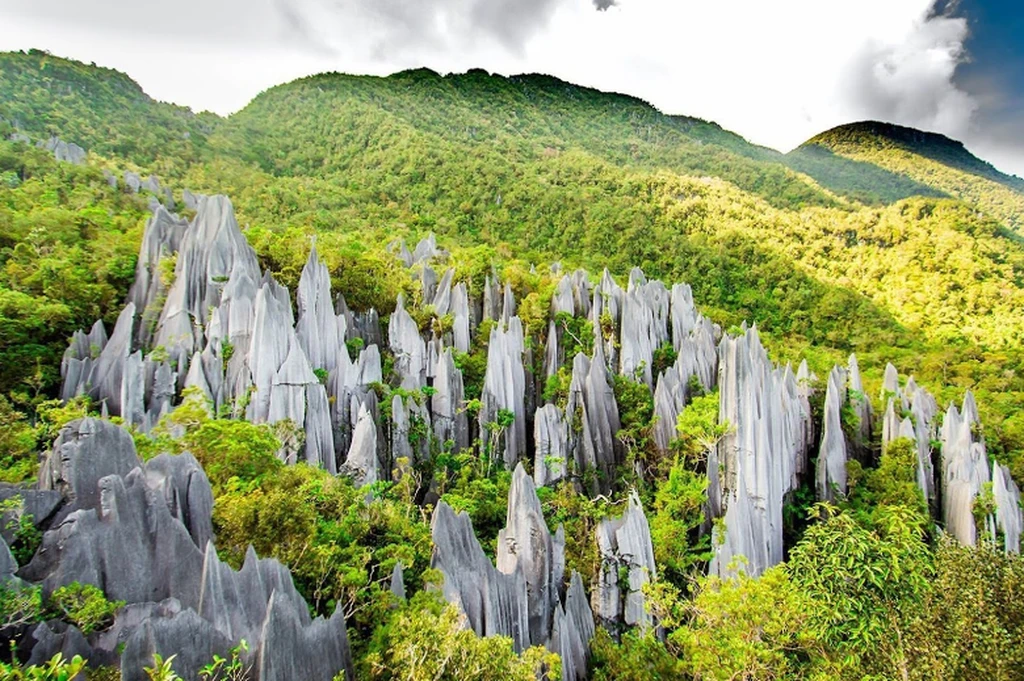 Immerse yourself in the lush rainforest, home to a diverse range of wildlife, thriving within the park's underground cave systems.
Two iconic attractions that draw visitors from around the world are the colossal Deer Cave and the awe-inspiring Pinnacles. Deer Cave, known for its sheer size, and the Pinnacles, a collection of razor-sharp limestone spikes atop Mount Api, leave visitors in awe of nature's grandeur.
To witness these wonders, you can embark on a three-day round-trip trek from the park offices, immersing yourself in the park's remarkable natural beauty.
Mulu National Park is an adventure enthusiast's paradise and one of the most impressive national parks in South Asia.
It boasts the world's largest cave chamber, Sarawak Chamber, as well as Gunung Mulu and Gunung Api peaks, the striking Pinnacles, and the renowned Mulu Canopy Skywalk, offering a thrilling tree-based skywalk experience.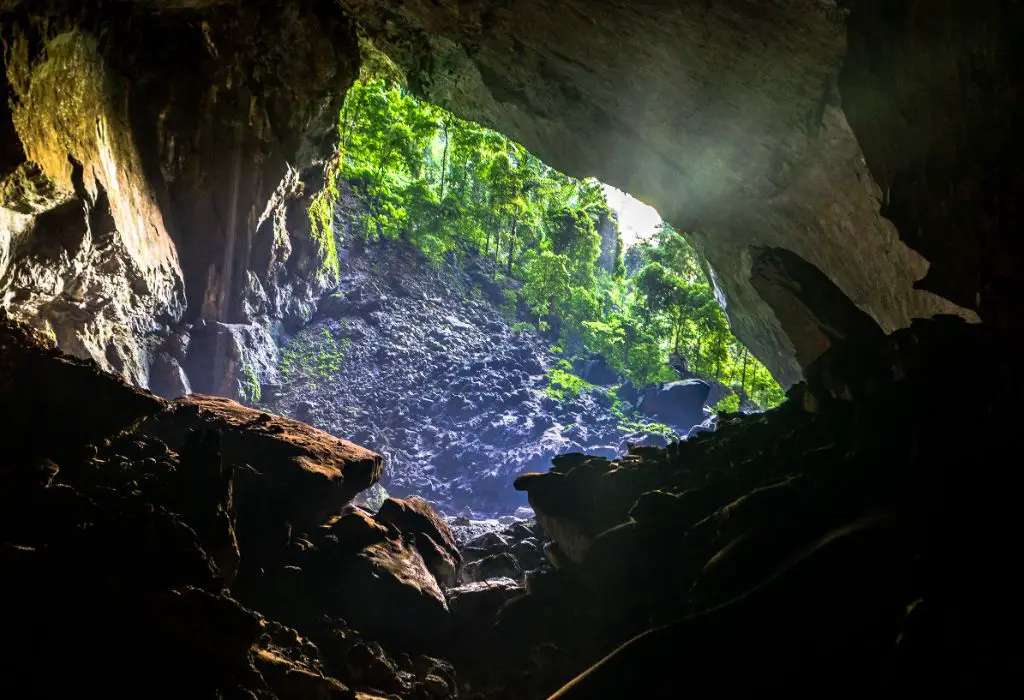 The park is also home to picturesque rivers, captivating gorges, and a fascinating array of flora and fauna, ensuring an unforgettable visit.
To make the most of your trip, plan your visit during the high season from May to September when the weather is warm and dry.
It's important to note that there is no road access to Mulu National Park. Instead, you can reach the park by embarking on a guided trek along The Headhunter Trail or booking a short flight from Miri, Kuching, or Kota Kinabalu.
Prepare to be enchanted by the natural wonders of Mulu National Park. With its breathtaking landscapes, vast cave systems, and unparalleled biodiversity, this destination promises a truly unforgettable adventure.
Remember to arrange guides for cave exploration and trekking trails at least three weeks in advance of your visit.
Note: For more details, visit the official website of the park.
3. Things to Do In Kuching Sarawak – Discover Bako National Park (Taman Negara Bako) and Proboscis Monkeys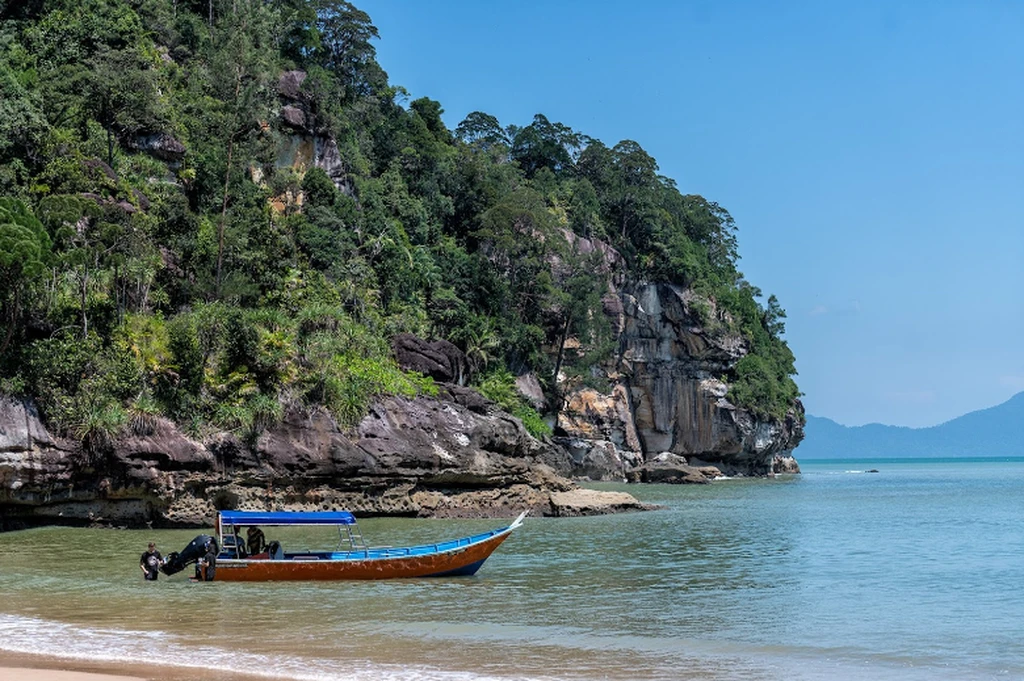 Experience the thrill of Sarawak's oldest national park, Bako National Park, where adventure awaits within its compact 10 square miles (27 square kilometers). This remarkable park boasts seven distinct ecosystems, including lush rainforests and mangroves, teeming with a vibrant array of wildlife.
From the iconic long-nosed proboscis monkeys to exquisite orchids, carnivorous pitcher plants, bearded pigs, and fascinating mudskippers, Bako National Park is a haven for nature enthusiasts.
Situated a mere 23 miles (37 kilometers) from Kuching, Bako National Park is a popular day trip destination from the city. However, for a more immersive experience, consider staying overnight to witness the breathtaking sunsets that grace the park.
Entrance tickets are affordably priced, but don't forget to arrange a boat ride from the village of Bako to access the park itself. The park boasts 17 color-coded trails, easily navigable without a guide, allowing you to explore independently.
However, many visitors opt to join a Bako National Park tour led by knowledgeable guides who possess a keen eye for spotting and identifying wildlife, as well as providing insightful explanations about the park's diverse ecosystems.
Delve into the wonders of Bako National Park as you traverse its well-maintained trails and encounter the fascinating flora and fauna that call this place home.
From the tranquil beauty of the rainforest to the captivating allure of mangroves, each step unveils a new facet of the park's rich biodiversity. Capture breathtaking moments, witness wildlife in their natural habitats, and immerse yourself in the raw splendor of nature.
Whether you choose a day trip or an overnight stay, Bako National Park promises an unforgettable experience for nature lovers and adventure seekers alike. Prepare for an incredible journey through Sarawak's oldest national park, which is among the best things to do in Malaysia.
Recommended Tours:
Bako National Park with Sea Stack Formation Day Tour: Book Here
2D1N Sarawak Bako National Park Tour with Night Safari Walk: Book Here
4. Things to Do In Kuching Sarawak – Explore Semenggoh Nature Reserve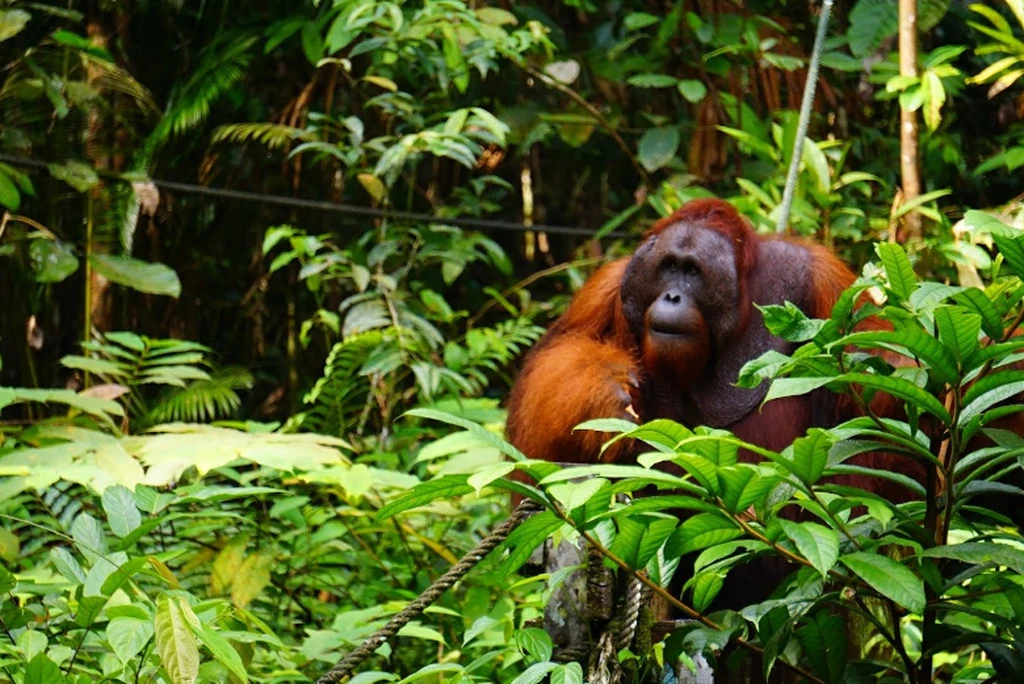 Experience the enchanting world of orangutans in their natural habitat within the lush jungles surrounding the Semenggoh Nature Reserve.
This remarkable reserve has become a sanctuary for these majestic creatures, thanks to a successful 30-year rehabilitation program that reintroduced hundreds of primates into the surrounding forest.
Witness the thriving population of young orangutans during their feeding times, offering a rare opportunity to observe them up close.
Unlike the confines of a zoo, Semenggoh Nature Reserve allows you to witness orangutans in their vast and well-maintained natural habitats.
Begin your adventure by parking at the entrance and embarking on a leisurely walk or opt for the convenience of driving up to the observation deck. Knowledgeable guides will accompany you, sharing insightful information about the orangutans and their habitats, enriching your experience.
It's important to note that there may be days when orangutans are not easily spotted, especially during fruit seasons when they have abundant food sources deeper in the jungle.
To reach the feeding site, you have the option to take a 1.5km walk from the entrance or opt for the buggy service, although the latter comes at an additional cost and is quite expensive.
Prepare to be captivated by the beauty and grace of these incredible creatures as you immerse yourself in the tranquility of Semenggoh Nature Reserve.
The opportunity to witness orangutans roaming freely in their natural surroundings is a testament to the conservation efforts and dedication of the reserve. Cherish this rare encounter and create lasting memories as you connect with one of Malaysia's most beloved species in their natural home.
Semenggoh Wildlife Centre Half Day Trip from Kuching: Book Here
Time: 8 AM to 10 AM, 2 PM to 4 PM daily
Location: KM 20, Jalan Puncak Borneo, 93250 Siburan, Sarawak
5. Things to Do In Kuching Sarawak – Attend the Rainforest World Music Festival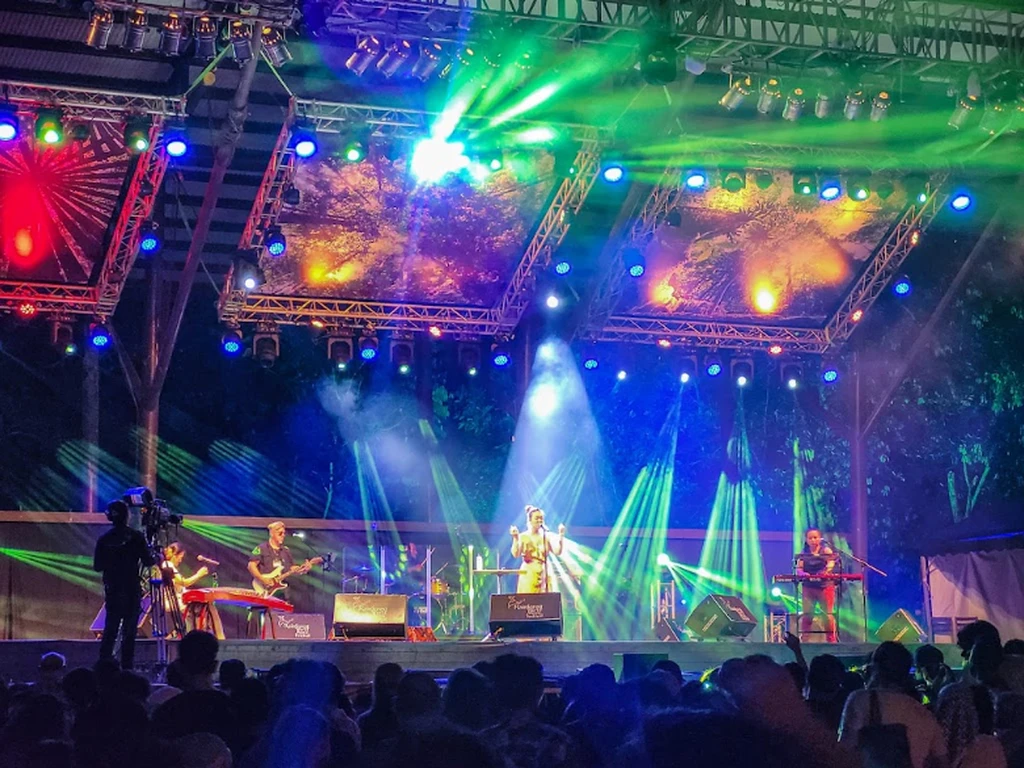 Immerse yourself in the vibrant and captivating world of music at the Sarawak Cultural Village, host to the annual Rainforest Music Festival since 1998.
Set against the breathtaking backdrop of Mount Santubong, this cultural haven provides the perfect setting for one of the most significant world music events. Prepare to be transported to a realm where music transcends boundaries.
As you wander through the Village's enchanting tribal homes, you'll be captivated by the harmonious blend of global performers who grace its stages.
While the festival draws musicians from around the world, it offers a unique opportunity to witness the mesmerizing talents of indigenous Bornean musicians. Their performances, steeped in cultural richness, evoke a sense of exoticism that enthralls both local Sarawakian youth and audiences from afar.
With the festival's popularity, securing accommodation in Damai and Kuching during this period can be challenging. To ensure a comfortable stay, it's advisable to book your accommodations well in advance. This allows you to fully embrace the magical experience of the Rainforest Music Festival without any worries.
Get ready to embark on a musical journey like no other, surrounded by the allure of Sarawak's rich heritage. The Sarawak Cultural Village and its annual Rainforest Music Festival promise an unforgettable celebration of diverse sounds, captivating performances, and the spirit of unity through music.
Whether you're a music enthusiast or simply seeking an immersive cultural experience, this festival is an absolute must-visit, leaving you with cherished memories and a deep appreciation for the power of music.
Facebook Page: Check Here
Location: Kampung Budaya Sarawak, 93010 Kuching, Sarawak
6. Things to Do In Kuching Sarawak – Discover Longhouses in Sarawak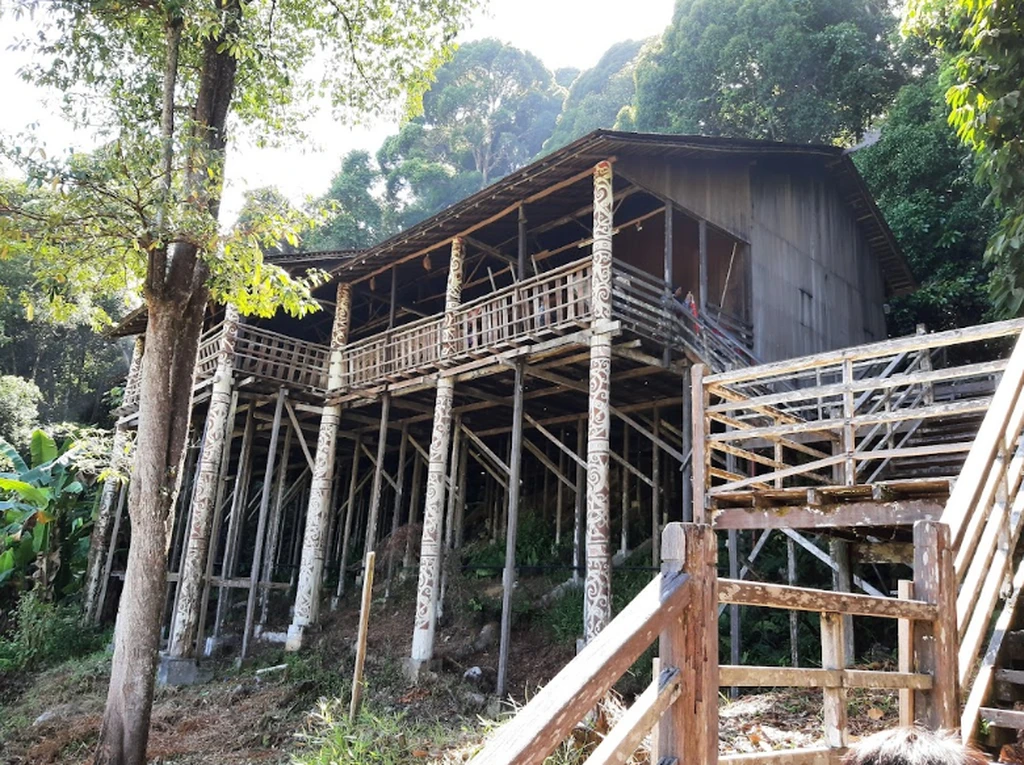 Venture into the heart of Sarawak's remote regions and uncover the intriguing world of indigenous tribes residing in large communal dwellings. Along the serene rivers and hidden in the depths of majestic mountains, these remarkable structures stand as testaments to a bygone era.
The Iban longhouses, nestled in the Ai headwaters, offer an irresistible invitation for travelers journeying between western and central Sarawak, beckoning them to step off the beaten path and embrace a unique cultural experience.
While these longhouses have become part of the tourist route, they still provide a glimpse into the semi-traditional lifestyle that once thrived in this remote corner of the state. Protected as a national park and wildlife sanctuary, these areas hold a special significance in preserving the heritage and natural wonders of Sarawak.
However, it's disheartening to note that many locals have gradually relocated closer to the roads, opting for a more modern lifestyle. As a result, some of the villages and longhouses you'll visit may only be inhabited during the presence of tourists.
Prepare to immerse yourself in the rich tapestry of indigenous traditions and customs as you step foot into these communal dwellings. Engage with the friendly locals, who warmly welcome visitors into their homes, eager to share their cultural heritage.
Embark on an unforgettable journey to witness the authentic lifestyle of Sarawak's indigenous tribes. Discover the untold stories, delve into their traditions, and forge meaningful connections amidst the tranquil beauty of nature.
The longhouses serve as living museums, providing a window into a way of life that is both captivating and vanishing. So seize the opportunity to step back in time and embrace the essence of Sarawak's cultural heritage before it becomes a mere memory.
7. Things to Do In Kuching Sarawak – Niah Caves (Gua Niah)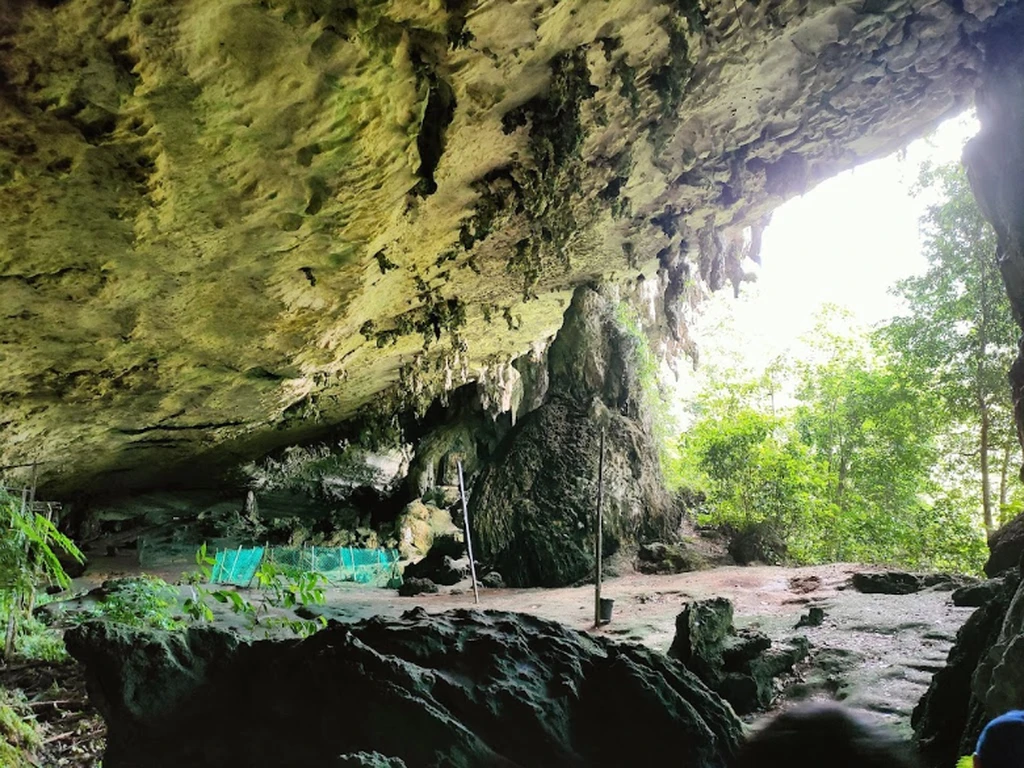 Prepare to be awestruck by one of Borneo's greatest natural wonders, the magnificent Niah Caves. These colossal underground chambers are so vast that they could easily accommodate multiple Notre Dame Cathedrals stacked on top of each other.
As you explore this expansive cave system, you'll also encounter the ancient human remains that make the Niah Caves an archaeological treasure of Malaysia.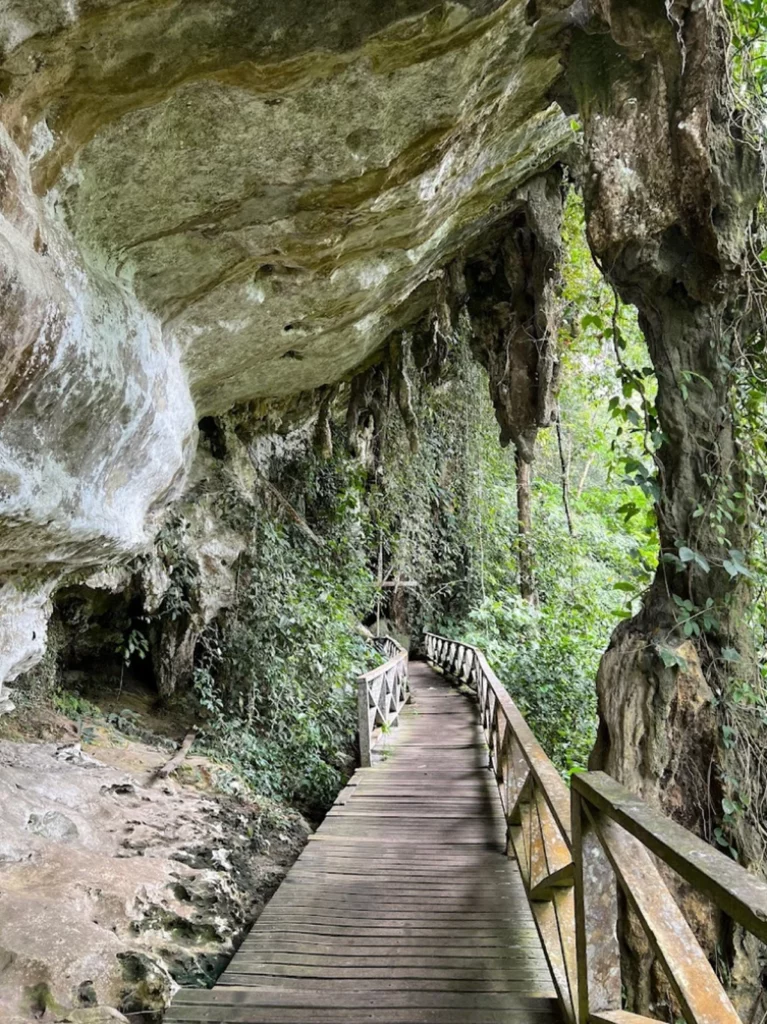 Delve into the history of the Niah Caves, where excavations in the 1950s and '60s uncovered evidence of human habitation, including cave paintings and remarkable remains.
The most astonishing find was the discovery of human bones dating back a staggering 40,000 years, showcasing the enduring fascination these caves held for our ancestors, from primitive cavemen to the curious tourists of today.
While the cave paintings, approximately 1,200 years old, offer a glimpse into more recent history, it is the ancient bones that truly captivate the imagination.
Today, the Niah Caves have become a popular destination for tourists, drawing visitors with their breathtaking size and natural splendor.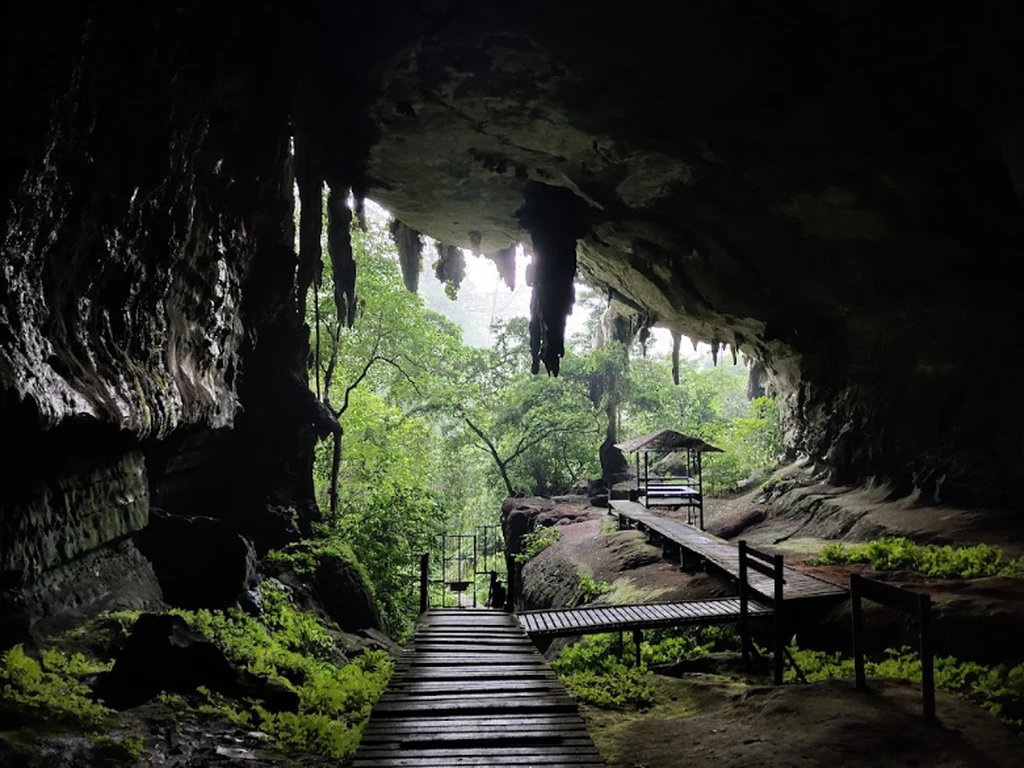 As you stand at the entrance of the impressive "Great Cave," which is incredibly tall, it's hard not to imagine how many big churches or other huge structures could fit inside it.
Before embarking on your Niah Caves adventure, remember to visit the Niah National Park office to purchase your entrance ticket.
From there, it's a leisurely 40-minute walk to reach the caves. Be prepared with a flashlight to illuminate the dark recesses and sturdy walking shoes to navigate the sometimes slippery terrain.
Location: 98200 Niah, Sarawak
8. Things to Do In Kuching Sarawak – Kuching Cat Museum (Muzium Kucing, Petra Jaya)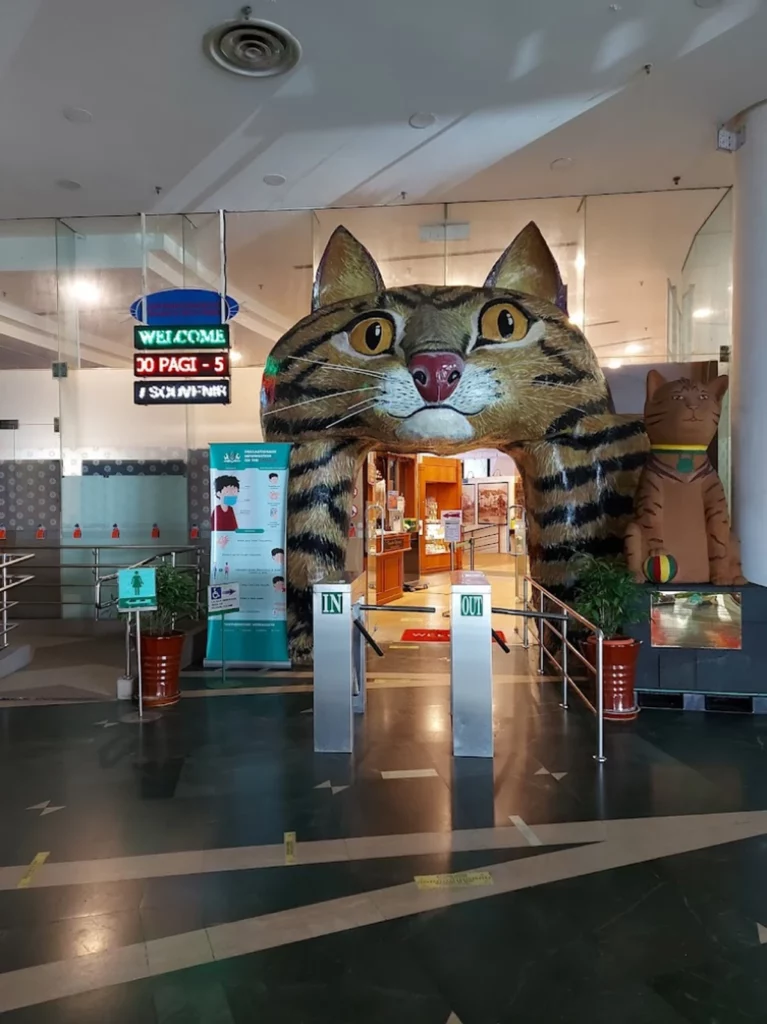 Kuching, fondly known as "Cat City," is where feline enthusiasts will discover a mecca dedicated to our beloved furry friends. Step into the Kuching Cat Museum and immerse yourself in the fascinating history of cats, spanning an impressive 5,000 years.
Housing over 2,000 artifacts, this museum showcases a diverse collection that ranges from a mummified Egyptian cat to peculiar cat headstones, offering a blend of serious historical exhibits and charming kitsch reminiscent of a Chinatown bodega.
Southeast Asia has a rich and longstanding relationship with cats, and the Cat Museum delves into this captivating history with meticulous detail. It is no coincidence that the museum is situated in Kuching, as the name itself translates to "cat" in the local language, further enhancing the museum's fitting location.
As you explore the exhibits, you'll encounter an array of stuffed cats, porcelain figurines, and even magnificent fang-shaped doorways. Additionally, the museum shares intriguing tales of superstitions surrounding cats, including the belief that nearly drowning a cat can bring forth rain.
Beyond the peculiar superstitions, cat lovers will find solace in more approachable displays. Make sure to seek out the rarest cat in the world, Felis Badia, as the museum proudly houses the only stuffed specimen known to exist.
From historical artifacts to unique curiosities, the Kuching Cat Museum offers a delightful experience that appeals to both cat aficionados and those seeking a deeper understanding of the cultural significance of these enigmatic creatures.
Before visiting, note that the museum operates from Monday to Sunday, welcoming visitors between 9 AM and 5 PM. To reach the museum, you can either take CityLink Bus no. K15 from the Saujana Food Court bus stop or take a taxi or e-hailing.
Time: 9 AM to 5 PM
Location: Bangunan DBKU, Jalan Semariang, Petra Jaya, 93050 Kuching, Sarawak
9. Things to Do In Sibu Sarawak – Visit Sibu Eng Ann Teng Tua Pek Kong Temple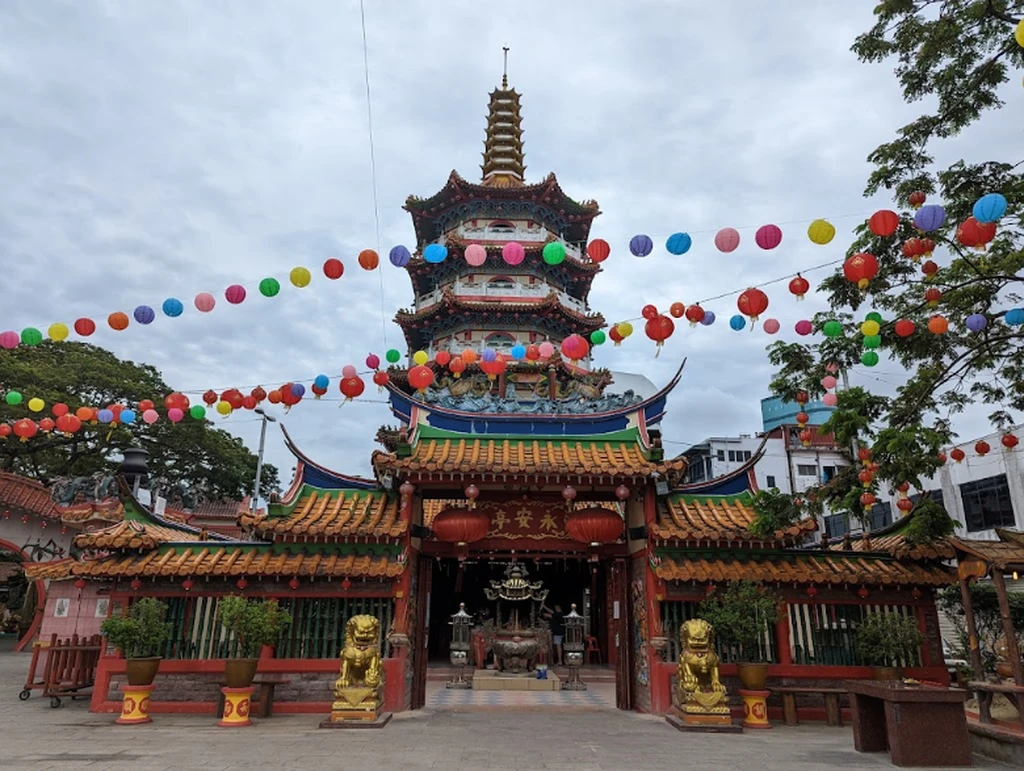 In the Eng Ann Teng Tua Pek Kong Temple in Sibu stands a remarkable and iconic structure known as the Seven-Tiered Pagoda. This magnificent pagoda, with its distinctive design, has become a celebrated landmark in the area.
Its rich history traces back to 1870, and although it underwent renovations over the years, many of its recognizable features were added in 1897. The temple's enduring presence is a testament to its resilience, having miraculously survived the destructive 1928 fire that ravaged most of the city, albeit with some damage.
Additionally, it endured the unfortunate consequences of Allied bombing during World War II.
Over time, the Seven-Tiered Pagoda has been lovingly restored and revitalized, preserving its cultural significance and architectural beauty for generations to come.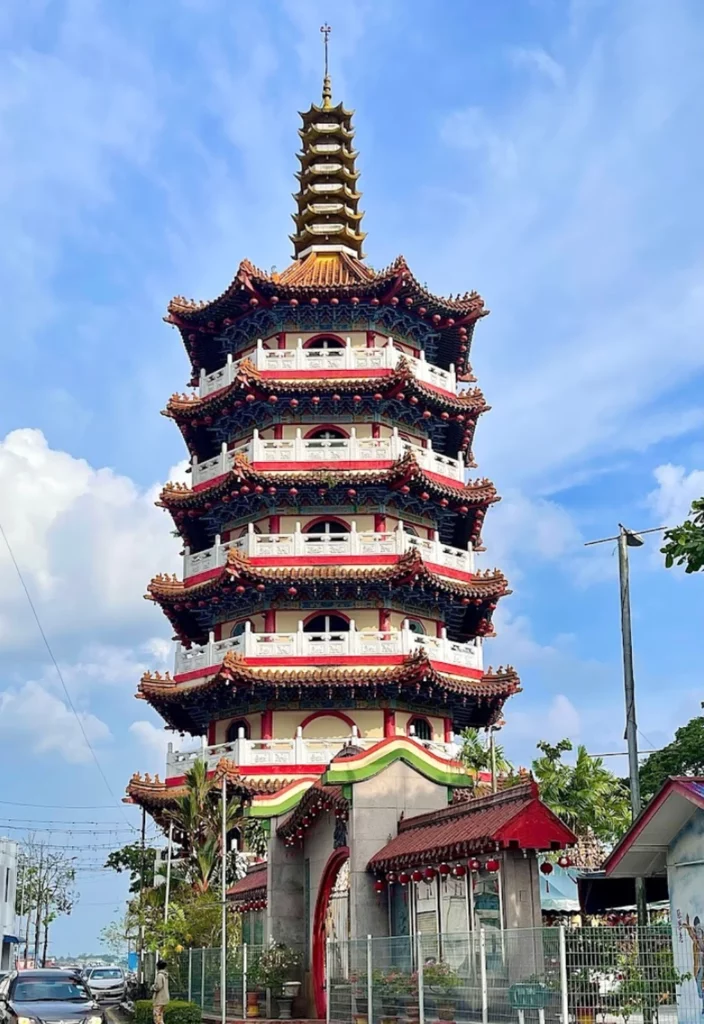 Each floor of the pagoda represents a distinct level, adorned with intricate details and exquisite craftsmanship. As you ascend the pagoda, you'll be captivated by the serene atmosphere and the sense of spirituality that permeates the air.
Visiting the Seven-Tiered Pagoda offers a unique opportunity to immerse yourself in the rich history of Sibu and appreciate the cultural heritage of the region. As you explore this historical gem, take a moment to admire the meticulous restoration efforts that have preserved its splendor.
From the fascinating stories behind its construction to the challenges it has withstood, the pagoda stands as a testament to the resilience and determination of the community.
Plan your visit to the Seven-Tiered Pagoda in Sibu, where you can witness the harmonious blend of tradition, architecture, and history. Allow yourself to be transported to a bygone era as you marvel at this majestic structure, which serves as a symbol of pride and cultural identity for the city.
Location: Jln Temple, 96000 Sibu, Sarawak
Is Sarawak Worth Visiting?
Yes. Sarawak is worth visiting because it has a vibrant culture, stunning natural beauty, and unique indigenous heritage.
From the beautiful rainforests to the fascinating longhouses, Sarawak offers an unforgettable and authentic experience for travelers.
FAQ for Things to Do in Kuching Sarawak
What are some popular outdoor activities in Sarawak?
– Jungle trekking in Bako National Park or Gunung Mulu National Park.
– Exploring the caves in Niah National Park.
What is the best time to visit Sarawak?
The dry season from March to October is generally recommended for outdoor activities and cultural festivals. However, each season has its own charm, and Sarawak can be visited year-round.
How can I reach Sarawak?
You can fly directly to the main international airports in Sarawak, such as Kuching International Airport or Miri Airport. There are also domestic flights available between major cities within Malaysia.
Let's Explore the Best Places in Kuching Sarawak
In Sarawak, you'll embark on an unforgettable journey filled with vibrant culture, breathtaking natural wonders, and exciting adventures.
Explore the lush rainforests, encounter diverse wildlife, and immerse yourself in the rich indigenous heritage. Indulge in unique culinary delights and witness the warmth and hospitality of the local communities.
Whether you're seeking outdoor activities, cultural experiences, or simply a serene escape into nature, Sarawak offers an authentic and enriching experience for every traveler.
So, pack your bags and get ready for an incredible adventure in Sarawak, where unforgettable memories await.
Read More: