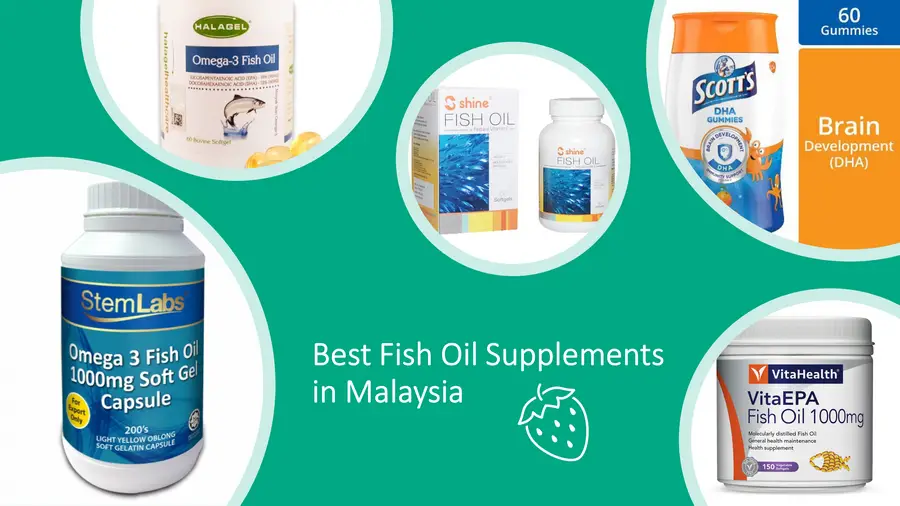 Fish oil containing omega-3 has a number of benefits to its name that may justify its popularity.
If you don't take fish in your diet, then you can opt for fish oil supplements instead.
It is extracted from fish tissue and comes from some types of fish as well as the livers of other fish.
Omega-3 fatty acids present in fish oil have many benefits for good health.
There are various types of fish oil supplements available in Malaysia but this article is procured to enlist the top 5 best fish oil supplements in Malaysia based on intensive research, personal experience, and user opinions.
Take Note:
Malaysia is Hot & Sunny! Don't go outside without Sunscreen!
Don't Miss Out These:
Top 5 Best Fish Oil Supplements in Malaysia
Why Do You Need Fish Oil Supplements?
Omega-3 fatty acids in Fish oil are found to be beneficial for both healthy as well as for people with different diseases.
These fatty acids act as important nutrients for people with heart disease.
Moreover, these acids may also help with lowering the blood pressure levels which will, in turn, improve heart health.
Similarly, it is also said to decrease the number of triglycerides in the blood.
Triglycerides are a type of fat that is found in the blood. If its amount increases beyond a certain factor, it can raise the chances of getting heart disease.
In short, fish oil supplements can prove to be a good remedy to cope with or to decrease the chances of getting heart disease.
Furthermore, omega-3 fatty acids are also said to reduce the rate of plaque formation inside the arteries.
Hence, it may reduce the chances of getting a heart stroke and also decreases the odds of sudden cardiac death in heart patients.
In other words, fish oil supplements can be a good companion for your good heart health.
Type of Omega-3 Fatty Acids
There are three main types of fatty acids namely ALA (alpha-linolenic acid), EPA (eicosapentaenoic acid), DHA (docosahexaenoic acid).
ALA is mainly found in plant oils while the other two types can be found in fish and some other types of seafood.
ALA is found in soybean and canola oils. ALA also gets converted into DHA and EPA by your body but, that is just a small amount of conversion.
Hence, to get these 2 fatty acids in good amounts, you can either take the foods rich in these fatty acids or you can also take the fish oil supplements.
Omega-3 acids provide calories for body energy and also have many functions for the heart and some other parts of the body.
Best Fish Oil Supplement Brands in Malaysia
Here are some of the top brands that sell Halal-certified fish oil supplements in Malaysia.
StemLabs
Halagel
VitaHealth
Shine
Scott's
The 5 Best Fish Oil Supplements in Malaysia Review
There are multiple fish oil supplements available in Malaysia but here, I will only mention those with great reviews and that have halal certification.
So, here is the list of the best fish oil supplements in Malaysia:
1. StemLabs Omega 3 Fish Oil 1000mg Review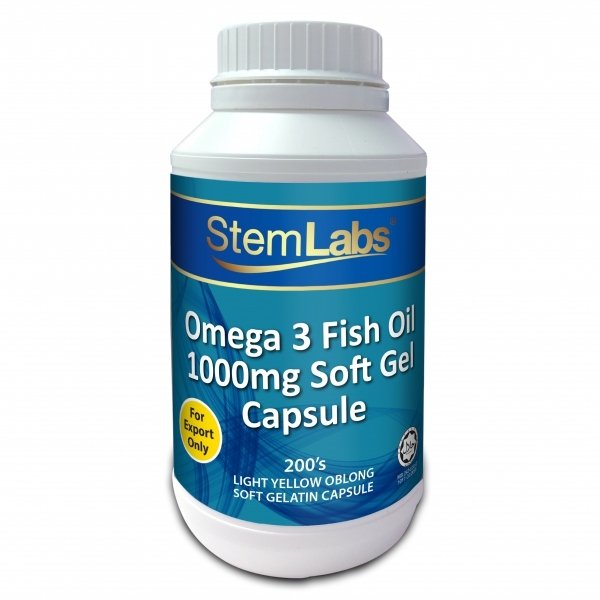 The StemLabs fish oil 1000mg contains 200 soft gel capsules per bottle.
The product is imported from New Zealand and is Halal certified by JAKIM and FIANZ.
Each 1000mg of this fish oil supplement contains 180mg of EPA and 120mg of DHA.
As Omega-3 plays an important role in the overall health of a person, hence, this product can prove to be a good source of these fatty acids.
Some highlights of this product are:
The product is claimed to be free from toxins and is sourced from small fish
It also has gone through molecular distillation for purity purposes
Imported from New Zealand
It is Halal certified
Pros:
For Muslims, Halal certification is of great importance in making a purchase decision
Relatively cheap considering that one capsule costs around RM 0.15 only
---
2. VitaHealth VitaEPA Fish Oil 1000mg Review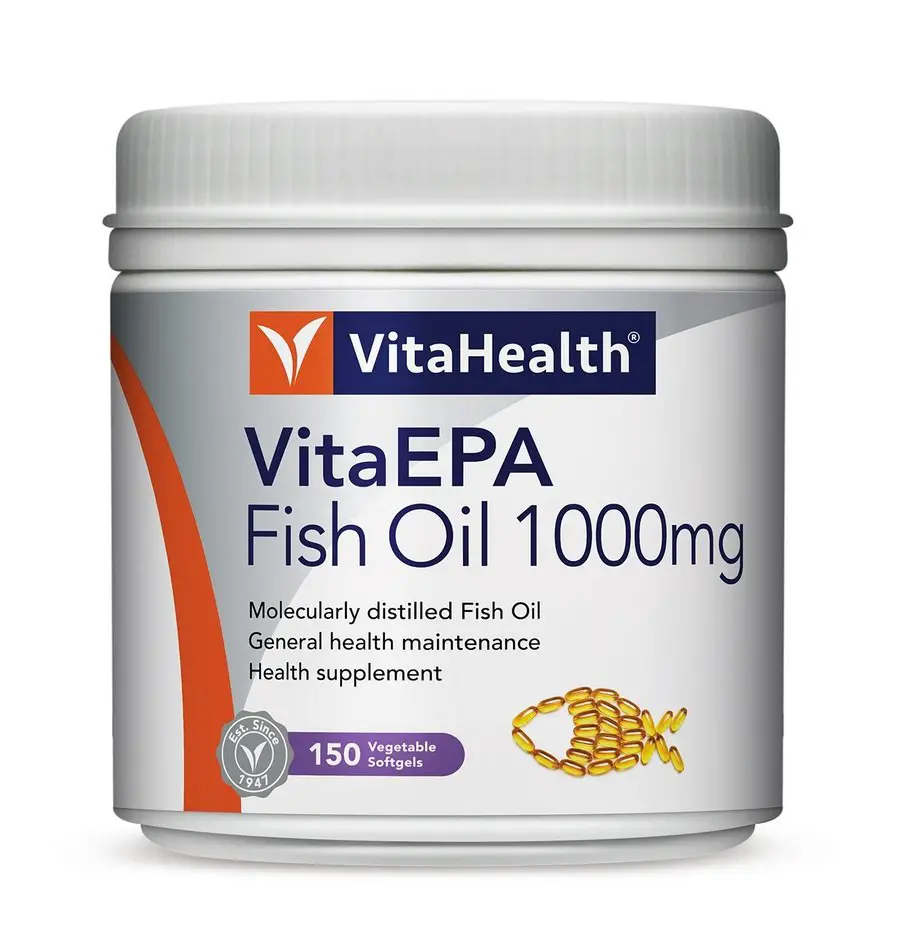 This fish oil product is offered by VitaHealth and is a health supplement containing molecularly distilled fish oil.
It claims to improve brain function, maintain healthy eyes, and support heart health.
Each fish oil soft gel contains 300mg of omega-3 fatty acids. Omega-3 fatty acids as said before support good heart health by lowering triglyceride levels, blood pressure, and irregular heartbeat.
Some highlights are as follows:
It is molecularly distilled for purity and stability
It is good for the heart, brain, and eyes
1000mg of fish oil containing 300mg of EPA and DHA combined
Pros:
Softgels, hence, easier to swallow
Halal certified
Cons:  
Slightly expensive per capsule compared to the competition
---
3. Halagel Omega 3 Fish Oil Review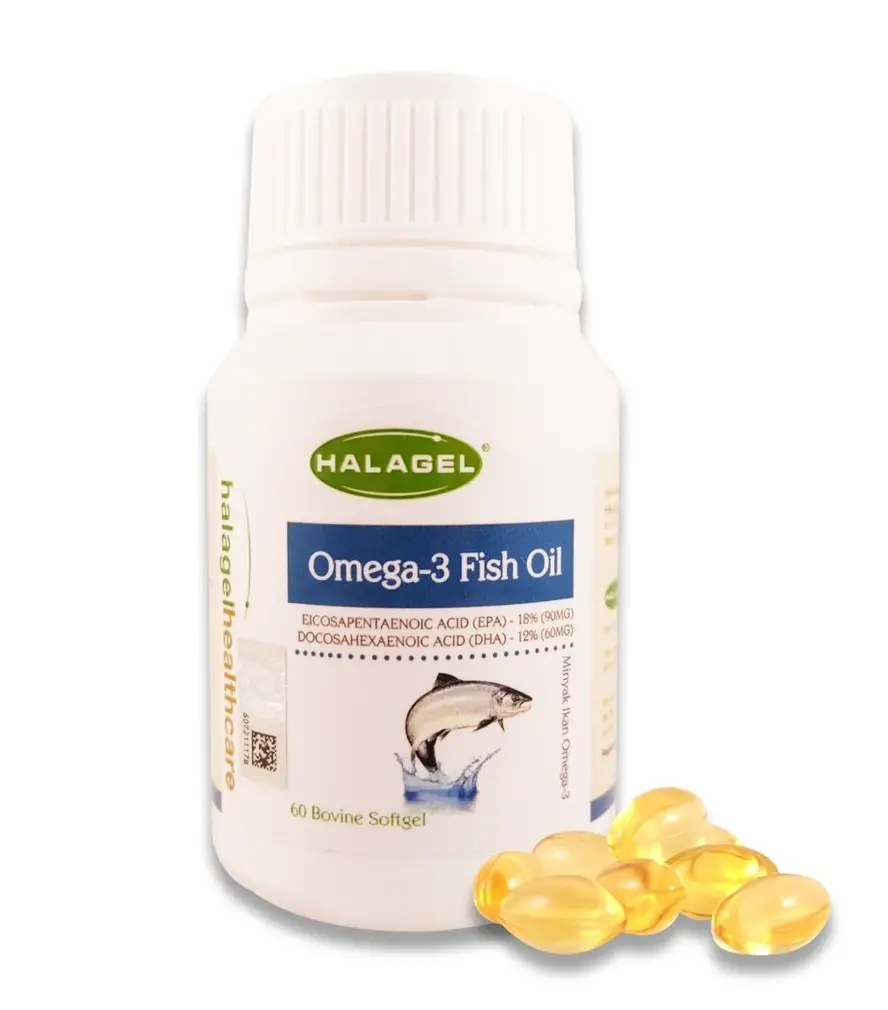 Another product in this list of Best Fish Oil Supplements in Malaysia is Omega 3 fish oil by a brand named Halagel.
This product contains 500mg of fish oil in a gel capsule to help boost heart health by controlling cholesterol levels and blood pressure.
Moreover, it is also good for the brain and boosts memory function.
Additionally, it is halal certified and Halagel claims that it is safe to take for Muslim customers.
Some highlights of this product are:
It is a Muslim product as it is Halal certified
It's extracted using biotechnology and is processed without heat and chemical
Halagel also claims that it is a natural and organic product
100% quality product
Pros:
Halal certified product as per the company's claim
Economical product around RM 24 to 28 per bottle
---
4. Scott's DHA Chewable Gummies Review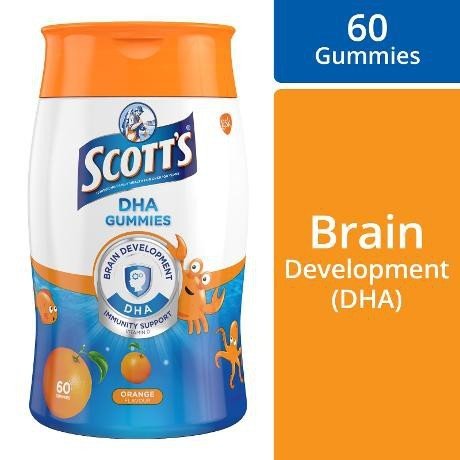 The final item in this list is these chewable gummies from Scott's.
This product is specially designed for children (age 5+).
These gummies are claimed to be a rich source of Omega 3 fatty acid as well as Vitamin D.
Moreover, the company also asserts that this product employs a microencapsulation technology to lock the DHA nutrients inside the capsule while also offering the orange flavor for the sake of kids' taste.
On top of all this, it is also said to be Halal certified.
This is one of the best fish oil supplements for kids.
Highlights of this product are:
Has orange, strawberry, and blackcurrant flavors to meet the tasty desires of the kids
Designed for child immune system and brain health
Apart from Omega 3, contains Vitamin D as well to double the benefit
Halal certified
Pros:
Tasty flavored chewable gummies for the better growth of the children
Relatively cheap, about RM 23 to 27 per pack
---
5. Shine Fish Oil + Vitamin E Capsules Review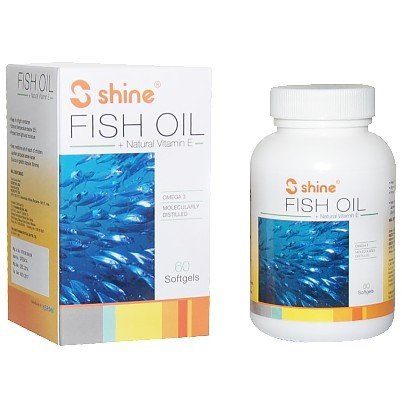 This product is brought up by the Shine D. brand and as the name suggests, it is a combination of Fish Oil and Vitamin E.
Vitamin E plays a good role in immune system support and helps the cells to regenerate. Hence, this product is a combination of 2 important ingredients for better overall health.
Shine fish oil offers a good amount of omega-3 fatty acids in an easy to swallow soft gel capsule.
Some highlights of this product are:
It is a dietary supplement that claims to reduce the risk of heart disease
It prevents hardening of the arteries
It also helps lower triglycerides and LDL levels and lowers blood pressure resulting in a good heart health
Also claims to reduce joint stiffness
Pros:
A two-in-one formula for better heart health as well as for the better immune system
Economical Pricing from RM20+
Halal Certified
---
How to Choose the Best Fish Oil Supplements
Well, the answer to this question lies vastly in the choice of the customer.
For example, if you are someone who wants a 2-in-1 product that contains Omega-3 plus some vitamins as well, then a simple fish oil supplement is not your type of product.
Moreover, some people may also prefer the liquid form of fish oil over soft gels or capsules.
As an example, kids like to have something chewable while older people prefer a product that is not too harsh on their teeth i.e. would prefer soft gel.
Also, the source of fish oil is an important factor in choosing a suitable product.
Muslims prefer a source that is halal and therefore, those are the products that I have tried to enlist in this article.
Finally, you may have a brand of your liking that you may prefer over other names and that will affect the purchase decision too.
FAQs for Omega-3 Fish Oil Supplements in Malaysia
1. Which fish oil supplement brand is the best in Malaysia?
Some of the top brands are StemLabs, VitaHealth, Halagel, Scott's, and Shine.
These brands sell high-quality Omega-3 fish oil products that are Halal-certified.
2. Which is the best fish oil supplement for kids?
The best fish oil supplement for children is Scott's DHA Chewable Gummies, it is chewable and available in flavors like strawberry, orange, blackcurrant, and assorted.
3. How much is the fish oil supplement price in Malaysia?
On average, fish oil supplements cost about RM0.15 to RM0.40 per capsule, depending on the amount of DHA and EPA, brand, form, and packaging.
Conclusion for Best Fish Oil in Malaysia
Fish oil is considered a rich source of Omega-3 fatty acids and is considered important for heart health as it helps to lower blood pressure, reduce the stiffness of arteries, and reduce the number of triglycerides.
Moreover, it is also beneficial for brain health and improves memory function.
I hope that this list of the 5 best fish oil supplements in Malaysia will help you in making a good decision regarding your final purchase.
Stay safe! Stay healthy!
Read Next: