Vitamin C is said to be an important ingredient for a healthy life.
It is thought to be one of the safest nutrients for humans and can have important benefits such as a better immune system for fighting different diseases such as heart disease, eye disease, etc.
In this article, I will discuss the benefits of vitamin C and also include a list of the best Vitamin C supplements in Malaysia for you to pick from.
The list will also extend to a couple of names that are listed as best Vitamin C supplements for kids as recommended by doctors and customers.
Top 5 Best Vitamin C Supplements in Malaysia
Why Do You Need Vitamin C Supplement?
A number of studies have revealed that higher levels of Vitamin C are linked to good overall health.
Vitamin C is commonly found in fruits such as Oranges, Kiwis, and is found in vegetables such as Spinach, Broccoli, etc.
But some people may prefer taking supplements instead of natural resources.
There are several reasons for you to consider taking Vitamin C supplements.
Boost Antioxidants
Vitamin C can help increase the number of antioxidants in the blood by up to 30%.
Antioxidants are linked with a better immune system as they act as a booster to it.
Moreover, they also prevent the body cells from harmful molecules such as free radicals that can promote the occurrence of chronic diseases.
Lower Blood Pressure Levels
Another benefit of vitamin C is that it can lower blood pressure levels.
Many people around the globe are fighting against this disease and vitamin C can help reduce its levels by a certain margin, though, it is not known whether the effects are long-lasting or not.
Furthermore, people facing high blood pressure issue should not just rely on Vitamin C, they should continue taking the medicine or other treatments as prescribed by the physician.
As higher blood pressure levels are associated with heart disease in long run, Vitamin C is also supposed to lower the risk of heart disease.
Lower the Risk of Heart Disease
There were studies done to check this fact and the studies show clear results of decreasing the risk of heart disease by around 25% with Vitamin C consumption.
Reduce the LDL Cholesterol
Moreover, Vitamin C is also said to lower the LDL cholesterol level as well as Triglycerides by a good margin, both of which are linked to heart diseases if found more than specific levels.
However, if you are already consuming a Vitamin C rich diet, then the effects of further consumption of Vitamin C supplements on your heart will be very limited.
Improve Brain Functions and Memory
There are other proven effects of Vitamin C consumption as well that signify the importance of this ingredient in our life.
It is linked to having improved memory and thinking as you age.
Oxidative stress tends to affect different parts of the body and if it affects the brain, then memory problems arise.
As Vitamin C is linked to reducing oxidative stress hence, it also improves brain health by fighting the oxidative stress near the brain area.
Best Vitamin C Supplement Brands in Malaysia
Here are the top brands that sell Vitamin C supplements in the Malaysia market:
Kordel
Cebion
APPETON
CHAMPS
Blackmores
5 Best Vitamin C Supplements in Malaysia 2021 Review
Here is a list of the Best Vitamin C supplements in Malaysia based on researches and customer reviews.
1. Kordel's Ester C 1000mg Review
This product is acid-free and gentle on the stomach
It stays in the body for around 24 hours to better protect the system
It also asserts to provide better absorption rate compared to the competition
Does not cause kidney stones
The first product in this list of Best Vitamin C Supplement is this pack of Vitamin C tablets offered by Kordel's.
It is made and designed by the company as per their claims by keeping in mind that it doesn't cause any irritation to the stomach.
It is also listed as a product that will not cause kidney stones, which is probably a side effect of such supplements.
Moreover, it stays in the body for around 24 hours to better protect the body by providing you a boost in immunity.
Pros:
Easy on the stomach
Stays in the body for a longer period to provide better protection
Better absorption technique
Cons:
Some people might prefer granules OR powder form over the tablet form
A bit on the expensive side (around RM110)
---
2. Cebion Vitamin C 1000mg + Calcium Effervescent Review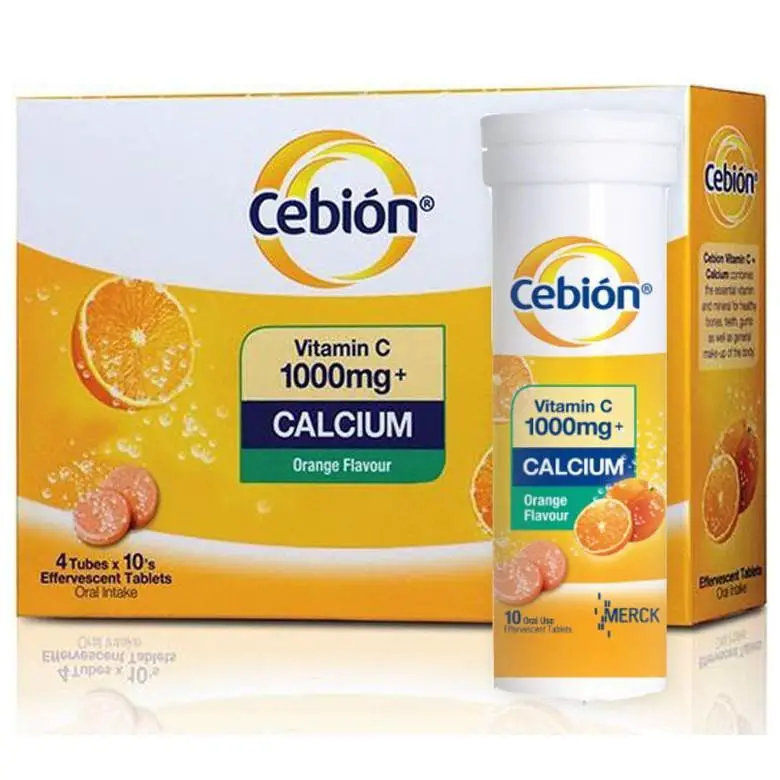 It contains Calcium Carbonate apart from Vitamin C for increased function
Comes in Orange flavor to not hurt the taste buds
It is also listed as suitable for vegetarians
The second entry in this continuing list of Vitamin C products is these effervescent tablets by Cebion.
Cebion tablets get dissolved in the water for easier intake and come in orange flavor.
This product claims to protect the immune system of our body and also keeps the teeth and bones maintained.
Pros:
Not too expensive on the pocket
2 in 1 formula for better performance
Effervescence might be appealing to a certain audience
Cons:
The orange flavor may not be the favorite taste of some people
Some people may find effervescence trick unappealing
---
3. KORDEL'S Vitamin C + Zinc Tablets (Effervescent) Review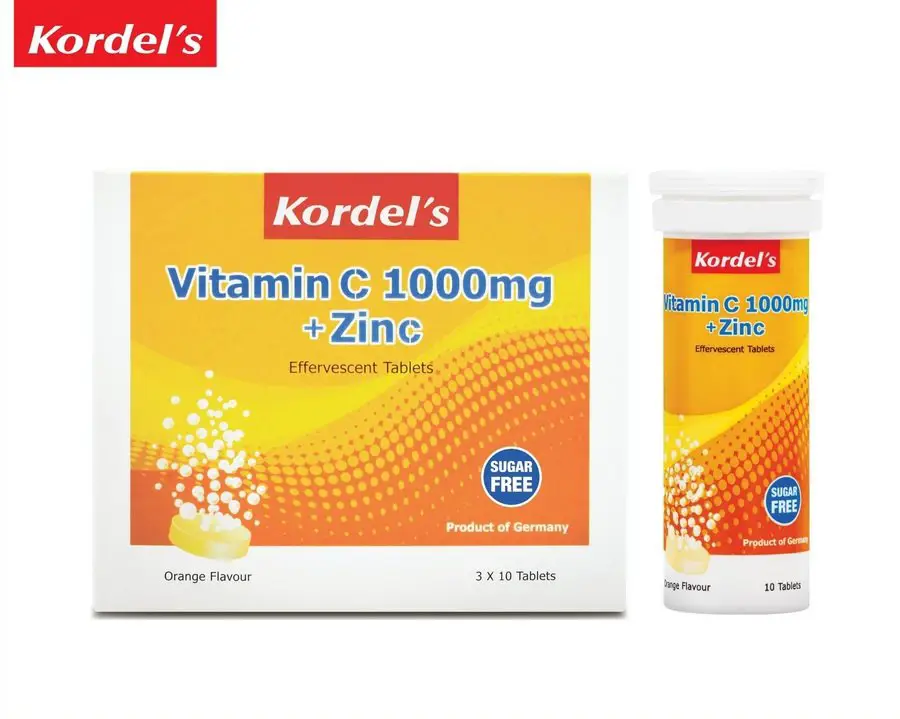 This product claims to contain no artificial color and only uses natural beetroot & carrot powder
Contains no sugar
It is Halal certified
Comes in Orange flavor
Another Vitamin C supplement offered by Kordel's is this effervescent tablet which also contains Zinc, hence, an overall good product for a healthier immune system.
Kordel's claim that this combination was found to reduce the effects of flu and cold, and also found to reduce the duration of other respiratory tract infections.
The vitamin C part of this product comes from Ascorbic Acid while Zinc is present in the form of Zinc Sulfate Monohydrate.
Pros:
Zinc is also found to be beneficial for the human body in a number of ways therefore, intake of a combination such as this could be a good thing.
Cons:
Could have chosen a different taste as Orange has become a kind of mandatory flavor for such products
Effervescence may not appeal to some people
---
4. APPETON A-Z Kid's Vitamin C Pastilles Review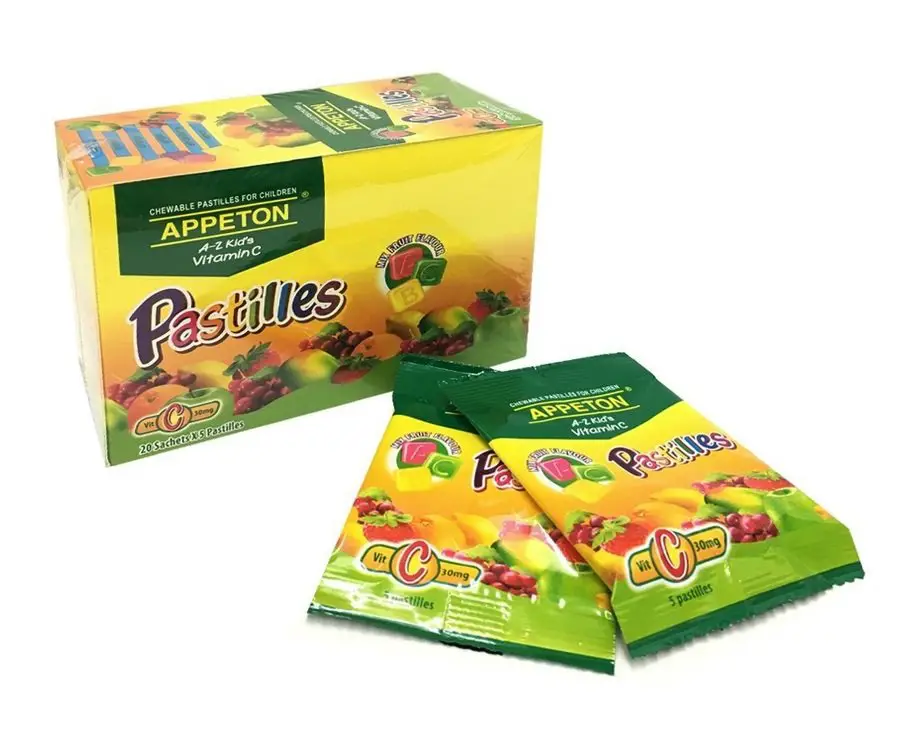 Good for boosting the immune system
Good against the bleeding gums
Comes in the sachet packing and each of them has 5 pastilles for better control of consumption
Comes in 6 different sweet flavors.
APPETON also claims that it is also good for wound healing and fracture recovery
This entry is specially included to fulfill the quota of best Vitamin C supplement for kids.
It contains chewable vitamin tablets that also contain embossing of alphabets on them to attract the children more.
These pastilles as per APPETON do not contain sugar coating.
Moreover, your kid can also take these in higher quantities or on top of that, can also become a replacement for sweets.
One thing to note is that it should be given to kids above 2 years of age.
Pros:
Small packets containing limited quantities, as a result, better for both freshness and controlled consumption
Different flavors so that your kid does not get bored
Not harmful in higher quantities as per the description of the product but still, you may want to discuss with a doctor before trying that.
Cons:
None as far as children are using it.
---
5. CHAMPS Vitamin C plus Zinc Effervescent Review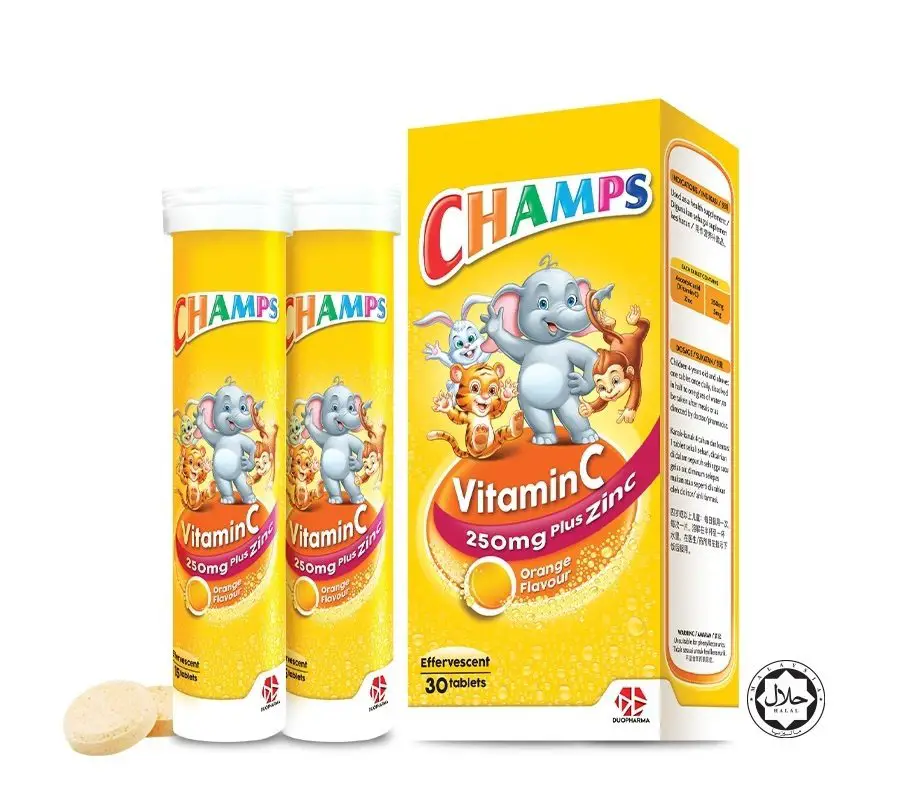 Comes in Orange flavor
A 2 in 1 formula containing Vitamin C and Zinc for children aging from 4 to 12 years
Good for the immune system and better memory
Another best Vitamin C supplement for kids is CHAMPS Vitamin C effervescent tablets.
Like other Vitamin C supplements, this product affirms to help in the growth, repair, and development of the body tissues as well as is beneficial for the improved immune system, wound healing, etc.
If talked about Zinc in specific and its positives, it helps in the regulation of the immune system and has effects on learning and memory.
Pros:
A combination of Zinc and Vitamin C will not possibly cause any harms
Comes in a very competitive price bracket
Cons:
Children may not like the effervescent form, could have been better if these were chewable tablets or contained at least some alphabets/numbering on them to attract the kids
---
FAQ
1. What is the recommended daily dosage of Vitamin C?
According to MOH, the recommended daily intake of ascorbic acid (Vitamin C) will be 210 to 280mg.
Of course, it should be higher for illness prevention and boosting the immune system, and the upper limit is 2,000 mg a day.
2. Which brand of Vitamin C is the best in Malaysia?
The top brands of Vitamin C are Kordel, Cebion, APPETON, CHAMPS, and Blackmores.
3. Will it be harmful is taking too much Vitamin C?
Vitamin C is a water-soluble vitamin, so it is unlikely to bring any harmful effects to your body.
However, too much Vitamin C may cause nausea, diarrhea, vomiting, headache, insomnia, and abdominal cramps.
Conclusion
Vitamin C is a very good nutrient for a healthy life.
It can help defend against diseases by boosting the immune system.
It can also be productive in improving the memory process and can lower the risk of catching heart disease.
I hope this article can help you in finding the best Vitamin C supplements for yourself and your kids to stay healthy.
Thanks for the read!
Read Next: