Probiotic is a word that may be very familiar to people with digestive problems.
How and why?
To seek the answer, please continue reading this article as I will be discussing the best Probiotics in Malaysia, be it the Probiotic powder or other Probiotic supplements.
What are Probiotics?
Most of us consider Bacteria and Yeast as the factors that affect our health in a negative way. But there are some good forms of these microorganisms that are actually helpful for our body in one or more ways.
Probiotics belong to the good bacteria and yeast family and they are helpful to our bodies in multiple ways.
The word Probiotic is a combination of Latin and Greek terms with its combined meaning being 'For Life'.
Probiotics are available both in natural and synthetic forms.
Yogurt is considered a good natural Probiotic while nowadays, Probiotic supplements are also available in the market that can serve the same purpose.
Why do You Need Probiotics?
Probiotics are thought to aid in the digestion process.
Probiotics are living organisms that help our gut to stay healthy by digesting the food in a proper way.
So the answer to this 'Why' is that if you are someone having digestive problems, then taking Probiotics may boost your digestive system.
If you have Irritable bowel syndrome or diarrhea, then Probiotics might be what you need in such times.
Moreover, certain strains or subtypes of Probiotics are also supposed to be good for the heart, brain, and other body parts.
What Are Probiotic Supplements?
Probiotic supplements are dietary supplements that are taken for gut health OR better digestion.
These are available in different forms such as Probiotic powder, pills, etc.
As there is no true research available over the claimed benefits of Probiotic supplements, manufacturers are responsible for the claims that they make regarding those supplements.
Moreover, you should be careful about choosing the type of Probiotic as your health consultant may tell you to go otherwise.
Best Probiotics Brands in Malaysia
Here are some of the reliable brands when come to probiotics supplements:
Lifespace
Hexbio
Nature's Bounty
NOW Foods
Super Pre
Alpro Pharmacy
The 6 Best Probiotics in Malaysia for 2021
Now, let's go into each of the best Probiotics supplements in detail.
1. Super Pre Probiotics
Highlights:
Contains 17 strains of Probiotics
It has a grape flavor
Pregnant women can also consume it
Contains Prebiotics along with Probiotics
This product is widely sold and rated on Shopee Malaysia.
It claims to contain 17 subforms of Probiotics.
The product has around 4500 reviews on the web link and has a rating of more than 4.5 stars.
It also asserts that it will benefit the digestion process and immune system.
Pros:
A two in one formula of Probiotics + Prebiotics
Has 17 strains of Probiotics
---
2. Life-Space Broad Spectrum Probiotics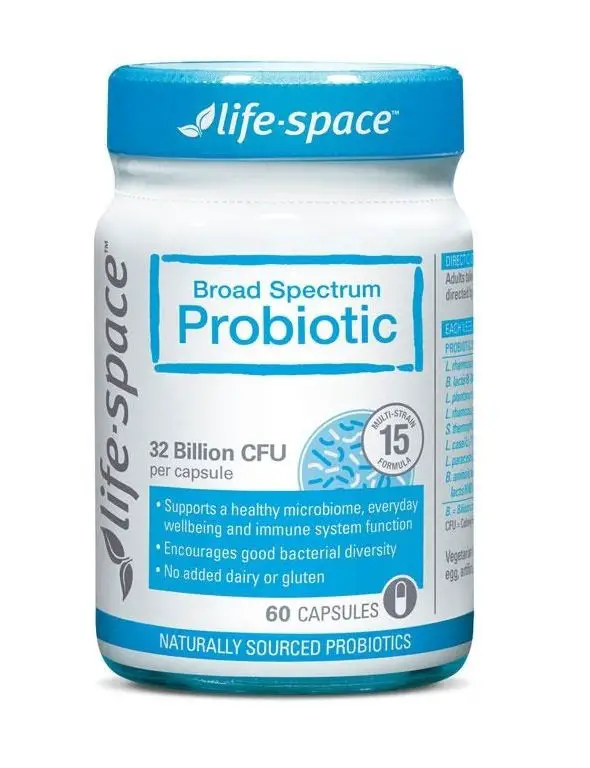 Highlights:
Assists in healthy bowel movements
Assists in the Digestive health and healthy immune system
Helps in maintaining a good level of helpful bacteria
Free of Gluten and Eggs
It's vegetarian friendly
This product contains 15 subtypes or Strains of Probiotics. Other claims of this product specify that it also supports digestion and immune health.
Pros:
Contains Prebiotic Fiber in addition to Probiotics
15 strains of Probiotics in one product
No refrigeration required
---
3. Hexbio Probiotic Granules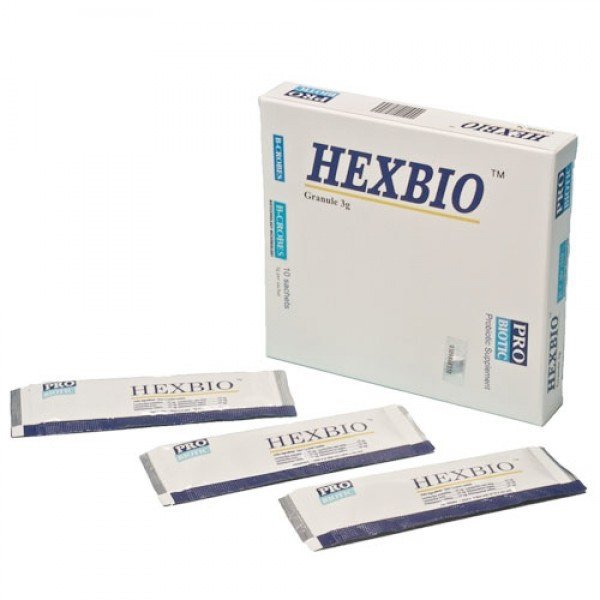 Highlights:
Free from Gluten and other common allergens
Effective in maintaining a healthy immune system and digestion
It also claims to minimize sickness and boost recovery
Another product in this list of Best Probiotics in Malaysia is Probiotic Granules (or Probiotic Powder) by Hexbio.
Hexbio can aid with digestion to maintain gut health. It might also benefit against other disorders such as Diarrhea, Constipation, Bloating, etc.
However, there are some points to note that for pregnant women, it should be first consulted with a doctor before taking the medicine.
Moreover, some people may experience thin stools but the product page claims that this situation will ease with a matter of time.
Pros:
Powder form which is a good alternative to capsule form
Suitable for people with allergies to peanuts, gluten, etc.
---
4. Nature's Bounty Acidophilus Probiotic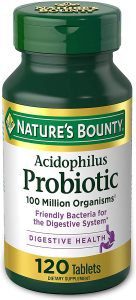 Highlights:
It contains 100 million claimed organisms for its working
It contains friendly bacteria for digestive health and digestion
The company also claims that its quality is guaranteed and is tested by a laboratory (name not given)
This is another great Probiotics product, it has no allergens such as milk, artificial flavor, sugar, gluten, wheat hence, benefiting those who are allergic to such stuff.
Moreover, it does not have Sodium in it and can be taken by vegetarians as well.
Like other products, you should consult with a doctor before giving this product to a pregnant woman.
Moreover, you should stop taking this supplement in case you notice some reactions and consult with the doctor right away.
Pros:
This product is free from a number of allergens
5. NOW Foods Probiotic-10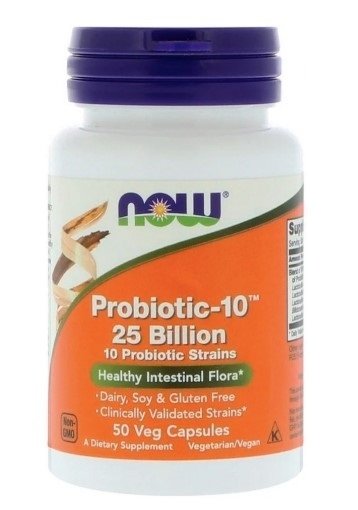 Highlights:
It is free of gluten and soy, so no allergies to those who are allergic to these ingredients
A formula to deliver 25 billion organisms
Probiotic-10 has living organisms to facilitate the process of Digestion in the GI Tract. It contains the bacteria that keep the intestinal lining intact.
Moreover, Probiotic-10 also gives support to the immune system.
Some points that are the highlights of this product are:
Pros:
Contains 10 subtypes or strains of Probiotics to cover a good variety of them
---
6. GKB Probizymes (Probiotic & Enzymes Powder)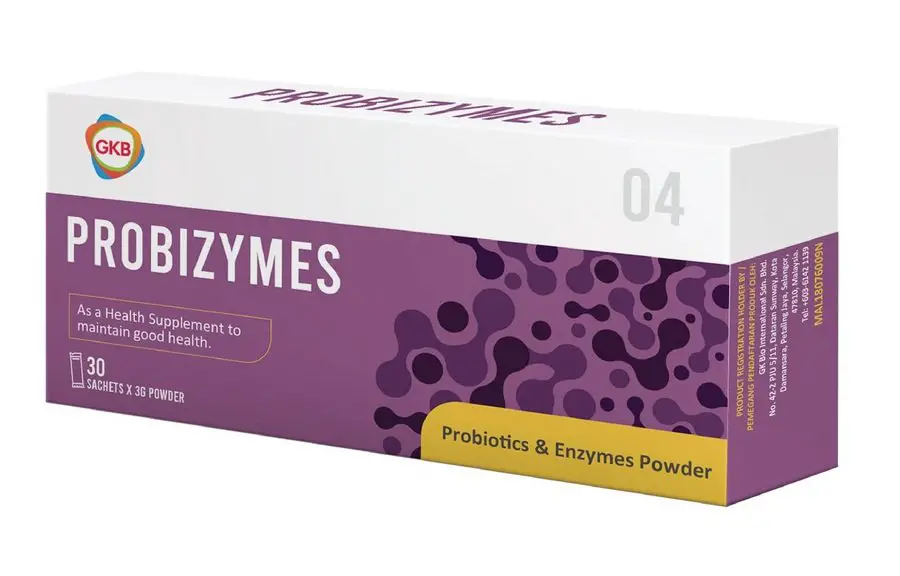 Highlights:
Contains 2 subtypes of Probiotics
Contains 8 different types of digestive enzymes
Comes in a ready-to-eat granular form
This product is a combination of Probiotics and Prebiotics to aid in the digestive system.
People who have heartburn, stomach bloating, nausea, abdominal pain can use it for relief.
It is claimed to be made especially for those suffering from gastric problems. It can help the user by improving digestion and increasing stool frequency.
Pros:
Powder form, hence, easier to swallow
Contains Prebiotics for double action
---
How to Choose the Best Probiotic Supplements in Malaysia [Buying Guide]
Well, the answer depends on a number of factors.
Number of Strains
The top and the foremost of these can be the number of strains of Probiotics that those supplements contain.
If the number is higher, then the chances of covering up the required subtype of Probiotics suitable for you increase.
Additional Contents
Moreover, Probiotic supplements can contain more than just Probiotic stuff i.e. Prebiotics, Proteins, etc.
Hence, depending upon the suitability of the additional contents, you may choose the one that best fits your needs.
Form of Probiotics
Furthermore, as discussed before, some people may find the tablet/capsule hard to swallow or will panic to take these forms.
Hence, Probiotic Powder can prove to be the better alternative for them. It is both easy to take and doesn't require any struggle while swallowing.
Additives in Probiotics Supplements
Finally, you should look for additives such as gluten, soy, peanuts in the supplements that may cause allergies to some people.
If you are allergic to these additives, then you should choose a product that clearly skips these additives.
Precautions of Using Probiotics
Pregnant women should consult with a doctor before utilizing Probiotics. Some of the products openly mention that they are suitable for them while others avoid that.
Moreover, if you feel strange symptoms, for example, if Probiotic powder gives a reaction after using it several times, then you should stop using it and get yourself checked by a relevant doctor.
Conclusion
Probiotics seem to be a promising chain of products in coping with digestive problems.
Moreover, certain strains of Probiotics seem to have certain benefits.
There are Probiotics that help against constipation while others help with Diarrhea. Some help with IBS (Irritable Bowel Syndrome).
Another thing to note is that these Probiotics supplements should be taken in specific quantities that is because more research is still needed to be done on Probiotics.
Hence, better to avoid overdose that may not raise immediate concerns but may affect in long term.
Furthermore, it is recommended to mix some natural sources of probiotics like yogurt while taking the best Probiotics supplements for a greater result.
Read Next: