Treadmills are the answer to those complaints about not being able to run outside for different reasons.
They are widely used by a great percentage of the population to fulfill their daily running targets.
Treadmills are designed for the users to run indoors when outdoor conditions are not suitable.
But also, many people prefer, in general, indoor running over its counterpart.
In this article, I'll discuss some best treadmills in Malaysia that you can buy to kick start your healthy journey.
Take Note:
Malaysia is Hot & Sunny! Don't go outside without Sunscreen!
Don't Miss Out These:
Top 5 Best Treadmills in Malaysia
Why Do We Need Treadmills?
Treadmills are a perfect alternative to outdoor runs when the weather seems to be too harsh for a perfect outdoor run.
It's quite evident that running outdoors exposes us to fresh air and nature but at times, we may be restricted indoors for a number of reasons.
Uncertain Weather in Malaysia
For example, the sun might exhale scorching heat on a running day or uncertain weather may refrain you to step outside, not to forget the heavy rain that can also hinder you to abandon home, especially in some areas of Malaysia.
So, all these circumstances impel a runner to search for an alternative way of exercise.
That's pretty much where Treadmills come into action.
Useful Settings and Controls
Treadmills have numerous benefits.
From setting the speeds of your own liking to counting the distance covered, they are a perfect tool for an athlete who wants something more than just a simple run.
Treadmills can give you a precise count of the miles that you happen to run on it with a dedicated distance measuring device.
It also gives you the liberty of choosing the speeds of your exact taste.
All in all, most of the treadmills also give the users a choice to choose the inclination angle that can help mimic a hill like running experience while sitting indoors.
Avoid Bad Air Quality at Outdoor Areas
In current times, where the air quality index is not too good for a walk let alone running, treadmills can prove to be a great companion.
And with the more recent pandemic situation resulting from the Covid-19 virus, treadmills can provide the peace of mind of a good healthy walk while staying indoors.
Improve Health
Additionally, Treadmills are a great way to improve your cardiovascular health.
They can also help you burn calories efficiently to reach your targets fast.
A great benefit of a treadmill is that if you are looking to participate in a marathon run such as Standard Chartered KL Marathon of Malaysia, then having a treadmill in your living space can give you a great edge of practicing for the event ahead of time.
Types of Treadmills in Malaysia
There are mainly 2 types of Treadmills that can be found in Malaysia namely motorized and non-motorized or manual.
These treadmills can be further classified into foldable or non-foldable treadmills.
A motorized treadmill, as the name suggests, runs on a motor, hence, giving a great edge to the comfort seekers as no need arises to manually get the belt running.
Conversely, manual treadmills require the runners to put effort on the belt that can be tiresome for some users.
Moreover, treadmills also come with a folding option that can be a good feature if you are short on space in your home.
Today, most of the treadmills come with a motorized mechanism.
Best Treadmill Brands in Malaysia
Here are some of the top brands that sell treadmills:
Vigor
Fitness Concept
ADSport
Johnson Fitness
5 Best Treadmills in Malaysia Review
Here, a list of treadmill products will be given and I will include different types of treadmills for different needs.
1. TR500 Vigor Fitness Multifunction Treadmill Review
A 3.5 HP Pro Drive Motor
Foldable and has a soft drop system
Featuring speed, distance, calorie, pulse, body fat listing display
Speed range of 0.8-12 KM/H
3 manual inclination system of up to 5%
Has a built-in Shock absorbing system
Maximum user weight is up to 110kg
Vigor Fitness TR500 is a multifunction treadmill. It's listed as best for cardio and running exercises.
It features a 3.5 HP motorized mechanism.
Moreover, it also features a manual incline system of up to 5%.
Vigor lists its motor as stable, silent, energy-saving, and powerful.
Moreover, it also features a pulse meter, distance meter, as well as a calorimeter.
Pros:
Has a foldable mechanism so, space-saving
3 Levels manual inclination system
Cons:
5% inclination may not be enough for some people
It may not be suitable for overweight people as the weight limit is 100kg.
---
2. Fitness Concept Reebok Astroride 2.0 Treadmill Review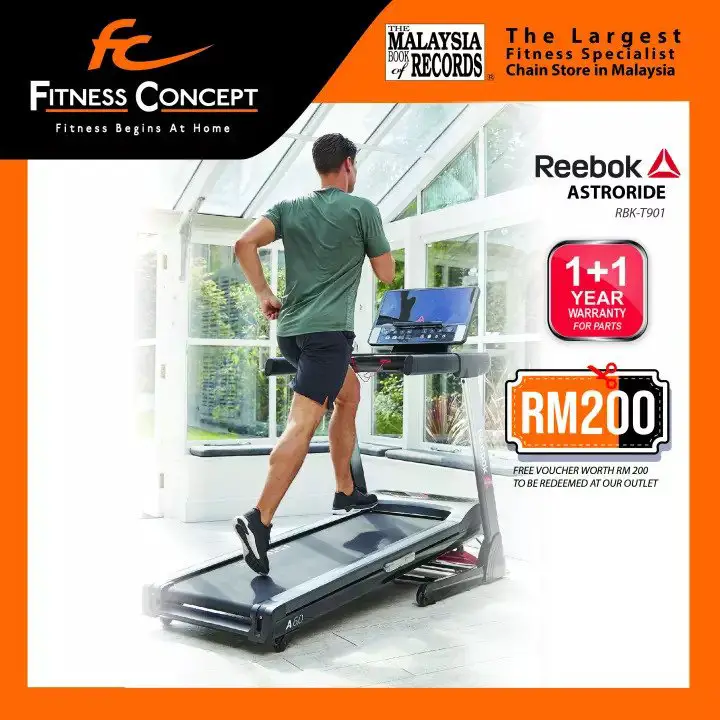 Has 3 user-defined and 3 target programs
Has auto-stop safety key function
Storage tray
SoftDrop Hydraulic Folding
Also has integrated Hand pulse sensors
Max user weight of 120 kg
This is another entry in this list of Best Treadmills in Malaysia.
It features a modest 1.5 HP motor and has a 13 KPH speed.
It also has 2 manual incline systems to its name and has built-in transport wheels.
Additionally, it claims to have 36 pre-set workouts and features the Astroride cushioning technology.
It also has a soft drop folding mechanism to help the customers open it in an easier fashion.
Pros:
120 kg weight support means it can cover a better audience as compared to other products
Pre-defined workouts can be a good thing for new users.
Cons:
Could have used a better-powered motor
Pulse meter seems to be missing which might be a dealbreaker for some users.
---
3. Vigor Fitness TR660S Treadmill Review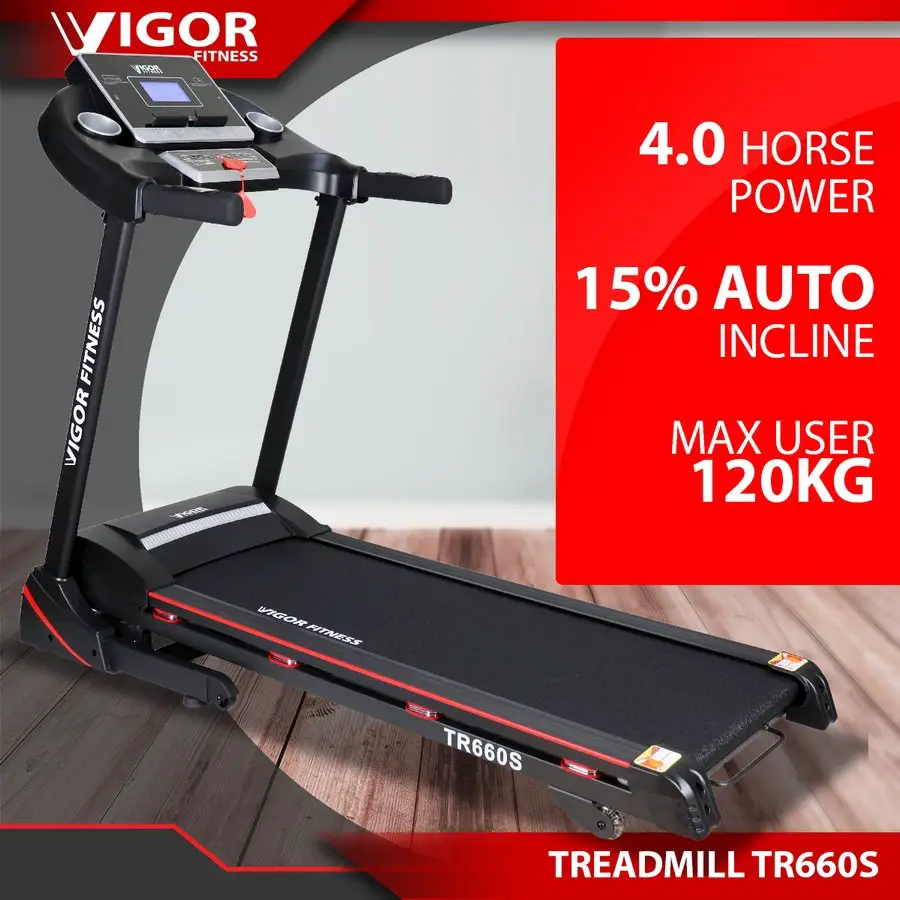 Has a cushioning system: 8 unit Silicon Absorption
Foldable treadmill with a soft drop mechanism
Features a Heart pulse sensor
Better speed range varying from 0.8 – 14 KM/H
Maximum weight support of 120 kg
Console features a display for time, distance, calorie, pulse, body fat, etc.
Vigor fitness has a number of models to offer including this one named TR660S.
Designed for exercises such as jogging and running with auto incline function at its heart, this product features a 4 HP motor which is an upgrade over the T540 model.
This machine also supports the quality silence function for its motor similar to the previous product, to provide a stable, silent, energy-saving, and powerful experience.
Moreover, its auto incline feature offers an inclination of 15% which is a clear upgrade compared to its competition.
Pros:
Features a well-powered motor with a specified rating of 4.0 HP
Features higher running speed and better weight support
Cons:
No pre-defined workouts or targets
---
4. ADSports AD928 Motorized Electric Treadmill Review
Has a 4-way spring shock-absorbing damping system
Offers a heart pulse sensor handle
Has a hydraulic folding system which should be handy while folding the treadmill
Multifunction model comes with massage motor belt, twisting plate, sit up function dumbbell while the single function version lacks these features
Supports user weight of 140 KG
This treadmill offered by ADSports comes in two variants named Luxury and Premium.
They differ in the inclination feature as the premium model lacks inclination.
Moreover, it also comes in the configuration of single-function and multi-function based on a number of functions, given in the highlights below.
This AD928 model hosts a 4.0 HP powerful, silent, and energy-saving motor as claimed by the product description.
The luxury model, as the name suggests, also features a 15 level auto electric incline system while the premium model has no incline function to feature.
Pros:
Top of the line variant features a great inclination system along with some additional functions such as twisting plate, etc.
Better user weight support (140 KG)
Cons:
No pre-defined workouts or targets
---
5. Johnson Fitness Tempo T82 Treadmill Review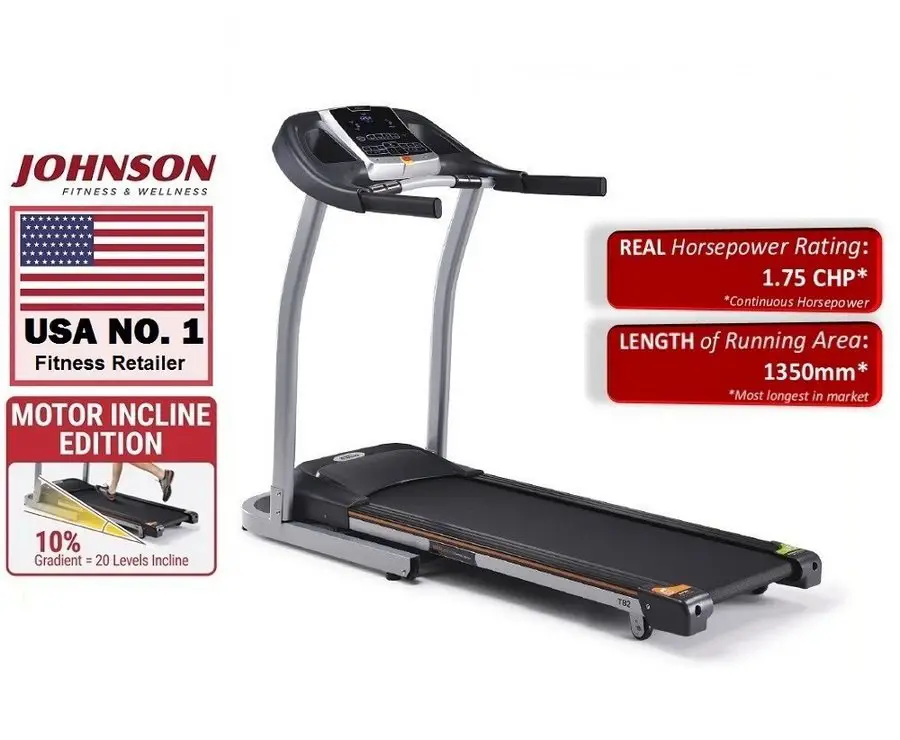 Features a 1.5 CHP digital drive motor
Has a speed range of 0.8 – 15 km/h
Has an incline range of up to 10%
Supports user weight up to 115 kg
The console gives feedback related to time, distance, speed, calories, heart rate, steps
The Johnson Fitness Tempo T82 is one of the best treadmills in Malaysia that gain a lot of popularity among Malaysians.
It claims to come with a Johnson Drive System that must be good enough for quiet, durable, and responsive motor performance.
It also offers a one-step hydraulic system that makes it easier to fold or unfold this treadmill.
Moreover, there is also a heart rate monitoring sensor so that you can be kept up-to-date with your heartbeat frequency.
Pros:
Numerous sensors to keep the user aware of some essential stuff
Comes with 5 programs to let you choose the best one for you
Cons:
---
Conclusion
Treadmills are a great alternative to outdoor exercises such as running, jogging, etc. especially when the outside environment seems unsuitable for these activities.
Moreover, they can also prove to be a good training device such as if you are going for a marathon and are looking to check your stamina out while not wanting to go outdoors.
I hope this article can help you in finding the best treadmill in Malaysia.
Stay home, Stay safe!
Read Next: