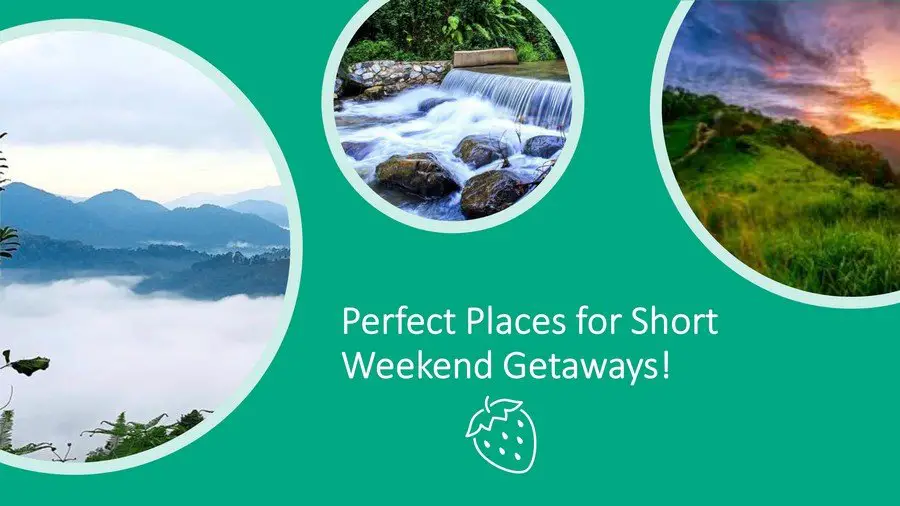 Looking for short or day trips in Malaysia?
Weekends are a valuable time for everyone to relax and recharge their batteries.
If you don't want to stay at home, I'm here to introduce to you some great places for perfect short weekend getaways.
These amazing places are perfect to go with your family or friends.
It can be a one day trip or two days trip.
Let us explore these beautiful places for budget and relaxing short weekend getaways.
24 Short Weekend Getaways & Trips for Relaxing
Kuala Selangor
Sekinchan
Taman Botani Negara Shah Alam
Ulu Yam Baru
Farm in The City
Hulu Langat
Pulau Ketam
Tadom Hill
Jugra Paragliding
Sekeping Serendah Retreats
Putrajaya Skyrides
Semenyih
Teluk Kemang
The Dusun
Fraser Hill
Sungai Lembing
Laman Pesona Resort & Spa
Berjaya Hills (Bukit Tinggi)
Cameron Highlands
Sky Avenue
Trong Leisure Farm
Bagan Sungai Burong Fishing Village
Adeline Villa & Rest House
HS Farm Stay
Best Places for Short Weekend Getaways In Selangor & Kuala Lumpur, Malaysia
Here are some of the best tourist spots and attractive places to spend your wonderful time.
Let's plan for a short weekend getaway with your family and friends after this!
1. Kuala Selangor
Kuala Selangor is a beautiful and small fishing village. The name comes from the Selangor River, meaning 'Port of Selangor River'.
Here has the largest Sonnerati Forest, the natural scenery is beautiful. It is about an hour's drive from Kuala Lumpur.
Sasaran Beach and Fish Villages
The Malaysia version of "mirror of the sky".
First and fifteenth of every month based on the Chinese calendar, there will be a mysterious shoal emerged from the middle of the sea during the low tide of seawater.
When the water retreated to 0.5 meters, about the depth of the ankle, the shoal in the bright sun will become a magic mirror that can reflect the sky reflection.
It is like the world cut into half.
Fireflies
In the evening, do not miss the opportunity to see fireflies, this is a crucial experience when visiting Kuala Selangor!
The Kampung Kuantan Firefly Park is the best spot to see fireflies, it is one of the world's few fireflies protection areas.
Visitors can ride a dinghy without an engine, in the quiet night, watch tens of thousands of light firebugs (like the Christmas tree string) on the mangroves in Selangor river.
What a spectacle scenery!.
Note: If you are staying on the southern side of Peninsular Malaysia, you may visit Kota Tinggi Firefly Park located in Kota Tinggi, Johor, if nearer.
2. Sekinchan
Located in the northern part of Selangor, Sekinchan is one of the largest rice-producing areas in Malaysia.
Aside from the pleasant rice field scenery, there is also a fishing village that produces fresh seafood, and called "The Land of Fish and Rice".
It is an ideal place for a day trip or a short stay.
It takes about an hour and a half drive from Kuala Lumpur to enjoying the beautiful scenery and eating fresh seafood.
Rice Fields
Along the road you can see the beautiful rice field scenery, if you encounter the harvest season, it is a whole piece of golden yellow, super spectacular!
Pantai Redang Sekinchan
Pantai Redang is a small beach in Selangor. It is near the fishing village, the seaside has a sign for tourists to take pictures, as well as tree houses, fishing boats, small pavilions and so on.
Jeti Sg.Labu Bagan Sekinchan
Is a simple and small fishing village, where you can feel the strong kampung style.
3. Taman Botani Negara Shah Alam
For those who want to get close to nature, you can visit this famous National Botanic Garden in Shah Alam.
The botanic garden covers an area of about 817 hectares, so visitors can enjoy their rides, walk along the park's route and visit mini zoos, orchards, botanical gardens, and more.
Four Seasons House
It allows visitors to explore the four seasons of spring, summer, autumn, and winter in this tropical country, and have the opportunity to see the trees and plants that are different from tropical plants.
Skytrex
Skytrex Adventure is one of the adventure parks in Malaysia, allowing you to hike in the jungle of the suspension bridge at unprecedented heights.
Test your agility, challenge your fears, and let you succeed through different challenges, whether you walk, climb, slip, walk, and swing. At the same time, challengers can enjoy stunning views of the Malaysian rainforest in safe conditions.
4. Ulu Yam Baru
Ulu Yam Baru was founded in 1951 and is located in the Batang Kali, Selangor. This village is very close to the Ulu Yam Lama. The distance between the two villages is about 3 km, and it takes about 10 to 15 minutes of drive.
Hutan Lipur Sungai Sendat
It's a good place to escape the heat, made up of three waterfalls, and the slender water flows down the hill wall, suitable for families to play here and enjoy a relaxing short getaway from busy cities.
Hulu Tamu Hot Springs
After playing in the hills and waters, if you feel cold, you can come here to enjoy the hot spring.
5. Farm in The City
Located in Seri Kembangan (formerly known as Serdang New Village), it's a traditional zoo where you can close contact with the animals.
Bird Aviary
Here all kinds of birds will be free to fly around you, and you can feed them too!
Pet Village
Here you can touch and play with those cute little animals that are relatively small and gentle.
6. Hulu Langat
Hulu Langat may not be as famous as other tourist spots, but it is a good place for a day trip or three days and two nights trip! It is a wild mountain forest, once you walk inside you will discover the beauty of the place
Gunung Nuang
Located in Hulu Langat, Gunung Nuang is the highest mountain in the Selangor state, at an altitude of 1,493 meters (4,899 feet).
The mountain spans Selangor, Pahang and Negeri Sembilan, and one of the trails leads to Janda Baik near the Genting Highlands.
If you love hiking, you'll enjoy hiking Gunung Nuang.
Sungai Congkak Forest
This leisure park is a perfect spot for a weekend getaway for families of all sizes.
Once in the park, besides the sound of water, insects, and birds, the fierce sunlight is blocked by the ancient trees, giving you a cold and comfortable environment to walk around and enjoy your life and time.
Gabai Falls
Hulu Langat has many natural waterfalls, the most spectacular one is the Gabai Waterfall, and several of its small waterfalls form a few natural pools. An amazing spot for you to relax and play with the water.
7. Pulau Ketam
Pulau Ketam is an island located in Malaysia's Selangor State near the port Klang, with an area of about 30 square kilometers. In english, it is called "Crab Island", and the whole island is located below the tidal line with lots of mangroves.
The population of Pulau Ketam is about 9,000 people with the majority being Chinese, mostly Teochew and Fujianese, and their main jobs are in the fishing industry.
Sungai Lima
There are five rivers in Pulau Ketam, the most frequently visited place is the first port, the second port is the village of Orang Asli, third and fourth ports are uninhabited, fifth ports have about 200 families, mostly Fujianese, is a very simple and small fishing village.
Mangroves
It is a place with an environmental ecological balance, and also a great place to see the sunrise and sunset, if lucky you can also see the eagle, a wonderful short getaway to feel the beauty of nature.
8. Tadom Hill
I'm sure every Malaysian is familiar with Tadom Hill. Located in Banting, Selangor, it's only a 40-minute drive from Kuala Lumpur. For those who want to try camping in the wild, consider coming here!
Here you can enjoy the scenery of the world peach source and there are also a lot of games waiting for you to play, such as diving, swimming, beach volleyball, and more. Come here to play and it will not let you down!
9. Jugra Paragliding
Want to try the feeling of flying in the air? Your chance is here! As long as you go to Bukit Jugra at Banting, Selangor to play paragliding, you can enjoy the feeling of flying in the air. It's just awesome!
After the exciting paragliding, you can sit on the hillside, waiting for dusk, watching that beautiful sun to rest down the hill!
10. Sekeping Serendah Retreats
Sekeping Serendah Retreats is a natural and beautiful forest retreat for a short private getaway with your close friends and family.
Located in Serendah, Selangor with about an hour's drive from Kuala Lumpur city.
You can experience living with nature while having a good time with your loved one.
You can choose from Glass Shed, Mud Shed, Timber Shed, Warehouse, and Glass Box for your weekend stays.
Besides, there are other activities like jungle trekking, fishing, swimming, bird watching, visiting Orang Asli village nearby, and golfing.
11. Putrajaya Skyrides
Located next to Putrajaya Lake, it is divided into ten themed areas, each with its own characteristics.
Skyrides Balloon
On the giant helium balloon, you can look out over the city from a 150-meter-high angle around a 360-degree corridor.
The Skyrides Balloon can accommodate up to 30 people at a time, but organizers usually arrange for about 15 people to ride, allowing passengers to walk around the corridor for a free walk and view, a process of about 15-20 minutes.
SkyWarrior
An obstacle games area with 8 different difficulty levels for those who enjoy the outdoors and challenges.
To protect the safety of players, the authorities have also set up a sponge wall and perfect security measures, so you can rest assured that you can challenge.
SkyBuggy
This is the latest attraction to play – SkyBuggy, an exciting mini four-wheeled off-road vehicle with no age limit. Located in the heart of SkyRide, the SkyBuggy track lets you experience thrilling bends.
Best Places for Short Weekend Getaways In Negeri Sembilan, Malaysia
Negeri Sembilan is another wonderful state in Malaysia that pack with attractive places for a short vacation.
Here are some of the popular spots to fill your weekend with day trips.
12. Semenyih
It is a town in Ulu Langat, Selangor Malaysia, near the LEKAS (Lebuhraya Kajang–Seremban) highway. It is just a 30-minute drive from Kuala Lumpur.
Broga Hill
It's a unique hill full of thatch and few tall trees, it is not that difficult to climb the hill, and you can enjoy a panorama view of Kuala Lumpur together with sunrise and sunset! It takes about 1.5 hours to climb the Broga Hill, a wonderful experience that you should try.
Rabbit Garden
Located opposite the Broga Hill, you can also see horses, geese, monkeys, deer, cows, goats, and other animals, and you feed the rabbits closely!
Paradise Valley Broga
Paradise Valley Broga is located near Broga Hill and is known as the most intensive and exciting eco-resort.
You can play a handful of extreme activities like air sliding ropes, climbing walls, guarding lighthouses, rock wall drooping, barrier walls, inflatable touch balls, water activities, and cave adventures.
Of course, there are day trip packages here for you to play as long as you like.
13. Teluk Kemang
Teluk Kemang is one of the most popular beaches and water activities attractions in Port Dickson. There's plenty of sea activities and entertainment for you to play until the fullness!
If you don't like sea activities, it not a big deal as you can also enjoy the stunning sea view while spending time with your kids on the beach piling up castles!
14. The Dusun
The Dusun is a beautiful tropical rainforest resort located in Seremban, Negeri Sembilan. You can enjoy the jungle view while staying in one of the 5 unique themed houses.
Besides, the Dusun Resort has an Infinity pool for you to take check-in on social media with stunning photos. In the evening or night, you can host a barbeque party and enjoy the wonderful moment with your family or friends.
You can also take part in various outdoor activities nearby like bird discovery walk, jungle trekking, photography workshops, visiting Ostrich Farm, local wet market, and Sri Menanti Museum.
Best Places for Short Weekend Getaways In Pahang, Malaysia
If you love traveling, outdoor activities, team building activities, exploring nature, and extreme sports and activities, you should never miss Pahang.
Pahang is famous for a few popular states and highlands that attract lots of local and foreign tourists to visit, some of these popular places are Bentong, Kuantan, and Genting Highlands.
Here are some of the famous spots in Pahang that are perfect for relaxing short weekend getaways.
15. Fraser Hill
One of the three famous highlands in West Malaysia, located at an altitude of 1,524 meters, located near the border between Pahang and Selangor, is Malaysia's most beautiful and natural mountain resort.
When you reach here, you'll have a feeling of being in the British countryside. It is about 50 km from Kuala Lumpur and is one of the popular places for a weekend getaway or days trip.
There are plenty of high-rated resorts to spend your nights there.
The England-style Bell Tower
The town of Fraser Hill is full of England granite buildings, with a small Scottish exotic, giving a rather casual feel. The small clock tower in the center of the town is the mimic of Big Ben in London, England, and is the symbol of Fraser Hill.
Allan's Water
You can come here for fishing, but the fish you catch has to return to the lake!
16. Sungai Lembing
If you're a mountaineer and love to conquer the top of the mountain, you should fall in love with the Panorama Hill at Sungai Lembing, located in Kuantan, Pahang.
To see the yellow yolk-like sunrise, you'll be at the top of the mountain at about 6 a.m. That sea of clouds, charming sunrise, it is a pleasant experience for you and your family and friends.
17. Laman Pesona Resort & Spa
Tired of the rushing and noisy city? Let's relax at Laman Pesona Resort & Spa!
Located in Raub, Pahang, it only takes an hour and a half drive for you to escape from the stressful city! From the orchard into the villa, Laman Pesona Resort & Spa instantly became everyone's favorite place for holiday and short weekend getaway!
Staying here will never let you feel bored because it offers a lot of facilities for you to enjoy, such as swimming pool, karaoke, GYM, spa, bicycle, etc.
You may check the availability and book here!
18. Berjaya Hills (Bukit Tinggi)
Berjaya Hills (or called Bukit Tinggi), located in Bentong Pahang, is one of the ideal options for a short relaxing holiday and weekend trip.
Built on the tranquil hill, the Chateau Spa and Oraganic Wellness Resort, modeled on France's beautiful 16th-century Alsace region, is reminiscent of the cold weather of autumn and winter.
About an hour's drive from Kuala Lumpur, the hill has a cool climate with two theme parks.
French Village
Here you can feel the strong French romantic mood and atmosphere, rows of castle-style buildings will make you feel like in the fairy tale world and awake your dream of a princess as a child, especially for girls who love romance.
It's a great place for couples to date, and many couples come here to take wedding photos. The French Village is located at Bentong, Pahang.
Japanese Village
The green, quiet, and Japanese-style environment that will make you forget the stress. Here is the green rainforest using Malaysia's natural resources to present with the green Zen of present-day Japan.
Walk in the woods, along the road there will be streams of waterfall squealing, want a leisure trip? Just come here.
19. Cameron Highlands
The Cameron Highland is located in Pahang, about 200 km from Kuala Lumpur, which is the largest highland resort in Malaysia.
Be sure to visit its various popular spots, such as tea garden, garden, vegetable garden, strawberry garden, butterfly garden, bee garden, and cactus garden.
Besides, you can visit the Time Tunnel Museum and take a short half-hour to learn about the history of what was once known as Little Britain.
BOH Tea Garden
For a day trip, be sure to go to the BOH tea garden, enjoy the lush landscape, go to the tea garden restaurant to taste the tea and cake, spend a wonderful afternoon tea time with your family or friends.
Strawberry Farm
Also, when coming to Cameron you certainly can't miss the strawberry farm to pick strawberries, to the rose mountain to enjoy flowers, to the vegetable market to buy organic fruits and vegetables, such as pearl corn.
If you live in the Cameron Highlands for a night, you can go to the Brinchang night market to experience eating hot kebabs, sweet potatoes while walking in the cool streets, awesome feeling!
What are you waiting for? Book a beautiful resort now and plan your 2D1N or 3D2N trip there!
20. Sky Avenue
Eaters, you're blessed! Sky Avenue is simply tailored for you as famous cuisines from all over the world can be found here, such as Japanese food, Korea food, France food, Chinese food, Western food, and more.
Best part? You can enjoy all these delicious foods in a cool environment as it is located in Genting Highlands, Pahang.
Best Places for Short Weekend Getaways In Perak, Malaysia
When talking about day trips or two days three-night trips, one cannot forget the Perak state.
Aside from the famous foods in Ipoh, Perak, there are also plenty of attractions and tourist spots to spend your weekends.
Here are some of the popular places to visit to relax your body and mind from a busy and stressful lifestyle.
21. Trong Leisure Farm
This is the first duck-themed leisure farm in the whole of Malaysia! Located at Terong, Perak, the environment here is beautiful.
There are mountains and lakes, a total of about 60,000 ducks waiting for you to find out! If you're a duck fan and want to get to know ducks in-depth and experience feeding them yourself, it's right to come here!
You can also ride a duck boat around the entire farm lake.
22. Bagan Sungai Burong Fishing Village
The Bagan Sungai Burong is located at Bagan Datoh, Perak. The oysters here are big and cheap, if you love to eat raw oysters, do not miss this spot.
Not just the tasty foods, but you can also witness the "blue tears"! Many tourists come to Bagan Sungai Burong fishing village to see the blue tears!
To see the blue tears, you need to deal with the village's travel agency (Nine Island Agency Sdn.Bhd), and it will take a 30-minute boat to Pulau Sembilan.
23. Adeline Villa & Rest House
If you love nature and adventure, the Adeline Villa & Rest House located in Gopeng, Perak is tailored for you.
You can enjoy the beautiful nature and outdoor activities like caving and water rafting, suitable for those who come as a group as some of these activities have a minimum participants requirement.
They also have an attractive team-building package for companies and organizations to spend a wonderful time together on a short weekend getaway and trip.
Best Places for Short Weekend Getaways In Johor, Malaysia
Here are some of the places in Johor that you can visit on weekends and holidays for short and budget getaway trips.
24. HS Farm Stay
With less than a 15-minute drive from the port of Muar, Johor, you can experience an outdoor farm full of nature!
Rather than introduce animals to children through 3C products, it is better to bring your children to physically feel and touch animals!
There are also horse riding services, outdoor and indoor water activities, bee farms, coconut farms, and more!
Take your children to experience the charm of nature in the coming weekend trips.
Want to stay for one more day? Just book this wonderful resort!
Bottom Line
When was your last trip?
Years ago?
Come on, don't be so boring with your life.
Life is only wonderful when you explore a lot of exciting things in your life, don't just stay at home and play with your mobile phone or computer.
What's Next: