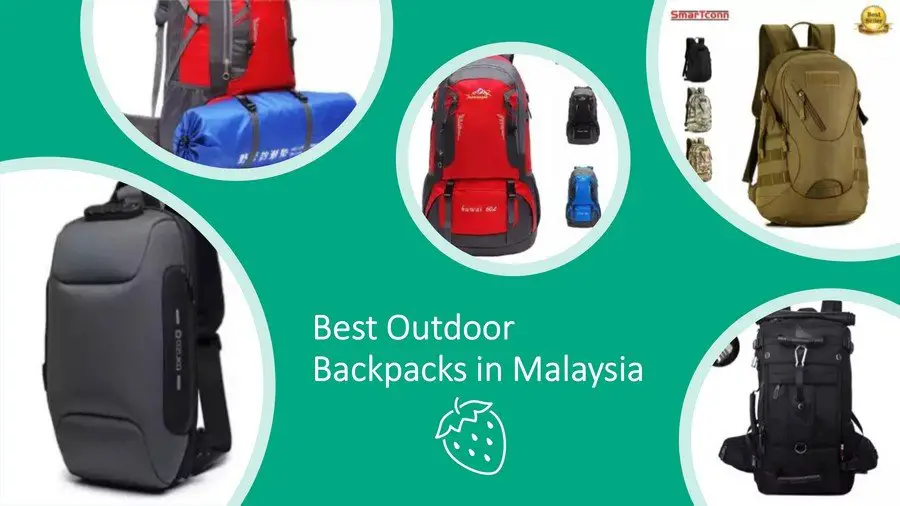 Finding a waterproof backpack for college, travel, hiking, camping, or other outdoor activities?
A high-quality backpack can improve your overall experience in adventure, camping, mountain, hiking, climbing, or traveling.
But the challenge is, it is difficult to find a good quality one out of so many choices in the market.
Unlike casual backpacks for shopping or school, for outdoor activities, you need a higher quality backpack that is waterproof, lightweight, and durable.
So in this article, I am going to show you the best waterproof backpacks for travel, college, camping, hiking, outdoor sports, and traveling.
Take Note:
Malaysia is Hot & Sunny! Don't go outside without Sunscreen!
Don't Miss Out These:
Top 10 Best Waterproof Backpacks for Travel, Camping, College, & Outdoor Activities
1. Multifunctional Outdoor Waterproof Travel Backpack Review – Best Waterproof Backpack
Features:
Expandable capacity: 40L to 60L
Multi-functional: Backpack, Hand carry, and Sling bag
Waterproof material
Wear-resistant
Made of high-quality nylon and canvas
This is a multi-functional backpack that can turn into a hand carry bag and a sling bag for different usages.
It is made of high-quality nylon and canvas for waterproofing and wear-resisting.
You can use it for outdoor activities like hiking, camping, cycling, and traveling and casual activities like shopping and school.
It has thick and wide shoulder straps for comfortable wearing and reduces shoulder stress during long hours usage, and the breathable material will ensure better ventilation.
The quality and functional design make it the best waterproof backpack for travel and other purposes.
2. Betes Outdoor Waterproof Anti-theft Backpack Review – Best Anti-theft Backpack
Features:
Anti-theft feature with a 3-digit lock
Made of premium oxford fabric
Comes with reflective straps for safety at night
Waterproof
USB charging interface
Size: 34cm x 8cm x 17cm
The premium oxford fabric material is used to give a long-lasting performance with minimal weight.
One unique feature of this anti-theft backpack is the USB charging interface which makes charging of your electronic gadgets more convenient!
No more finding and carrying a power bank during your trip.
What I like about this anti-theft backpack is it includes a built-in 3 digit lock to secure your belongings like wallets and passports during traveling.
All these wonderful features make this the best anti-theft backpack for traveling.
3. SmarTconn Military Tactical Waterproof Backpack 20L Review – Best College Backpack
Features:
Volume: 20L
Weight: 0.85 kg
Size: 21cm (L) x 25cm (W) × 43cm (H)
Waterproof
Anti-scratch
Wear-resistant
Made from high-intensity 900D Nylon material
Comes with Molle external expansion system
If you do not need a large capacity backpack for your short trips, this is one of the best backpacks you can buy.
It is suitable for camping, travel, gym, fitness, hiking, cycling, and all kinds of outdoor activities.
At 20L capacity and less than a kilogram weight, this is the best college backpack for those looking for a lightweight and small backpack.
4. EcoSport Military M92 70L Waterproof Travel Backpack Review – Best Travel Backpack
Features:
70L capacity
Weight: 1.25kg
Size: 62cm x 18cm x 32cm
High wear-resistance
Made of waterproof nylon
Available in many colors
The EcoSport Military M92 is another high capacity travel backpack with 70L space for your belongings.
Its waterproof property will ensure no damage to your belongings during travel in case of raining.
Besides, it comes with a few color designs to meet your preferences.
5. EVEVEME 80L Waterproof Backpack Review – Best Capacity Backpack
The 80L capacity allows you to fit more things for long-distance traveling and long period camping, trekking, and hiking.
This large travel backpack also comes with multiple zipped pockets to make organizing belongings easier.
A whopping 80L load capacity makes it the best backpack with the largest capacity in the list.
6. Warbase 60L Waterproof Backpack 7235 Review – Best Value Backpack
Features:
60L large capacity
Size: 36cm (L) x 20cm (W) x 60cm (H)
Waterproof nylon fabric
Lightweight
Durable
Reduce shoulder stress
The Waterbase 7235 is a large capacity unisex backpack for camping, travel, hiking, and more outdoor activities.
It is designed to reduce shoulder stress, which makes it an ideal choice for long-distance and hours traveling and hiking.
If you are looking for the best value-buy at this capacity, this is the one!
7. SUPERSPORT 60L Premium Waterproof Travel Backpack Review – Best Outdoor backpack
Features:
60L large capacity
Abrasive resistance
Waterproof backpack
Size: 61cm x 21cm x 37cm
Reflective line & lifesaving whistle
This travel backpack is made of high-quality nylon for durability and breathability.
It can support up to 60L of volume and 55kg of weight.
With adventures in mind, the travel backpack comes with a reflective line to improve safety in the night and a lifesaving whistle for emergencies.
This 60L travel backpack is suitable for various outdoor activities like traveling, hiking, climbing, and camping.
The thick cushion inside the shoulder straps will lighten the stress on the shoulders.
It is one of the best backpacks for camping.
8. EcoSport 60L Waterproof Hiking Backpack Review – Best Hiking Backpack
The EcoSport 60L is a high-capacity waterproof hiking backpack that is suitable for various outdoor activities.
It is made of high-grade nylon for waterproof and durability, and not easy to deform.
This hiking backpack has an additional bandage to reduce the stress to your shoulders and to support the weight up to 55kg.
It is designed for better ventilation and comfort to provide a better hiking experience for you.
Besides, it has a few small pockets to store your small gadget.
9. EVERY1 Outdoor Sport Backpack 0026 Review – Best Sport Backpack
Features:
40L capacity
Size: 52cm x 17cm x 52cm
Made of high-quality nylon
Lightweight
Back protection sponge
The EVERY1 Outdoor Sport backpack is designed for outdoor sports like riding, hiking, mountain climbing, cycling, and more.
It is lightweight and has a moderate capacity for 40L, which is good enough to use for various sports activities.
10. SIMPLYBEST 40L Multipurpose Backpack Review- Best Budget Backpack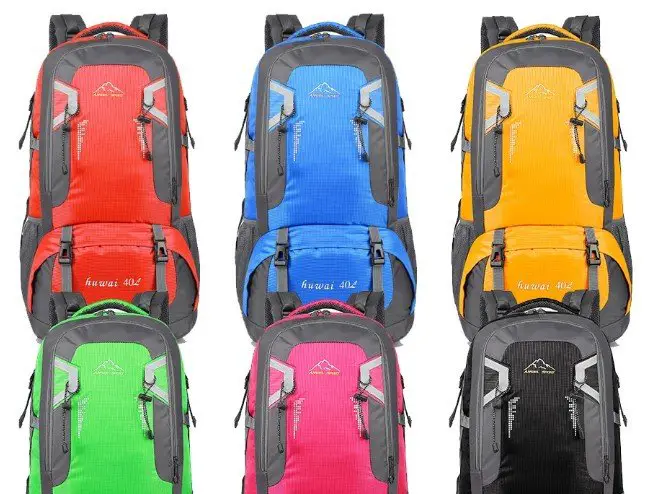 Features:
40L capacity
Size: 49cm x 15cm x 25cm
Made of waterproof nylon material
High abrasion resistance
Reflective line and lifesaving whistle for safety at night
The SIMPLYBEST Multipurpose backpack is made of highly durable material that can carry up to 35kg weight with its 40L capacity.
Besides, it is not easy to deform and has good ventilation.
Make it an affordable backpack for everyday use including occasional outdoor activities like mountain climbing, trekking, hiking, and travel.
If you don't want to spend too much on a backpack, this is the one you should consider, it the best budget backpack on the list.
Bottom Line
Whether you are looking for the best waterproof backpack for travel or an anti-theft backpack with a built-in lock, there is one for you in the top 10 best waterproof backpacks list.
If you prefer a multi-functional backpack for multi-purposes, you can also find it here.
From 20L to 80L capacity and from budget to premium backpacks, I've researched and compiled all of them into this top 10 best backpacks list for you.
What are you waiting for?
Just order the best backpack that suits your needs and go for your dream adventures and travels!
What's Next: