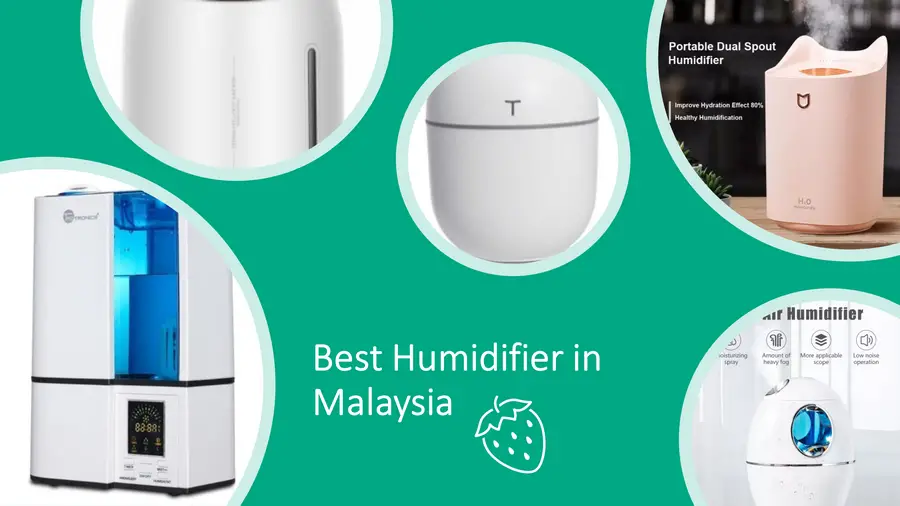 Homes are expected to provide the best possible habitable conditions to the occupants. However, the conditions in interiors are affected a lot by the overall climatic conditions of the area or region where it is located.
The world is divided into many types of countries such as hot and dry, hot and humid, cold and dry, cold and humid, and so on. Amongst these, dry conditions in any area need a certain ambiance balancing solution to avoid the feelings of irritation caused in the body due to extreme dryness.
This is where a humidifier steps in and proves its worth.
In this article, I will show you the top 5 best humidifiers in Malaysia that you can put in your home or office to regulate the humidity level to the ideal condition.
Take Note:
Malaysia is Hot & Sunny! Don't go outside without Sunscreen!
Don't Miss Out These:
Top 5 Best Humidifiers in Malaysia
Here are the top 5 best humidifiers in Malaysia:
What are Humidifiers
Humidifiers are the class of appliances given the responsibility of maintaining optimal moisture in rooms and closed spaces.
Those people who have respiratory conditions cannot do well in extremely dry conditions. Also, feeling of irritation in the nose and on the skin is quite common when the moisture is conspicuously missing.
So, the best humidifiers maintain the moisture levels and make the ambiance comfortable.
How Does a Humidifier Work?
Humidifier contains inside a vapor-building setup. Once the device is switched on, the vapor formation takes place inside, and it is emitted outside through a vapor emitting mechanism.
The humidifiers do this activity using various phenomena. Based on the phenomenon used, various types of humidifiers are available in the market.
Why Do You Need a Humidifier?
Poor humidity levels in the air can cause various types of allergies and health conditions like skin and eye dryness, nasal congestion, and static electricity. To ensure a healthy ambiance, the home improvement solution providers suggest using humidifiers in the places where the air is too dry.
The best benefits of humidifiers are mostly related to improving the health conditions of inhabitants of the area where their installation is considered. The best humidifiers help in providing benefits such as:
They provide relief from various health discomforts caused by a sinus headache, irritation in nose and throat, skin and lips irritation, irritated vocal cords, and a bloody nose.
It is of best use in enclosed spaces like cabins, underground rooms, and halls, etc. where humidification can help in developing friendly ambiance.
Some humidifiers allow the use of essential oils that can help boost positivity in the area and spread good fragrance.
The humidifiers are designed to emit vapors for longer periods extending to 8 hours and so. Thus, these prove helpful in maintaining healthy and fresh conditions interiors.
Prevent the crack of furniture due to dryness.
Best Humidifier Brands in Malaysia
Here are the best humidifer brands in Malaysia that sell some of the best humidifiers in Malaysia marketplace.
The 5 Best Humidifiers In Malaysia Reviews
Here are the reviews of each best humidifiers in Malaysia.
1. Deerma Smart Touch Air Humidifier F600 Review – Best Smart Humidifier
Features:
5L large capacity
Low water auto cut off
Carbon filter
3-tier mist control
Low noise operation
Room temperature sensor
12-hour timer
Large LED display
The Deerma Smart Touch Air Humidifier F600 is a beautiful humidifier with a large water capacity for long hours usage.
It has a 3 tier mist control to adjust humidity according to your room condition, if your room is very dry, then use level 3, if not, you may use level 2 or level 3 according to the dryness level.
The humidifier also has a honeycomb carbon filter to absorb the most harmful air substances like odor and bacteria to produce clean and healthy air for your family.
It also has useful features like LED display, room-temperature sensor, 12-hour timer, and low-water auto cut-off which make it one of the best smart humidifiers in Malaysia for a comfort room environment.
Pros:
Large water capacity
Carbon filter
Quite
Room temperature sensing
Low-water cut-off protection
2. Double Spout Air Humidifier Review – Best Humidifier with Aroma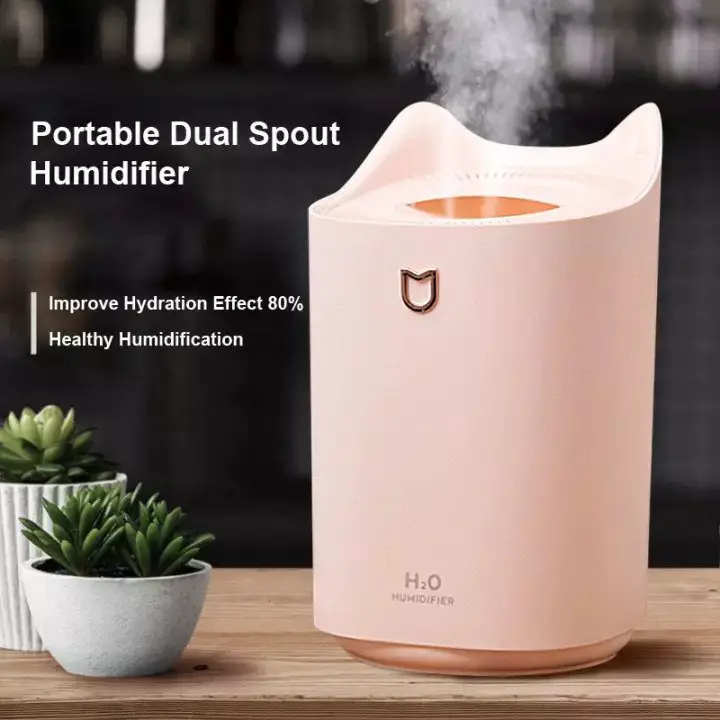 Features:
Dual spout for spray speed control (single – 40ml/h, double – 80ml/h)
7-color light
3.3L water capacity last up to 48 hours
USB for portability
Super quiet at only 30 dB
Auto low-water power off
Humidifying air with polymer atomization
Compatible with essential oil for aromatic air
The double spout humidifier is a large capacity portable humidifier that compatible with an essential air to produce an aromatic environment for your room.
If you love aromatherapy, this is the best humidifier with an aroma that you can buy in Malaysia.
It is very quiet at only 30 dB and can operate for a long period.
Besides, it has a 7-color auto-changing light to make your room colorful.
Pros:
Dual spout
Compatible with essential oil for aroma
Quiet
Portable
3. MBH FEVA Mini Portable Humidifier Review (No Longer Available)
Features:
Ultrasonic humidifier
230ml water capacity
USB power input for portability
Compatible with water-based aromas
Anti-bacteria filter
Mini size and lightweight
Prefer a mini size humidifier instead?
Then the MBH FEVA Ultrasonic Humidifier is the best compact humidifier for you.
It is small, lightweight, and powered by USB, allowing you to put at any location you want, even a tight space like your desk.
The humidifier also comes with an anti-bacteria filter to remove bacteria in the air.
It can use with a water-based aroma to make your room smell better.
Pros:
Compact size and lightweight
Compatible with the water-based aroma
Quiet operation
With anti-bacteria filter
4. USB Air Humidifier Review (No Longer Available)
Features:
USB and lightweight for portability
800ml capacity
Ultrasonic technology
Compatible with essential oils for aroma
7-color light
Visible water level window
Low noise operation
This ultrasonic air humidifier is compact, lightweight, and powered by USB, which makes it the best portable humidifier that you can use in your room, office, or even travel.
It has 800ml capacity to use for 10 hours, and the visible water level window allows you to monitor the water level and refill if needed.
Prefer aromatic air?
No problem, this ultrasonic humidifier support essential oils, just add a few drops to start enjoying an aromatic environment.
It is suitable for room size with less than 30 square meters.
Pros:
Lightweight
Portable
Quiet operation
Can use with essential oil
Visible water level window
5. TaoTronics AH001 Smart Air Humidifier Review (No Longer Available)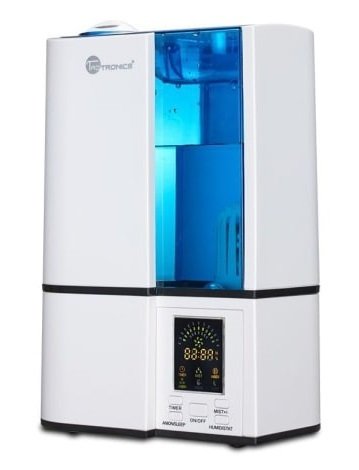 Features:
The humidity level can set from 30% to 95%
With a ceramic filter to filter tap water
Humidity monitor
4L water tank capacity for 12-30 hour working time
Nightlight & sleep mode
LED display
3 Mist Level Mode
Ultrasonic atomizer for quiet operation
Humidify air area up to 107-322 sqft
Auto Shut-Off when water runs out
The TaoTronics AH001 is the best smart humidifier for every home and office.
With this smart air humidifier, you can set the preferred humidity level you want for your room.
Besides, it has a ceramic filter to purify the water in a humidifier to ensure no water contaminants are released into the air.
The humidifier is powered by ultrasonic atomizer technology to keep the noise at a minimal level when operating.
Pros:
A controllable air humidity level
Quiet
Large water capacity for long working hours
Ceramic filter
Low-water protection
How to Choose the Best Humidifiers for Your Home
With so many humidifiers available in the market are quite likely to leave the buyers confused. Thus, purchasing these to get the best results requires taking care of a number of factors. These points to consider are:
Space
One size does not fit all when it comes to humidifiers. The spaces can be very small to very large, and the emission of the vapors may not be strong enough to cover the whole of these when the device is too small. Also, those with limited water capacity will not be able to deliver the desired timing. 
Family size
Humidifiers need to be bought according to the number of people it is supposed to support. Thus, family size plays an important factor in buying the best-suited humidifiers. Apart from the size of the family, the health conditions of the family members are also to be considered.
Budget
Humidifiers are available in technologies ranging from very basic to the most advanced ones. The more advanced the technology, the higher would be the price.
Thus, take note of the budget and then match with the desired functionalities, too, to arrive upon the best choice.
Air quality
Air may have allergens if the humidity goes beyond the optimal levels. Thus, it is always necessary to take air quality into account while choosing air humidifiers.
The high capacity humidifiers should be used only for very dry areas, else it may cause too high humidity leading to other problems like allergies, etc.
Types of Humidifier System in Malaysia
Humidifiers are available in various designs, shapes, and functionality types. These come in various capacities depending upon the amount of vapor generation required for the room space.
Some of the common types of humidifier system available in Malaysia are:
Ultrasonic humidifiers: An ultrasonic vibrator is employed for generating cool mist. Some humidifiers of this type are designed to emit warm mist too.
Steam vaporizers: There is a coil provided inside this humidifier that when put on gets heated and converts the water into vapor and emits vapors. The cooling of vapors is done before emitting to make the ambiance livable for the inhabitants.
Central humidifiers: Central humidifiers are used by integrating them with air cooling units installed in the centrally located spot. These humidifiers are useful when the whole of the area is to be humidified. The best advantage of these humidifiers is that these do not emit hot steam, and so prevent the burns.
Impeller humidifiers: The impeller humidifiers have rotating discs that move at high speed to generate vapor that further emits in the air.
Evaporators: Evaporators come with a moistened filter through which the moisture is blown. It is also provided with a fan that powers this unit and helps expel the humidity into the air.
Comparison of Different Types of Humidifiers in Malaysia
Here are the comparisons of the different types of humidifier in Malaysia.
1. USB Ultrasonic Humidifiers
These are portable USB run small and portable humidifiers ideal for Malaysian homes and offices. USB ultrasonic humidifiers are a quiet device. It has 7-adjustable rainbow lights that can auto-rotate and the light can be put off, too, while it is functioning as normal.
Pros: This humidifier is ideal for small rooms and for those people who live most of the time in air-conditioned spaces. It offers up to eight hours of mist production with breaks in between and serves as a good device for people who need additional respiratory support.
Cons: May require wiping of spray area regularly to avoid clogging, not so efficient for large spaces.
2. Smart Air Humidifier
It is a multi-functional humidifier with smart features. This purifier works on evaporator technology. The humidifier includes a carbon filter that traps allergens and cleans the air, too, in addition to humidifying it. This humidifier comes with antibiotic and nanometer technology, allowing the user to have allergen-free space.
Pros: This air humidifier is ideal for humidification therapy. It is a quiet device and so promoted peaceful sleeping in the right humid space. It is ideal for pregnant women, babies, and other people suffering from COPD issues.
Cons: The humidifier may expel too much mist when the controls are not kept at the correct levels. Thus, little inspection needed, however, it can be corrected with the auto-shut mechanism.
3. Aroma Diffuser cum Air Humidifier
This is another very useful humidifier type common to Malaysian spaces. The presence of oil diffuser offers twin functionality of keeping the interiors humid as well as smelling good or refreshing.
Pros: Blends well with the décor of the room because of its common yet attractive design. It helps keep the room refreshing and free from allergens. It can humidify room up to 15 hours in a go.
Cons: Best-suited only for single rooms. Not advisable for people who have conditions like asthma.
4. Disinfectant Humidifier
12 to 16L capacity air humidifier designed for large spaces like schools, offices, and other commercial set-ups. It humidifies and purifies air through the anionic exchange. Offers 3-level humidity controls to adjust humidity levels in the room.
Pros: Purifies air along with humidifying it. The top-filling style offers ease of adding water. It also has UV function and can be put to sleep mode. Thus, attaining energy-efficiency is possible.
Cons: It is designed specifically for commercial use. It may need additional air-purifying support to offer convenience to people suffering from respiratory conditions.
5. New USB LED Steam Vaporizer cum Diffuser
This device is quite portable and is meant for installation at health care services premises. The humidifies is space-efficient and has exceptional air-purifying quality too.
Pros: Emits ample vapor to manage a whole day, the device supports the conditions at offices, homes, and hotels, etc.
Cons: Water capacity is less than 1 L, timing function 2 hours or less
Where to Put the Humidifiers
A corner is the best place for putting a humidifier. It should be away from the user at a comfortable distance.
For bedrooms, it can be placed at the nightstands to make conditions better before sleeping. The device should be kept away from the reach of children and pets.

How Long to Replace or Clean the Humidifier's Filter
Depending upon the extent of usage and the air conditions, the humidifier filter can be replaced from one month to three months.
If the humidifier is not used very regularly, cleaning once in three months is good.
In the case of daily use, the cleaning and replacement of filters is to be done every two months
In hard water areas, the filter changing is required almost every month.
Summary
Here is the summary and comparison table of the 5 best humidifiers in Malaysia.
| | | | | |
| --- | --- | --- | --- | --- |
| Model | Power | Capacity | Reason to Buy | Price |
| Deerma Smart F600 | Plug-in | 5000ml | Best Smart Humidifier | Show |
| Double Spout | USB | 3300ml | Best Aroma Humidifier | Show |
| MBH FEVA Mini | USB | 230ml | No Longer Available | Show |
| Ultrasonic Humidifier | USB | 800ml | No Longer Available | Show |
| TaoTronics AH00 | Plug-in | 4000ml | No Longer Available | Show |
Bottom Line
Finding the best humidifiers in Malaysia can be made easy when you have factored all the conditions, requirements, and maintenance needs mentioning above.
So, take cues from these and buy the best-suited air humidifier in Malaysia, available online too.
Read Next: