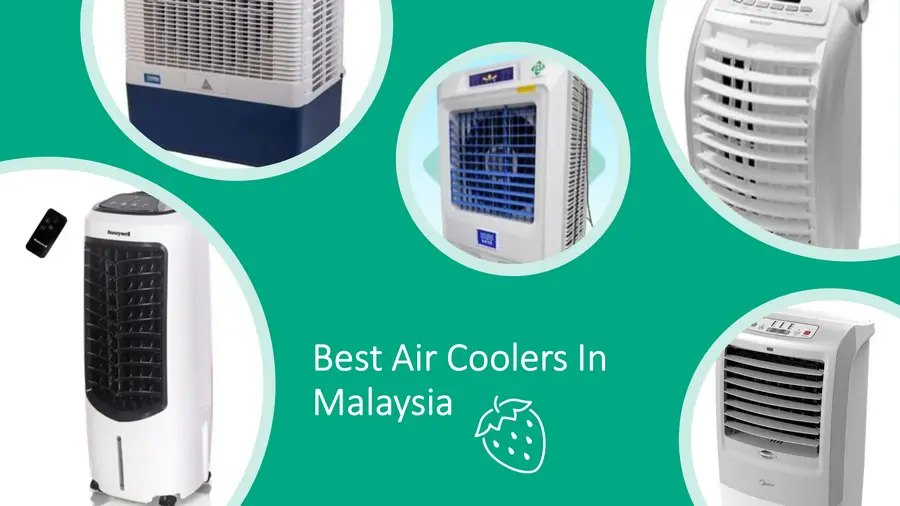 While many air cooling devices are available in the market, air coolers are by far the best option for many people.
They're the right fit for you if:
You're under a tight budget
You live in an area that's hot and dry
You want a device that's affordable to operate and maintain
You need to cool open area
You want an environmentally friendly device
If you can say yes to most of these points, then an air cooler is a good option for you.
To help you find a good cooler we've explained everything.
From what is it and how does it work, to its features and benefits, to FAQs related to air coolers.
Top 5 Best Air Coolers in Malaysia
Here's the overview of the top 5 best air coolers for home, office, and outdoor use.
What is an Air Cooler?
Air coolers are one of the most affordable air cooling devices.
They use the evaporation process to bring down the temperature of the air.
They're arguably the best air cooling solution for a hot and dry environment.
How Does Air Coolers Work?
These devices create cool air by evaporating water into the air.
The cooler sucks the hot air from outside and sends it to the water-pads inside the cooler.
The water then evaporates into the air which results in a mixture of air and water molecules.
This chemical change requires heat.
The heat from the air molecules is absorbed by the water pad, thus the temperature of the airdrops.
After the air has turned cold the fan spread it across the room.
Benefits of Air Cooler
Air coolers provide plenty of benefits and I've explained all of them in detail, below.
Affordable: They're pretty inexpensive compared to air conditioners. On average, they cost about 6 – 8 times less than an AC.
Cost-effective: They use only 0.2 to 0.5 units per hour. Which is about 3 – 5 times less than other air cooling devices.
Easy installation: They're pretty easy to install. You won't need an electrician to install an air cooler.
Environment friendly: It doesn't use any environmentally damaging gases and it's a pretty good option for people with air-related allergies.
Humidify dry air: It's the best air cooling system for dry areas.
Works in open space: You don't need to close the doors and windows. Plus, they offer the best cooling for open spaces.
Best Air Cooler Brands in Malaysia
If you are going to buy a air cooler for your home, choose from these best air cooler brands in Malaysia.
Midea
Honeywell
Sharp
GAIR
Top 5 Best Air Coolers In Malaysia Reviews
Here are the reviews of the top 5 best air coolers in Malaysia.
1. Midea Ionizer Air Cooler MAC-215F Review – Best Air Cooler (Overall)
Features:
15L water tank capacity
Built-in Ionizer
Air-flow rate of 420 m3/h
Come with a remote control
3-speed fan
Multi-function: Fan, Humidifier, and Air Purifier
LED display
Aroma smell
The Midea MAC-215F is a multi-functional air cooler that purifies the air and stimulates natural wind with a built-in ionizer to give you clean and fresh air to breathe.
It can use blow away stale air and bad odor to keep your environment comfortable.
It is quiet in operation and has a wide-angle oscillation to cover a wide area.
In overall, this is the best air cooleryou can buy for your home.
Pros:
LED display
Built-in ionizer
Come with a remote control
Affordable
Quiet
Wide-range oscillation
2. GAIR GW50 Evaporative Air Cooler Review – Best High Airflow Water Cooler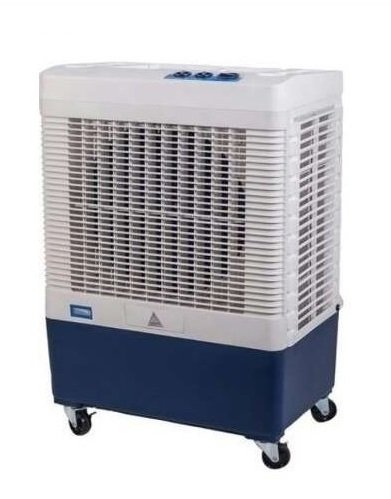 Features:
Airflow: 5,000 m3/h
35L water tank capacity
3-speed mechanical switch control
Low noise at 53 dB
The GAIR GW50 is the best air cooler with a high airflow of 5,000 m3/h, which is 10 to 12 times more than most 10L to 15L evaporative water coolers.
It has a large capacity of 35 liters, allows you to use it for a long period after each refill.
The evaporative air cooler also quiet in operation with only a 53 dB noise level.
Pros:
High airflow of 5,000 m3/h
Large water tank capacity of 35L
3-speed mechanical switch control
Quiet
3. Honeywell Indoor Air Cooler TC10PEUI Review – Best Air Cooler with Ionizer
Features:
10L water tank capacity
Airflow rate of 330m 3/hr or 194 CFM
Built-in Ionizer
3-speed modes: low, medium, and high
Low water level alarm
Auto-oscillating louvers
The Honeywell Air Cooler TC10PEUI is the best ionizer air cooler for indoor use.
It is compact to fit in a small room to supply clean and refreshing air to breathe.
It has a low water level alarm to alert you when to refill the water, so you don't have to constantly monitor it.
Pros:
Built-in ionizer
Low water level alarm
Compact size
Inexpensive
Cons:
Small water tank capacity
4. JiLang Evaporative Air Cooler F70L6 Review – Best High-Capacity Air Cooler
Features:
10,000 m3/h air flow rate
90L water tank capacity
Noise is less than 54 dB
3 wind choices
Control panel & thermometer
Ice storage for better cooling
Remote control
The JiLang F70L6 is a high capacity air cooler with a high airflow volume.
It has a large water tank that can hold 90 liters of water!
The evaporative air cooler also comes with the ice storage for a better cooling effect and 3 wind choices.
Despite its large size, the air cooler runs quietly to produce clean and chill air for your family.
Pros:
High water tank capacity
Fast airflow rate
Ice storage
Quiet
Cons:
5. Sharp Air Cooler Evaporative PJA36TV Review – Best Budget Air Cooler
Features:
4 fan speed modes: soft, low, middle, high
3 wind choices: normal wind, natural wind, and sleep wind
The air volume of 320 m3/h
6L water tank capacity
Water-lacking Protection
with Remote Control
Comes with 4 cooler ice packs for twin cooling
LCD panel
Auto swing louver
The Sharp PJA36TV is a budget evaporative air cooler for rooms and outdoor use.
It has 4 fan speed modes and 3 wind choices to cater to different environmental requirements.
Besides, it comes with 4 cooler ice packs for faster cooling effect.
Pros:
Good quality
4 fan speed modes and 3 wind choices
With remote control
Comes with 4 cooler ice packs
Inexpensive
Cons:
Small water tank capacity
Types of Air Coolers In Malaysia
There are two types of air coolers:
Desert Cooler
Room Cooler
Both types use the evaporation process to cool the air but there are a few differences that set them apart.
Below I've described the pros and cons of each type.
Desert Cooler
Pros:
It provides better cooling and it's a better option if the weather in your area is too hot.
Cons:
The maintenance cost is higher and the desert cooler needs more space and water.
Room Cooler
Pros:
This cooler is smaller, lighter, and easy to move.
It consumes less power thus it's cheaper for the long run.
Cons:
It doesn't lower the temperature as much as the desert cooler.
How to Choose the Best Air Cooler (Buyer Guide)
You shouldn't buy an air cooler without analyzing the 12 features I've listed below.
I've explained exactly why each feature is important.
1. Cooling pads types and quantity
Cooling pads have a significant impact on the temperature of the air.
They absorb the water and the air becomes cool by flowing through the pads.
The thickness of the pad plays a huge role in the cooling process.
The thicker the pad, the colder the air will be.
At the very least, the pad should be 90mm thick.
Types of pads:
There are two types of cooling pads, which are aspen pads and cellulose pads.
1. Aspen pads
These pads are much cheaper so they're a good choice if you're under a tight budget.
But, they have a short life span and require high maintenance.
They last for only a few months and they require cleaning more often than Cellulose pads.
You'll need to clean the pad once every week.
2. Cellulose pads
These pads are also known as honeycomb pads.
They're called honeycomb because they look like one.
They're more expensive than the Aspen pads but they offer good benefits.
First, they're thicker than Aspen pads so they're going to produce cooler air.
Second, they've got a longer lifespan. They're going to last between 3-5 years.
And lastly, they need to be cleaned only once per month.
Quantity:
The numbers of cooling pads also affect the cooling process.
The higher the number of cooling pads the efficient the cooling will be.
While even a single thick cooling pad might be enough to get the job done, multiple cooling pads, 3-4, can really do wonders.
2. Water tank's size
The size of the water tank is another feature worth considering.
If you hate refilling the water tank after every hour or two, then you'll love a larger water tank.
Water tanks with the capacity to hold more than 100 liters of water are enough to last a whole night.
But if you want to run the cooler for only an hour or two, then a small water tank even with the capacity to hold 30 liters of water will be enough.
3. Power consumption
Knowing the power consumption of your cooler is beneficial for two reasons:
First, you'll know the hourly cost. Most air coolers take 0.2 – 0.5 units of electricity per hour.
A unit costs 38.53 cents per hour.
It means most coolers cost between 7.70 cents – 19.26 cents per hour.
Second, the less power a cooler consumes the less harmful it'll be to the environment.
If you've asthma or some air-related allergy you should go for a cooler that consumes less power.
4. Airflow
Finding an air cooler that can cool your room is essential.
Otherwise, your cooler won't be able to create a perfect temperature for your room.
You can know whether the air cooler can cool your room by reading it's CFM (Cubic Feet Per Minute) also known as airflow.
CFM denotes the amount of air flowed per minute.
You can easily find the perfect CFM for your room by following the steps below.
First, you'll need to measure the size of your room.
Let's say it's 400 sq feet with the ceiling height of 12 ft.
Now, divide the height by 2 and multiply it with the sq feet.
400 sq feet X 12 ft/2.
CFM = 2400.
5. Speed regulation
An air cooler with the perfect CFM for your master bedroom is great.
But what if you've to use an air cooler in a different and smaller room?
Your cooler will probably make the room too cold.
But don't worry, there is a solution to this problem.
When buying an air cooler make sure it has the speed regulation option.
This option allows you to bring the speed of the air down to the level that's perfect for your room.
6. Fan types
There are two types of fans in air coolers and both good benefits.
1. Centrifugal fan
These fans are really quiet so a great option for people who hate the noise.
Plus, they're more efficient and provide better cooling.
On the other hand, though, they're expensive and consume more energy.
Which means they cost more to buy and maintain.
2. Axial fan
These are much more affordable and a good option for people who're under tight budgets.
They cost less and consume much less energy.
On the flip side, they create a lot of noise and don't provide as good cooling as the other type.
7. Design
One of the biggest reasons why people prefer an air conditioner over an air cooler is the design.
Air coolers can't be attached to a wall, instead, they take ample room for space and they usually don't have good aesthetics.
But, that's not the case with all coolers.
Modern coolers, especially the tower coolers, solve these problems.
They got a slim and tall build which is why they take only a little space plus they look stylish and elegant.
8. Remote controller
A remote controller is a luxury worth investing.
Especially if you leave the cooler running all night.
If you need to change the speed or turn the cooler off, you'll have to get off your bed and your sleep will be disturbed.
A remote controller saves your sleep.
It enables you to turn the cooler on/off, bring the speed up/down, put the timer mode on/off, and more, without getting off your bed.
9. Inverter technology
Air coolers are already known for low power consumption.
But, to take this feature to the next level comes the cooler that works with an inverter.
These coolers consume 50% less energy than standard air coolers.
Plus, their buying cost is about the same.
These coolers are especially good for you if your home faces constant power cuts.
10. Garden hose connector
A garden hose connector allows you to attach a standard garden hose to the cooler.
Once the hose is connected to the cooler, just open the water wall and chill.
Your cooler won't run out of the water and you'll save some time, energy, and stress of wondering what if the water runs out.
All these benefits are especially good at night times.
You need to be careful about one small thing. Don't make water flow at high speed.
Otherwise, you'll end up wasting a lot of water.
11. Warranty
It's always good to have a long warranty period.
It saves you a lot of money if something goes wrong with your cooler. Plus, it gives you peace of mind when purchasing the product.
Most brands give a year of warranty but some of them give even longer.
Make sure that yours has at least 1 year of warranty.
12. Brands
Last but not least, buying an air cooler from a reliable and authoritative brand is good.
The chances of faults between famous and not so famous brands are pretty high.
Famous brands have thousands of positive reviews. Such a reputation is insanely hard to build.
This many positive reviews means they're putting in their best effort to provide the quality product.
In contrast, the company that isn't famous for providing quality products can't provide social proof.
Air coolers of big brands can be a bit expensive but they're certainly worth the risk.
Here are the names of some well-known brands operating in Malaysia:
Midea
Honeywell
Sharp
Pensonic
Other Factors to Consider an Ideal Air Cooler
To choose the best air cooler for your home you've to consider these 2 factors.
Weather
Weather is one of the determining factors for choosing an air cooler.
If the weather in your area is too hot then you'll need a desert cooler and a big one.
In contrast, if the weather is not much hot then a small cooler can certainly get the job done.
Family size
Considering the size of your family is also important.
If you've got a large family of 8 or more people then your whole family won't be comfortable in a small bedroom.
Therefore, you'll need a large and powerful air cooler with the capacity to cool large rooms.
FAQ for Air Coolers
1. Can an air cooler work without water?
Yes, air coolers can work without water, but they're pretty much useless.
Without water, the pads and cushion will stay dry and the evaporation won't happen.
 
As a result, the cooler will blow out hot air and the temperature will remain the same.
2. How often should I clean the filters?
In most coolers, filters are needed to clean every 2 weeks.
But in dusty and polluted environments they should be cleaned once per week.
3. Are air coolers effective?
Yes, air coolers are pretty effective. They provide better cooling both indoor and outdoor, especially outdoors.
Two features that allow air coolers to produce colder air are:
1. Strong air pressure produce by their fan
2. Faster cooling process (evaporation)
4. Do air coolers harm the environment by increasing greenhouse gasses?
No, air coolers don't emit enough greenhouse gasses to harm the environment.
Coolers are known as one of the most environmentally friendly air cooling devices.
Usually, they produce less than one-tenth of greenhouse gases than an air conditioner.
Summary
Here is the summary and comparison table of the top 5 best air coolers for home and outdoor use.
| | | | | |
| --- | --- | --- | --- | --- |
| Model | Capacity | Airflow | Reason to Buy | Price |
| Midea MAC-215F | 15L | 420 m3/h | Best Air Cooler (Overall) | Show |
| GAIR GW50 | 35L | 5,000 m3/h | Best High Airflow | Show |
| Honeywell TC10PEUI | 10L | 330 m3/h | Best Ionizer Air Cooler | Show |
| JILANG F70L6 | 90L | 10,000 m3/h | Best Capacity Air Cooler | Show |
| Sharp PJA36TV | 6L | 320 m3/h | Best Budget Air Cooler | Show |
Bottom Line
Buying an air cooler is a great choice for beating the heat.
They're affordable, produce cool and fresh air, and they are cheap and easy to maintain.
I've covered everything you need to know about buying the best air cooler that's perfect for your home and family.
Now, let's go and buy one that best suits your needs and enjoy fresh, cool, and comfy days.
Read Next: