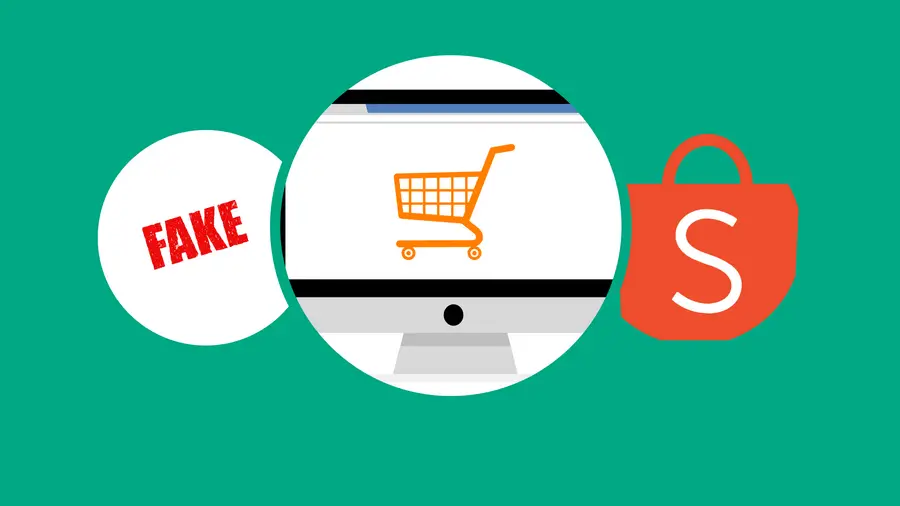 E-commerce is on the rise with more and more people started to shop online.
Especially in the current Coronavirus pandemic and the MCO restriction, more Malaysians are purchasing through online platforms like Shopee, Lazada, Tesco Online, and more.
But at the same time, more e-commerce related fraud cases are reported.
According to TheStar, MDTCA got about 2,500 e-commerce fraud complaints monthly.
Bear in mind, out of 100 e-commerce fraud cases happening in Malaysia, only a few on them (probably 1 to 3 or even less) will lodge a report to MDTCA, so the figure of 2,500 is just the tip of the iceberg.
Case Study: Fake Seagate Expansion External Hard Disk 2TB from Shopee
According to a post from Facebook on 5 February 2021, a Shopee user claimed that he bought a fake Seagate Expansion 2TB external hard disk from a Shopee seller from China which has a good product rating.
The victim also claimed that the incident is happened about a month ago, and he found out that the seller is still selling the exact same fake product on Shopee with a high number of sales, despite he already reported the listing earlier.
Here is the story as per the Shopee user.
About a month ago, the user bought two units of Seagate Expansion 2TB external hard disk at RM246.80 (RM123.40 each) from a China seller on Shopee due to good ratings.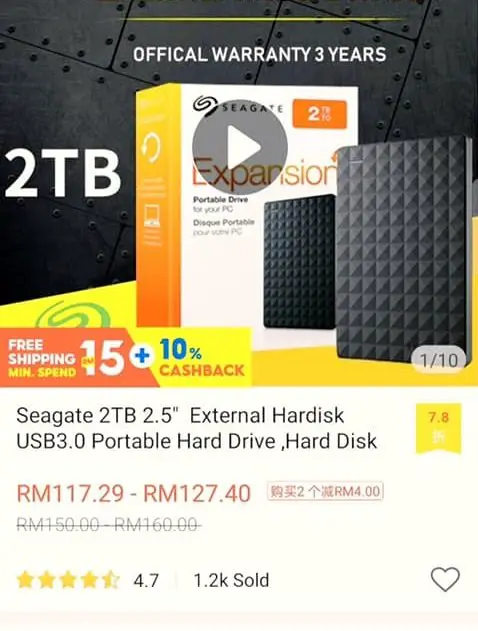 Besides, the product description stated that the product is 100% original with 3 years official warranty and limit the purchase to two units only.
For comparison, the market price of a 2 TB external hard disk from Seagate is about RM250.
That's 50% cheaper.
When he received the product, he found that the external hard disk is much lighter than a normal external hard disk.
The user conducted a warranty check on the Seagate official website, and it showed a valid serial key and warranty period during first check, but it was displaying "warranty information not available" after the second check.
It is believed that the sellers printed a valid serial key on the fake product to cheat consumers.
There is also a piece of paper with words: "Give 5 stars rating within 24 hours to receive an RM30 Shopee voucher", which raises suspicion against the product and seller.
Here is the catch, once you gave the rating, you can no longer request for return/refund on Shopee, which is believed to be the cause of many 5 stars rating for the fake product.
This is also the main flaw of Shopee's rating system, as you cannot write additional comment after a short rating period.
Unlike some e-commerce platforms like Taobao, which a buyer can give additional comment even after 36 days after confirmed delivery.
For certain products, it is not possible conclude the product is good or bad within a short time frame.
Thus, the rating on products on Shopee doesn't give a real picture of whether a product is good or bad.
This flaw of Shopee rating system gives unethical sellers a way to cheat consumers.
The user then requested a refund on Shopee.
A day later, the seller offered two options:
Send back the product to China, get a full refund after two weeks.
Repair yourself and get a partial refund of RM160 (RM80 for each)
Here is the tactic, again.
If people opt for option 1, the seller gets back the fake hard disk product (to resell to another victim) and the return shipping fee is borne by the buyer.
So, it is still a win for the seller as out of 100 victims, maybe a few of them will opt for this option due to the troubles and shipping cost in sending the product back to China.
If people opt for option 2, the seller still pocked a good profit of RM43.4 (excluding Shopee fees) from a piece of low-cost hardware.
One of the Malaysian's weaknesses is scare of troublesome, which is widely exploited by the fraud sellers.
The user then raised a dispute on Shopee and uploaded a lot of evidence to support the claim.
The good news is the user won the dispute and got back the money.
But the bad news is, the listing is still live and continue to cheat more money from buyers on Shopee.
Another bad news is this is just one of the many similar listings on Shopee.
Even worst, the fake Seagate external hard disk is just one of the many fake products on Shopee.
Here are the screenshots captured on 5 February 2021, which is close to a month after the incident.
Case Study #2: The Same Fake Seagate 2TB External Hard Disk from Shopee (Different Seller)
We also received another complaint from a Shopee user who bought the same fake external hard disk from another seller on Shopee just a few days ago.
Both sellers are using the same tactics to cheat buyers.
Even the "thank you" paper is the same, are they the same person? Probably only Shopee know.
Once a listing got many negative reviews (well, not all buyers are stupid), the seller will just create a new listing (selling the same product) to scam more Shopee buyers.
How to Test a Fake External Hard Disk or Pendrive?
There is a hard drive testing tool called H2test which allows you to test your newly bought external hard disk or Pendrive.
Here are the simple steps to test your external hard disk:
Plug in your external hard dish or pendrive.
Run the program "H2test".
Select the language to "English".
Select your target (the external hard disk location path).
Select the volume to be tested (as testing all volume may take a lot of time, I'll recommend 100 to 300 GB, usually enough to verify it is fake or genuine).
Click "write + verify" to test.
How to Spot a Fake External Hard Disk with H2test
First, if the speed is slow, then it probably a fake hard disk.
The screenshot above is while testing a fake Seagate external hard disk, the writing speed of about 7 MByte/s is clearly not acceptable!
A genuine external hard disk with USB 3.0 should have above 100 MByte/s.
Next, the errors while verifying the external hard disk or Pendrive.
A genuine and functioning external hard disk will not return errors like the above screenshot.
Shopee Do Not Take Fraud Cases Seriously
Surprisingly (or expected?), Shopee seems like doesn't take it seriously.
The product is still there.
Continue to sell fake or counterfeit products.
Continue to scam more buyers on Shopee.
With permission from Shopee? We don't know.
Back to the question on why Malaysian consumers shop at Shopee?
Because the products are cheaper? Or because the App's user interface is user friendly?
If you have an option to choose, what are the main criteria of an online shopping platform?
Trusted?
So that you can shop with peace of mind knowing that you won't be scammed or fall into frauds that easily.
The problem is many users have reported the fake product and seller but Shopee yet to take any action against the fraud seller after a month.
Even worst, Shopee featured these fake products on Shocking Sales and Recommended Hot Selling Products to let them drain more money from victims.
Unreasonable.
Some users also raised the business ethical issue of Shopee.
No doubts, for each transaction that happens on the Shopee platform, they do earn the transaction fees from it, but is this the reason why they take lightly on this kind of issue?
Because everyone can become a Shopee seller easily, so the fraud case is unavoidable.
Even the products are 4 stars and above.
It could be the seller used the tactics as discussed above to cheat the buyers into giving 5 stars reviews in exchange for an attractive voucher.
It could be the seller initially sell a genuine product to attract a positive rating, and then when they successfully applied for the shocking sales listing (which could bring in a lot of sales), eventually switch to a fake product to scam consumers for a big sum.
So, it is OKAY if frauds happen.
But it is NOT OKAY when Shopee IGNORE it or take it LIGHTLY.
In the case above, the buyer said he experienced this kind of issue a month ago, but Shopee still allows the seller to continue to scam more buyers, this is a SERIOUS issue.
Is Shopee a Safe Platform to Shop?
Will Shopee soon become a platform where consumers need to be extra careful when shopping as they actually "allow" sellers to scam consumers and sell fake/counterfeit products on the platform?
Well, only time will tell.
But at the moment, Shopee is NOT a platform where you can safely shop, even if the rating of the product or seller is good.
Perhaps local authorities need to take initiative to regulate the e-commerce platforms stricter to reduce the number of fraud cases?
One thing for sure, if Shopee still takes it lightly and refused to take any action against these sellers.
More and more sellers from local and overseas will jump into the bandwagon in cheating consumers in Malaysia because the profit is lucrative.
Imagine selling a fake piece of hardware for RM140, one sale probably yields RM120 to RM130 after the cost.
Some sellers have sold over 3,000 units of fake hard disks in a few months, thanks to Shopee which featured them in hot selling and shocking sales listings.
3,000 units x RM120 = RM360,000 profit.
Even deduct a portion of the profit for partial refunds, is still handsome of profit.
No wonder more and more fraud cases are reported on the Shopee platform.
Be Aware When Shop on E-Commerce Platforms
E-commerce platforms is not 100% safe to shop, so please be aware:
If a seller offers you a high-value voucher or cash back in exchange for your 5 stars rating and comment.
If the product price is unusually lower than the market price unless it is from reputable sellers and official stores.
If the seller asked for your phone number to communicate outside of Shopee and then requested you to bank-in the full amount or deposit for a product.
Note: A product with lots of 5 stars rating is NOT GUARANTEED to be genuine.
Conclusion
Online shopping frauds are happening every day, not just on Shopee but other platforms too, so please be extra careful and think twice before buying a product.
Be a smart consumer and don't rely on e-commerce companies to protect your interest.