A good night's sleep can help you get recharged and be your best self again the next morning.
For that purpose, you need the best mattress to ensure a peaceful and comfortable sleep. If you are looking for the best mattress in Malaysia, then you have come to the right platform.
In this article, you will find some of the finest mattresses and a complete buying guide.
Top 6 Best Mattresses in Malaysia
Why Do You Need A Mattress?
Investing in a quality mattress can benefit you in many ways. Here are some of the benefits of buying the best mattress.
Prevent Pain
Are you too familiar with joint pain or back pain?
It's maybe because of your old and outdated mattress.
If you want a pain-free sleep, the correct alignment matters the most.
The best mattress can hold your spine in a straight line when you sleep throughout the night.
Buying such a mattress can support your posture, thus preventing pain.
Reduce Stress
After a long, tiring day, nothing can comfort you better than a peaceful sleep.
Stress levels are reduced with the increase in sleep quality.
In case of sleep deficiency, your body tends to produce more stress hormones, thus increasing your blood pressure.
That's why a good mattress encourages regular, deep sleep to reduce your stress levels and keeps blood pressure low, making you feel more relaxed.
Reduce Allergy
A mattress is commonplace for dust mites to set up. Most indoor allergies are caused by these dust mites.
If you want to discourage these mites, buy a mattress with a denser structure because there's not enough room for them to live.
As a result, you can see a major difference and reduction in fever-like symptoms.
Types of Mattress In Malaysia
Let's discuss the common types of mattresses in Malaysia.
Latex
This type of mattress is suitable for hot climate regions in Malaysia.
Natural latex is biodegradable as well.
Memory Foam
In this kind of mattress, your body can get more support helping you relief.
Moreover, synthetic materials feel warmer as compared to natural materials.
Pocket Spring
The best pocket spring mattress comes with more spring coils or multiple layers to provide extra support and bounce.
The design of this mattress, especially at the edge makes them very popular.
Pillowtop
As the name suggests, a pillowtop mattress makes you feel like you are sinking into a very soft cushion, thanks to the underlying spring layer.
Hybrid
When it comes to the hybrid mattress, it uses a combination of several technologies.
For instance, a mattress made of latex on top of memory foam can be a perfect choice for you.
Best Matrress Brands in Malaysia
Here are some of the top brands that make high-quality mattresses:
Sonno
Dreamland
SpinaRez
Joey
myLatex
ECOlux
The 6 Best Mattress In Malaysia Review
Here are the top 6 mattresses in Malaysia that will give you a high-quality sleep time.
1. Sunno Mattress Review – Best Hybrid Mattress (Overall)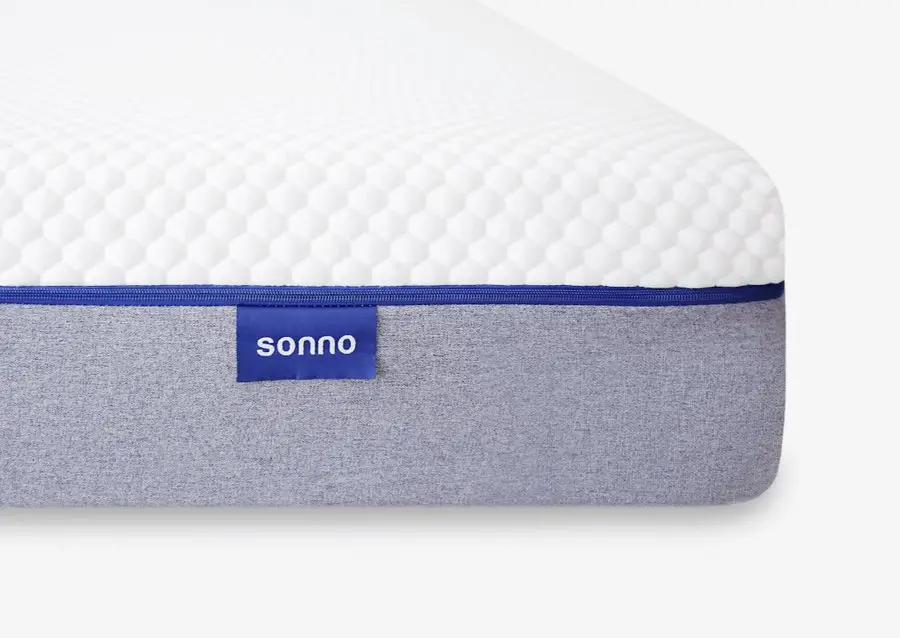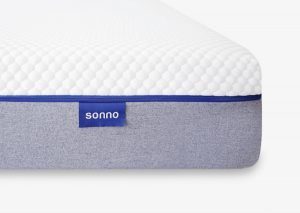 Made of 100% natural latex and memory foam, Sunno Mattress is one of the best natural latex mattresses in Malaysia.
It is a 3-layer mattress that combines the finest materials such as natural latex, memory foam, and support foam.
A peerless comfort and support make it the best mattress in Malaysia. Moreover, it features an Italian design that looks very attractive.
Pros:
A 3-layer mattress
Dust-resistant material
Movement reduction with an advanced technology
Cons:
It is firmer than other average mattresses
Why You Should Buy the Sonno Mattress:
An ideal mattress for the warmest nights because it helps you get a more comfortable and peaceful sleep by regulating heat and temperature.
Made of natural latex material, it doesn't only provide breathability and bounce but also resists dust and mite. As a result, you can say goodbye to itches while sleeping on this mattress.
---
2. Dreamland Chiro Latex Anti-Static Review – Best Natural Latex Mattress
Can you imagine walking up with all the stress and body tension gone?
Yes, that's possible with the Dreamland Chiro Latex Anti-Static.
With the combination of latex and anti-static memory foam, the mattress takes away all the stress and makes you feel comfortable. As the best mattress for back pain, Dreamland Chiro Latex Anti-Static can support your back and spine.
It is one of the best mattresses in Malaysia made of 100% natural latex.
If you simply want the best quality mattress, this is the one!
Pros:
Edge support
Dust-resistant material
Anti-static
Made of 100% natural latex
Miracoil Spring System
Minimum motion disturbance
Cons:
Why You Should Buy the Dreamland Chiro Mattress:
Made of a Miracoil spring system, this mattress is specifically designed for back care.
The combination of natural latex and anti-static memory foam can take away your body tensions and stress, making you sleep comfortably.
---
3. SpinaRez Pocket Star Hybrid Mattress Review – Best Value Pocket Spring Mattress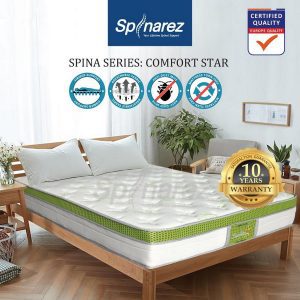 The SpinaRez Pocket Star is a 13-inch hybrid mattress with Euro Top, coconut fiber, and pocket spring layers.
It uses 3-zone individual pocket spring to reduce motion transfer between sleeping partners and provide customized spinal support.
The mattress is made from aloe vera fiber fabric that is breathable, comfortable, anti-dust mite, anti-bacterial, and anti-fungus.
The mattress firmness is 3 out of 5, which is ideal for those who prefer a firm mattress.
Another great news is it only cost less than RM1,500 to own this mattress at king-size, which makes it the best value pocket spring mattress in Malaysia.
I'm also one of the proud owners of it and never regret my purchase.
Pros:
13-inch thickness
Individual pocket spring
Aloe vera fiber fabric top
Anti-dust mite, bacteria, and fungus
Affordable price
Cons:
The firmness may be too firm for some people
Why You Should Buy the SpinaRez Pocket Star 13-inch Mattress:
Individual pocket springs minimize the disturbance to sleeping partner, no more worry when you need to go washroom at night.
Great value for people who prefer pocket spring to reduce disturbance to partner due to motion.
---
4. Joey Mattress Review – Best Foam Mattress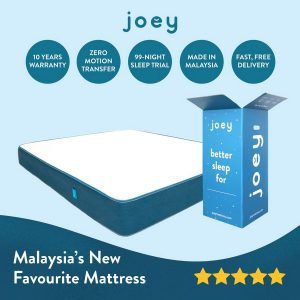 Joey Mattress is one of the best mattresses made in Malaysia that focus on providing better sleep to Malaysian at a fair price.
It is made of J-Form and other high-quality materials that allow you to get relaxed and re-energized for the next day.
A fair price is what makes it popular among other similar products.
It is a good investment because you can rest assured lying down on a mattress to have a good night's sleep.
Pros:
Made of high-quality materials
Directly delivered to your doorstep
It comes with a 99-night trial
Treated for dust mites
Reasonable price
Cons:
Why You Should Buy the Joey Mattress:
The product is engineered to be supportive and comfy for a deep, restful sleep
It has a breathable micro-cell foam structure that allows air to flow in and out to keep you cool on warm nights.
---
5. ECOlux Palladio Mattress Review – Best Budget Pocket Spring Mattress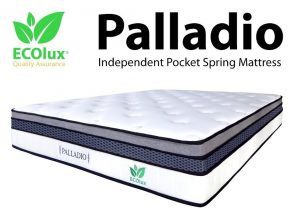 The ECOlux Palladio is a 12-inch thick mattress that features breathable microfiber, coconut fiber, independent pocket spring, and much more.
The ECOlux Palladio Independent pocket spring mattress has the uppermost layer made from Plush. If you have a large bed size and bedding, it is the best pocket spring mattress that money can buy.
Pros:
Comes with warranty
Better edge support
Breathable microfiber
Affordable price
Cons:
Less firm as compared to other similar mattresses
Why You Should Buy the ECOlux Palladio Independent Pocket Spring Mattress:
It has a special designed quilting and cooling fabric
ECOFoam technology makes it the best mattress by ECOlux
---
6. MyLatex Rio Double Mattress Review – Best Comfort Natural Latex Mattress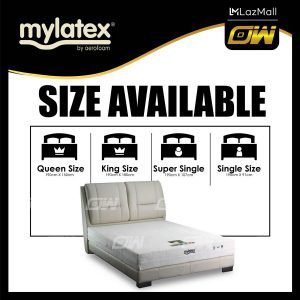 Are you looking for the best mattress in Malaysia that is made of pure latex?
Look no further than MyLatex Rio Double as it is all-natural latex that supports a comfortable sleep. A removable cover is a big plus point.
To provide natural ventilation, it features interconnecting air channels. As a result, this mattress remains cool, dry, and fresh.
Pros:
Affordable price
Proper natural ventilation
Hypoallergenic
The cover is removable and washable
Cons:
Why You Should Buy the MyLatex Rio Double Semi-Firm Mattress:
The material of the products has been tested and certified by International Laboratories.
An ideal mattress to provide comfortable support to the neck, head, and back.
---
How To Choose The Best Mattress In Malaysia
Buying the best mattress can be overwhelming for you because there are endless options. This buying guide will help you to make a well-informed decision.
Here are some of the things you need to consider when it comes to buying a mattress.
Mattress Life
You, of course, want to buy a mattress that will last long. That's why it is important to consider mattress life when buying one.
Many experts advise that you should change your mattress every 7 to 10 years. It means the mattress should last long for up to 7 years, if not 10 years. By rotating your mattress to another side, you can also prolong its life.
Some of the best latex mattresses have the longest lifespan among different types of mattresses.
Budget
Determine how much you are willing to invest in a mattress.
The quality always comes in first because it should last for many years.
The best mattresses in Malaysia may not be the most expensive ones. All you need is to explore the available options within your budget.
Buying online is the best thing you can do because it removes the extra costs of a mattress when you buy in-store.
Firmness
Firmness is related to how hard or soft the mattress feels to your body.
Remember, your body type plays a pivotal role in finding a suitable one for you. A universal firmness scale is used by the top companies.
Choose one with a firmness rating between 4 and 7 on a scale of 10.
Sleeping position
Do you sleep on your back, stomach, or side?
Your sleeping position can make a huge difference in finding the right mattress.
If you sleep on your side, opt for a soft mattress that will improve your sleep quality. It even avoids pressure on your shoulders, making you feel comfortable.
In case you sleep on your stomach, make sure it does not sink into the mattress. You can buy a mattress with medium firmness (between 5 to 7)
A universal comfort mattress is an ideal option if you sleep on your back
Comparison of the Best Mattresses in Malaysia
Here is the comparison table of the top 6 mattresses in Malaysia.
Mattress
Thickness
Firmness
Material
Price
Sonno
9 inches
6-7/10
Natural Latex,
Memory Foam,
Support Foam
Check
Dreamland Chiro
15 inches
5/10
Natural Latex,
Memory Foam,
Miracoil
Check
SpinaRez
13 inches
3/5
Aloe Vera Fabric,
Coconut Fiber,
Pocket Spring
Check
Joey
9 inches
5-7/10
J-Foam,
Synthetic Fabric
Check
ECOlux Palladio
12 inches
5-5.5/10
ECOFoam,
Coconut Fiber,
Pocket Spring
Check
MyLatex Rio
5 inches
4/10
Natural Latex,
Bonnell Spring
Check
FAQ
1. Which mattress brand is the best in Malaysia?
The top brands of mattresses are Sonno, Dreamland, Goodnite, SpinaRez, myLatex, Joey, ECOlux, Dunlopillo, and Origin.
2. How much does a mattress cost in Malaysia?
Depending on the size and material, the mattress price in Malaysia could range from below RM100 to RM6,000 and above.
3. What is the best type of mattress in Malaysia?
The best types of mattresses are natural latex, pocket spring, and hybrid with natural materials like latex and coconut fiber.
Conclusion for Best Mattress in Malaysia
The best mattress in Malaysia can provide you a peaceful and comfortable sleep.
To find the right one, there are many factors you need to consider when buying a mattress such as material, life of mattress, budget, firmness, and more.
My advice is to invest in a high-quality mattress that will last longer, and you can save more by buying it online.
Read Next: