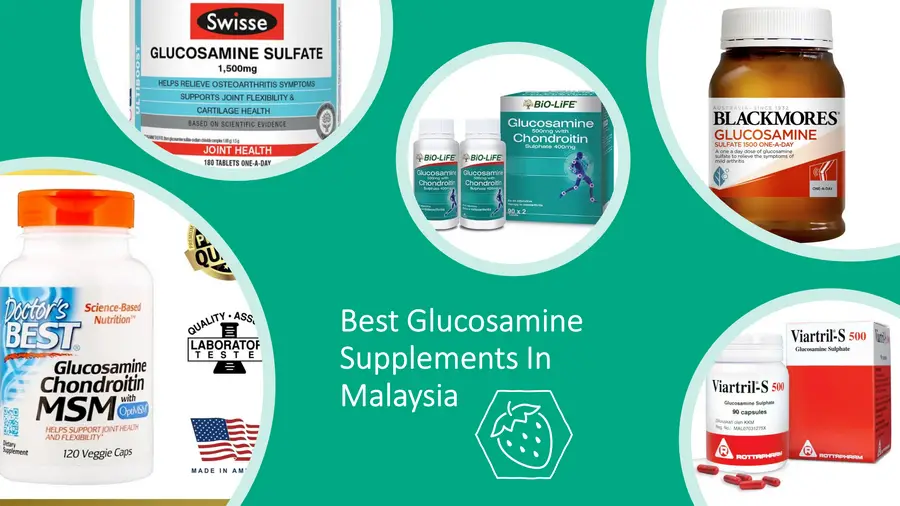 Do you experience pain in your joints?
It could happen to anyone especially people who work while standing for long hours.
If you're active in physical activity (such as sports), you are more likely to experience joint pain.
This is where the best joint supplements come in handy to help relieve joint pain. One such supplement is the glucosamine, and it is chemically found in the human body as well.
It is a naturally occurring chemical present around the joints in the human body. It also exists in nature in many other places.
Take Note:
Malaysia is Hot & Sunny! Don't go outside without Sunscreen!
Don't Miss Out These:
For instance, glucosamine sulfate is an essential ingredient found in dietary supplements and is harvested from the shells of shellfish.
Glucosamine can benefit your body's health in many ways.
In this article, I'll share with you the 5 best glucosamine supplements in Malaysia for joint health.
---
Top 5 Best Glucosamine Supplements In Malaysia
---
Why Do You Need Glucosamine
As people age, they tend to have a lower content of glucosamine in their bodies. For that reason, supplements containing glucosamine are vital for your health.
People with osteoarthritis should take glucosamine sulfate that is very effective in providing pain relief.
Most importantly, it also prevents the condition from getting worse and slows down the breakdown of joints. All you need is to take the right supplement that works perfectly for you.
Here are some of the key benefits of glucosamine for your health.
May Reduce Inflammation
Do you want to treat symptoms of various inflammatory conditions?
Take glucosamine as a supplement in your diet and you will see a huge difference. It helps reduce inflammation in your body.
It is one of the biggest plus points of taking such supplements.
Aids Healthy Joints
As discussed before, this essential supplement also exists in our body naturally. Supporting the development of tissues between joints is one of its main roles.
If there is a deficiency of natural glucosamine in your body, opt for supplemental products.
Supplemental glucosamine is very effective in protecting joint tissue. It prevents the breakdown of cartilage.
Treat Bone and Joint Disorders
For people having bone and joint disorders, glucosamine is an ideal supplement that can treat such various conditions.
It has the potential to treat symptoms and can provide relief for several disorders such as osteoarthritis and osteoporosis.
Are you looking for effective and long-term treatment for osteoarthritis?
This is where supplemental glucosamine sulfate comes in handy by reducing pain and providing relief. It slows down the disease progression and maintains joint space.
Multiple Sclerosis
When it comes to reducing the relapse of multiple sclerosis, take supplements that contain glucosamine.
It is proven to be very effective if taken 1000 mg of glucosamine for 6 months.
---
Best Glucosamine Supplement Brands In Malaysia
Wondering which brands of glucosamine supplement is the best in Malaysia? Here they are:
Blackmores
SWISSE
Doctor's Best
Bio-Life
Viartril-S
---
The 5 Best Glucosamine Supplements In Malaysia Review
There are so many products available on the market containing glucosamine. It becomes overwhelming for you to choose the right product.
Remember, the wrong glucosamine supplement may cause several issues. For that reason, you need to buy a product that is effective in treating joint and bone disorders.
Let's take a look at our top five picks of the best glucosamine supplements in Malaysia.
1. Blackmores Glucosamine 1500mg [Review]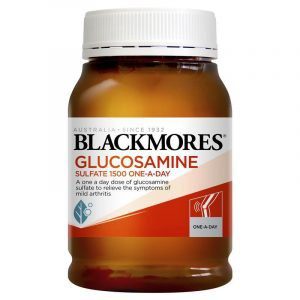 Glucosamine is an essential component of cartilage that supports normal joint function.
In addition to naturally-produced, taking supplements containing glucosamine is proven to be effective in reducing joint pain.
Blackmores Glucosamine can treat bones and joints disorders. It helps relieve pain at the same time. For that reason, it is the best glucosamine for joints that you can buy.
This product is ideal for people having arthritis. It can reduce pain and inflammation caused by this disorder.
All you need is to take the supplement consistently. It is always recommended to consult your doctor before taking any supplement product for a medical issue.
The 1500mg dosage is enough to ease your pain and relief symptoms of arthritis. Here are some of the pros and cons of Blackmores Glucosamine 1500mg.
Pros:
Reduce cartilage wear
Slow joint damage
Help relieve pain
No added yeast, gluten, preservatives
---
2. SWISSE Glucosamine Sulfate 1500mg [Review]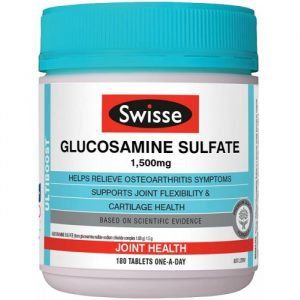 Are you looking for a reliable supplemental product to support joint mobility?
Swisse Glucosamine Sulfate can be a great product because it helps maintain cartilage health and also provides relief of mild osteoarthritis.
When it comes to the construction of cartilage, glucosamine plays a vital role. It is also found naturally in the body that can help maintain cartilage health. In case of deficiency, you need the right supplemental glucosamine to aid joint mobility and flexibility.
This product is very effective in supporting joint function and supporting healthy tissues between your joints.
Glucosamine has different types and sulfate form is proven to be very effective in treating mild osteoarthritis.
As compared to other forms, glucosamine sulfate can provide relief and slow down the disease progression.
Pros:
Very effective for mild osteoarthritis symptom relief
Aid joint mobility
Clinical tested glucosamine
---
3. Doctor's Best Glucosamine Chondroitin MSM with OptiMSM [Review]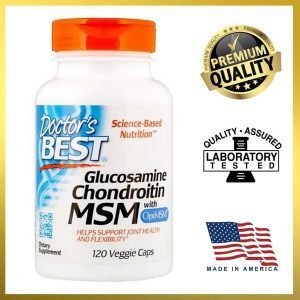 This product contains three essential nutrients to maintain healthy joints and connective tissues.
Doctor's Best Glucosamine can be a great addition to your supplement joints if you experience pain. Glucosamine sulfate can help you with lubrication, better joint movement and flexibility.
Do you want to enjoy an active lifestyle without any hassle of an injury?
Take the best glucosamine in Malaysia and keeps your joints healthy. Most importantly, this product is essential if you're active in sports.
Pros:
Maintain healthy joints
Non-GMO, gluten-free and soy-free
Best dietary supplements for joints
Keep strong, healthy and flexible joints
---
4. Bio-Life Glucosamine 500mg with Chondroitin Sulphate [Review]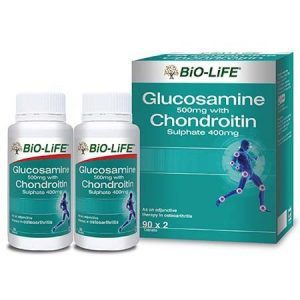 The production of collagen and proteoglycans is vital to prevent the breakdown of cartilage.
Bio-Life contains 500mg of glucosamine which stimulates this production and supports cartilage. The product also contains Chondroitin which absorbs water and provides shock absorption.
This glucosamine is very effective in blocking enzymes that break down cartilage. It also provides building blocks to produce new cartilage.
Pros:
Best supplemental glucosamine for people with osteoarthritis
A combination of glucosamine and chondroitin is effective for cartilage protection and joint nutrition
Help repair damaged cartilage
Normalize cartilage metabolism
---
5. Viartril-S Glucosamine Sulphate for Bone & Joint [Review]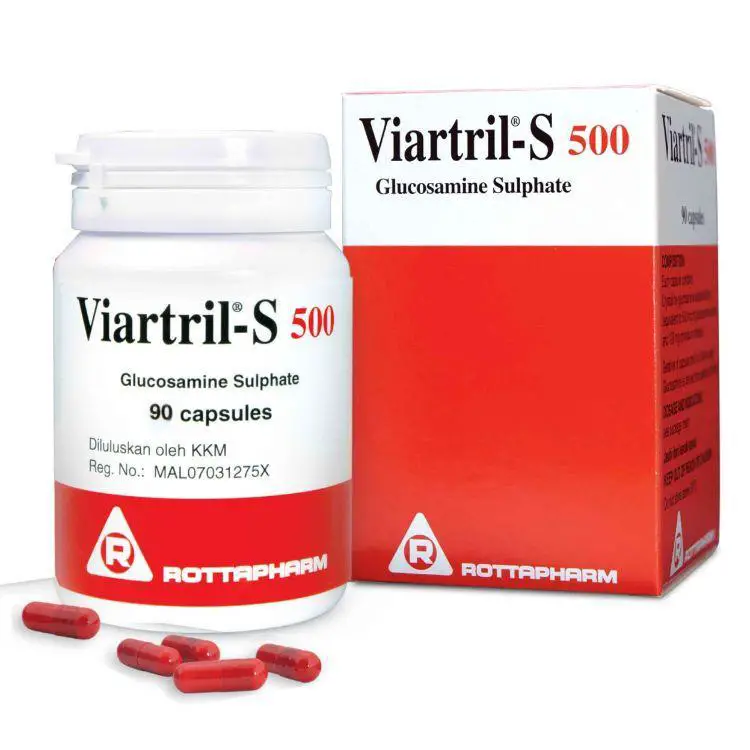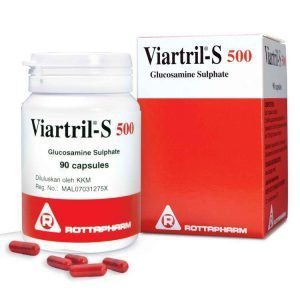 Do you worry about having painful joints while doing physical activities?
This glucosamine supplement is ideal for you. It is very effective to help relieve any joint pain you might have.
Take Viartril-S Glucosamine Sulfate if you're an athlete. It supports healthy joints and bones.
Pros:
Reduce joint pain
Help relieve stiffness in joints
The purest form of glucosamine
Affordable product
---
How To Choose The Best Glucosamine Supplements In Malaysia [Buyer's Guide]
Choosing the right glucosamine supplement requires in-depth knowledge of the ingredients used.
There is an abundance of glucosamine in Malaysia, which makes it difficult for you to buy the right product.
Some factors play a vital role in determining which product will suit your needs. As a result, you can make a well-informed decision.
Brand
First of all, you need to look at the company that makes glucosamine. Make sure the product comes from a reliable and long-serving company.
Look at the background of the brand and make sure it produces effective supplements. It is one of the main factors that you need to consider.
Ingredients
Read the label of the product to know about the ingredients. The glucosamine contains many ingredients that serve a unique function.
Most importantly, there are different types of glucosamine. For that reason, it is always essential to consider the ingredients and buy the product accordingly.
Glucosamine supplements also contain chondroitin, turmeric, and hyaluronic acid. Make sure the ingredients are beneficial for joints and mobility.
Health condition
Some products can trigger various health conditions. Choose a product that is safe and effective to use. It should support joint health.
If you have a bone or joint disorder, buy the best glucosamine for joints in Malaysia.
Objective
Before buying a product, make sure to consider the objective of glucosamine. Do you want to maintain joint health or treat osteoarthritis?
Determine the objective of buying a glucosamine supplement and make sure it will serve the desired purpose.
Side effects of Glucosamine
The best glucosamine is safe to use. However, it is always necessary to pay special attention to any allergic conditions.
Read the label of the product and consider the ingredients used.
For example, glucosamine derived from seafood may trigger allergic reactions in some people. But this is not the case with everyone. Here are some of the mild side effects:
Constipation
Diarrhea
Rashes
Headache
It is recommended to consult a medical professional before taking any supplement.
---
Conclusion
The best glucosamine supplement in Malaysia can benefit you in numerous ways.
It supports healthy joints and treats joint disorders. Such supplements are also effective in reducing inflammation.
Choose a product from a reliable brand, as some of those are discussed above. Consider ingredients, health condition and dosage before buying a product.
Read Next: