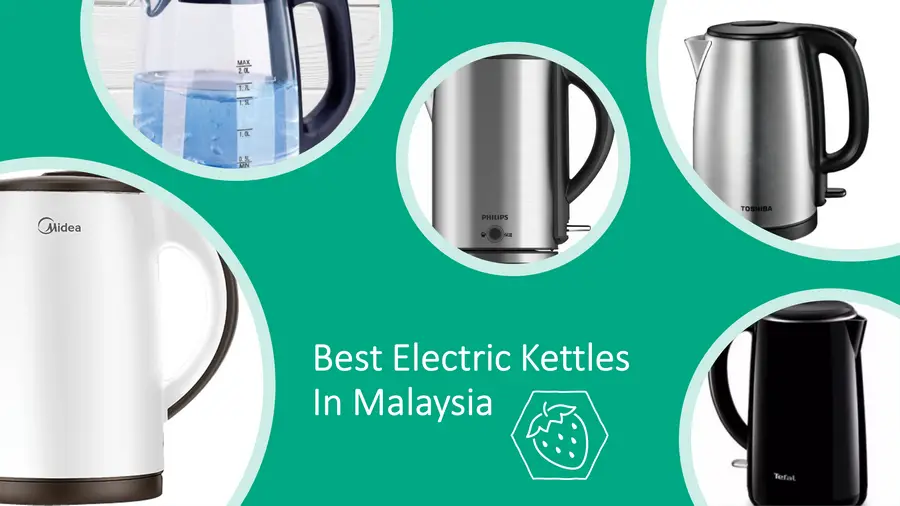 You need to have the most essential kitchen appliances in your kitchen. The best electric kettles in Malaysia can benefit you in many ways.
Hot water is used in a variety of things, including cooking, making instant noodles and much more.
Electric kettles are comfortable and easy to use as compared to traditional ones. Most importantly, traditional kettles take more time to boil water and there is no automatic switch off.
For that reason, electric kettles are commonly used in Malaysia. Such a kettle has the advantage of being the most essential kitchen appliance. However, it's equally important to choose the right product that suits your needs.
There is a variety of electric kettles in the market. In this article, we will discuss the Top 5 Best Electric Kettles in Malaysia.
Top 5 Best Electric Kettles In Malaysia
---
Types of Electric Kettles In Malaysia
There are 2 different types of electric kettles. These vary from each other on the basis of shape. So it depends on you which shape you prefer to buy an electric kettle accordingly. Both types come in a range of finishes and materials such as glass, plastic, stainless steel, and chrome. Let's take a look at how these types differ in terms of shape.
Dome or Pyramid Kettle: This kind of electric kettle has a fatter base with a handle on top. It looks like a regular stove-top kettle and the lid is not attached.
Jug Kettle: As the name suggests, it has a narrower, jug-type shape with a side handle. This type of electric kettle has an extra button that lets the lid pop open.
Choose an electric kettle that serves the purpose regardless of the shape.
---
Best Electric Kettle Brands In Malaysia
Wondering which brand of electric kettle is the best in Malaysia? Here are them:
Tefal
Toshiba
Faber
Philips
Midea
---
The 5 Best Electric Kettle In Malaysia Reviews
Are you looking for the best electric kettle in Malaysia? You have come to the right platform.
When it comes to buying an electric kettle, it can be overwhelming for you because of the abundance of options available. For your comfort, we've come together with the 5 Best Electric Kettles in Malaysia that you can buy for your kitchen.
1. Tefal 1.7L Jug Kettle KO2608 Review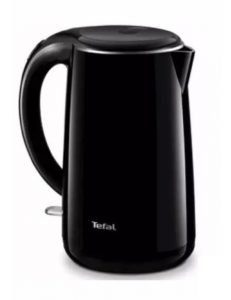 Tefal 1.7L Jug Kettle KO2608 is an ideal kitchen appliance in Malaysia. It is manufactured by a well-renowned brand. Tefal is very popular and known for the quality products.
This Tefal Jug Kettle doesn't only functional but also looks appealing on the kitchen tabletop. It has a shiny black exterior finish which makes it look beautiful.
Want to boil water instantly? It is a reliable electric kettle that can boil water fast with an energy rating of 1800W to 2150 W. For added durability, the interior of Tefal Jug Kettle KO2608 is made from stainless steel.
In case of accidental touching, there is a heat barrier that can protect your hands from being burned.
Most importantly, double insulation keeps water hot for so long. Moreover, less maintenance is required and you can easily clean the inside of this electric kettle. This kettle comes up with an automatic off switch, which is a huge plus.
Pros
Affordable price
Automatic switch-off
Double-layer insulation
Opening lid (easier filling and cleaning)
Cons
Lacks water level indicator
---
2. Toshiba 1.7L Electric Jug Kettle KT-17SH1NMY Review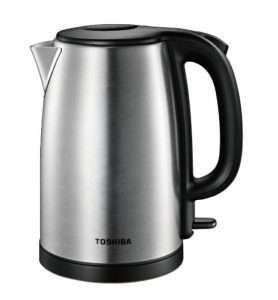 Looking for the most striking kettle on the market? Toshiba 1.7L Electric Jug Kettle is a way to go.
This electric kettle is made of food-grade stainless steel. It has a great exterior finish. A large opening makes it easy for you to fill water and clean it without any hassle. This Toshiba Electric Kettle is a very useful appliance that you can buy in Malaysia.
What makes it so special?
The product has a rotating cordless base for more convenience. You can boil water quickly without waiting for too long.
The automatic shut-off switch turns off the kettle when not needed. When there is no more water inside the kettle, this feature is very useful. You can ensure the protection of your premium electric kettle so it is a good investment.
Most importantly, this electric kettle has a classic design and it is very safe to use. It is one of the ideal electric kettles in Malaysia.
Pros
Very large capacity (1.7L)
360 ̊ rotating base for convenience
Comes with 1-year warranty
Easy serving and cleaning
Cons
---
3. Faber Glass Electric Kettle EJK-F1723G Review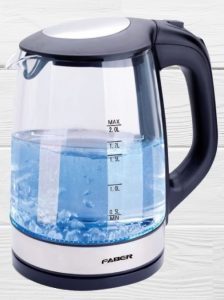 Do you need a glass kettle for a reasonable price? This Faber Glass Electric Kettle might be an ideal choice for you.
It is made of premium quality Borosilicate glass that can withstand even high temperatures. It can be a good fit if you are tight on budget. There is a LED light that will be illuminated as soon as your turn of the kettle. Overall, the product has a very sleek design and cool look.
The filter can catch any sediment in your water. Most importantly, it is easy to remove and wash so you can keep it in tip-top condition. This electric kettle is very durable and will last longer because the heating element is concealed.
Pros
Premium quality glass body
2L capacity
Interior LED light when boiling
Cons
Glass body can be broken down
---
4. Philips Viva Collection Kettle HD9316 Review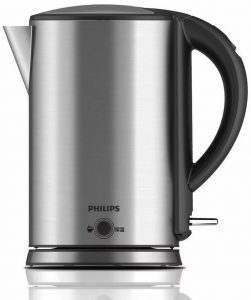 Remember, reboiling water can increase the concentration of the chemicals. Therefore, it is not always a good idea to boil your water more than one time. The best way is to keep your boiled water warm for a long.
This Philips Viva Collection Electric Kettle comes with a keep-warm function. It keeps the water around 85°C so there is no need to reboil it for making a cup of tea.
This premium electric kettle is made of stainless steel and the interior is of food-grade material. The thermostat can measure and control the temperature variations.
Most importantly, it has a high-quality, detachable stainless steel filter to keep water pure.
Pros
Very useful keep-warm function
Removable filter
Comes with spring lid for easy opening
Food grade interior material
Cons
---
5. Midea MK-15D Cool Touch Series 1.5L Jug Kettle Review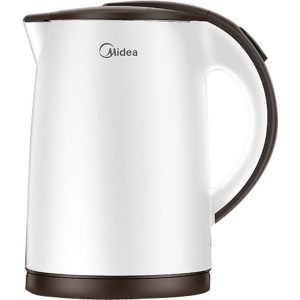 This Midea MK-15D Cool Touch Series is a great addition to any kitchen space. It has a double insulated body of stainless steel and plastic.
As a result, it can keep your water warm for long as well as protect your hands from burning. It is the best electric kettle below RM100 in Malaysia.
Pros
Affordable price
1-year warranty
Cool touch series
Pop-up lid
Cons
---
How To Choose The Best Electric Kettle In Malaysia
It's important to choose the best electric kettle in Malaysia. However, it can be time-consuming and stressful for you to find the right product. Some factors play a vital role in finding the best product that fits your budget and needs.
Speed
Many people prefer buying an electric kettle over a traditional one because of the high speed.
Electric kettles can boil water within three to four minutes. It's very handy when you want to make an instant cup of coffee or tea.
Size and weight
Size is the most important considerations when buying an electric kettle. Although it can boil water quickly, there is more than one person in your home. For that reason, make sure to consider the size of the kettle before making your purchase.
The size of the kettle influences the weight as well. Larger kettles are heavy and take longer to boil water. But boiling once is better than boiling water multiple times a day.
Cost
The size of the product and features play an important part in deciding the cost. A stainless steel kettle would cost more than a kettle made of plastic. However, you can easily find the best electric kettle below RM100 like the ones we discussed above.
Capacity
When it comes to picking the electric kettle, consider how much water can be boiled in one go.
An electric kettle with a 1.7L capacity is more than enough for many households. It depends on your needs and family size to go for something.
Energy use
Investing in an electric kettle can benefit you, especially if you choose an energy-efficient one.
It will help you save enough chunks of money on electricity bills. If you boil a lot of water, choose an energy-efficient kettle.
Features
Look for the extra features in an electric kettle before making your purchase.
Consider different features such as thermal insulation, keep warm, noise level, insulated handle, water level indicator and retractable cord.
---
Conclusion
Finding the best electric kettles in Malaysia can be stressful for you. An electric kettle is a useful kitchen appliance that you must have in your home.
Every kitchen needs something to quickly boil water. This is where a durable electric kettle comes in handy. The above list can help you pick the right product for your kitchen.
Make sure to consider the speed, size, capacity and features of an electric kettle you wish to buy.
Moreover, buy one that comes with a filter to reduce limescale build-up in a kettle over a long time.
Read Next: