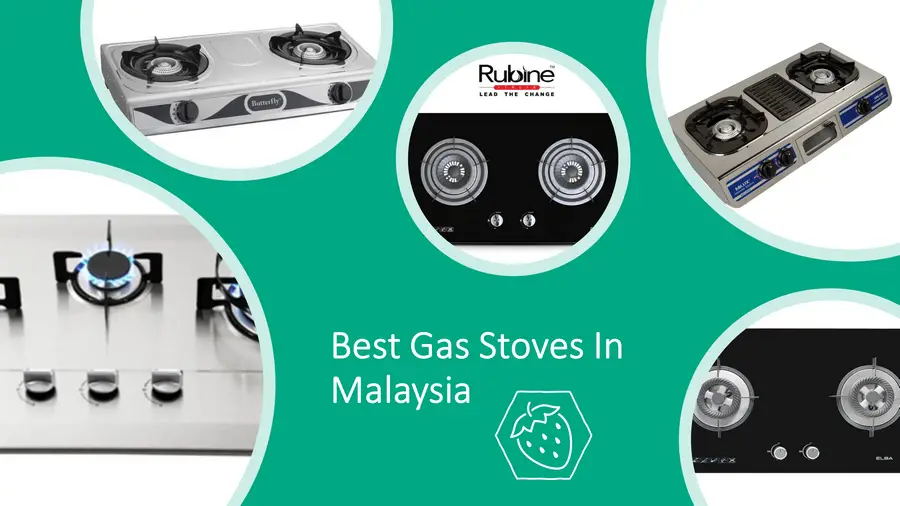 Whether you have recently moved into a new house or want to simply upgrade your kitchen, a brand-new gas stove is a great addition. The best gas stoves in Malaysia can help whip up delicious dishes.
Most importantly, it can provide more even heat distribution and cook your food faster. For that reason, many people in Malaysia prefer buying a gas stove rather than an induction cooker. There is a variety of gas stoves available in the market that makes it difficult for you to consider which one to buy?
Remember, gas stoves are very popular in Malaysia even after the introduction of induction cookers. These are commonly used by many people because of the convenience of cooking they offer. With a gas stove, cooking becomes very easy as well as cost-efficient. All you need is a gas cylinder or a gas liner.
Do you wonder which gas stove to buy?
It can be stressful for you to choose the right product because there are so many brands and models. I can help you buy the best gas stove among the hundreds of choices in the market. It is equally important to know about the different types of the gas stove before making your purchase.
Let's delve right into the article to a complete buying guide of gas stoves in Malaysia.
Top 5 Best Gas Stoves in Malaysia
---
Types of Gas Stove in Malaysia
As discussed above, different types of gas stoves are available in the market. It's important to choose one that suits your budget and needs. Let's take a look at some common types of gas stoves.
Manual Ignition or Auto Ignition
When it comes to manual ignition, there is a need for a starter, matches or a lighter in order to light the burner. On the other hand, an auto-ignition gas stove or gas hob doesn't rely on any lighter or matches. It uses an electric spark from a battery to light the burner and the fire gets going. Both types of stoves come with 2 or more burners.
Built-in Gas Stove
Built-in gas stoves are another popular type in Malaysia. Such stoves will look as if they are part of your kitchen. But, you need to carefully choose the stove that is suitable for the allocated spot.
Portable Gas Stove
Mostly, portable gas stoves feature a single burner. This type of stoves is ideal for rental spaces or for students.
In addition to these three types, a freestanding gas stove can be integrated into your kitchen design. You can leave them on their own as well. So, it all depends on your needs which type of gas stove is more suitable.
---
Best Gas Stove Brands in Malaysia
Here are some of the reliable brands of gas stove:
ELBA
Rinnai
Milux
Rubine
Butterfly
---
The 5 Best Gas Stove in Malaysia Review
Our top 5 picks of the best gas stove in Malaysia can help you make the right decision. The products listed below come from reliable and popular brands in Malaysia.
1. ELBA EGH-G8522G Glass Gas Stove Review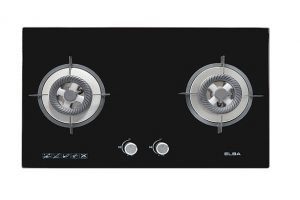 Do you want to add functionality and a sense of style to your kitchen? Look no further than the ELBA EGH-G8522G Glass Gas Stove that comes with a beautiful glass exterior. Do not worry because the tempered glass is of the highest quality, which can withstand hits and knocks from the pan.
Most importantly, it can give you higher heats to get the cooking done faster with the extra boost of power. Additionally, it uses an auto-ignition mechanism which makes it easy for you when starting up the fire. Everything from the design to work is up to the mark.
This ELBA EGH-G8522G Glass Gas Stove is one of the best options if you are looking for a long-lasting gas hob for your kitchen.
Pros
Auto ignition
Premium quality and long-lasting tempered glass
Highly functional and stylish
Cons
Material is not ideal for everyone
---
2. Rinnai RB-713N-S Gas Stove Review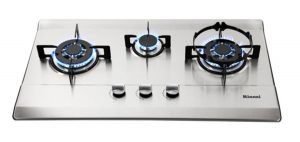 Are you looking for the best gas hob? This Rinnai RB-713N-S Gas Stove is one the best in Malaysia. It has 2 full-sized burners and a smaller burner in the centre. This design makes it a bit more spacious but it also offers the flexibility of an additional gas stove for a small pot. It is a perfect choice if you have a large household. When you place even large pans on it, this gas stove looks less cramped as compared to many others.
Additionally, it has an input power of 3.7kW and the flames are double-ringed. As a result, it gives all-around heat to the pan for more even heat distribution. You can cook everything at the same speed.
Pros
3-burner design
Stainless steel top
Even heat distribution thanks to the double-ring flames.
Cons
---
3. Butterfly Double Burner Gas Stove BGC-848 Review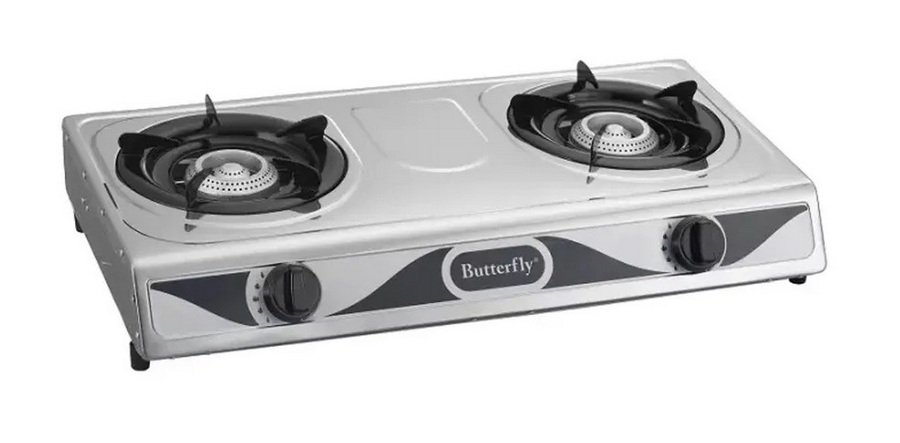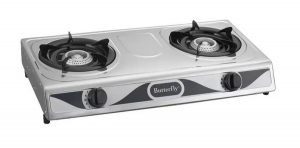 Are you looking for a simple and efficient gas stove in Malaysia? The Butterfly Double Burner Gas Stove BGC-848 is a perfect choice for you. With a 2-burner setup, it can accommodate regular to large size pots and pans. This gas stove is affordable and easy to use. It provides a powerful flame for quick cooking.
It is a standalone unit so there is no need for drilling or installation. All you need is to connect this gas stove to a gas cylinder or piped gas. Moreover, it can fit on any tabletop with stable rubber leg stands. Overall, this gas stove is a good value for money.
Pros
Stainless steel panel
Stable rubber leg stands
Standalone unit with simple installation
Cons
A bit less flame power than others
---
4. Rubine Tempered Glass Gas Hob RGH-VISTA2B-BL Review
This gas stove features a unique vortex flame burner. It is much different from a usual ring burner. The burner makes it look like a tornado with such powerful heat. With a power rating of 5.0kW, it gives a much more concentrated flame. This is what makes it one of the best gas stoves in Malaysia.
Moreover, the design of the gas stove is more spacious, which is a plus point. It has ideal dimensions that can fit 2 large pots or pans. As a result, you can cook large portions of food for your family.
There are safety features in place to give you an exceptional cooking experience. One of such features is its flame failure device. This device will stop the gas supply if our flame goes out or is unstable. You can have peace of mind while using a gas stove.
Pros
Spacious design
Concentrated heat thanks to the vortex flame burner
Safety features such as flame failure device
Cons
---
5. Milux MSS-2501G Gas Stove Review
The Milux MSS-2501G is all set to spice up your kitchen with a middle grill plate. It makes you enjoy your favorite grilled foods without any hassle.
Moreover, this gas stove comes with a handle tool and a drip tray, both of these can ensure less mess and your security. What else are you looking for?
It is made of a high-quality stainless-steel body, which makes it a very durable infrared gas stove. It does not only look beautiful but is easy to clean. You do not have to spend a long time trying to spark a flame because it features an automatic ignition system.
Pros
Double burner with grill
Stainless steel body
Automatic ignition
Comes with a handle tool and dip tray
Cons
---
How To Find The Best Gas Stove in Malaysia
Some important considerations can play a vital role when it comes to choosing the best gas stove in Malaysia. Remember, it is an investment that shouldn't go wrong. After determining your budget, you should consider some important factors that can help make the right choice.
Let's take a look at those factors.
Size
Are you looking for a brand new gas stove? Every gas stove comes in a different size. For that reason, it is important to carefully measure the height, width and depth. If you want to buy a built-in gas stove, make sure it is a perfect fit. There should be a designated space for it in your kitchen.
Flame setting
Always consider flame settings when looking for a gas stove. Choose between a range of gas stoves with different flame settings available in the market. Moreover, prefer buying an auto-ignition system over a manual one.
Number of burners
If you have a large household, make sure to choose a gas stove with at least two or three burners. Many people prefer buying a 2-burner gas stove. It all depends on your needs and budget.
Material
When looking for a gas stove, consider the material which can last long and is easy to clean. This is where stainless steel takes an edge. A gas stove, like the one listed above made of tempered glass can also last for many years to come.
---
Conclusion
The infrared gas stove in Malaysia is a great addition to any kitchen. There are countless options for gas stoves available in the market. All you need is to determine your budget and choose one that suits your needs.
Most importantly, make sure to consider some important factors such as size, material, number of burner and flame settings.
Read Next: