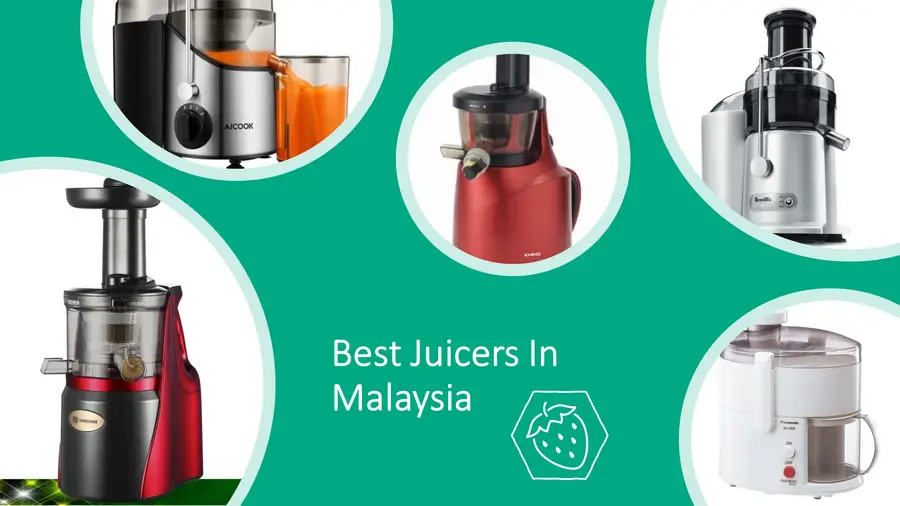 The best juicer is a great addition to your kitchen appliance. It can help make healthy fruit and vegetable juices every morning.
Remember, health is wealth. A glass of fresh juice can yield many benefits and provide your body with the essential nutrients. Juicers are always the best options as compared to blenders because they can retain more nutrients from vegetables and fruits.
There are countless juicers available in the market. All you need is to choose the best juicer that suits your needs and budget. However, choosing one can be overwhelming and stressful for you. But not anymore with our top 5 picks of the best juicers in Malaysia.
Top 5 Best Juicers In Malaysia
Take Note:
Malaysia is Hot & Sunny! Don't go outside without Sunscreen!
Don't Miss Out These:
Types of Juicer in Malaysia
Below you will find mainly the 3 types of juicers in Malaysia.
Centrifugal Juicers
Such a juicer takes fruits or vegetables through a feed tube. It comes directly in contact with a blade that serves the purpose of shredding them.
There is a centrifugal force of the spinning basket that throws the juice of fruits and vegetables into a jug or glass. Such a juicer machine can do well with hard fruits and veggies, including apples and carrots.
Masticating Juicer
The fruits and vegetables are passed through the chute and crushed by an auger. After crushing them, the juicer separates the pulp and juice by squeezing the produce.
This type of juicer has a separate container for the pulp while the juice runs through a mesh.
Triturating Juicer
As the name suggests, it has two gears that work close to each other. These gears rotate to crush and grind the produce into very small particles.
As a result, it extracts the juice from fruits and vegetables. Moreover, this type of juicer pushes out the very dry pulp.
Best Juicer Brands In Malaysia
Wondering which brand of juicer is the best in Malaysia?
Here are reputable brands that produce high-quality juicing machines:
Breville
Panasonic
Khind
Birkeshire
Aicook
---
The 5 Best Juicers In Malaysia Reviews
Here are the top 5 best juicers you can find in Malaysia.
1. Breville Juicer Fountain Juicer JE95 Review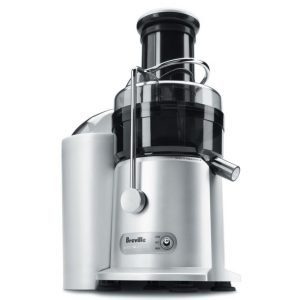 The Breville Juicer Fountain Juicer JE95 is an ideal choice for anyone looking for a reliable juicer.
This juicer has a large feed chute. Therefore, you do not have to cut the fresh produce into smaller pieces. All you need is to drop fruits or vegetables and push them in.
It provides you with a quick solution to juicing fruits and veggies. A combination of a powerful motor and stainless steel micro-mesh filter ensures the separation of juice from the pulp.
What makes it so special?
It is the best premium juicer that can also work perfectly with hard fruits and vegetables. If you have a large family then this juicer is a great option. The next time you gather with your friends at home, the Breville Juicer can fulfill all your thirst by providing fresh juices.
Most importantly, it has a compact design that makes it easy to store.
Pros
Quicker juicing
Broad feeding chute
High yield extraction (powerful motor)
Easy to store
Cons
---
2. Panasonic 0.6L Juicer MJ-70M Review
Are you looking for a cost-effective yet powerful juicer machine? Look no further than the Panasonic 0.6L Juicer MJ-70M. It is one of the best juicers in Malaysia.
The Panasonic Juicer comes with a jug that has a 600ml capacity. If you need a juicer for a whole family, this centrifugal juicer machine is the best pick.
This product is made of high-quality stainless steel. It rotates at a high speed to extract the maximum juice from the pulp or seeds. It has a mesh filter of premium quality that stays sharp for long.
Moreover, it has a thoughtful design to ensure minimum clogging of the pulp. Overall, the juicer is affordable and lasts for many years to come. It requires less maintenance, which is a huge plus. You can easily clear the mesh filter with the help of a brush (that comes with the product).
Pros
Made of stainless steel
Ideal for bulk juicing
Easy to clean
Cons
---
3. Khind Slow Juice Extractor JE150S Review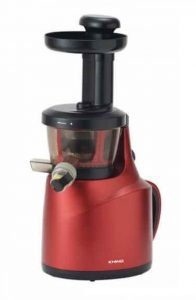 Remember, a slow juicer always yields the maximum possible juice from fresh fruits and vegetables. This is where the Khind Slow Juice Extractor JE150S comes in handy.
If you are a juice lover, it is a great addition to your kitchen. The extracted juice contains all the essential nutrients and vitamins. It is the best slower juicer in Malaysia.
This juicer machine can operate quietly which makes it perfect for night use. With the help of Khind Juicer, you can extract juice from fruits and vegetables continuously for up to 30 minutes. Moreover, it comes with a cleaning brush that helps to maintain your juicer for years to come.
Pros
Slow extraction for quality yield
Easy to clean
Quiet operation
Cons
This one is not as quick as others
---
4. Aicook AMR526 Juicer Review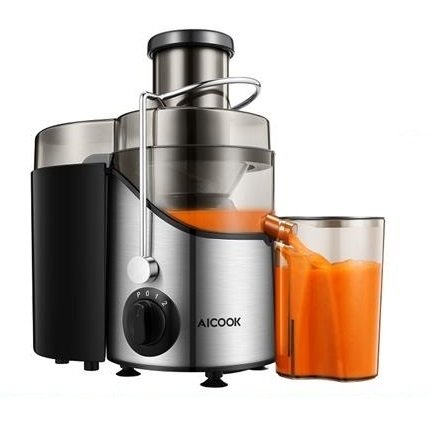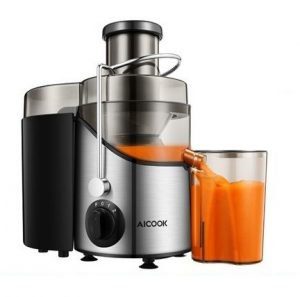 Do you need a safe, reliable and budget juicer for your kitchen? The Aicook AMR526 Juicer is a family-friendly product that can provide fresh juices all day.
It comes with built-in safety protection. The juicer will not operate until its cover is fitted. Most importantly, the machine will automatically shut down if the juice is overloaded.
This juicer works perfectly with even hard produce and leafy vegetables. If you have large households, it is the best juicer for you. Investing in it can benefit you in the long run. Provide your family with the fresh juices of fruits and vegetables.
Pros
Comes with built-in safety protection
Wide feeding chute
Ideal for juicing both soft and hard produce
Cons
The juice collector has a small size (only 450ML)
---
5. Birkeshire Slow Juicer SJ-150S-M Review (Out of Stock)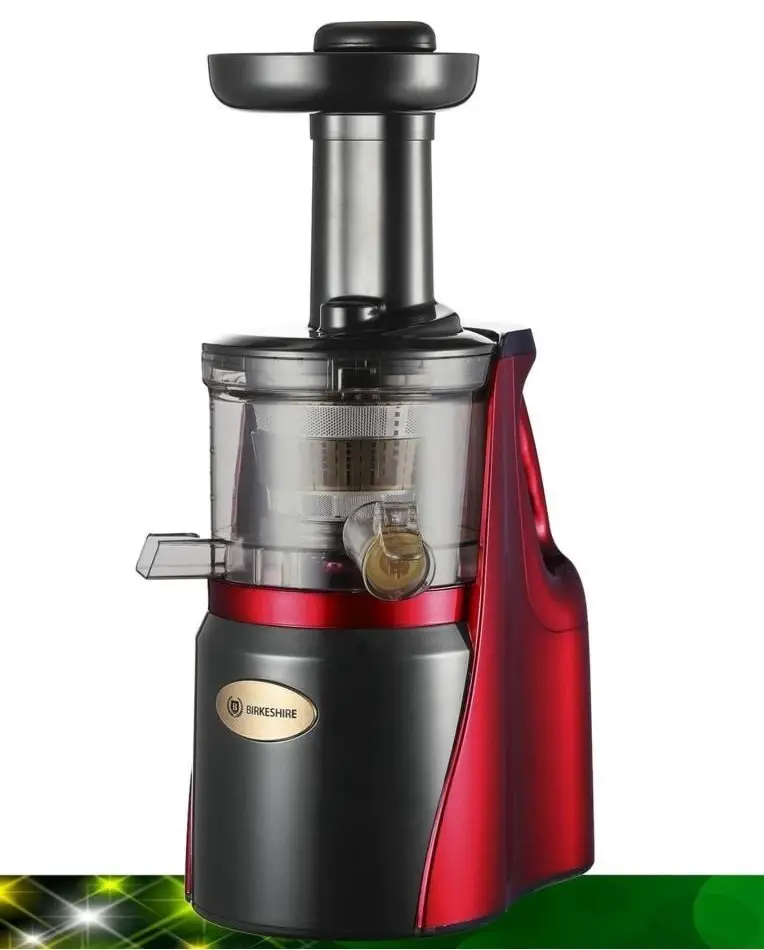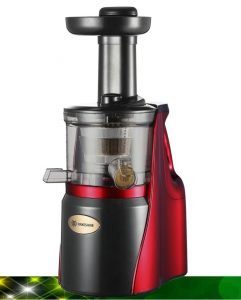 The Birkeshire Slow Juicer SJ-150S-M is next on the list. It is one of the affordable and popular juicers in Malaysia. As compared to ordinary blenders, it can extract 2x more nutrients with the help of a dual-stage juicing process.
In the first stage, it extracts the fruits without any heat while the second stage filters out the juice from the pulp. This juicer is energy-efficient. The filter is made of stainless steel. Moreover, the parts are safe and easy to clean.
Pros
Dual-stage juicing process
Stainless steel filter
Dishwasher safe and easy to clean
Affordable juicer
Cons
---
How To Choose The Best Juicer In Malaysia [Buyer's Guide]
When it comes to choosing the best juicer, it is not an easy task. Remember, there are so many things to consider when looking for the best juicers in Malaysia. It should serve the desired purpose as well as reliable.
If you have a small kitchen space, you should choose one that is easy to store. Let's take a look at some important factors you should consider when buying a juicer for your kitchen.
Type
There are many types of juicers available in the market. As discussed above, people in Malaysia go for mainly three types of juicers.
It all depends on your needs when it comes to buying a juicer machine. Make sure to learn about each type of juicer and buy one that suits your budget and juicing needs.
Yield
Look for the juicer that produces high yields. If you need a juicer for leafy greens, opt for a masticating one. It provides fresh juice with a mouth-watering taste.
Similarly, a centrifugal juicer is the best option for hard vegetables. Depending on the type of produce, choose the juicer accordingly.
Size and storage
The size of the juicer machine is another important factor. Determine where you plan to store in your kitchen space. Sometimes, a horizontal juicer is not ideal for every kitchen space. If you have limited space in your kitchen, choose one that is easy to move from closet to counter.
For that reason, it is important to consider the size and storage of the juicers before making your purchase.
Capacity
Juicers are available in different capacities out there. Determine how many times you need a juice per day and what quantities of juice will you need to make? If you're living alone in an apartment, then the capacity is not a big deal. However, you should consider the capacity of a juicer if you're living with an entire family.
Masticating juicers can produce the highest quality of juice but these are a bit slower. This is where the centrifugal juicers come in handy if you need to make juice quickly and in more quantity.
Does Blending Destroy Fiber?
It is of the most asked and common questions about blending. Have you ever heard that blending removes all nutrients from fruits and vegetables?
There is a myth that doctors recommend people to eat fresh fruits rather than drink juice because blending destroys fiber. This is not the case, NOT AT ALL.
A blender doesn't destroy fiber but it breaks down fiber into smaller pieces. Even if there is a loss, it is not severe. In most cases, fiber remains intact.
FAQ
1. What is the price of juicers in Malaysia?
The price of juicers can range from RM150 to RM700, depending on types and features.
2. Should you buy a juicer?
If you enjoy making and drinking fruit and vegetable juices, a good juicer is highly recommended.
Conclusion
Investing in the best slow juicer machine is worth your money. Choose the right type of juicer from a range of options available.
Always prefer a reliable juicer like the ones listed above. Most importantly, make sure to consider type, yield, size and storage, features and capacity when looking for the best juicer in Malaysia.
Read Next: