Are you looking for the best eye cream for dark circles and wrinkles in Malaysia?
You have come to the right place. We have come up with a list of the best eye creams that can work to brighten up even those stubborn dark areas under your areas.
These products can bring major improvements in appearance. Remember, the skin around your eyes is much more delicate and thinner as compared to the rest of your face skin.
For that reason, it is necessary to make use of powerful eye cream for long-lasting treatment.
There are endless eye creams in Malaysia, but you need to choose one that will work perfectly for your skin type.
Take Note:
Malaysia is Hot & Sunny! Don't go outside without Sunscreen!
Don't Miss Out These:
The 5 Best Eye Creams in Malaysia
Why Do You Need Eye Cream?
When compared with other parts of your body, the skin around the eyes is thinner and delicate.
That's why specialized products are a way to go when it comes to treating skin issues under your eyes.
You need to buy the right product to make sure it won't affect the skin under the eyes. An eye cream can serve a range of purposes.
Some eye creams are designed only to moisturize and cleanse the delicate area of the face. While others are made for more intense purposes such as healing stubborn dark circles.
The formation of wrinkles should be avoided and almost all the eye creams serve this preventative purpose.
After all, the skin around the eyes is more prone to wrinkles and aging effects because it is so thin as compared to the rest of the skin.
Prolonged exposure to the sun can cause fine lines and wrinkles.
There are so many other factors as well such as rubbing the eyes, tugging at the skin, and not using moisturizing cream regularly.
This is where the right product comes in handy to keep the skin glowing at all times. When it comes to getting rid of those dark patches under the eyes, nothing can work as effectively as the best eye cream.
The Best Eye Cream Brands in Malaysia
Wondering which brand of eye cream is the best in Malaysia?
Here are the trustable eye cream brands that sell high-quality eye cream products.
Clinique
Origins
Avène
Sukin
The 5 Best Eye Creams In Malaysia Reviews
There are hundreds of good eye products in Malaysia. Below you'll find our top picks of eye cream review.
1. Clinique All About Eyes 15ml [Review]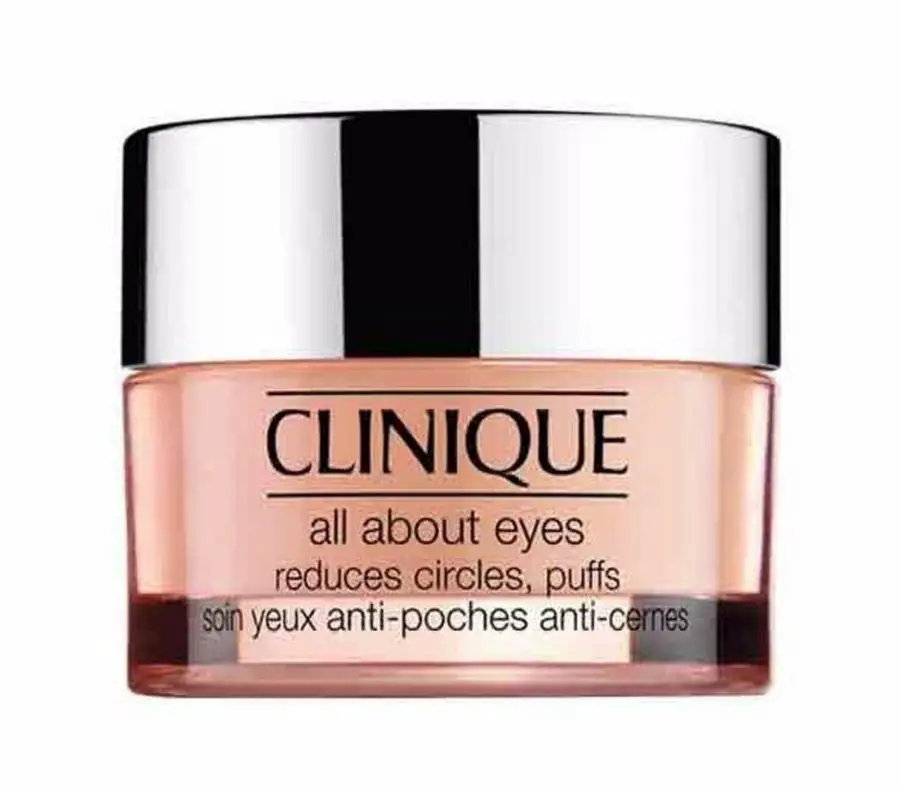 Are you looking for an eye cream that can be used both under the eyes and on the lids?
Clinique All About Eyes 15ml is a perfect eye product for you.
It is a lightweight eye cream that can reduce the appearance of darkness and fine lines as well as keep your skin under the eyes moisturize and healthy.
This cream or gel formula can be very useful for your eyes.
It is an anti-aging and moisturizing eye cream that can keep the fresh glow of your skin at all times.
When it comes to reducing the appearance of fine lines and wrinkles, this eye cream works perfectly to resolve all your anti-aging concerns.
Looking at the ingredients, there's no wonder why this product is so effective for dark circles.
Pros:
For morning and night use
Affordable
Alcohol-free and paraben-free
Can hold eye makeup in place
---
2. L'Oreal Paris Revitalift Filler Hyaluronic Acid Eye Cream [Review]
Introducing the L'Oreal Paris Revitalift Filler Hyaluronic Acid Eye Cream – it's not your ordinary eye cream! This "multi-use" gem is more than just an eye savior; it works wonders on your entire face. You see, the skin around our eyes is oh-so-delicate, and those pesky fine lines tend to pop up there first before spreading to the rest of the face.
Packed with 5x the Hyaluronic Acid punch, this eye cream is a real warrior against those pesky lines, not just around your eyes but also on those smile lines and forehead wrinkles. It's like a secret weapon for achieving plump and smooth skin all over your face.
And here's the best part – the Revitalift Filler Hyaluronic Acid Eye Cream doesn't mess around with your safety. It's made with powerful ingredients that are also super gentle on your skin. So, you can flaunt that naturally youthful glow without any worries.
Say goodbye to those fine lines and hello to a revitalized, fresher-looking face, all thanks to the magic of this eye cream. Trust us, you won't want to miss out on this little pot of miracles!
Pros:
5x concentration of hyaluronic acid to reduce fine lines
Pro-Xylane boost collagen production
Lightweight texture and fast absorption
Fragrance-free
Alchohol-free
Cons:
---
3. Origins GinZing Refreshing Eye Cream [Review]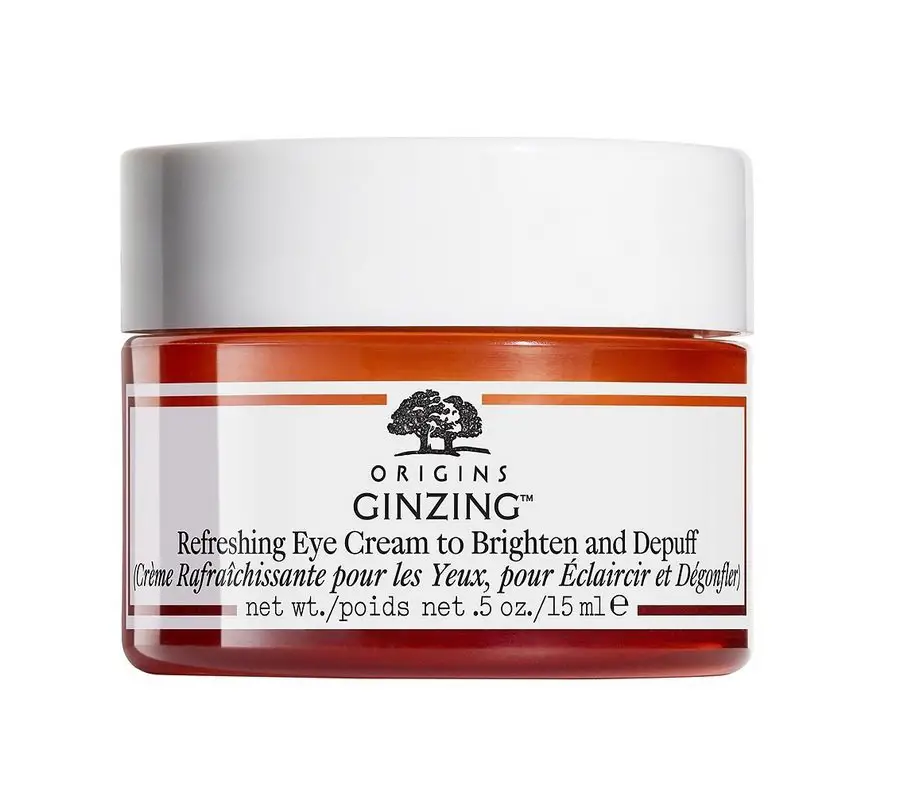 This eye cream has an advantage over many other similar products because of the energizing properties of coffee, which is the main ingredient.
It is an ideal eye cream for any type of skin.
If you have tired eyes, Origins GinZing Refreshing Eye Cream can work perfectly and soothe them right away.
Most importantly, this product is effective in reducing wrinkles and fine lines. It can refresh and restore your glowing eyes.
The product is very easy and safe to use. All you need is to gently massage around your eye area in the circular motion.
It performs as well as any top-ranked product should do. That's why it is one of our favorite picks for your eyes.
Moreover, this product can improve suppleness and brighten your skin tone at the same time. Do you worry about the signs of aging?
Buy this amazing eye cream and fight against those unwanted signs.
Pros:
Affordable product
Formulated with coffee beans
Popular brand
Best eye cream for all skin types
---
4. Avène Physiolift Eye Cream [Review]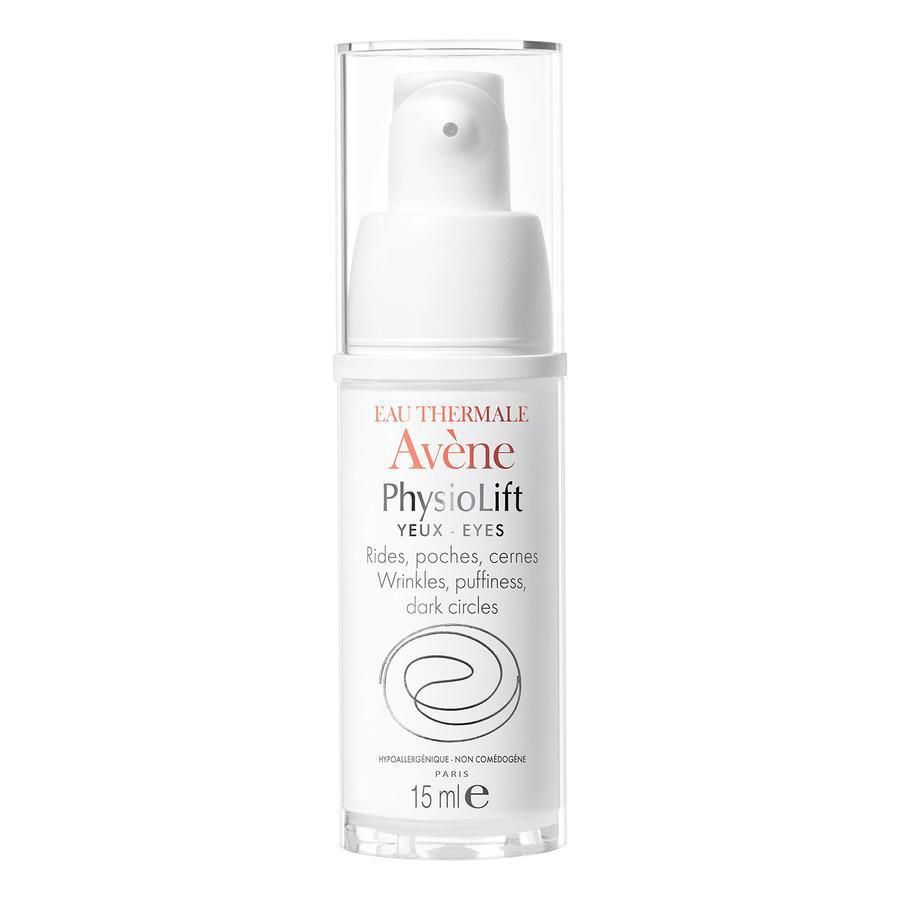 If you have a sensitive skin type, the use of any random product may cause irritation.
It's essential to choose the product designed for such skin type. This is where you should consider Avene's Physiolift Eye Cream.
It is the best eye cream in Malaysia that can reduce wrinkles and strengthen the delicate skin around your beautiful eyes.
It can remove the dark circles without causing any side effects to the skin.
The product contains some essential ingredients that ensure effective absorption into the skin.
For effective results, use the cream at nighttime.
Pros:
Soothes your skin
Lightweight
Antioxidant protection and intensive hydration
Safe to use – tested for safety
---
5. Sukin Purely Ageless Reviving Eye Cream [Review]
What makes this cream so special?
Aloe leaf juice and sunflower seed oil are the main ingredients of Sukin Purely Ageless Reviving Eye Cream. Such ingredients play a vital role to boost tired-looking eyes.
In the list of ingredients, you will find that it contains mostly natural ones.
That's why it is the best eye bag cream that works so perfectly to soothe your eyes and provide quick relief.
Pros:
Refreshing scent
Paraben-free
Contain aloe leaf juice
Cons:
---
How to Choose the Best Eye Cream in Malaysia
You need to look for the best eye cream in Malaysia to make sure it will work for your skin type. Finding one can be daunting for you, here is what you should consider while choosing an eye cream.
Ingredients
Ingredients are the main part of any product.
A product that contains natural ingredients tends to be effective without causing any side effects.
You can consider a cream that contains a combination of anti-aging ingredients.
Make sure the product has skin-replenishing ingredients, skin-restoring ingredients, and antioxidants.
Fragrance-free
Both natural and synthetic fragrances can trigger allergic reactions.
For that reason, an eye cream should be fragrance-free.
You apply it so close to the eyes so be careful when choosing the right product.
SPF
For sun protection, you may need to consider SPF.
If you are looking for an eye cream during the daytime, make sure to choose one that is rated SPF 30 or more.
You can also opt for applying your regular eye cream and then use your daytime moisturizer with sunscreen.
How To Apply Eye Cream for the Best Result
The way how you apply eye cream will impact its effectiveness.
If you want to make the most of eye cream, then follow these simple steps:
The cold reduces the puffiness of eye cream. That's why keep it in the fridge when you don't want to use it.
Apply the product on a clean face, after your facial cleanser.
Do not tug your skin while applying the cream.
Massage the skin around your eyes in a circular motion
For good results, apply it twice a day.
Conclusion for Best Eye Creams in Malaysia
For proper care of the skin around the eyes, the use of eye cream is essential.
The right product can minimize fine lines and wrinkles on your skin. It can also help remove dark circles under your eyes.
Always look for the ingredients while choosing the best eye cream in Malaysia. Most importantly, it should be fragrance-free to make sure the product won't cause an allergic reaction.
Read Next: