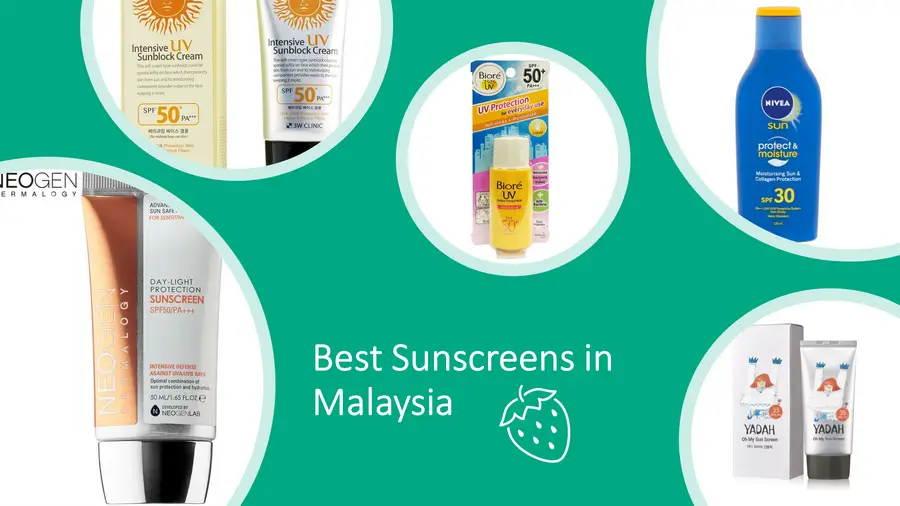 The UV rays from the sun are the primary cause of visible skin changes, including wrinkles.
Wearing sunscreen every day can make a huge difference. It can protect your skin from harmful UV rays and keep your skin blushing at all times.
People often complain about the side effects of sunscreen products such as greasy feel and stickiness to the touch.
So in this article, I'll share with you the best sunscreens in Malaysia that can protect you from harsh sunlight without making you feel uncomfortable.
Keep scrolling down and know why you should break old habits and start wearing the best sunscreen products.
Top 5 Best Sunscreens in Malaysia
How Does Sunscreen Work?
When you spend time outdoors, it can cause skin damage due to the harmful UV rays.
Whether the weather is cold or hot, rain or shine, you need to protect your delicate skin from sun damage, and it is only possible with the right selection of sunscreen products in Malaysia. These products are effective to keep your skin glow.
Sunscreen combines organic and inorganic active ingredients to protect your skin against the sun's rays.
There is a variety of sunscreens such as liquids, lotions, creams, sprays, and many more.
Remember, physical and chemical are the only two types of sunscreens no matter regardless of their endless forms.
The ingredients used in these sunscreens help protect your skin from harmful rays.
For that reason, it is necessary to consider the ingredients when picking the one that best suits your skin type.
Why Do You Need A Sunscreen?
Sunscreen is vital for your skincare. It is a crucial healthcare habit that many people maintain all year, even in the cold season.
The cold season can increase the risk of exposure to the sun's rays because people are unaware of the UV rays around them due to the cold weather.
In short, sunscreen is what you need whenever go outdoors.
Even in an indoor area, the UV rays exist as well, it just the difference in strength.
Here are some of the benefits of using sunscreen.
Protect Skin Against UV Rays
We all know that UV rays can be so harmful due to the depletion of the ozone layer. It has increased our risk of sun damage.
This is where sunscreen comes in handy to block these harmful rays.
As a result, it reduces the likelihood of sunburn.
Lower Skin Cancer Risk
Unfortunately, skin cancer is one of the most common forms of cancer in Malaysia.
Do you know you can lower skin cancer risk by applying sunscreen every day when going outdoors?
Yes, that's absolutely right!
Prevent Premature Aging of the Skin
UV rays can cause damage to your skin, which can lead to aging of the skin. It is often characterized by discoloration and a breakdown of collagen that can lead to sagging and wrinkles.
Apply sunscreen each day to prevent premature aging of your skin.
Types Of Sunscreen In Malaysia
There are mainly two types of sunscreen in Malaysia, including:
Physical Sunscreen
Physical sunscreen is made of zinc oxide or titanium dioxide or maybe both.
The best zinc oxide sunscreen in Malaysia can protect your skin against UV rays by scattering.
As a result, the UV rays cannot penetrate your skin, NOT AT ALL!
Pros:
Non-irritable ingredients
Very effective against UVA and UVB rays
It doesn't clog up pores
Immediate effect
Cons:
A frequent application may require
Chemical Sunscreen
Chemical sunscreen works by absorbing UV rays that enter your skin.
Do you wonder how?
Such a type of sunscreen gets absorbed into your skin. Oxybenzone and avobenzone are the commonly used ingredients in the chemical sunscreens.
Pros:
Affordable products
Easy to apply
Matte finish
Cons:
It may not be effective against all kinds of UV rays
Best Sunscreen Brands in Malaysia
Here are some of the reputable brands for sunscreen products:
Nivea
Biore
Yadah
3W CLINIC
Neogen
The 5 Best Sunscreens In Malaysia 2021 Review
Here are some of the best sunscreen products in Malaysia.
1. 3W CLINIC Sunblock Cream SPF50+ PA+++ Review
Highlights
It can soothe inflamed skin
This product is very affordable – a good budget option
Sensitive-skin friendly
If you have acne-prone skin, all you need is the best sunscreen that doesn't trigger any kind of acne on your skin.
This is where 3W Clinic Sunblock Cream SPF50+ PA+++ comes in handy.
It contains Aloe Vera that can soothe painful blemishes and other irritations as well. When it comes to promoting healthier and clearer skin, this product is a way to go.
This cream can get absorbed quickly with the perfect formula to cure acne-prone skin.
---
2. Biore UV Perfect Protect Milk Non-Sticky Sunblock SPF50+ Review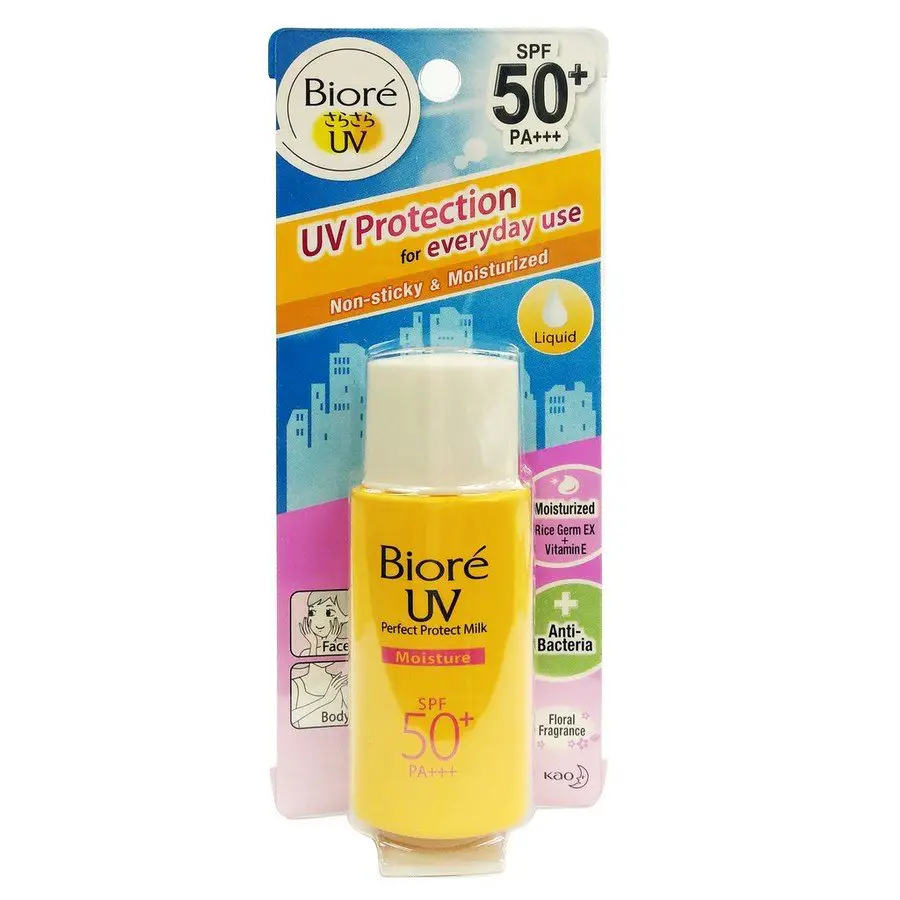 Highlights
Smooth application – non-greasy feel
The very affordable price makes it the best option
Sweat and water-resistant option
It can moisturize your skin
It is one of the best sunscreen products in Malaysia, which contains rice germ extracts to soften the skin.
Moreover, the presence of Vitamin E can repair and protect your skin. The product comes in a convenient size and it is non-sticky as well.
If you are looking for a sunscreen product for travel, this is the best option.
When you wear the best sunscreen, rest assured that harmful rays won't harm your skin anymore.
---
3. Yadah Oh My Sun Screen Review
Do you worry about too oily or too dry parts of your skin?
There is nothing to worry about as this sunscreen can help combat that problem and protect your skin from harmful UV rays.
It is one of the best sunscreen products that can be used daily without any side effects. It doesn't clog any pores on the skin.
The sunscreen for various skin types and the affordable price makes it second to none.
---
4. NIVEA Sun Protect & Moisture Lotion SPF30 Review
Highlights
SPF 30, PA++, and Advanced Collagen
Non-sticky product
Very-effective to prevent premature wrinkles
This NIVEA Sun Protect & Moisture Lotion can protect your skin from evil UV rays.
In a country like Malaysia, this is a must-try product that yields many benefits for your skin.
You need to protect your skin against the harmful sun rays with the help of the best sunscreen product out there. This is where this product comes in handy for Malaysians.
With SPF 30 and advanced collagen, it can protect your skin by keeping it hydrated.
It is very effective in preventing premature wrinkles on your skin.
---
5. Neogen Day-Light Protection Sunscreen SPF 50 Review
Highlights
Lightweight sunscreen product
Very moisturizing
Non-sticky on your skin
Pleasant smell
Silicone-free, Alcohol-free, Sulfate-free
Do you need a product for intensive protection against all types of UV rays?
Neogen Day-Light Protection Sunscreen can protect your skin against UVA and UVB rays.
During your outdoor activities, wear this sunscreen to have healthy and vitalizing skin.
If you need sunscreen for dry skin, this product is the best choice.
With tea tree oil, this product is highly moisturizing that can treat and soothe acne on your skin.
---
How To Choose The Best Sunscreen in Malaysia
Some factors need to be considered when it comes to choosing the best sunscreen products.
Sun Protection Factor (SPF)
Before buying any sunscreen product, always consider SPF. Here is what you should know about the sun protection factor.
SPF 15-30: indoor or short interval outside
SPF 30-70: outdoors and preferable for water sports
Know the purpose of buying sunscreen products and then choose one having that particular SPF.
Skin Type
You may have dry or sensitive skin. Consider your skin type before choosing the sunscreen that will work best for you.
Opt for cream if you have dry skin.
For sensitive skin, look for a para-aminobenzoic acid-free product.
Ingredients
It should be one of the main considerations, of course. There are some ingredients you need to avoid in the sunscreen product.
Look for an alcohol-free sunscreen.
Some may avoid oxybenzone that can disrupt female hormones. It depends on your skin type as well.
Waterproof
Do you sweat or swim frequently?
Don't worry because waterproof sunscreen is all you need. Opt for a water-resistant sunscreen product that can last longer in wet conditions.
Conclusion
The best sunscreen products in Malaysia can protect your skin from harmful rays. Always buy the product that best suits your skin type.
Moreover, you need to consider other important factors as well such as SPF, ingredients, and waterproof.
Wearing the right sunscreen can keep your skin healthy as well as protect it during outdoor activities.
Read Next: