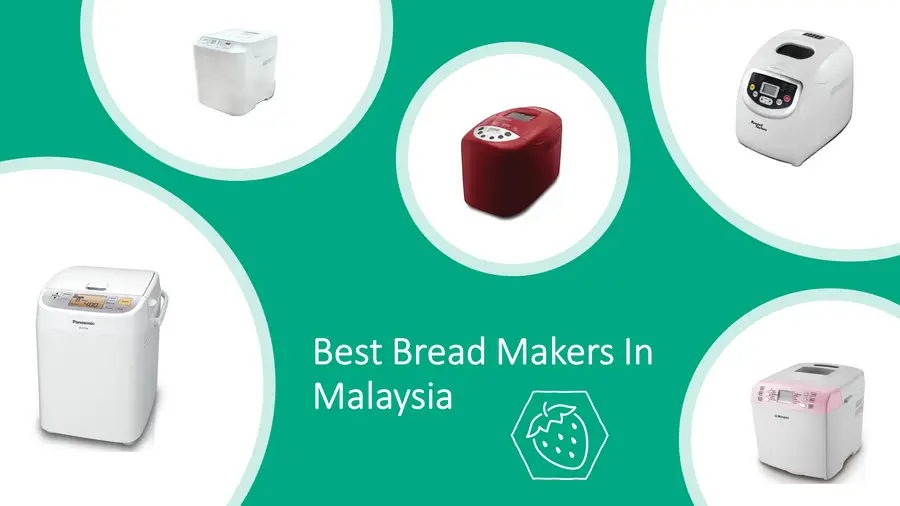 A bread machine is also known as bread maker which is used in homes for bread making. It is basically a home appliance for a number of reasons.
Firstly, it takes several hours to make a loaf of bread in a bread maker and secondly, its size is small and most of the bread makers return 1 loaf at a time, hence, the restricted commercial usage. A bread maker can prove to be a good source of freshly baked bread while staying at home.
This article presents a list of the best bread makers in Malaysia.
---
Top 5 Best Bread Makers In Malaysia
---
How Bread Maker Works?
A bread maker uses raw materials to cook fresh bread at home at a fraction of the price that the customer pays for different bread types in the market. Its general components include a bread pan, kneading blades, and an oven, controlled by a simple built-in computer.
Bread makers mostly have different cycles depending upon the type of the required bread i.e. whole grain, white bread, etc. The first of the two processes that happen inside a bread maker is kneading and then, the baking takes place though the combined production time spans over multiple hours.
---
Best Bread Maker Brands In Malaysia
Wondering which brand of bread maker is the best in Malaysia?
Here are them:
Morgan
PerrySmith
Russell Taylors
Panasonic
Lotus's
---
The 5 Best Bread Makers In Malaysia Reviews
Different brands are offering bread makers in Malaysia but I have compiled a list of some products that gathered a positive appraise from the customers and is proven to be valuable to own.
1. Morgan Bread Maker 2.0lb MBM1020 Review
With around 2k 5-star ratings on Shopee, we would like to start this list by Morgan MBM1020 bread maker. Pre-fed with 12 programs, this bread maker can provide you different types of bread modes including Basic, French, Whole Wheat, Gluten-free, and Sandwich.
Morgan's bread maker also comes with 2.0lb capacity and is rated at 550W of power. It features a plastic body with an LCD display and has 10-minute power-off protection.
It also has adjustable crust control that allows turning your bread's crust in 3 different colors such as light, medium, and dark depending on the liking.
Some main points of this product are:
12 digitally pre-set programs for different bread types
60-minute keep warm and 10-minute power-off protection
Has non-stick kneading blade as well as a bread pan
Pros:
At a price tag of RM239, this bread maker comes with many useful features including pre-fed programs and a large 2.0lb capacity
Cons:
With all the above-listed features at a modest price tag, there is very little margin of complaints here.
---
2. PerrySmith 3.5lb PS3500 Bread Maker Review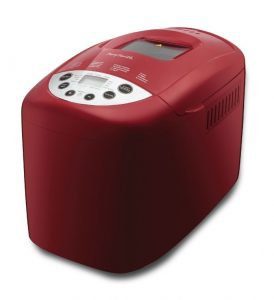 The second product in this list is the bread maker by PerrySmith (PS3500) with around 3k 5-star ratings. It claims to come with a 3.5lb large capacity which is considerably larger than most other bread makers.
It also has a twin kneading blade design for better dough results. Its control panel is touch-sensitive, and you get to choose from 3 loaf size variations i.e. 1kg, 1.25kg, and 1.5kg.
PS3500 comes with 3 crust control system and also has 15 pre-set programs for user selection. Further offerings of this product include 60 minutes of keep warm protection and smart overheat protection.
Moreover, 15 minutes of memory protection is provided in case power interruption occurs so that your bread stays in the making.
Some main points include:
850W power and cool to touch body design
A non-stick inner coating
3.5lb large capacity with 15 pre-fed programs.
Pros:
An extra-large capacity bread maker that is loaded with some great features at a price tag that sure won't empty your pockets.
Cons:
Honestly, this product ticks so many features that its price tag of RM277, which otherwise may sound a bit expensive, will not hurt too much
---
3. Lotus's BM1333 Bread Maker 2L Review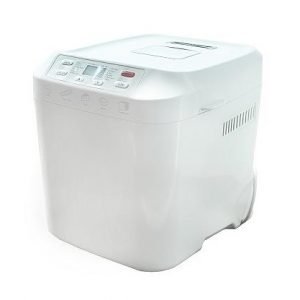 Another Bread Maker that has made it to this list of best bread makers in Malaysia is Lotus BM1333. It features 6 buttons, a 60-minutes warm-keeping function as well as a memory function. The memory function basically serves the purpose of uninterrupted bread-making in case power fluctuation takes place.
This bread maker also comes with a 2.0lb capacity which must be enough for an optimum loaf of bread. Moreover, it also features 12 programs for the users to select the best among them for their needs.
Some notable points are:
60-minutes warm-keeping function to keep the bread fresh
Pre-set programs for flexible usage
Memory function for continuous functioning
Pros:
At a competitive price tag of RM199 with the above-given functions, Tesco BM1333 promises to deliver some good features without breaking your wallet.
Cons:
Maybe a twin-kneading blade or a bit more capacity could have made this product more appealing but still, this product seems like a bang for your bucks.
---
4. Russell Taylors BM-10 2.0lb Bread Maker Review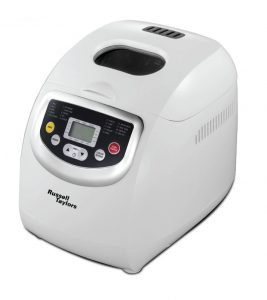 Russell Taylors is yet another brand that has made its name on this list. Like other listed products, it also has a 12 digital programmer menu for flexible use. It also comes with a memory function so that it can continuously work for some more time after the power accidentally cuts off.
Moreover, it features a 60-minute warm-keeping function so that your bread can stay warm for a longer time. It also has 6 buttons and comes with full auto process control bread making.
Some main points of Russell Taylors BM-10 are:
A 2.0lb bread maker for large-sized bread loafs
Comes with pre-set programs much like other bread makers for a variety of bread types
60-minutes of warm-keeping function for longer warmth to your product
Pros:
A well-featured bread maker with all the basic functions that a bread maker must possess
Cons:
At a price of RM299.99, you can choose some other bread makers too of course, if the brand name is of no concern.
---
5. Panasonic SD-P104 Bread Maker Review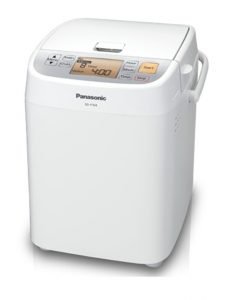 To conclude this list, we would like to list this bread maker produced by Panasonic which is a rather expensive product than the competition.
It features a temperature sensor that ensures optimal baking based on the ambient temperature. The total baking time remains the same regardless of the temperature conditions.
Panasonic SD-P104 offers 13 different menus for different bread types matching the customer needs. It also features a crust control for light or medium-crusted bread. Another feature that it matches with some other bread makers is 10-minute power interruption protection in case power turns off.
The summary of this product is:
A bundle of different menus to choose from for the ease of the user
Different crust modes to match the taste of your tongue
10-minute power interruption protection
Pros:
It is a product of Panasonic which is widely known for its reliability in the world of electronics.
It comes with some exclusive features such as a temperature sensor to help to make the bread regardless of the surrounding temperature.
Cons:
The only drawback here maybe is its price tag which is RM809, almost thrice as much as some other products with more or less the same features that this bread maker offers.
---
How to Choose the Best Bread Maker In Malaysia [Buyer's Guide]
Finally, there are some factors that may affect your decision of buying a bread maker. These are:
Capacity
If you are into making a large loaf of bread then, you may need a bread maker of around 3 or 3.5lb capacity. Loaf capacities are generally listed with each product so do check that before placing an order on any of the products that match your taste.
Number of Kneading Blades
Kneading blades also play a good role in the kneading of the dough. If a bread maker has a twin kneading blade then, it will surely help you in handling the kneading of your bread's dough with ease. Again, this feature is also listed on almost every product in case there is one.
Pre-set programs
Almost all the bread makers offer pre-set programs so that the consumers can choose the mode for the type of bread that they want. So before purchasing a product, take a check of the pre-set programs if they are available or not.
Material
The material of a bread maker may also matter to you if you are looking for a product that is lightweight and reliable. Materials such as plastic are generally used for bread makers but check the product page if you are into some other type of material.
Other Features
Some people look for a product that comes with some extra features apart from the basic attributes. For example, some users may be looking for prolonged warmth time while others may be interested in a touch-sensitive display or memory function. Therefore, it all depends on your needs whether you want to buy a specific product or move on to the next one.
---
Conclusion for Best Bread Maker in Malaysia
This article was written for those that are looking to buy a bread maker to match their needs. I have tried to list as many features as possible presented by each of the products above.
Moreover, I have also tried to enlist some of the best bread makers in Malaysia based on the research, testing, and user reviews from Lazada and Shopee. We hope that you find the product that really lures your heart and mind.
Thanks for the read!
Read Next: