Discover Zoo Negara's ticket prices/entrance fees, parking, animal photos, an array of delightful activities, tips for visiting, and best things to do!!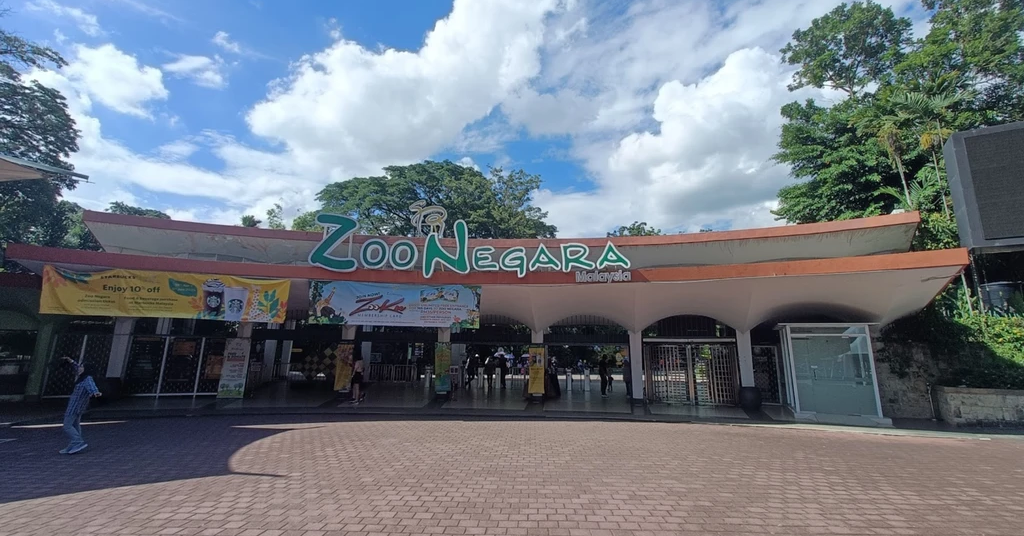 Zoo Negara Malaysia is a place where the wonders of nature come to life right before your eyes! Managed by the Malaysian Zoological Society, this non-governmental organization had one mission in mind – to create a zoo that Malaysians can call their own.
Since its grand opening on 14th November 1963, Zoo Negara has grown into a world-renowned institution that has captivated the hearts of visitors from far and wide.
Step into this sprawling 110-acre sanctuary, conveniently located just 5km away from the vibrant city of Kuala Lumpur.
Take Note:
Malaysia is Hot & Sunny! Don't go outside without Sunscreen!
Don't Miss Out These:
Prepare to be amazed as you embark on a journey through an open concept zoo, where more than 90% of the animals are housed in expansive exhibits that truly embrace their natural habitat. As you wander through the park's vast grounds, you'll discover the true essence of what it means to be an "open zoo."
But the adventure doesn't end there! Get ready to be entertained by a lineup of thrilling and awe-inspiring animal performances, meticulously curated and scheduled throughout the day.
So, whether you're an animal enthusiast, a nature lover, or simply looking for a fun-filled day out with family and friends, Zoo Negara Malaysia promises to deliver an extraordinary adventure like no other.
Zoo Negara Ticket Prices
Here are the entrance fees for Zoo Negara:
Adults: RM45 (Malaysian) or RM88 (Foreigners)
Kids: RM18 (Malaysian) or RM43 (Foreigners)
Senior Citizen: RM23 (Malaysian) or RM88 (Foreigners)
Students: RM15
Disabled (OKU): Free
Parking: RM10 per entry
Want to save money on ticket? Book Online at 20% OFF & Smooth Entry!
Zoo Negara Tram Rides Prices
Adults: RM8.90 (Malaysian) or RM11.90 (Foreigner)
Kids: RM5.90 (Malaysian) or RM9.90 (Foreigner)
OKU: 10% discounted price
VIP Booking: RM399 (1 hour)
Zoo Negara Multi-Animal Show
Saturday to Thursday: 11 am to 3 pm
Friday: Closed (Except School Holidays & Public Holidays)
Zoo Negara Animal Feeding Session
Children's World:
12 pm to 1 pm (Weekends & Public Holidays)
Javan Deer:
2 pm to 3 pm (Weekends & Public Holidays)
Zoo Negara Map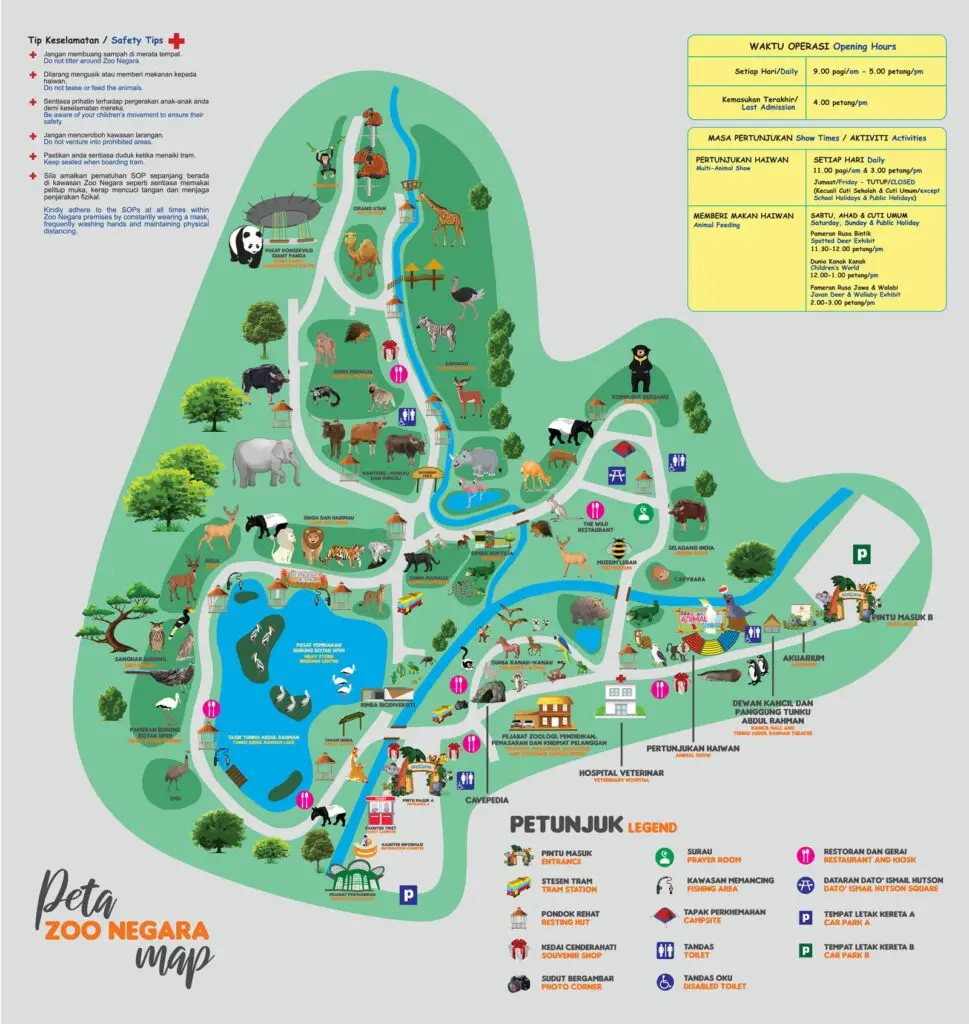 Zoo Negara Facilities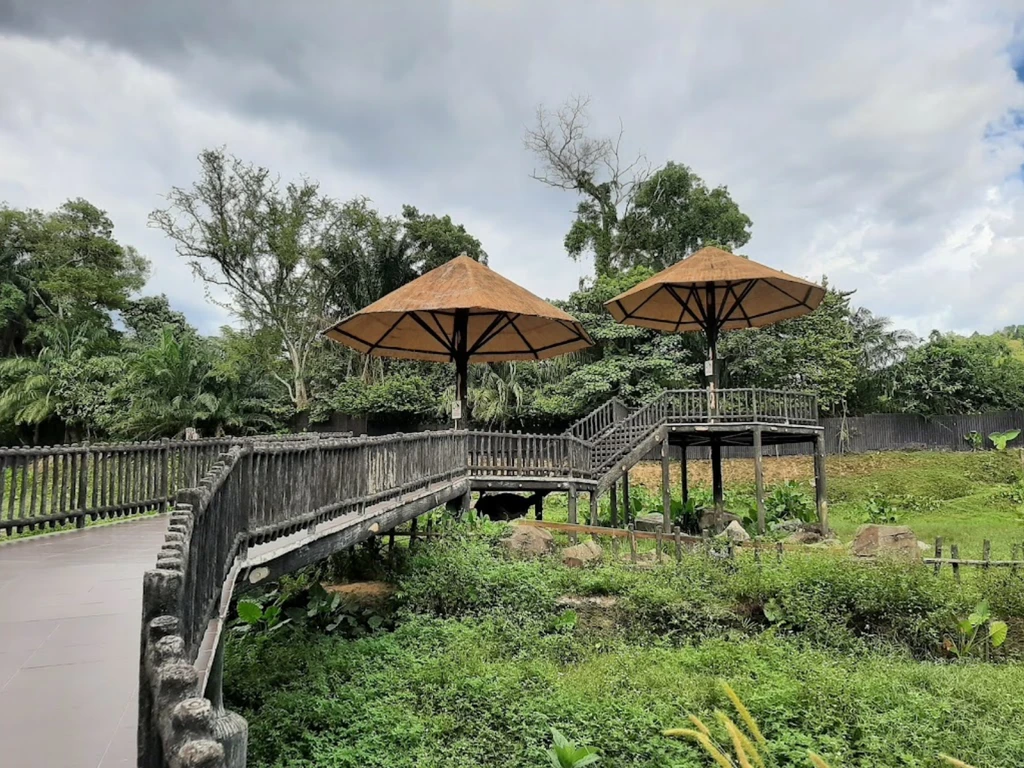 Zoo Negara has a range of facilities for your convenience, including:
Prayer Room (Surau)
Zoo Huts
Free Public WiFi
Wheelchair (Rental fee is RM5.00)
Stroller (Rental fee is RM20.00)
Lockers (Rental fee is RM2.00)
Zoo Negara Operating Hours & Address
Operating Hours: 9 am to 5 pm daily
Address: Jalan Taman Zooview, Taman Zooview, 68000 Ampang, Selangor
How to Get to Zoo Negara via Public Transport
By Light Rail Transit System (LRT):
Alight at Wangsa Maju Station, Kelana Jaya Line
By Bus:
Rapid KL number 253 from Putra LRT Station, Wangsamaju, KL
Rapid KL number 220 from Lebuh Ampang, KL
Alternatively, you may board an e-hailing or a taxi to Zoo Negara, it is more expensive but faster.
Things To Do In Zoo Negara
Here are some of the best things to do in Zoo Negara.
1. Thing to Do in Zoo Negara – Admire the Panda!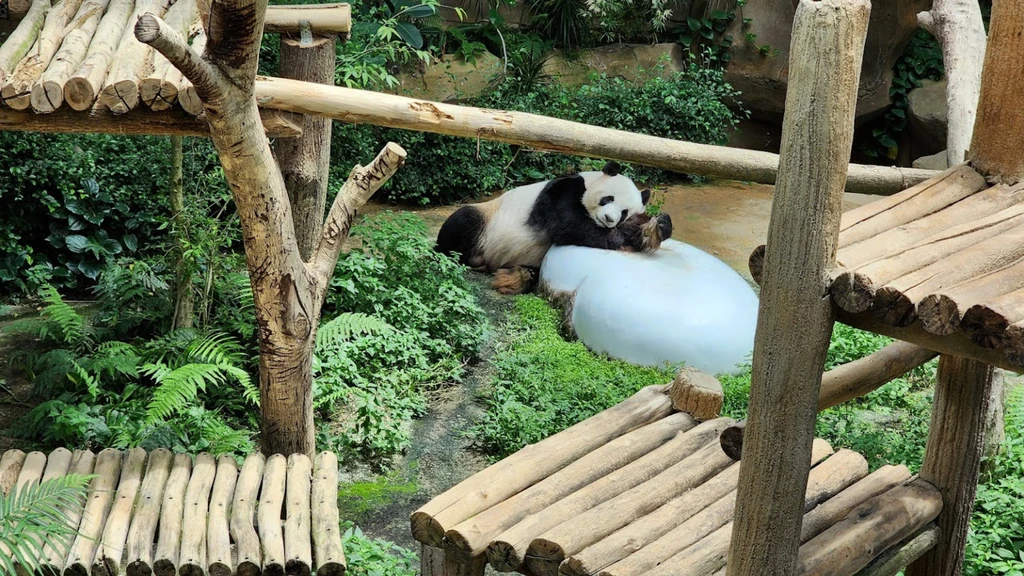 When you visit Zoo Negara, make sure you don't miss the chance to see the most expensive animals in the zoo – the two pandas from China.
The Giant Panda Conservation Centre is a must-visit attraction at Zoo Negara Malaysia, and it's no wonder why it's so popular. Xing Xing and Liang Liang, the adorable panda couple, were graciously gifted to Malaysia by China in 2014 as a symbol of diplomatic relations between the two countries.
However, their time here is limited, as they are scheduled to return to China in 2024 after a decade in Zoo Negara Malaysia. So, be sure to pay them a visit before they bid farewell!
If you're planning to witness the animal feeding session, keep in mind that it's only available on weekends and holidays. The Zoo Negara panda feeding takes place from 12pm to 1pm at the Children's World, so mark your calendar to catch this special event.
Not every country is fortunate enough to have pandas, and it's a testament to Malaysia's relationship with China. Don't let this chance slip away—make sure you visit Zoo Negara and say hello to these remarkable pandas while they're still here.
2. Thing to Do in Zoo Negara – Visit the Mammal Kingdom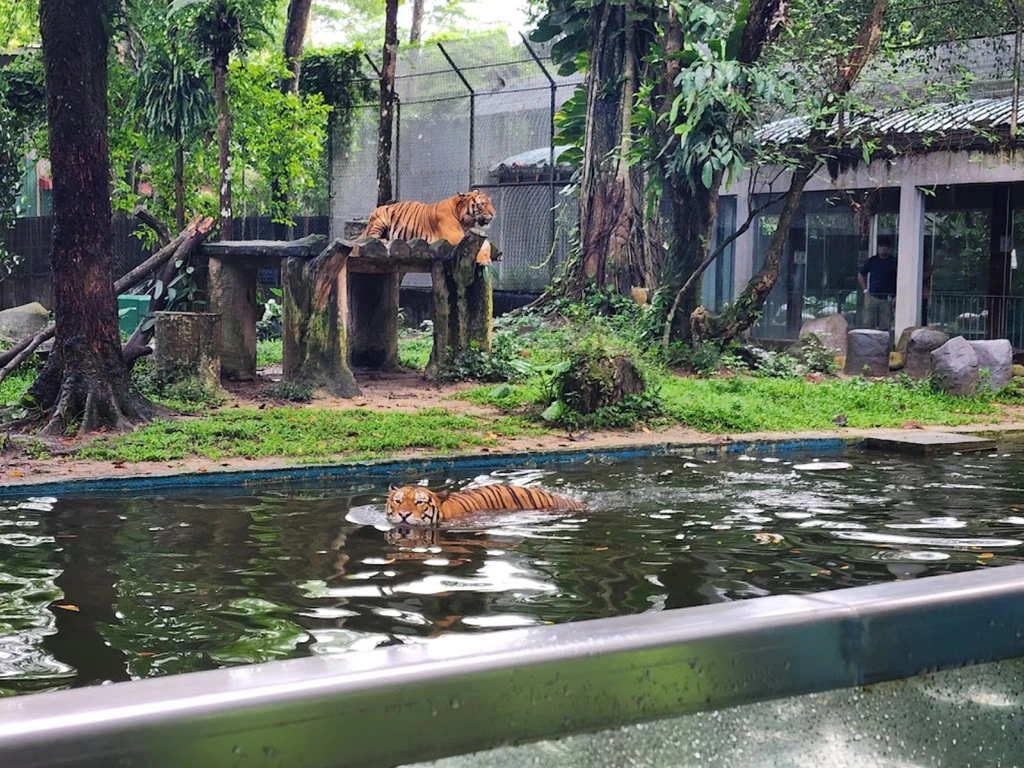 Welcome to the Mammal Kingdom at Zoo Negara, where you'll encounter a diverse range of captivating creatures.
From majestic Malayan tigers and leopards to fascinating Malayan porcupines and pumas, this exhibit is brimming with wildlife wonders.
Don't forget to check out the separate section featuring camels—an unexpected treat!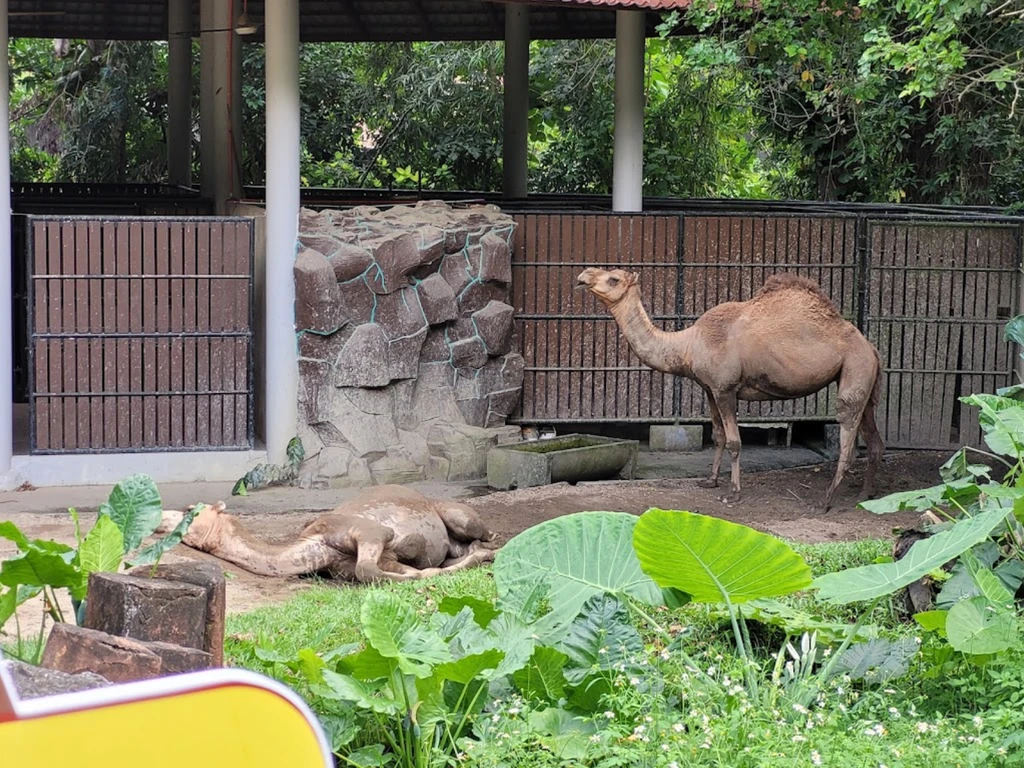 The Mammal Kingdom is a paradise for capturing stunning pictures of these magnificent beasts. Get ready to snap shots of the leopard cats, slow loris, Malay civet, raccoons, striped hyenas, Binturongs, and more, as they showcase their nocturnal activities.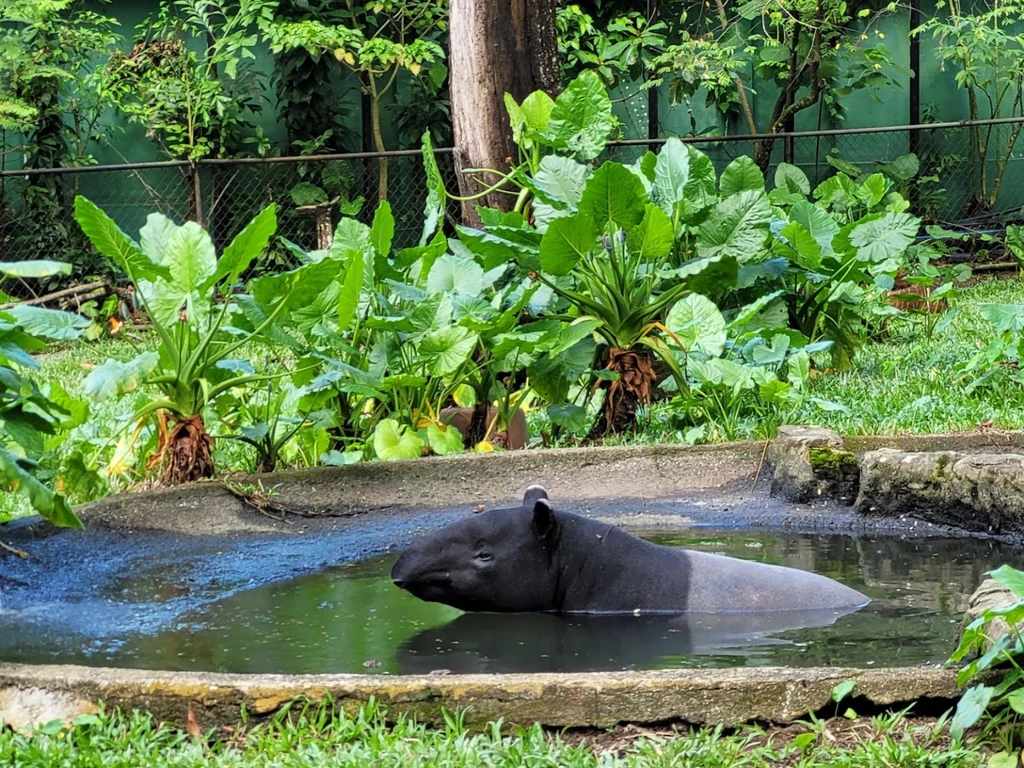 If you've ever wondered about the world's largest rodent, the capybara, this is the place to satisfy your curiosity. Take a closer look at these intriguing creatures and witness their unique characteristics firsthand.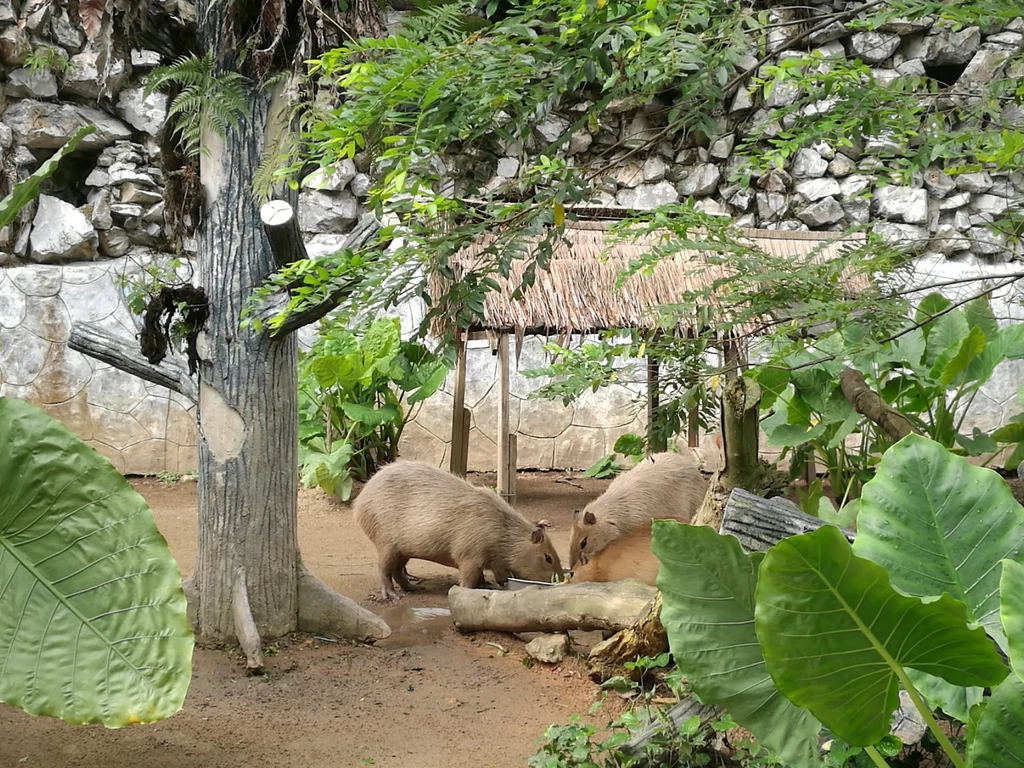 While you're exploring, make sure to sneak a peek at the sleeping Malayan porcupines in their exhibit. Don't worry, the myth of them shooting their quills is just that—a myth. Admire these adorable creatures as they snooze peacefully, without any danger of quill projectiles.
3. Thing to Do in Zoo Negara – Explore the Savannah Walk
Prepare to be amazed as you step into the Savannah Walk, one of the most beloved sections of Zoo Negara.
As the largest open-concept exhibit connected to the Mammal Kingdom, it transports you to the enchanting landscapes of Africa, where animals roam freely in their natural habitat.
Immerse yourself in this captivating experience, surrounded by graceful giraffes, majestic ostriches, elegant zebras, and captivating Sable antelopes. Every moment in the Savannah Walk is a perfect opportunity to capture breathtaking images of these incredible creatures, leaving both young and old animal enthusiasts in awe.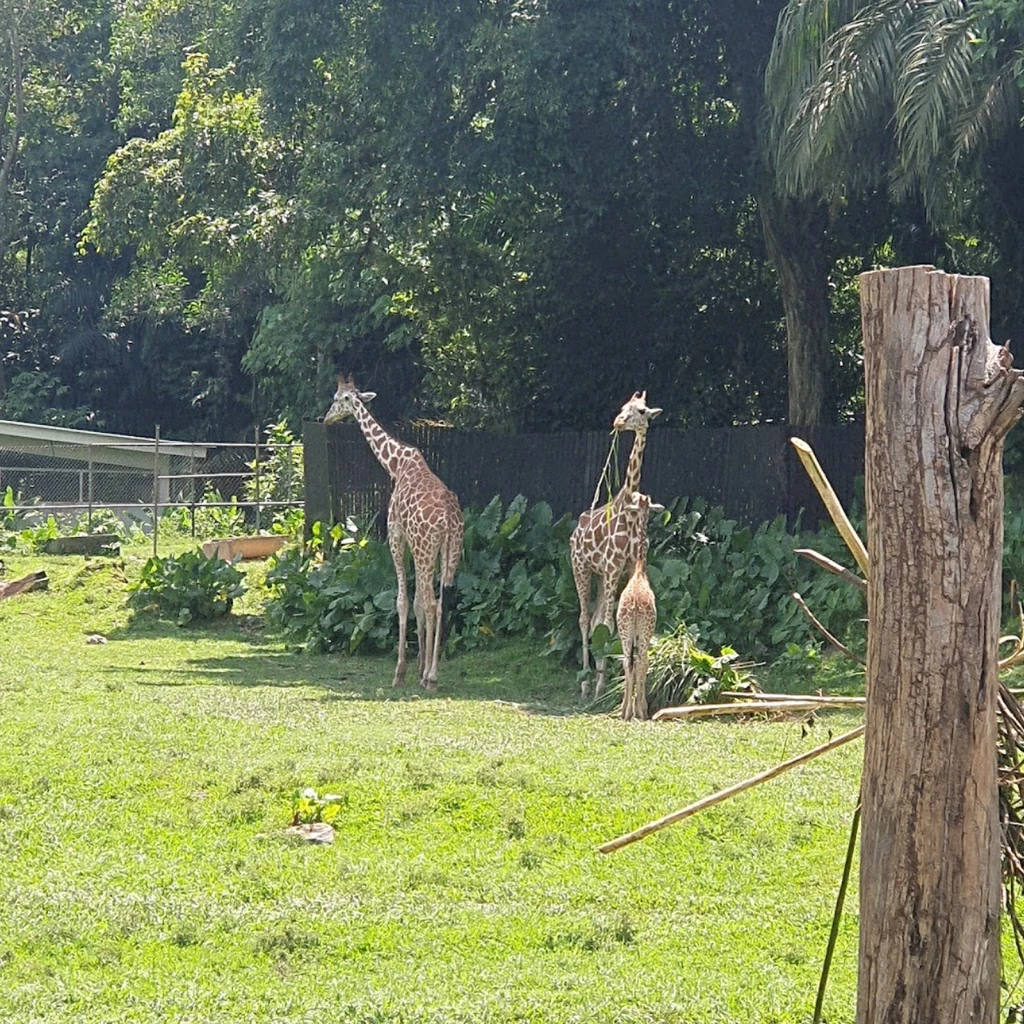 Once you enter this extraordinary realm, you'll truly feel like you've been transported to another world, thanks to its stunning landscape and the presence of these magnificent animals.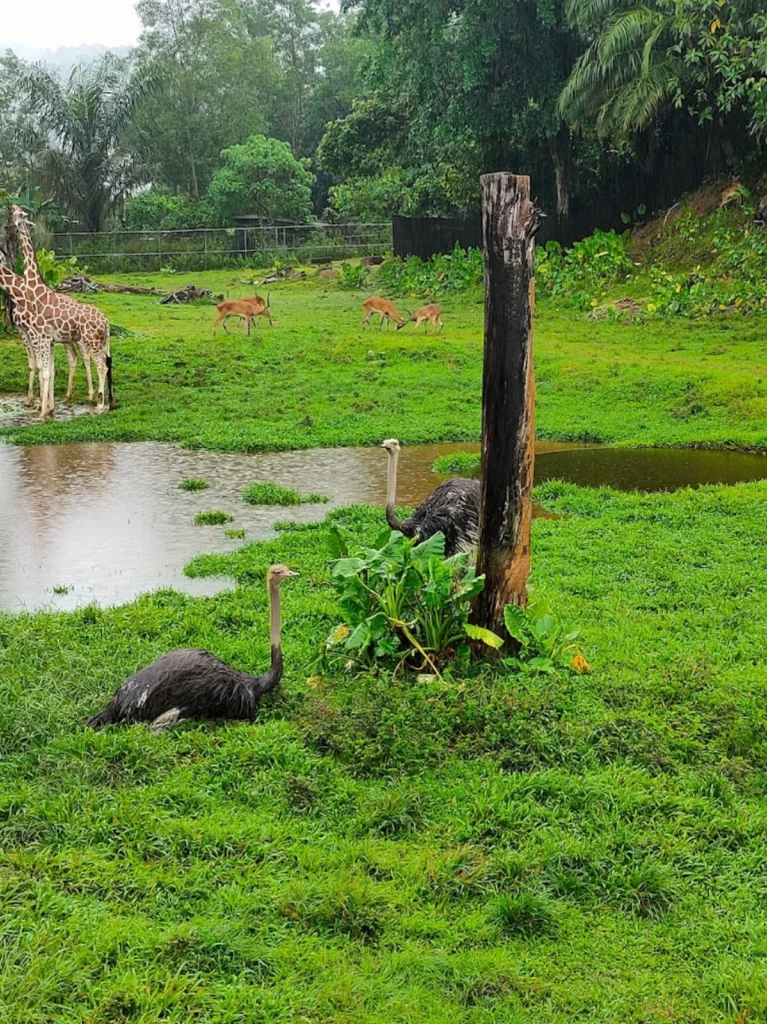 While there may not be an abundance of trees to provide shade in the exhibit, the Savannah Walk authentically replicates the sweeping plains of the African savannah, bringing you closer to the real-life habitats of these remarkable species.
4. Thing to Do in Zoo Negara – Enjoy the Multi-Animal show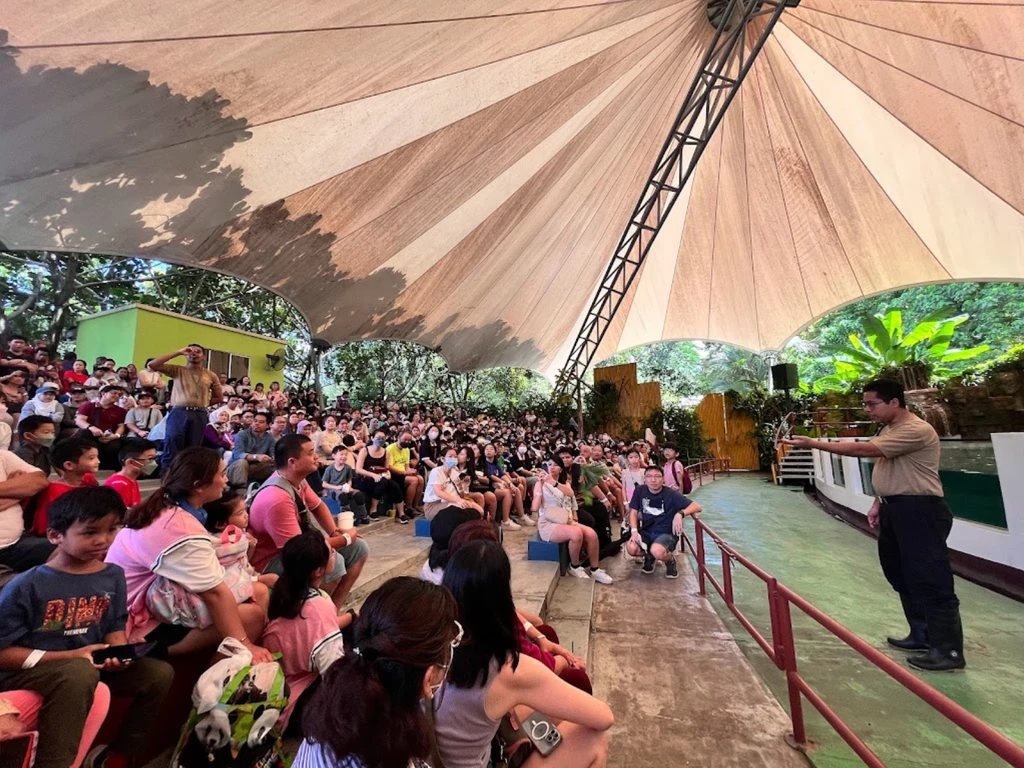 As you make your way around Zoo Negara, don't miss the captivating Animal Show featuring sea lions and macaws—it's perfectly timed for your visit. After completing a full round of the zoo and returning to the entrance, you'll be just in time to catch the show.
This delightful performance takes place daily, except on Fridays (unless it's during school holidays or public holidays), at 11 am and 3 pm. Set aside about 30 minutes to enjoy this engaging spectacle.
Make sure to plan your itinerary accordingly, so you can experience the excitement and wonder of the Animal Show at Zoo Negara.
Witness the incredible talents of sea lions and the vibrant display of macaws as they showcase their skills and entertain the audience. This thrilling show is sure to leave you with lasting memories of your visit to the zoo.
5. Thing to Do in Zoo Negara – Visit the Children's World
For an enjoyable time with your little ones, be sure to visit the Children's World area at Zoo Negara. It's the perfect place for kids to freely explore while being surrounded by gentle animals such as deer, goats, bunnies, tortoises, and miniature horses.
Don't miss the opportunity to embark on an educational tour in the nearby small cave, where fascinating artifacts are on display, offering an enriching experience for visitors of all ages.
If you happen to be in town on a weekend or holiday, make sure to schedule your visit to Children's World between 12 pm and 1 pm for the animal feeding session. It's an interactive and memorable experience that your little ones will cherish.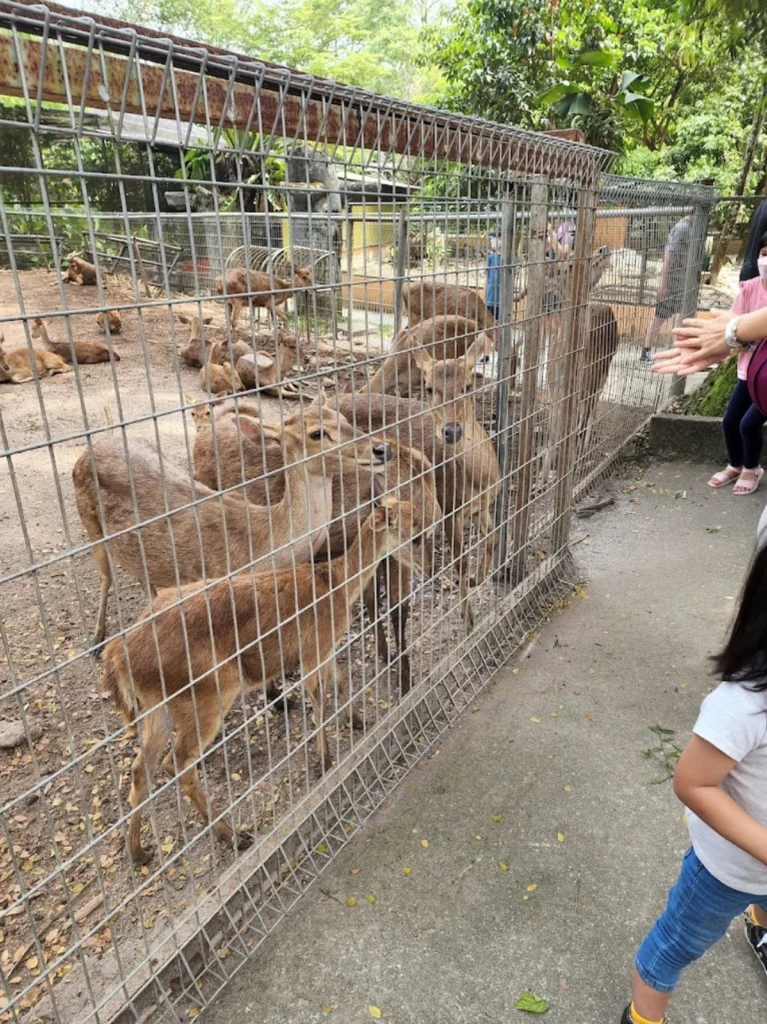 Visit the Children's World at Zoo Negara and watch as your children's faces light up with joy and wonder. Let them embrace the freedom to roam and interact with the friendly animals, and take part in engaging activities that will make their visit truly unforgettable.
6. Thing to Do in Zoo Negara – Admire the Humboldt Penguin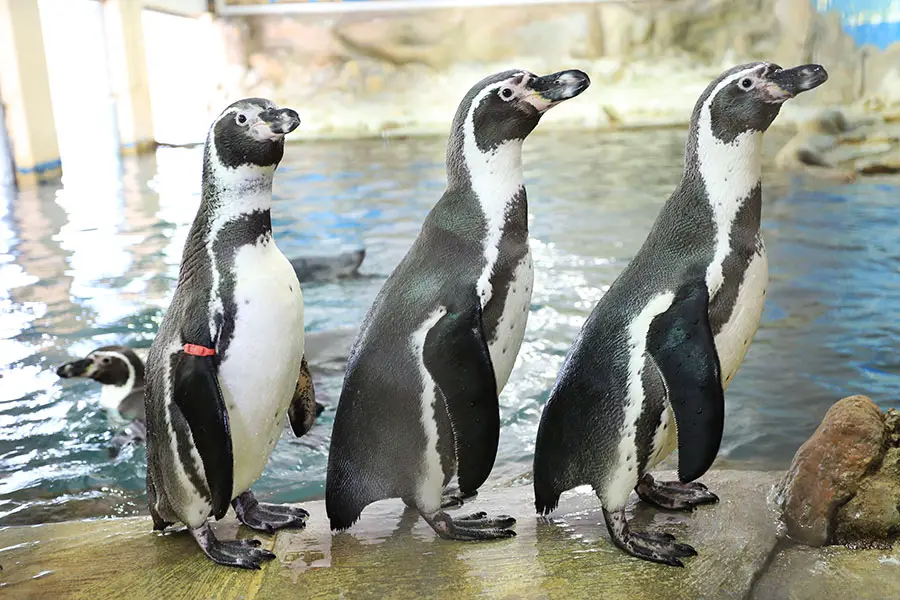 Get ready for a delightful encounter with the fascinating Humboldt penguins at Zoo Negara. These charming creatures were air-transferred all the way from the Czech Republic Zoo to their new home in the Zoo Negara Penguin Enclosure.
Although South America is far away, you can still witness these adorable penguins in action right here in Malaysia. Watch them gracefully glide through the water during their feeding time, which takes place every day at 11 am.
Take a moment to appreciate the unique beauty of these South American natives, known for their breeding habits on islands and rugged shores.
The Zoo Negara Penguin Enclosure provides a special opportunity to observe and connect with these captivating creatures, even if you can't make the journey to their natural habitat.
7. Thing to Do in Zoo Negara – Watch the Malaysian Elephants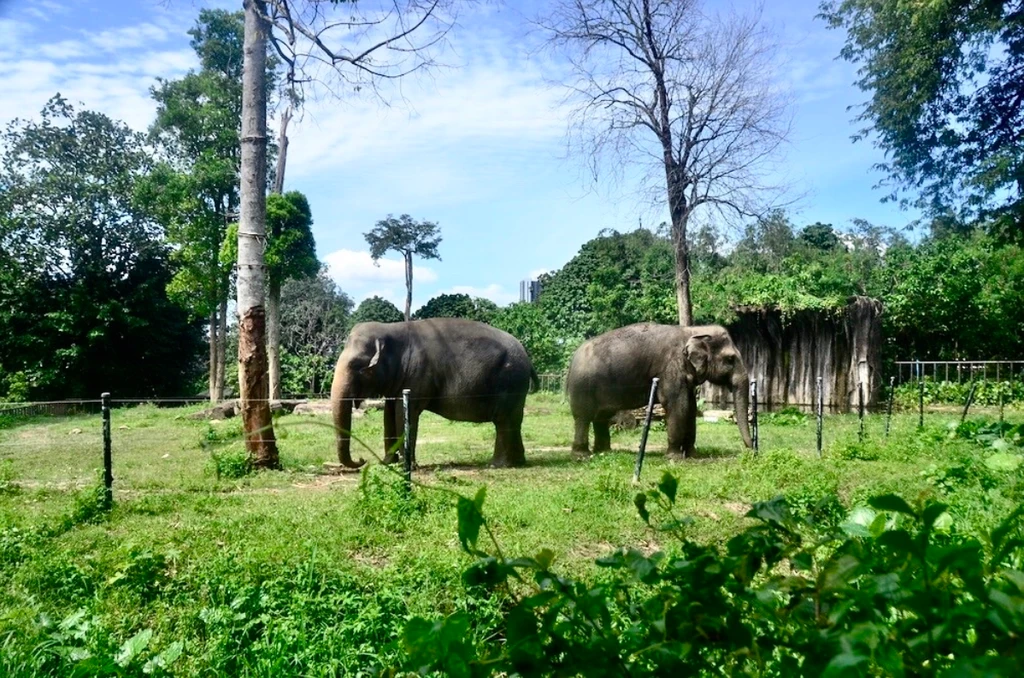 Make sure to pay a visit to the iconic Malaysian elephants at Zoo Negara, named Siti (female), Sibol (female), and Teriang (male).
These gentle giants, hailing from Pahang, are celebrities within the zoo. Don't miss the chance to interact with them by offering their favorite treats, such as bananas or sugarcane, directly from your hand.
Come and witness the magnificence of these incredible creatures firsthand. Engage with the Malaysian elephants at Zoo Negara, learn about their habits, and marvel at their extraordinary dietary needs.
It's an experience that will leave you in awe of their sheer size and impressive appetites.
8. Thing to Do in Zoo Negara – Admire the Hornbills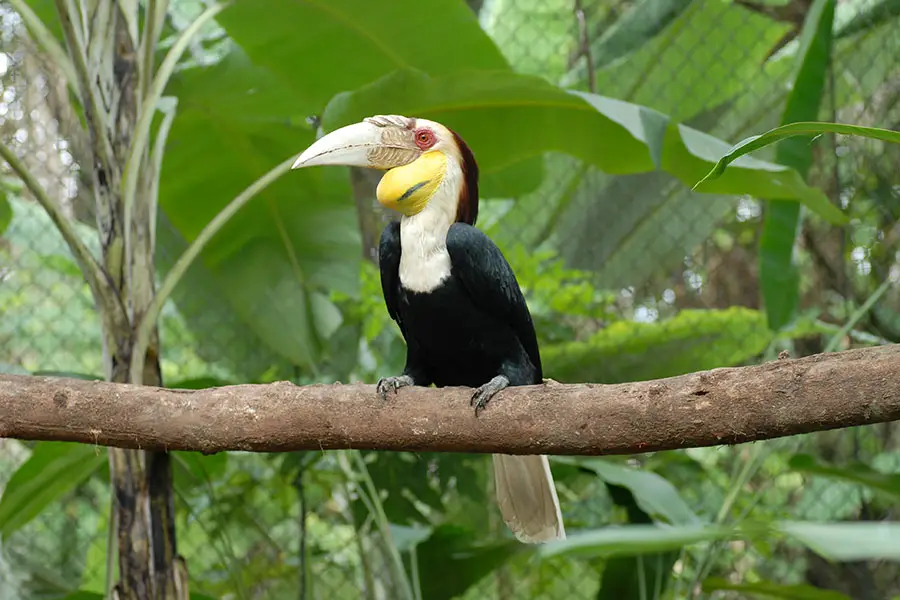 Make sure to make a stop at the Hornbill Centre in Zoo Negara to catch a glimpse of Malaysia's national bird. This fascinating section houses seven out of the ten species of hornbills found in the country.
Interestingly, these hornbills form lifelong pairs and have a harmonious relationship with the monkeys. They help each other by consuming insects that bother the monkeys, while the monkeys alert the hornbills in case of any potential threats.
When you visit the Hornbill Centre, remember to keep your voice low and maintain a peaceful atmosphere, as the female hornbill may be in the process of hatching her eggs.
It's important to respect their nesting environment and avoid disturbing their delicate nesting routine. Take this opportunity to observe these magnificent birds and learn more about their unique behavior and ecological role.
9. Thing to Do in Zoo Negara – Explore the Bird Aviary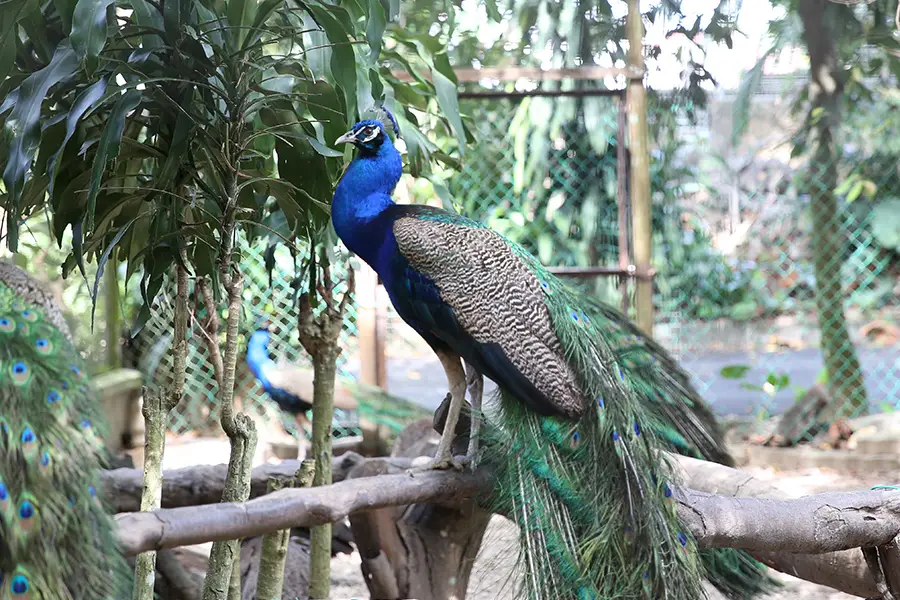 Make sure not to miss the Bird Aviary, a captivating attraction within Zoo Negara. It boasts an extensive collection of bird species, including rare and endangered ones that are hard to find elsewhere.
Next to the Bird Aviary, you'll find the Tunku Abdul Rahman Lake, home to approximately 300 free-roaming birds.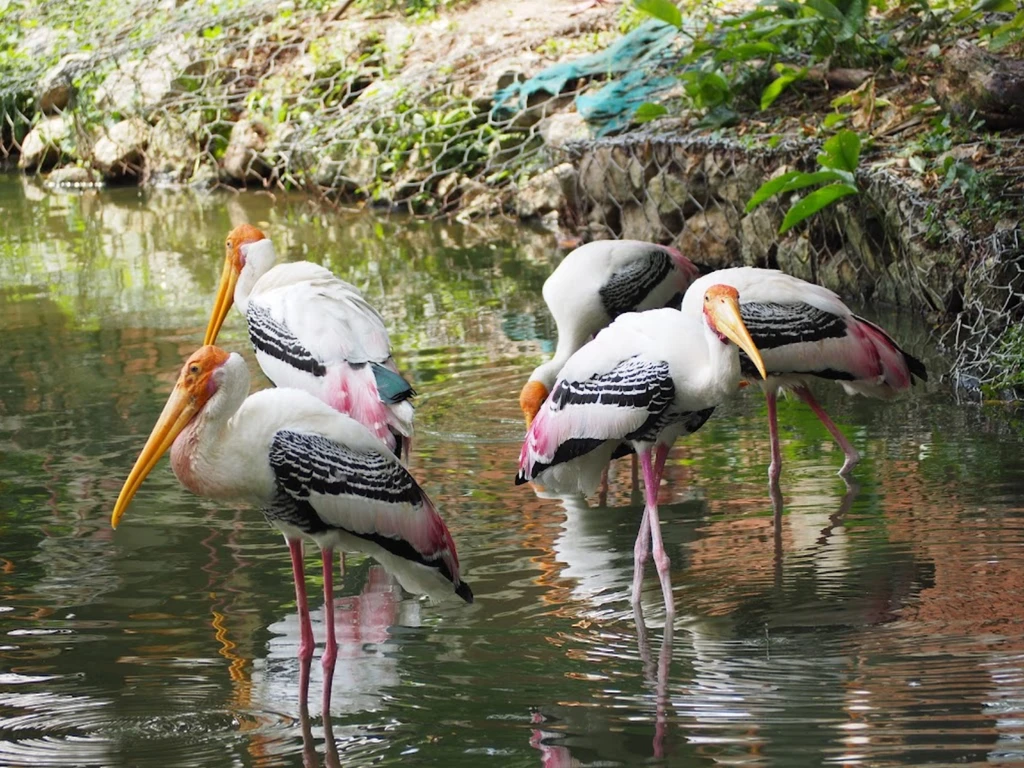 Keep an eye out for stunning painted storks, elegant swans, majestic pelicans, graceful ibises, and many more.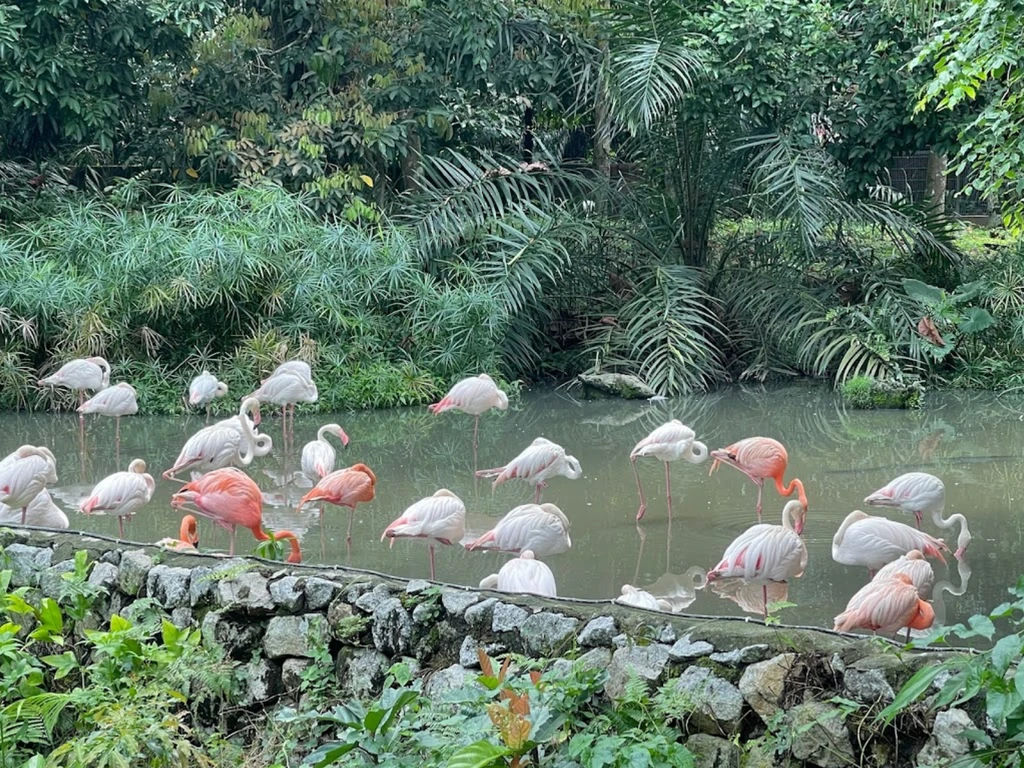 Capture fantastic photographs during the feeding sessions, where these beautiful creatures gather and provide you with memorable moments.
10. Thing to Do in Zoo Negara – Visit the Aquarium
Explore Malaysia's first freshwater ecological park, the Tunku Abdul Rahman Aquarium, for a mesmerizing experience with tropical fish.
As one of the country's oldest public aquariums, it showcases the Malaysian River Journey, featuring aquatic fauna and flora from highlands to the sea.
Immerse yourself in the diverse ecosystem as you journey through the different zones of the aquarium, starting from the Upper Stream Zone, Mid Stream Zone, Wetlands Zone, Lower River Zone, Peat Swamp Zone, Mangrove Zone, and finally, the Marine Zone. Each zone offers a glimpse into the natural habitats of various species.
Marvel at the wide array of fish commonly found in Malaysian rivers, as well as rare and endangered species like crabs, prawns, aquatic insects, and aquatic flora.
The exhibits are meticulously designed to resemble the natural conditions of the wild, providing an opportunity to observe the behavior of these aquatic organisms in their natural environment.
Zoo Negara Review
Zoo Negara in KL is an amazing place to visit, with well-cared-for and healthy animals that have more space to roam compared to other zoos. Just be prepared to queue for a few minutes at the panda conservation centre, as visitation is limited to five minutes.
This big zoo offers a wide variety of animals to see, and I particularly enjoyed the lake area where graceful mycteria birds freely roam and fly around—it's truly impressive.
Don't miss the mini aquarium located opposite the animal show, where you can spot penguins in one of the display glasses. The highlight of my visit was undoubtedly the panda site—an experience not to be missed.
The panda area and aquarium are air-conditioned, while other areas are shaded by plenty of trees, providing relief from direct sunlight.
Zoo Negara is a great place to take kids to see animals, and you can easily spend around four hours exploring. There's even an area where kids can pet rabbits, and various cafes and fast-food outlets to grab a bite.
There are two animal shows held at 11 am and 3 pm but keep your expectations in check as they might not be as spectacular as you hope.
If you're feeling peckish, there are stalls selling souvenirs and light snacks like ice cream, bread, and instant noodles.
With plenty of trees providing ample shade, it's a pleasant and reasonably priced attraction for locals, especially if you purchase your tickets online.
Remember to bring an umbrella as the weather can be quite sunny or rainy during your visit.
Parking is usually available, but during holidays it can get crowded, and the entry fee is RM10 per vehicle. The zoo provides two car parks to accommodate visitors.
Malaysians are in for a treat, as they can visit the zoo for free within 30 days of their birthday and redeem the complimentary ticket at the information counter.
Where to Eat in Zoo Negara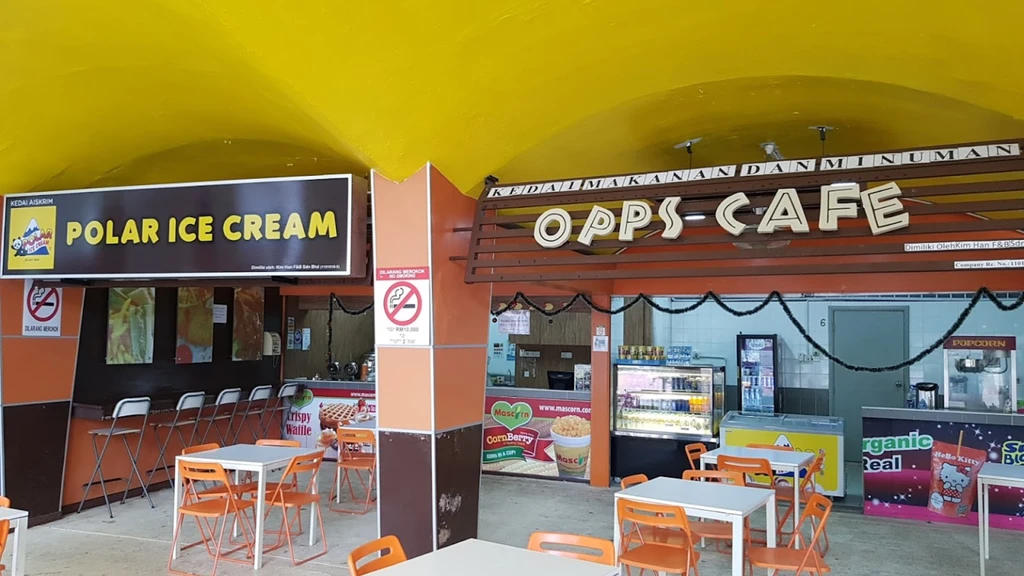 Enjoy a range of dining options at Zoo Negara, with various restaurants and cafes scattered throughout the zoo.
Indulge in a sit-down meal or grab a quick snack from restaurants like Wild Restaurant, Panda Café, Mane Delicious, Opps Café, Hari Harimau Café, and Savannah Cafeteria. Savor both Eastern and Western cuisines at these dining establishments, catering to diverse tastes.
For a food-focused experience, head to "The Wild Restaurant," one of Zoo Negara's food kiosks, which offers a thrilling and comfortable environment surrounded by nature-themed decor. Located conveniently in the middle of the zoo, The Wild Restaurant provides an extensive menu of reasonably priced dishes prepared with care and attention.
Keep in mind that dining at Zoo Negara might come with a higher cost compared to external establishments, as you're paying for the convenience of enjoying your meal within the Zoo without having to travel elsewhere.
What to Know Before Visiting Zoo Negara
Here are some tips about visiting Zoo Negara:
You can purchase entrance tickets at the counter upon arrival. If you bought your tickets online (which is highly recommended to do so), there is a separate counter where you can queue and redeem them. Simply show the staff your QR code.
Arrive early, just before the opening hours and before 10 am, to secure ample parking spots. Late arrivals may find it challenging to find available parking due to limited space. Remember, there is a parking fee of RM10 for cars, which is reasonable considering the convenience of parking within the zoo's vicinity.
Don't worry about food and beverages, as there are several stalls available throughout the zoo. You can also find benches to sit and take a break while enjoying your refreshments.
Dress comfortably in light and breathable clothing, as most areas of the zoo are open-air. Consider bringing an umbrella or cap for sun protection if needed.
The friendly and professional staff and workers at the zoo are there to assist you, ensuring a pleasant experience throughout your visit.
The animals at Zoo Negara are well taken care of and housed in their own enclosures, ensuring their welfare and safety.
Is Zoo Negara Worth Visiting?
Absolutely! As a Malaysian, I can confidently say that a trip to Zoo Negara is well worth your time and an experience you won't want to miss.
First and foremost, Zoo Negara is home to a diverse range of wildlife. From majestic tigers to adorable pandas, fascinating reptiles to graceful birds, the zoo offers a chance to witness and connect with a remarkable array of animals.
It's an opportunity to appreciate the rich biodiversity that Malaysia has to offer, right in the heart of Kuala Lumpur.
Not only does Zoo Negara provide a chance to see these incredible creatures up close, but it also emphasizes the importance of conservation and education. The zoo's commitment to wildlife preservation and environmental awareness is commendable.
It serves as a valuable educational platform, helping visitors, especially children, learn about the importance of protecting our natural heritage.
Furthermore, Zoo Negara is constantly evolving and improving. With spacious enclosures and an open concept, the animals have room to roam and thrive in environments that closely resemble their natural habitats.
The exhibits are thoughtfully designed, offering an immersive experience for visitors and a chance to observe the animals in a setting that mimics their true homes.
I must also mention the friendly and knowledgeable staff at Zoo Negara. They are always ready to answer questions, provide information, and ensure a safe and enjoyable visit for everyone. Their passion for wildlife conservation shines through, making the experience all the more enriching.
In a nutshell, Zoo Negara is definitely worth visiting. It's a place where you can reconnect with nature, appreciate the beauty of our wildlife, and learn about the importance of conservation.
Whether you're visiting with family, friends, or even on your own, a trip to Zoo Negara promises to be an engaging, memorable, and rewarding experience. Support the zoo and embark on an adventure that will leave a lasting impression.
Conclusion: Zoo Negara Ticket Prices & Things to Do
In conclusion, Zoo Negara is an absolute must-visit. As a proud Malaysian, I can assure you that it offers a captivating experience where you can witness a diverse range of wildlife, learn about conservation, and connect with the natural world.
With its spacious exhibits, friendly staff, and commitment to preserving our precious fauna, Zoo Negara is a place that leaves a lasting impression.
So, gather your loved ones, support the zoo, and embark on an unforgettable adventure that will make you appreciate the beauty of our wildlife and the importance of conservation efforts.
Read Next: