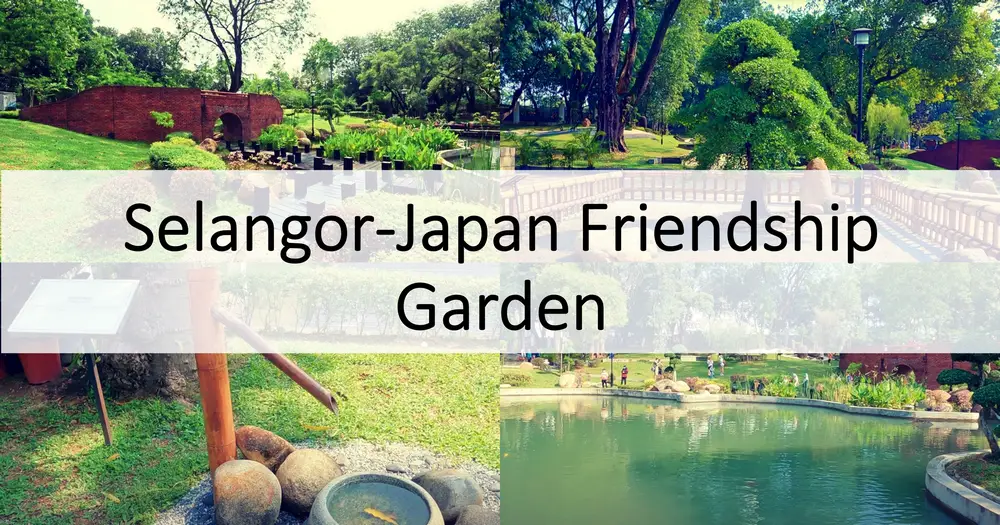 If you like nature and Japanese culture, then you must visit the Selangor-Japan Friendship Garden, a Japanese-themed garden in Shah Alam.
It is one of the best cultural parks in Malaysia which feature Japanese cultural elements in five unique zones.
If you like nature and Japanese culture, then the Selangor-Japan Friendship Garden is a great place to spend your weekends or holiday on.
What Is Selangor-Japan Friendship Garden?
The Selangor-Japan Friendship Garden is a park in Selangor, Malaysia, that was established as a symbol of the friendship between the people of Japan and Malaysia.
The park covers a large area and is beautifully landscaped with a variety of plants, trees, and flowers, including Japanese cherry blossom trees, bonsai trees, and other exotic species. The Japanese garden features traditional Japanese elements such as a koi pond, a rock garden, and a tea house.
The park is a popular destination for both locals and tourists and is a great place to spend a relaxing day in nature. The park is also a popular venue for weddings and other special events, providing a peaceful and picturesque setting for memorable moments.
When is the Selangor-Japan Friendship Garden Opening?
The Selangor-Japan Friendship Garden was completed in 2020 and officially opened to the public on 12 March 2021.
The garden is located in Shah Alam, next to the Shah Alam Independence Square.
The Selangor-Japan Friendship Garden was established to boost ties between Japan and Malaysia and promote cultural exchanges between the people from both countries.
Cultural Activities in Selangor-Japan Friendship Garden
The Selangor-Japan Friendship Garden also offers various cultural activities, such as traditional Japanese dance and music performances, calligraphy workshops, and ikebana (flower arrangement) classes.
These activities give visitors a deeper understanding of Japanese culture and history and provide a hands-on experience that is both educational and enjoyable.
13 Attractions in Selangor – Japan Friendship Garden
Here are some of the attractions you can find inside the Selangor – Japan Friendship Garden in Shah Alam, Malaysia.
1. Japanese Tea House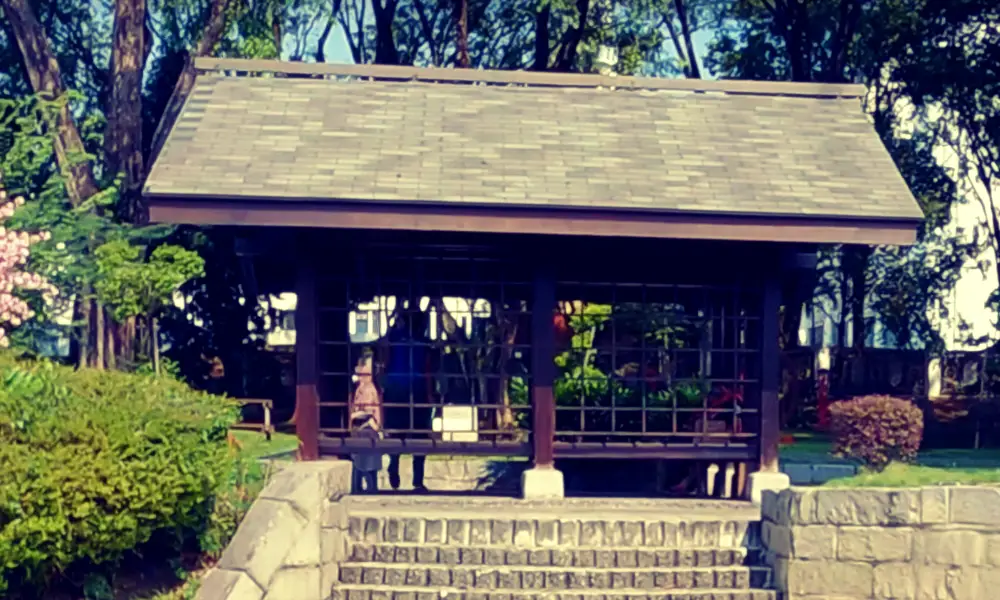 One of the main attractions of the Selangor-Japan Friendship Garden is the traditional Japanese tea house, where visitors can enjoy authentic Japanese tea and sweets.
The Japanese tea house provides a unique and authentic cultural experience, allowing visitors to learn more about Japanese culture.
Additionally, the visitors can participate in a tea ceremony, a traditional ritual that is an important part of Japanese culture.
2. Reflexology Garden
The Reflexology Garden is the first attraction you will come across when visiting Selangor-Japan Friendship Garden.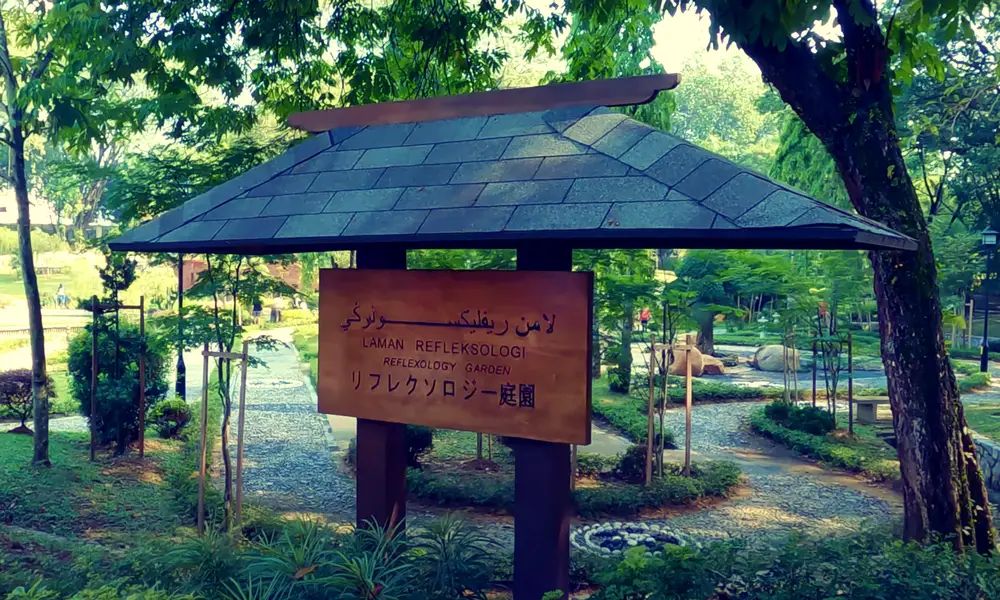 It is a type of therapeutic garden designed to stimulate pressure points in the feet and promote relaxation and healing.
It consists of a walkway made of pebbles, stones, and cobblestones that correspond to different parts of the body. As people walk barefoot on the path, pressure is applied to specific points in their feet, which are believed to correspond to corresponding parts of the body.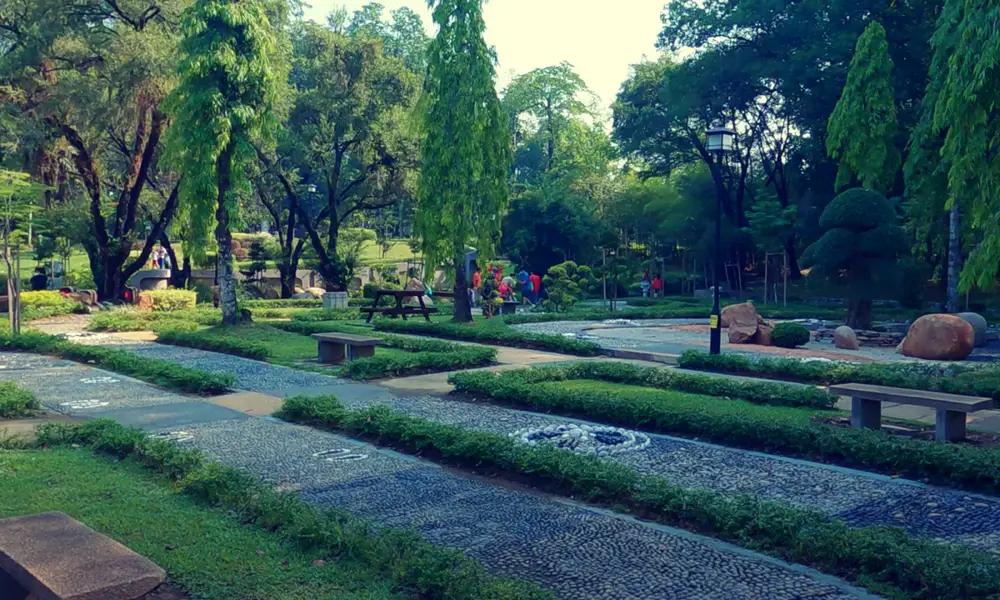 This stimulation is thought to stimulate the body's natural healing processes and promote overall well-being. It is also useful for stress relief and relaxation.
Along the walkway, you can see many bonsai trees too!
3. Zen Garden
Zen Garden, also known as a karesansui or Japanese rock garden, is a traditional Japanese form of dry landscape garden that is meant to evoke the essence of nature.
It consists of a simple arrangement of rocks, gravel, sand, and other natural elements that are carefully arranged to create a sense of serenity and balance.
The term 'Zen' is a Japanese pronunciation of the Chinese word '禅', which means meditation. Zen gardens are meant to be viewed from a specific viewpoint, and their simple, minimalist design is meant to promote meditation and contemplation.
Zen gardens are often associated with Zen Buddhism, and their design is meant to symbolize the natural world and reflect Buddhist teachings about the transience of life. They are widely regarded as works of art and are enjoyed by people from all over the world for their beauty, simplicity, and calming effects.
4. Torii Gates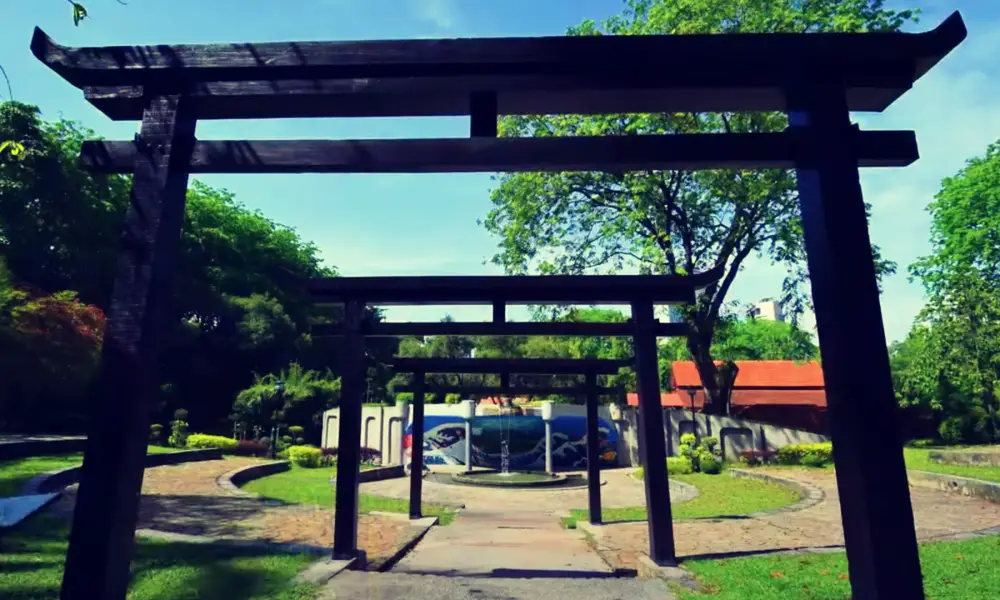 Torii gates are traditional Japanese gateways often found at the entrance to Shinto shrines. They serve as a symbolic threshold between the secular world and the sacred world and are typically made of wood or stone.
Torii gates are usually painted in vermilion (a shade of red) and are an iconic symbol of Japanese culture, representing purity, strength, and spiritual power. They are widely recognized and used as a symbol of Japan in various contexts, including tourism, art, and cultural events.
5. Koi Pond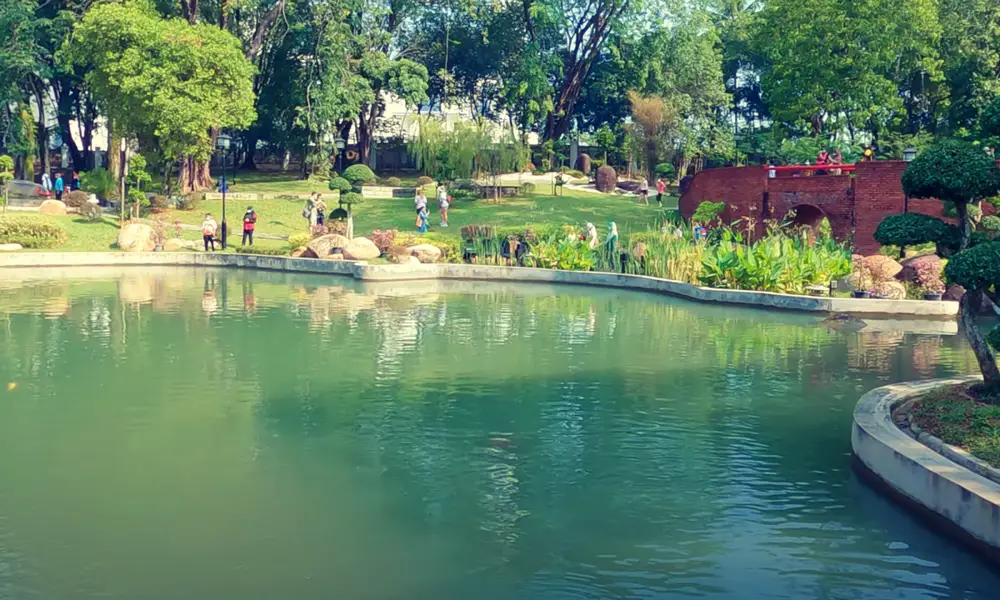 Koi Pond is a water feature that is designed to keep and display Koi, a species of colourful carp. It includes elements such as rocks and aquatic plants to create an attractive and inviting environment for the fish and human visitors.
Keeping Koi is a popular hobby in Japan, and Koi ponds are valued for their beauty, serenity, and ability to provide a peaceful escape from the hustle and bustle of everyday life.
6. Maze Pond
A maze pond is a type of water feature that incorporates elements of a labyrinth or maze into its design. It consists of a network of waterways, such as streams, canals, or ponds, that are surrounded by walls, hedges, or other barriers.
The waterways are arranged in a way that creates a confusing and intricate path, and visitors to the maze pond must navigate their way through the water and the barriers to reach the centre of the maze. Maze ponds can serve as a source of recreation and entertainment for people of all ages.
7. Terrace Garden
Terrace Garden is a type of traditional Japanese garden that is built on a terrace. It is a small, enclosed garden that features elements such as rocks, water features, trees, and shrubs, arranged in a harmonious and aesthetically pleasing manner.
The terraces are designed to provide flat areas for planting and are often used to grow a variety of flowers, herbs, and other plants. They are also often used to create beautiful and functional outdoor living spaces and can be designed in a variety of styles, including formal, informal, and Japanese.
Terrace Garden can provide a peaceful and serene environment for contemplation, and feature views of natural scenery.
8. Shishi Odoshi (Scaredeer)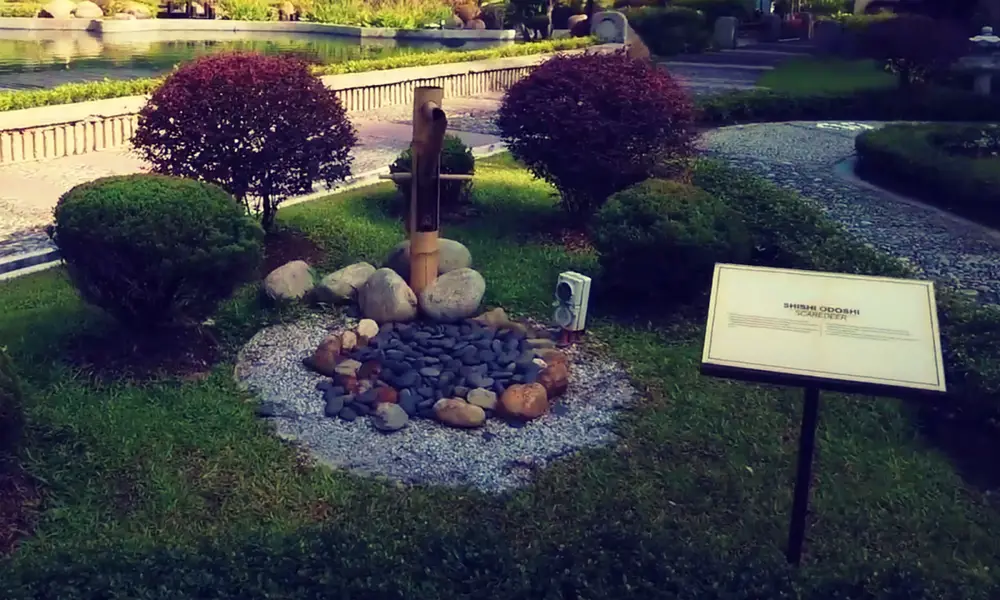 Shishi Odoshi, also known as a "scaredeer", which means deer-frightening, is a traditional Japanese garden feature that serves both as a form of decoration and as a practical device. It is a bamboo pipe that is filled with water and placed in a garden or koi pond.
The water in the pipe causes it to tilt back and forth, eventually emptying the water and making a distinctive "clack" sound. This sound is believed to scare away deer and other animals that might damage the garden.
Shishi Odoshi is typically made of bamboo, with a carved wooden stopper at one end and a small, weighted container at the other. The tilt-and-empty mechanism is driven by water flowing into the bamboo pipe, causing it to move and make the characteristic "clack" sound.
The sound is considered soothing and is often used in Japanese gardens to create a sense of tranquillity and peacefulness.
Shishi Odoshi is a traditional and iconic feature of Japanese gardens and is an example of the fusion of form and function that characterizes this type of garden design.
9. Tsukubai (Stone Basin)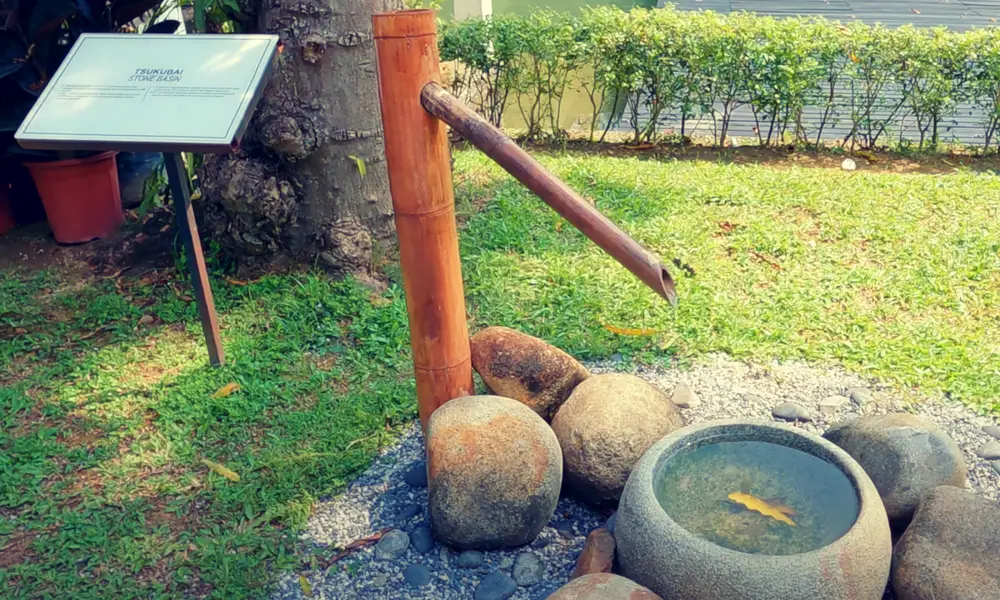 Tsukubai is a traditional stone basin used in Japanese gardens and tea gardens. It is typically made of stone or cast stone and is used for washing hands or as a decorative element in a garden or outdoor setting.
The basin is often surrounded by a low wall and is positioned near a water source, such as a fountain or a small pool, to allow for easy access to water. The term "tsukubai" literally means "to stoop" in Japanese, referring to the crouching position that one must take to use the basin.
In traditional Japanese tea gardens, the tsukubai is used for purification purposes and is seen as a symbol of humility and simplicity. In a tea ceremony, guests would wash their hands and rinse their mouths in the basin before entering the tea house to participate in the ceremony.
The design of the tsukubai is simple and elegant, and it is considered an important aspect of Japanese garden design, where it serves as a focal point and a symbol of the connection between the garden and nature.
10. Bamboo Tree Walkway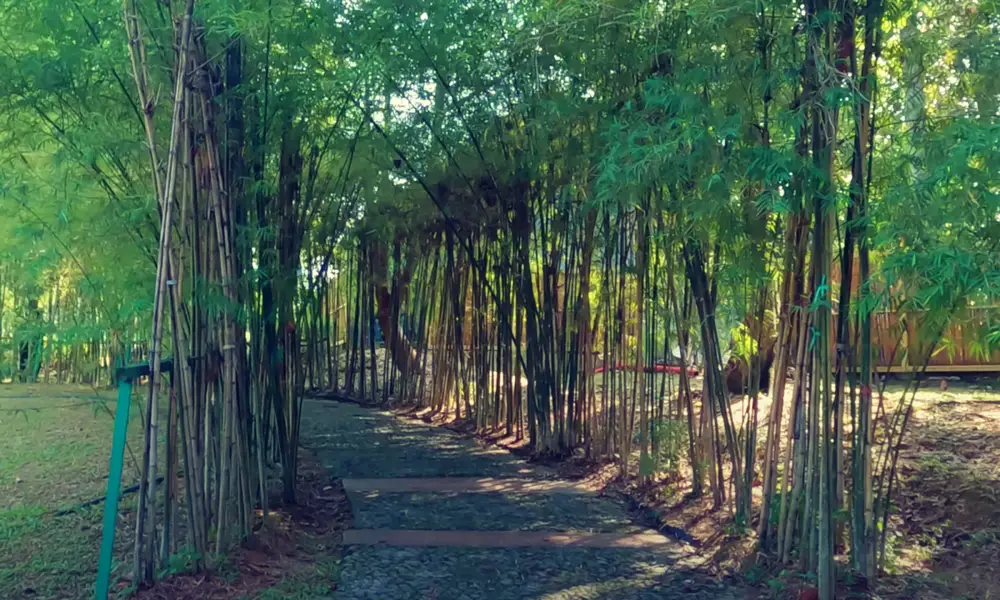 A bamboo tree walkway is a type of path surrounded by bamboo trees that are often found in Japanese gardens.
Bamboo is an important element of the overall design of a Japanese garden. It is an attractive and visually interesting feature in the garden. When combined with other elements such as water, rocks, and plants, a bamboo walkway can help to create a peaceful and harmonious environment.
11. Stroll Garden
Stroll Garden is a type of Japanese garden designed to be enjoyed by visitors as they walk and leisurely explore the space.
Stroll gardens often feature winding paths, bridges, water features, rocks and stones, and other elements arranged in a harmonious and aesthetically pleasing manner. The idea is to provide a calming and peaceful environment for visitors to enjoy and reflect.
The stroll gardens can vary in size from small courtyards to large parks and can be found in many different settings, including temples, private homes, and public spaces.
12. Linking Garden
A "linking garden" is another term that is sometimes used to describe a Japanese stroll garden.
Linking Garden refers to the idea that the garden is designed to connect different areas or elements within it, creating a harmonious and cohesive whole.
This can be achieved through the use of paths, bridges, and other features that lead the visitor through the garden, allowing them to experience different perspectives and views as they move through the space.
The linking of different elements in a Japanese garden can also be symbolic, representing the connection between the spiritual and physical worlds, or the connection between the visitor and the natural environment.
A linking garden aims to provide a space for contemplation, reflection, and the enjoyment of nature, making it a unique and beautiful form of landscape design.
Sometimes, a linking garden is used to describe a Japanese stroll garden.
13. Selangor House (Rumah Selangor)
The Selangor House allows you to learn more about the history and culture of Japan.
It also has a gift shop where you can find Japanese cultural items like Japanese traditional cloth and cultural relics. as well as Malay cultural things.
You can also rent traditional Japanese cloth (summer yukata) to take some nice photos in the Selangor-Japanese Friendship Garden.
Selangor – Japan Friendship Garden Parking
The Selangor – Japan Friendship Garden has a large free parking area for you to park when visiting the garden.
Details of the Selangor-Japan Friendship Garden
Operating Hours: 10 AM to 7 PM daily except Monday
Entrance Fee: FREE
Phone: +6011-3799 5848
Toilet Availability: Yes
Parking: Free parking is available outside the garden
Size: 2.42 hectares
Location of Selangor-Japan Friendship Garden
Address: Persiaran Bandar Raya, Seksyen 14, 40000 Shah Alam, Selangor
GPS Coordinate: 3.076943578528633, 101.52249635364515
Map:
Should You Visit the Selangor-Japan Friendship Garden?
In conclusion, the Selangor-Japan Friendship Garden is a beautiful and peaceful park that offers visitors the opportunity to experience Japanese culture and nature.
With its traditional tea house, cultural activities, and tranquil atmosphere, it is a must-visit destination for anyone interested in Japanese culture and nature.
Whether you are a fan of Japanese culture or simply enjoy spending time in nature, the Selangor-Japan Friendship Garden is a unique and memorable destination that should not be missed.
Read Next: