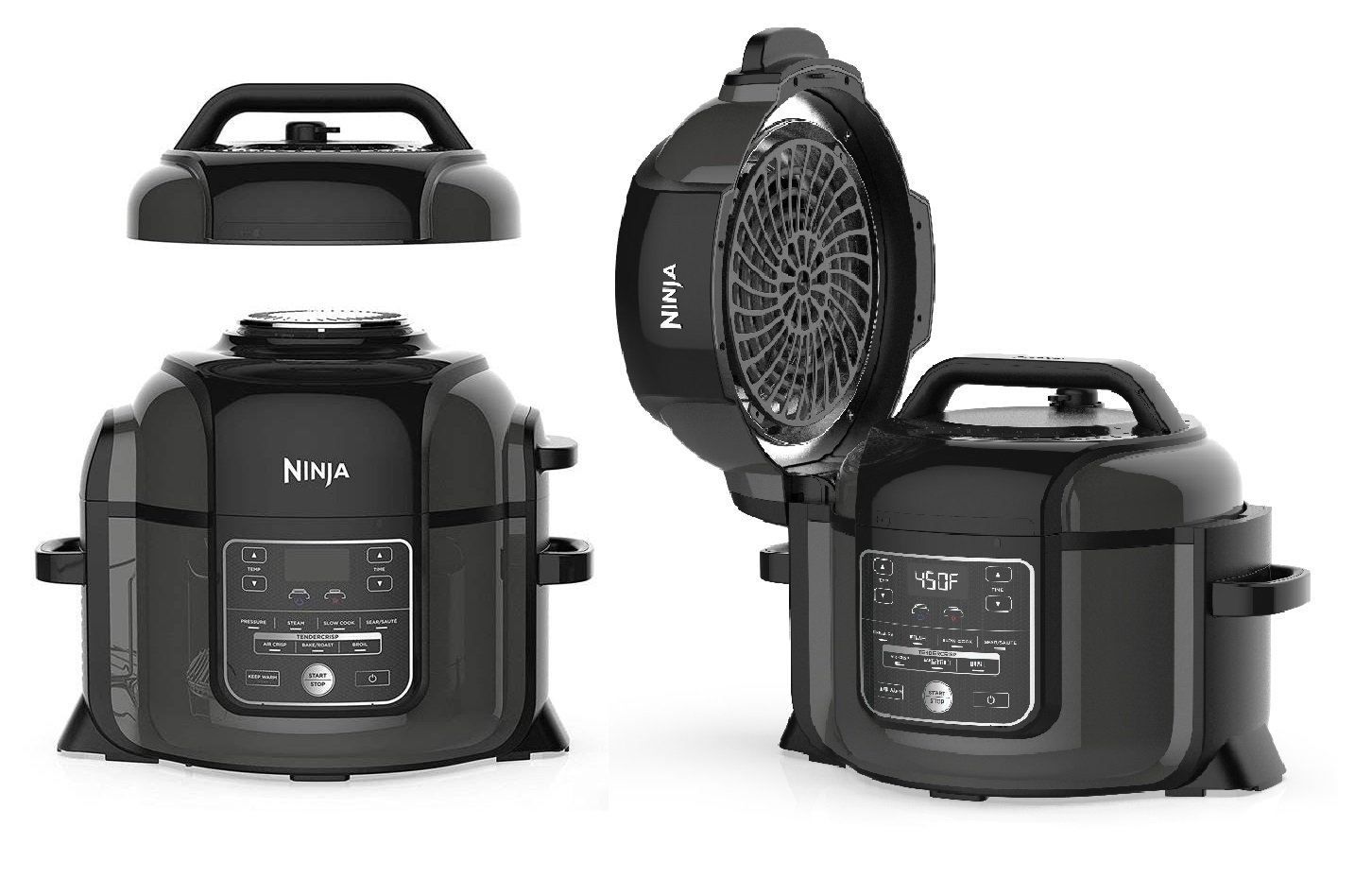 In this Ninja Foodi Multi Cooker OP300 review, I'm going to share with you my experience of using this 8-in-1 kitchen machine and all the important details you need to know.
Without further ado, let's start.
Brief Introduction
Ninja® is a well-known kitchen appliance brand developed by SharkNinja USA and is gaining popularity in Singapore and Malaysia.
One of its cutting-edge products is the Ninja Foodi 8-in-1 Multi Cooker OP300 that can pressure cook, air fry, grill, steam, bake/roast, slow cook, sear/sauté, and keep warm.
It also can defrost, cook and crisp frozen meats all in the same pot.
---
Product Highlights
8 Cooking Modes: Pressure Cook, Air Fry, Grill, Steam, Bake/Roast, Slow Cook, Sear/Sauté, and Keep Warm
Exclusive Tendercrisp™ Technology to prepare meals that are tender on the inside and crispy on the outside quicker, applicable to frozen food too
Intuitive touchscreen control panel with LED display
Compact and innovative design
---
What is Included?
1460W machine body with Tender Crisp lid
Pressure Cooking lid
6L Aluminium Cooking Pot with non-stick ceramic-coated (dishwasher-safe, FDA approved and PTFE free)
3.7L Ceramic-coated Cook & Crisp Basket (can hold a whole 2.3kg chicken and up to 1.1kg of French fries)
Reversible layered rack
15 chef-inspired recipes book
---
My Experience of Using Ninja Foodi Multi Cooker OP300 [Review]
I have been using this for quite some time and what I like the most is its multi-functions – it can pressure cook, air fry, steam, grill, bake/roast, slow cook, sear/sauté and keep warm for up to 12 hours.
It is a combination of a powerful pressure cooker and an air fryer.
You can use it as a pressure cooker or air fryer or in combination of both depends on what you are going to cook.
A single Ninja Foodi Multi Cooker can replace two separate appliances to save you up some precious space for other appliances like a microwave and oven.
It is a godsend for homes with limited kitchen countertop space.
I also love its steam function, which uses less water and time to get my food ready.
Previously I always used the electric hob to heat a wok with a rack inside for steaming, and sometimes I need to refill the water when steaming thick-size Japanese sweet potatoes which require about an hour to reach the soft texture.
But when I use Ninja Foodi to steam the same size of Japanese sweet potatoes, it takes a shorter time (around 35 mins) and lesser water.
It also heats up faster than my previous pressure cooker that uses a stainless-steel pot.
The shorter cook time is due to the aluminum pot which conducts heat much faster and more evenly compared to the stainless-steel pot. Also, the pressure release valve limits the amount of stream escape to the outside to preserve water in the pot.
After I started using Ninja Foodi, I found that I spent a relatively shorter time cooking meals as it can heat up much quicker and get my food done sooner.
Shorter cook time means more time to do other things, this is the kind of benefit that can improve the quality of life as time is precious and limited.
It is also great for busy people who want to prepare their meals faster.
Besides, I like their innovative design of using two distinct lids and accessories to transit between different cooking methods.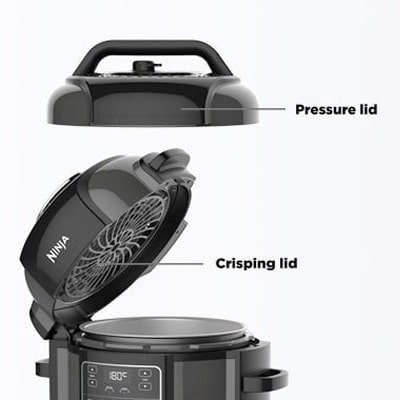 You can pressure cook your food first by using the pressure lid and then use the grill/air crisp function with the crisping lid for finishing.
It unlocks more possibilities in your cooking journey.
So what are you waiting for? Go ahead and order one to experience yourself now!
---
Pros & Cons of Ninja Foodi OP300
Pros:
8 cooking functions
Improve cooking efficiency
High-quality body and accessories
Compact and innovative design
Easy to clean up
Reasonable price
Save time
Stable and non-slip feet
Cons:
---
Who Is This For
The Ninja Foodi OP300 is perfect for singles, couples and small families of up to 4 people.
It is suitable for homes with limited kitchen countertop space.
It is also great for the busy people living in a fast-paced city environment.
---
How It Look Like Physically
Here is how it looks like from the front.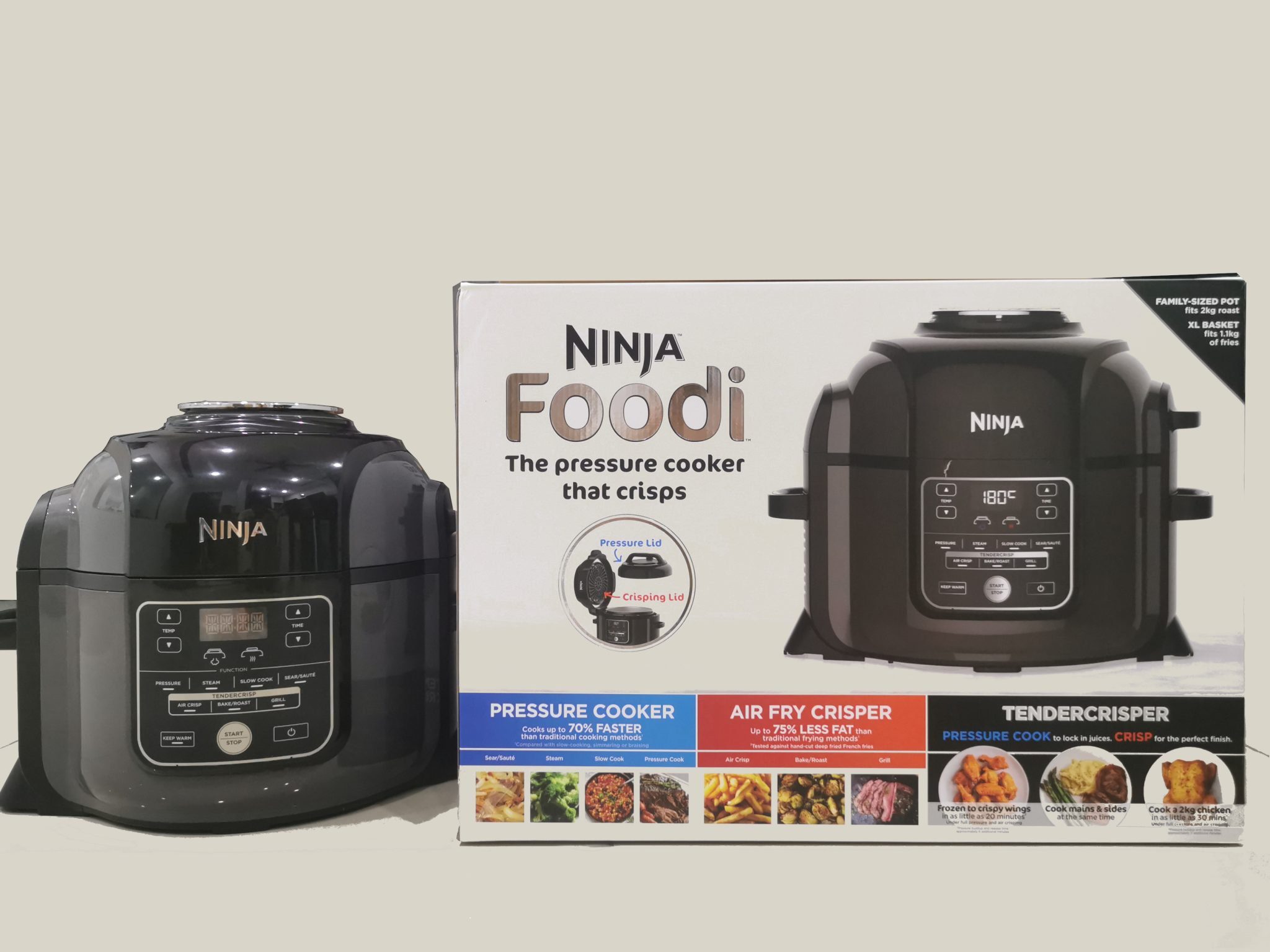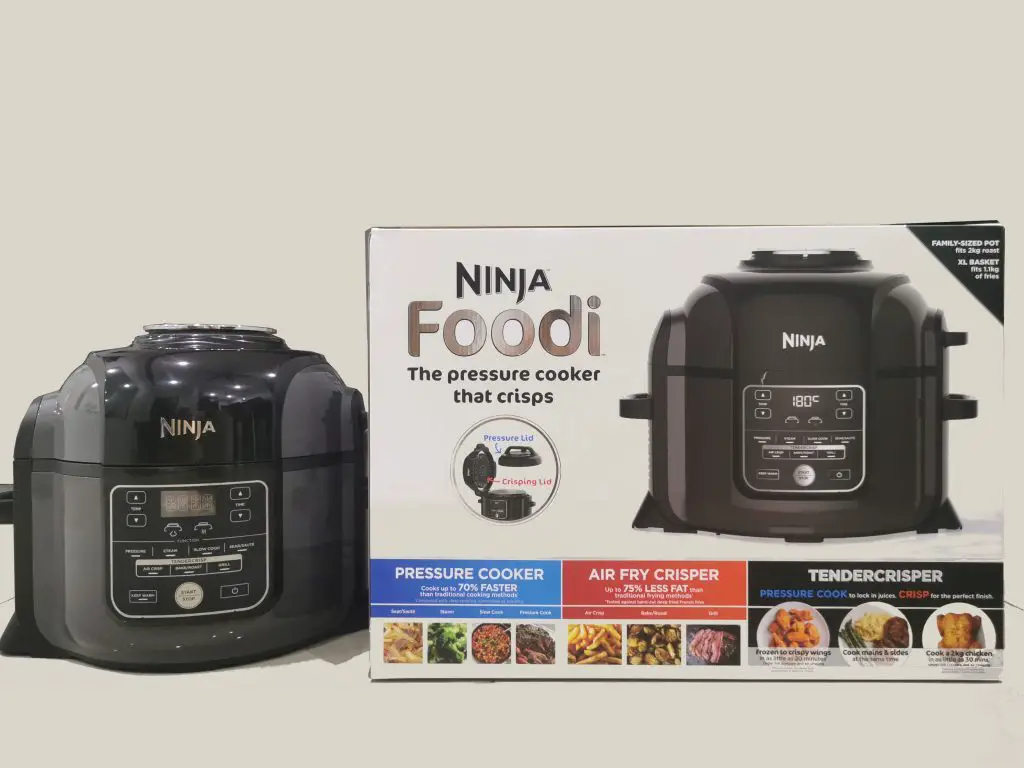 Here are the components and accessories that come with the product.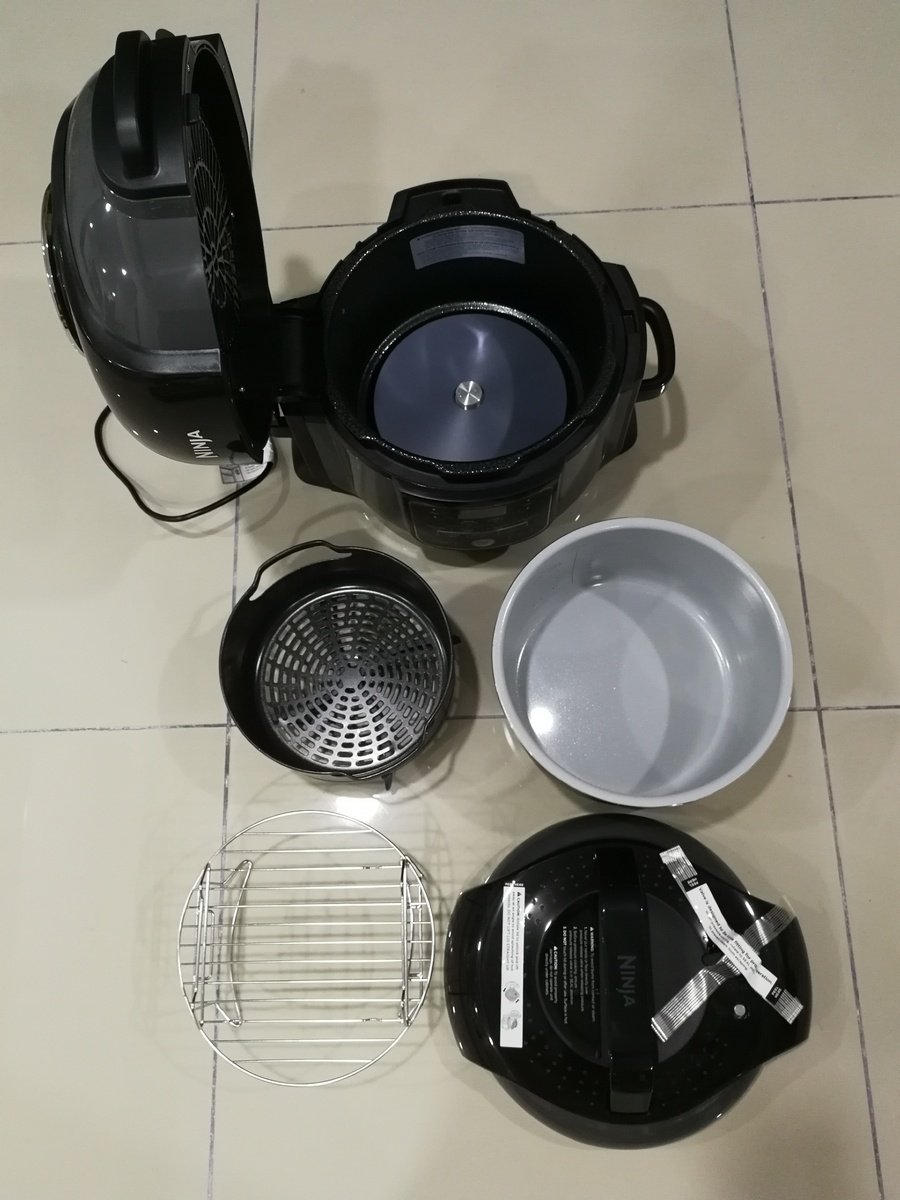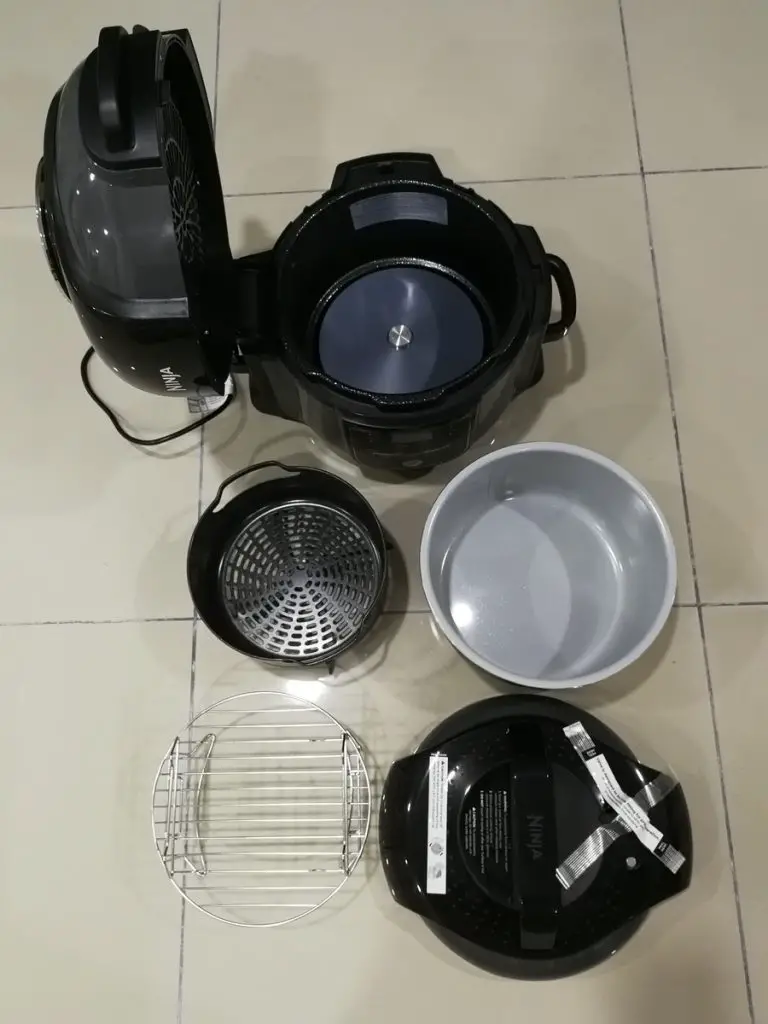 As you can see, the built-in lid is for air fry/air crisp, bake/roast and grill, while the portable pressure lid is for pressure cook, steam, slow cook and sear/sauté.
The reversible layered rack is for steam, pressure cook and grill, put it in the high position to grill and low position to steam and pressure cook.
The Air-crisp basket is for air fry/air crisp.
---
What is the Price of Ninja Foodi OP300 & Where to Buy It
The Ninja Foodi OP300 cost about RM1,299.
You can place the order it on Lazada.
---
FAQ
1. Can I use Ninja Foodi OP300 to cook frozen food?
Yes, it can defrost and cook frozen food at the same time.
2. Is the cooking pot non-stick?
Yes, the cooking pot is ceramic-coated, non-stick and dishwasher-safe.
3. How long is the keep warm function?
The keep-warm function can last up to 12 hours.
---
Conclusion
One of the main advantages of using Ninja Foodi is you can use multiple cooking methods with only a single appliance.
It is even more beneficial for kitchens with limited countertop space, such as condominiums, serviced apartments, flats, and small to medium-size landed houses.
On top of the multi-features and space-saving, its great performance and high-quality materials give you even more value from your money.
Another important thing I want to mention is that it can save you a lot of precious time due to the shorter cook time, and this is what money can't buy.
Imagine if this appliance can save you 20 minutes from each cooking session, how much would it save for a year? It's like giving you extra few days to do more important things every year!
Ninja Foodi OP300 is definitely one of the best kitchen appliances that deserve a spot on your kitchen countertop.
Read Next: