Looking for the best slow juicer? No worries, we will show you the best slow juicers in Malaysia that worth your money. Let's check them out now!!
Tired of spending ages hacking and slashing at your fruits, only to end up with a measly dribble of juice? Sick of sipping on store-bought sugar bombs that claim to be healthy? It's time to kick those struggles to the curb and embrace the slow juicer revolution!
If you're on the hunt for the best slow juicer in Malaysia to level up your fruity game, you've just hit the jackpot. Malaysia is a tropical paradise bursting with juicy goodness and we're here to help you squeeze out every drop of flavor with the best slow juicers in Malaysia.
Our team of juice fanatics has scoured every nook and cranny of the market, testing and tasting to ensure you get nothing but the juiciest recommendations.
These slow juicers are like the chameleons of the kitchen, adapting to whatever you throw their way. From the zingy burst of citrus to the earthy sweetness of beets, there's no stopping these machines.
No more tossing away precious fiber – slow juicers preserve every ounce of goodness, making sure you get the most out of your fruits. With easy-peasy cleanup and a quieter-than-a-whisper operation, your kitchen will become a juicing haven without waking up the whole house.
Say goodbye to fruit massacre and hello to effortless juicing. Grab a slow juicer today and unleash a tsunami of fresh, lip-smacking goodness right at home.
Why You Should Buy a Slow Juicer?
If you're wondering why the fuss about slow juicers is all the rage, let me spill the fruity beans.
Picture this: a juicer that doesn't rush, a juicer that treats your precious fruits like royalty, extracting every drop of goodness. That's right – a slow juicer is your ticket to liquid gold, and here's why you need to snag one ASAP!
First things first, flavor explosion! Slow juicers handle your fruits with care, preserving their natural taste like a guardian of yumminess. No more watery, bland concoctions – with a slow juicer, you'll be sipping on vibrant, full-bodied elixirs that dance on your taste buds like a traditional Malay dance.
But wait, there's more! Nutrient jackpot, anyone? Slow juicers are like the Robin Hood of juicing, stealing all the vitamins, minerals, and enzymes from your fruits and delivering them straight to your glass. Your body will thank you with a boost in energy, glowing skin, and a digestive system that's doing the cha-cha with happiness.
Now, let's talk about the silent revolution happening in your kitchen. Slow juicers are quieter than a kampung at noon, ensuring you whip up your morning goodness without waking the entire family. No more noisy interruptions – just peaceful juicing harmony that'll make you want to serenade your juicer with a Malay ballad.
And guess what? Cleanup is a breeze, my friends! These slow juicers come with detachable parts that practically clean themselves. No more scrubbing and sweating – just rinse, assemble, and you're ready to juice another day.
So, if you're ready to unleash a tsunami of taste, flood your body with nutrients, and turn your kitchen into a serene juicing sanctuary, it's time to hop on the slow juicer bandwagon.
Best Slow Juicer Brands in Malaysia
Here are the top brands that sell high-quality Slow Juicer:
MIUI
Imbaco Apache
Kuvings
The 5 Best Slow Juicers in Malaysia [Review]
Now, let's look into details for each of the top Slow Juicer in Malaysia.
1. MIUI Slow Juicer [Review] – Best Slow Juicer (Overall)
Introducing the ultimate Slow Juicer, built for power, endurance, and that hushed juicing symphony. The new upgrade packs a punch with a whopping 15N.m torque, tackling even the toughest fibers and fruits without breaking a sweat.
No filters, no fuss – just enhanced flexibility and expandability, making your juicing game oh-so-smooth.
Ditch the noise and say hello to a juicer that whispers in the kitchen. With a dual-level grille system and meticulous optimization, it's a match made in juicing heaven.
Plus, it's a true plug-and-play superstar, embracing both Malaysian and Singaporean electrical standards like a champ.
Get ready for innovation overload! This juicer isn't just a machine; it's a masterpiece. We've crammed in all the must-have features, latest trends, and freshest design vibes, ensuring your countertop gets a stylish upgrade.
Say goodbye to dull, lackluster juices. Our revolutionary filterfree series Slow Juicer ensures your ingredients' flavor and nutrition stay locked in, while cleaning up is a breeze. Quick assembly means more time sipping and less time fussing.
Friendly reminder: Slice those tough customers like carrots into bite-sized bits for optimal juicing. Lemons, sorry – they're not invited to the juicing party. And if you're dreaming of nutty goodness, give almonds and nuts a good soak before they hit the juicer stage.
2. Imbaco Apache TurboJUZ® Mini Slow Juicer JZ01 [Review] – Best Slow Juicer (Runner-Up)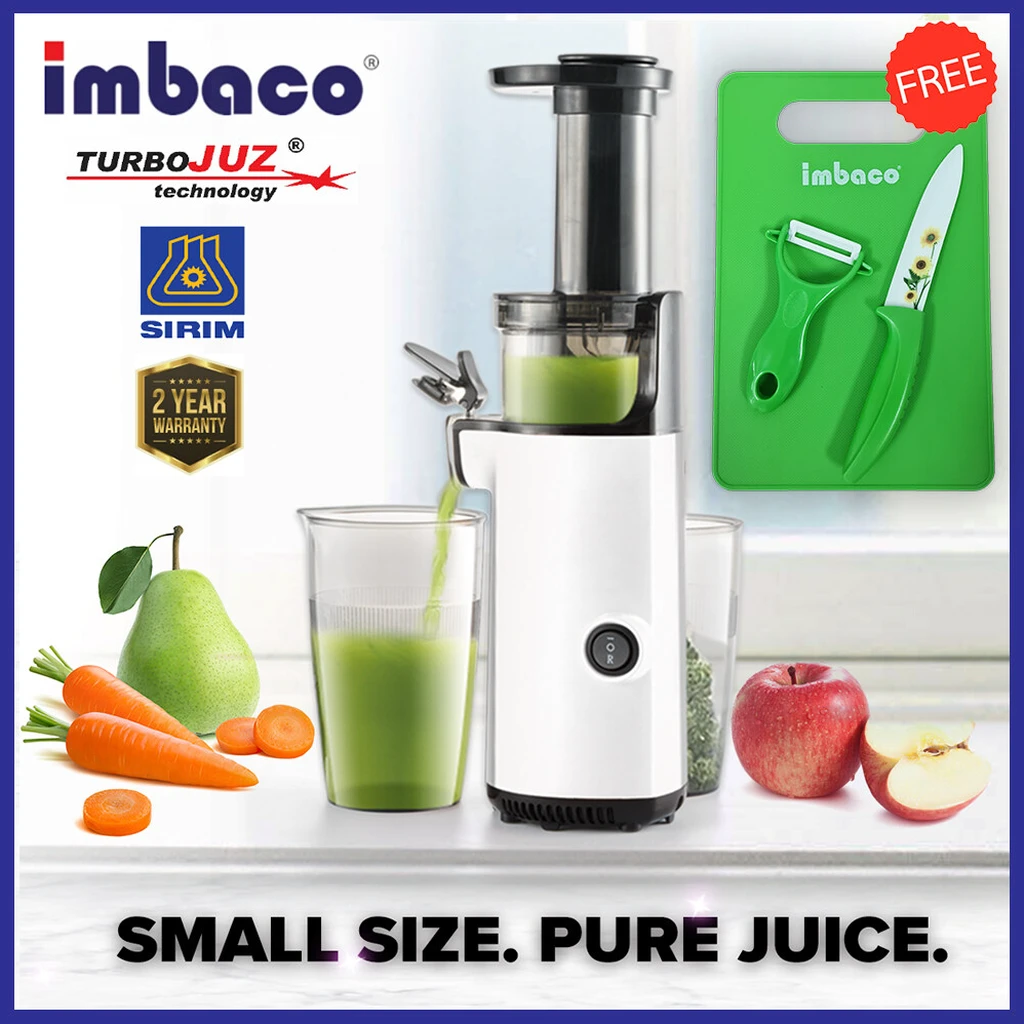 Get ready to turbocharge your juicing game with the Imbaco TurboJUZ® Slow Juicer – the ultimate pick for a healthier lifestyle!
Upgraded spiral power means more nutrients and less waste, giving you maximum juice with minimal fuss. Plus, it's the silent hero of juicers – no more waking up the whole kampung with noisy mornings or late-night sips.
Thinking about the little ones? Say hello to perfect separation of juice and pulp, solving the age-old problem of kiddos not loving their fruits. Whip up nutritious, kid-approved drinks that even the pickiest eaters will slurp up with glee.
Worried about jams and clogs? Fret not! The reverse function is your juicing genie, swiftly banishing any pesky blockages. Cleaning? Piece of cake! One-button disassembly and dishwasher-friendly parts make cleanup a breeze, and the bonus cleaning brush adds an extra sparkle to your juicing routine.
It's a juicing magician with two-way mojo: "-" for normal juicing and "R" for a spin in the opposite direction, perfect for unclogging and tidying up the juicing stage. And guess what? The TurboJUZ® rocks food-grade Tritan material – the superstar of safety – ensuring your juices stay fresh, pure, and free from unwanted nasties.
No more sneaky wake-up calls! This juicer's hush-hush operation keeps the peace, giving you a noise-free juicing experience that won't disturb your fam's precious sleep. Get ready to juice up a storm and surprise your loved ones with a glassful of goodness!
3. MIUI Flagship Slow Juicer [Review] – Best Slow Juicer for Commercial
Introducing the ultimate juicing sensation, equipped with a top-tier motor that's practically indestructible – say goodbye to those juicing woes for good. MIUI Flagship Slow Juicer means business, and they're beyond proud to present you with the unbeatable king of the juicing realm.
Designed with the pros in mind, their Flagship Series is the ultimate sidekick for cafes, restaurants, hotels, and any spot where food and drinks reign supreme. Talk about performance on steroids – this collection of commercial juicers is a game-changer, giving you the productivity boost you've been dreaming of.
Hold onto your taste buds, because their patented juice extraction tech is here to rock your juicing world! With a strainer and auger that pack a punch in strength, structure, and overall performance, you'll be juicing like a pro minus the hassle. Cleaning? A walk in the park, thanks to the efficiency-boosting design.
4. Kuvings REVO830 Dual Mouth Slow Juicer [Review] – Best Slow Juicer
Hold on tight, juice enthusiasts – we've got a juicer gem that's worth every ringgit! Say hello to the Kuvings REVO030 – it might dent your wallet, but trust us, you're getting a juicing powerhouse that's worth every cent. This Matte Pearl Black beauty is more than just looks – it's packing some serious juice-squeezing magic.
Load up the goodness with the dual feeding chute, accommodating entire fruits and even those twisty cucumbers or carrots. No more chopping and dicing before juicing, thanks to the auto-cutting function that's like a prep-time wizard. And that motor? It's like a ninja – silent, powerful, and built to outlast.
But here's the real star of the show – the REVO830 slow juicer by Kuvings. It's not just a juicer; it's a whole juicing revolution! With the auto-cutting feature, you'll breeze through prep like a true juicing maestro. And did we mention the whisper-quiet motor? It's like juicing in a zen garden.
Picture this: smoother-than-smooth juice, thanks to the fine juicing action that amps up the texture by a cool 15%. Say goodbye to those pesky drips and leaks – the new and improved smart cap design keeps your kitchen tidy while giving you the upper hand in mixing your juice concoctions.
Clean-up? A walk in the park, thanks to Kuvings' patented round cleaning tool brush. And guess what? This juicer comes with extra goodies – a sorbet maker and a smoothie maker. Talk about the full juicing package, Malaysian style!
Now, let's talk about who's in for the juicing VIP experience. If you're ready to invest a little more, you'll be reaping the benefits of a juicer that's here for the long haul.
The combo of the dual feeding chute and auto-cutting magic makes juicing a breeze, and the result? Silky-smooth juice that'll have you doing the happy dance.
5. MIUI Mini-Filterfree Slow Juicer [Review] – Best Slow Juicer
Listen up, juice lovers – we've got a real juicing champ on the block! Meet the ultimate slow juicer that's all about giving you bang for your buck. Pure copper DC motor means quiet efficiency and say hello to top-notch safety with the mechanical induction micro switch.
At a cool 43rpm, this juicer isn't rushing things – it's all about that slow and steady squeeze, keeping your juices as fresh as possible. But hold on tight, because we're taking things up a notch with the fourth-gen MINI-FILTERFREE marvel.
Born for unbeatable value, this juicer's got Mini-Filterfree tech under the hood, packing a punch with powerful motors and a pro-grade auger – all in one sleek package. It might be small, but it's the Hercules of spiral juicers, squeezing at a gentle 43rpm to give you juicy goodness that's as pure as a rainforest waterfall.
Get ready for the juicing ride of your life, 'cause this baby's all about high yields and low speed – we're talking dry bone pulp and juices that stay as fresh as a daisy.
How to Choose the Best Slow Juicer in Malaysia [Buying Guide]
If you're on the hunt for the juiciest slow juicer in Malaysia, buckle up because we're about to spill the (green) beans. Here's a guide to help you wade through the juicing jungle and pick the ultimate slow juicer that's gonna rock your taste buds.
1. Motor
First up, let's talk muscle – the motor, that is! Look for a slow juicer with a beefy motor. Think of it as the engine that powers your juicing journey. A pure copper DC motor is like a ninja – it's powerful, efficient, and as quiet as a Malaysian sunset. Say goodbye to noisy mornings!
2. Safety First
We're all about keeping things safe and sound, right? Look for a slow juicer with a mechanical induction micro switch. It's like having a guardian angel watching over your juicing adventures, ensuring you juice without a hitch. Safety first, Malaysian style!
3. Speed Matters
Slow and steady wins the juicing race! Aim for a slow juicer that squeezes at around 43rpm. That's like a gentle massage for your fruits, keeping the juices fresh, vibrant, and as pure as a tropical breeze. Say goodbye to rushed juicing – we're all about that slow and delicious life.
4. Squeeze the Yields
We're all about getting the most out of your fruits, right? Look for a slow juicer that's all about high yield and low speed. Dry bone pulp? Check. Nutrient-packed juices? Double check. It's all about squeezing every drop of goodness from your ingredients.
5. Easy Peasy Clean-Up
Juicing can be a mess, but not with the right slow juicer! Opt for one that's a breeze to clean. Dishwasher-friendly parts, one-button disassembly, and a cleaning brush that's as efficient as your grandma's cleaning hacks – that's the way to go.
6. Picky Eater Solution
Got fussy eaters at home? Look for a slow juicer that can handle it all. From whole fruits to leafy greens, and even those long-shaped ingredients, this juicer should be your kitchen's best friend. No more fruit-phobic kids – we've got your back!
7. Bundle Bonanza
Let's talk extra perks! Some slow juicers come with goodies like sorbet makers and smoothie makers. It's like getting a bonus round in your juicing game. So, keep an eye out for those bundles and make your juicing adventure even more exciting.
There you have it, juice champs! Your guide to picking the best slow juicer in Malaysia. Happy juicing!
Is Slow Juicer Worth to Buy?
Is the slow juicer worth every sen you're gonna spend? Well, sit back, because we're about to spill the juice on this one.
First things first – slow juicers ain't your regular run-of-the-mill machines. They're like the ninja warriors of juicing, working their magic at a slow and steady pace.
Why? Because they're all about squeezing out every drop of goodness from your fruits, keeping the vitamins, minerals, and taste intact. That means you're sipping on a glassful of pure, unadulterated Malaysian goodness.
But hold up, we know what's on your mind – the price tag. Now, slow juicers might cost a bit more upfront, but here's the deal: you're investing in a juicing powerhouse that's gonna pay you back in flavor and health.
Say goodbye to those store-bought sugary bombs that claim to be healthy – with a slow juicer, you're the boss of what goes into your glass.
And let's not forget the perks – quiet operation, easy cleaning, and a juicing process that's as smooth as nasi lemak on a Sunday morning. Imagine waking up to a kitchen serenade, thanks to the whisper-quiet motor. Cleanup? A breeze! Dishwasher-friendly parts and a cleaning brush that works like magic.
But the real game-changer? The taste. Oh boy, the taste! Slow juicers deliver juices that are smoother than a Malaysian silk scarf. The flavors dance on your taste buds, taking you on a tropical journey with every sip. You're not just juicing; you're indulging in a Malaysian symphony of flavors.
So, is the slow juicer worth it? Bet your bottom ringgit it is! Think of it as an investment in your health and your taste buds.
Do You Need a Slow Juicer?
If you fall into the following categories, you shall buy a Slow Juicer:
You are tired of the loud sound produced by the blender and regular juicer.
When you're on a mission to boost your health game and need those vitamins and minerals in liquid form.
You're a culinary ninja experimenting with flavors, and a slow juicer is your secret weapon to create unique and refreshing juice blends.
So, whether you're a parent, foodie, health enthusiast, or just someone who loves a good glass of fresh juice, a slow juicer's got your back in these juicing-worthy scenarios!
Slow Juicer vs. Blender vs. Fast Juicer
Hey there, juice-loving pals, let's dive into a fruity showdown: Slow Juicer vs Blender. But don't get tricked – both whip up healthy stuff, but it's about what stays in.
Slow juicer, check it – it's like a juice magician. It waves its wand and takes out all those pesky fibers from fruits, giving you super-concentrated juice. Think less fiber, but more nutrients.
Flip to the blender, a fiber lover's dream. It keeps everything – fiber, pulp, the whole shebang – in the mix. Result? A thick and hearty sip full of nutrients.
Now, the fast juicer – the one all around. It spins like crazy, turning fruits into juicy fun. They're like juicing rock stars – loud, fast, and full of juice. But they might not be gentle with veggies and delicate fruits, like our beloved berries.
So, slow juicer's secret? It spins at a chill pace, taking its time to give you juice in 20 minutes. Imagine this: fruits and veggies smashed into a pulp-like texture, then juice dripping through tiny holes onto a mesh. Pulp? It's outta there, while your juice chills at the bottom.
So there you have it, pals. Slow juicer vs blender vs fast juicer– all have different vibes, whether you like it slow and rich or thick and fibrous or fast and loud.
FAQ: Best Slow Juicers in Malaysia
What's a slow juicer, anyway?
A slow juicer is a nifty kitchen gadget that takes its time to extract juice from fruits and veggies. It operating at a slower speed compared to other juicers. This gentle approach helps preserve nutrients, flavors, and colors, giving you a glassful of goodness.
What's the big deal about slow juicing?
The slower pace minimizes heat and oxidation, so your juice stays fresh and packed with nutrients.
How's slow juicing different from regular juicing?
Regular juicers operate at higher speeds, which can create more heat and friction, leading to nutrient loss. Slow juicers, on the other hand, gently squeeze the juice out, preserving those precious nutrients and flavors.
What's the juice yield like with a slow juicer?
Slow juicers are like juice-saving superheroes. They often extract more juice than regular juicers, thanks to their meticulous squeezing process. That means less waste and more deliciousness in your glass.
Can I juice everything in a slow juicer?
Most fruits and veggies are a go! Leafy greens, hard produce like apples, soft stuff like berries – slow juicers can handle the whole garden. Just remember, some hard items might need a little pre-cutting action.
Let's Bring Home the Best Slow Juicer in Malaysia Today!
Alright, my fellow juice enthusiasts, there you have it – the cream of the crop, the best slow juicers in Malaysia!
We've peeled, squeezed, and tasted our way through to bring you this juicing jackpot.
So, don't keep your juicing dreams on hold – it's time to make those Malaysian flavors come alive in your glass.
Go and grab your favorite slow juicer, and let's embark on a juicing!
Read Next: