Looking for a 5 star hotel in Kuantan? Then check out these luxury hotels in Kuantan for your family vacation, couple trip, or business trip!!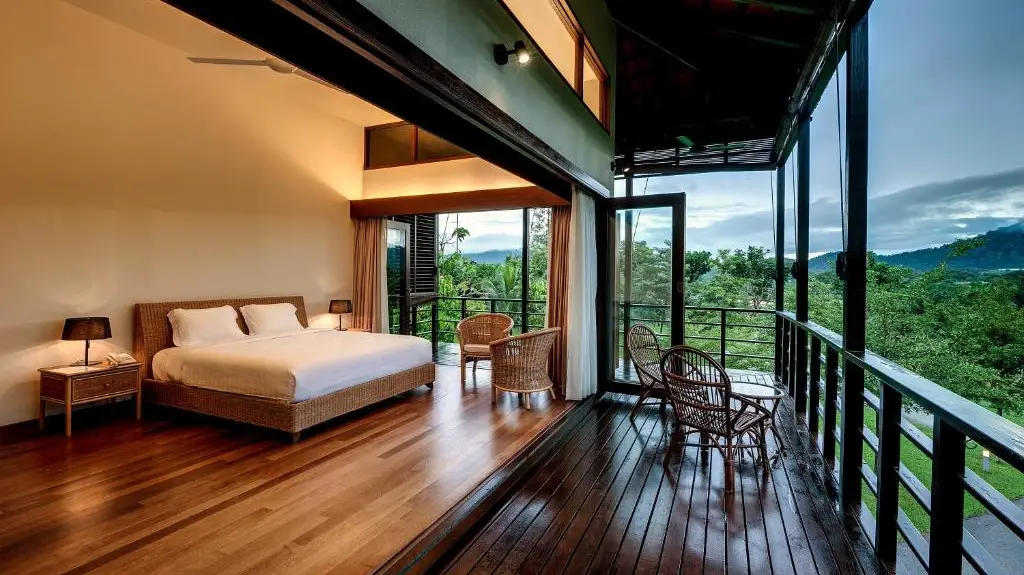 If you're planning a trip to Kuantan, Malaysia, and you're craving some top-notch accommodation, then you've come to the right place. Kuantan is brimming with awesome 5-star hotels that will blow your socks off!
These exquisite establishments offer the perfect blend of luxury and comfort, promising an unforgettable stay in Kuantan.
Now, get ready to be spoiled rotten because these luxury hotels in Kuantan know how to treat their guests like VIPs.
Take your pick from a variety of stylish rooms and suites, meticulously designed to cater to your every need.
Whether you're seeking a luxurious getaway, romantic trip, or a memorable business trip, the best 5-star hotels in Kuantan will surpass your expectations.
Best 5 Star Hotels in Kuantan: Quick Overview
Here are the best 5 star hotels in Kuantan for your quick overview. All of these Kuantan luxury hotels have high review rating and will give you a great experience during your stay:
Top 4 Best 5 Star Hotels in Kuantan
Without further ado, here are some of the luxury 5 star hotels in Kuantan that are sure to impress you!
1. 5 Star Hotel in Kuantan – Mangala Resort and Spa [Review]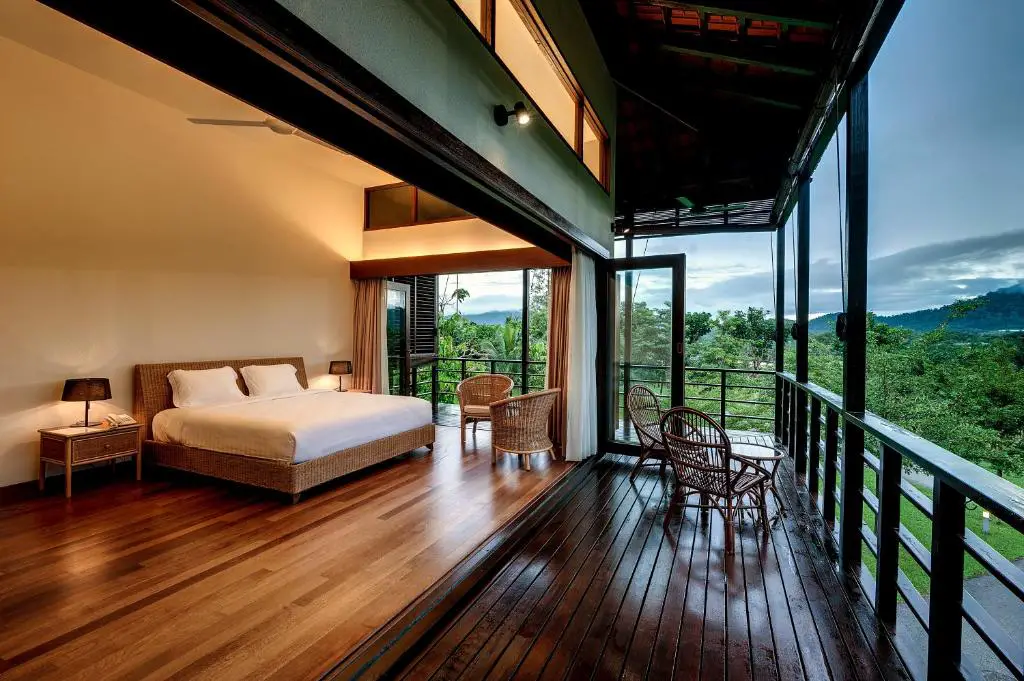 Mangala Resort and Spa – All Villa in Gambang is a top-notch 5-star hotel in Kuantan that offers contemporary villas, complete with free bikes, a salt-water pool, and a fitness centre.
With free WiFi and parking, their villas are stylishly furnished, featuring a cozy seating area and a flat-screen TV. Some even provide breathtaking views of the lake or forest, while others offer a private pool.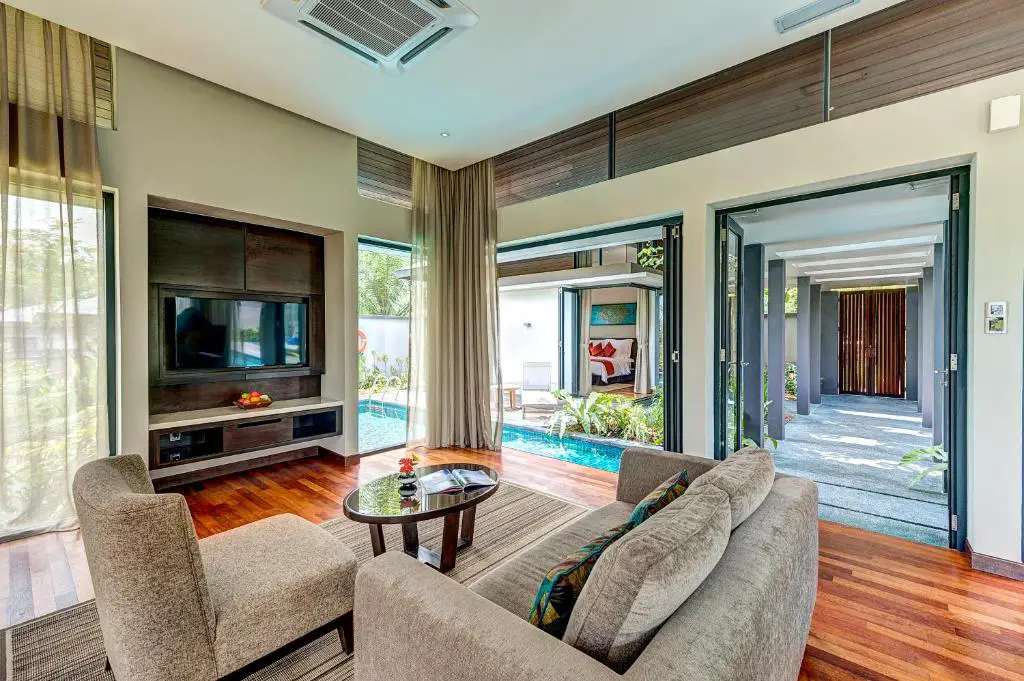 Refreshing breakfast awaits at Lakeside Restaurant, which also caters to elegant dining, while the adult-only Lakeside Bar serves delightful drinks. They happily arrange private dining experiences on request.
For adventurous souls, they offer paddle boards and kayaks to explore the tranquil lake, while adults unwind by the poolside as kids enjoy the children's pool.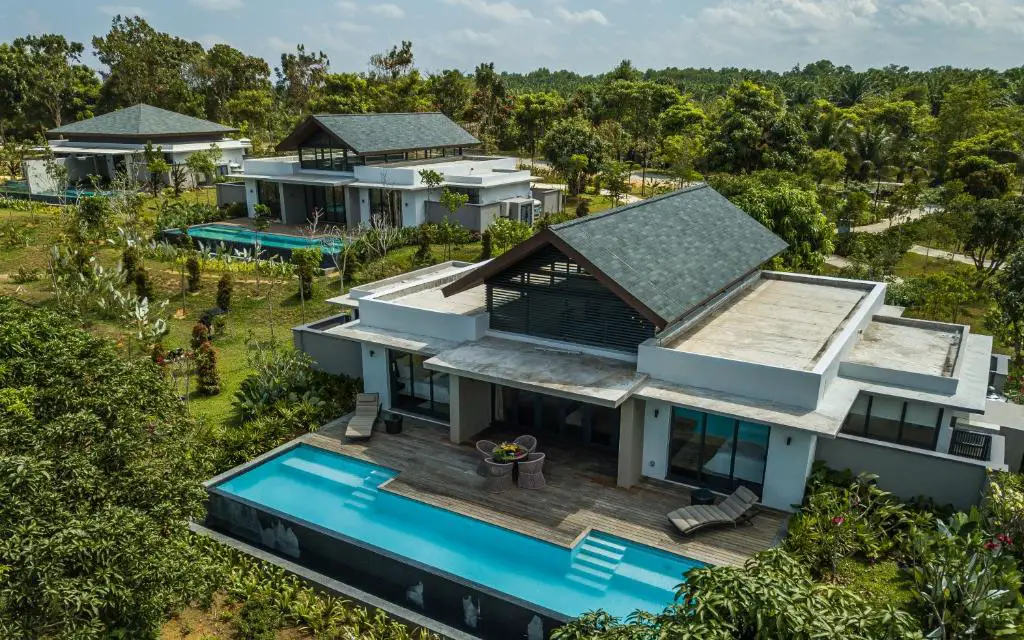 Conveniently located near Gambang Water Park and just a short distance from Kuantan, it's only 19.5 km away from Sultan Ahmad Shah Airport.
Location: Lebuhraya Tun Razak, 26300 Kuantan, Malaysia
2. 5 Star Hotel in Kuantan – The Kasturi [Review]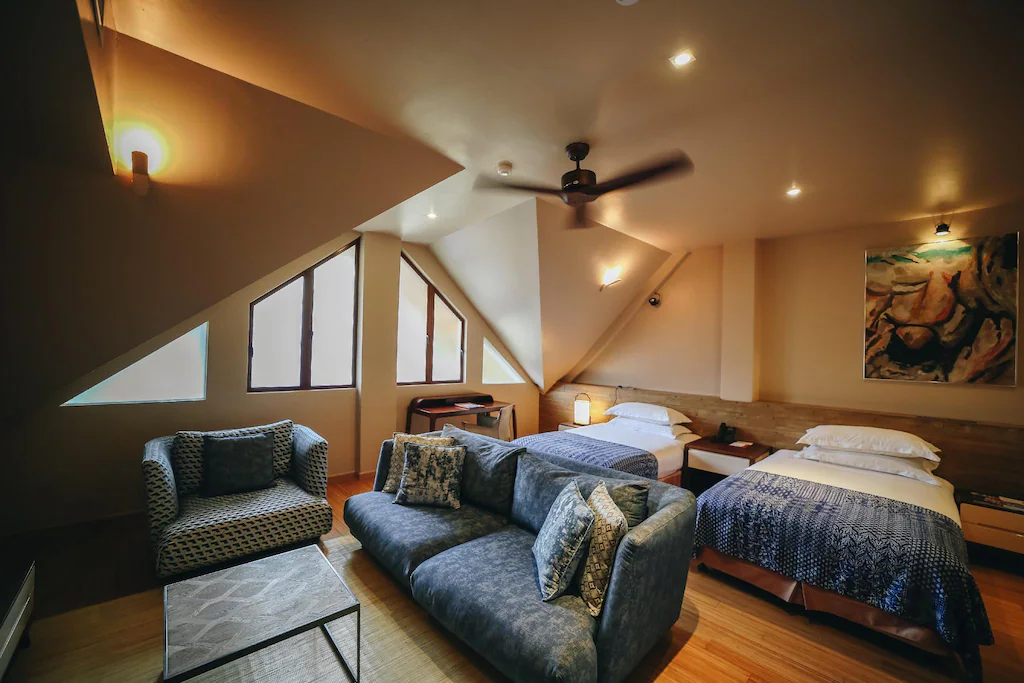 Nestled at Chendor Beach in Pahang, The Kasturi Resort is an exquisite five-star beach retreat that offers breathtaking sunrise views, overlooking Tanjong Geliga's forested point and the South China Sea.
Surrounded by lush rainforest and sandy shores, their villas and suites provide a serene escape, seamlessly blending the best of land and sea.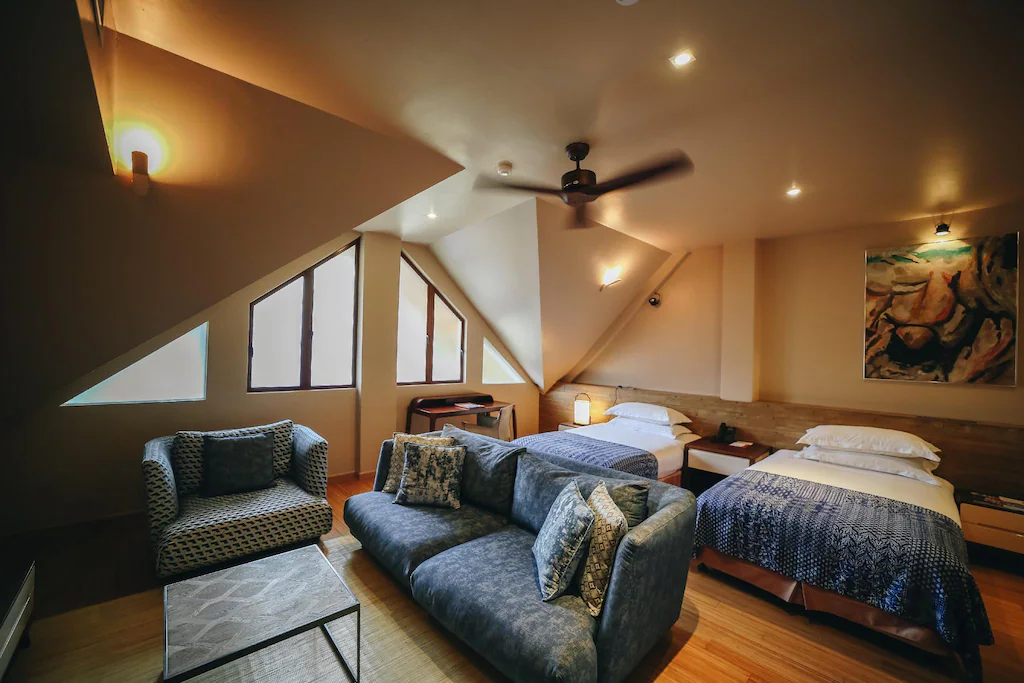 With only 23 keys, this intimate resort ensures a tranquil haven where we can indulge in luxury while leaving behind the hustle and bustle of the city. Spanning 15 acres, The Kasturi boasts 800 meters of pristine beach embraced by forested dunes.
Additionally, they enjoy exclusive access to another kilometer of beach to the north, leading up to the Sungai Pak Siak estuary, perfect for leisurely dawn walks or invigorating evening runs.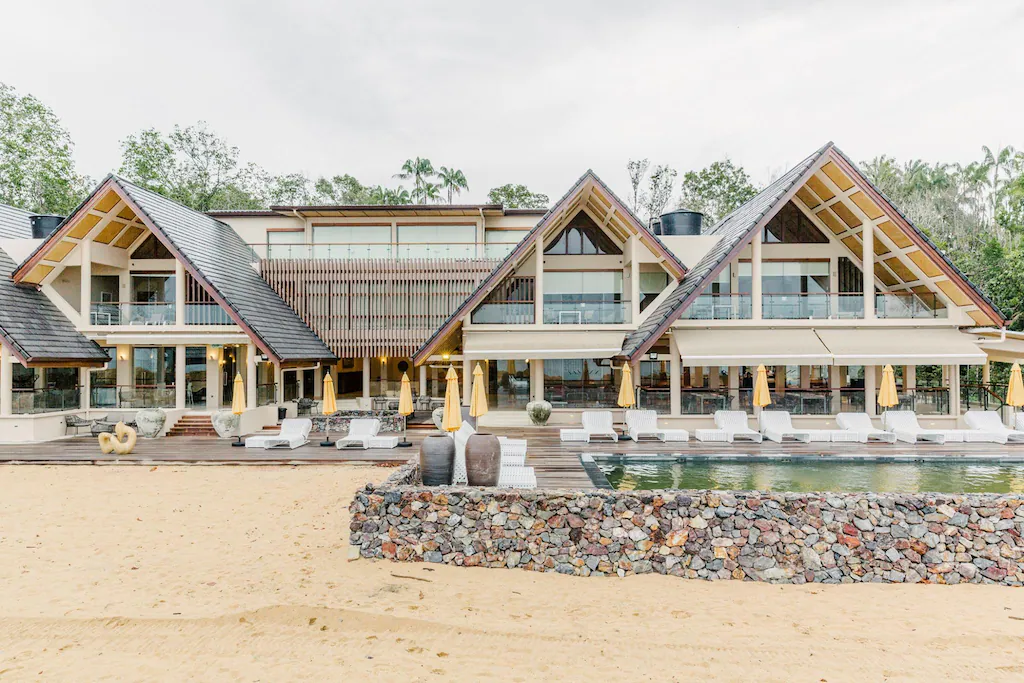 This enchanting estuary occasionally treats us to the sight of a playful otter family on its banks, while sea eagles gracefully soar above the villas and fireflies twinkle along the walkways. The beach itself is renowned for fishing stingrays and is a sanctuary for endangered green turtles, whose precious eggs are carefully safeguarded in their hatchery.
As the epitome of a small luxury resort along the East Coast, The Kasturi embraces the natural wonders and sea breezes from the South China Sea, providing an unparalleled experience in the lap of nature.
Location: KM 32.5 Jalan Kuantan/Kemaman, Cherating, 26080 Kuantan, Malaysia
3. 5 Star Hotel in Kuantan – Hyatt Regency Kuantan Resort [Review]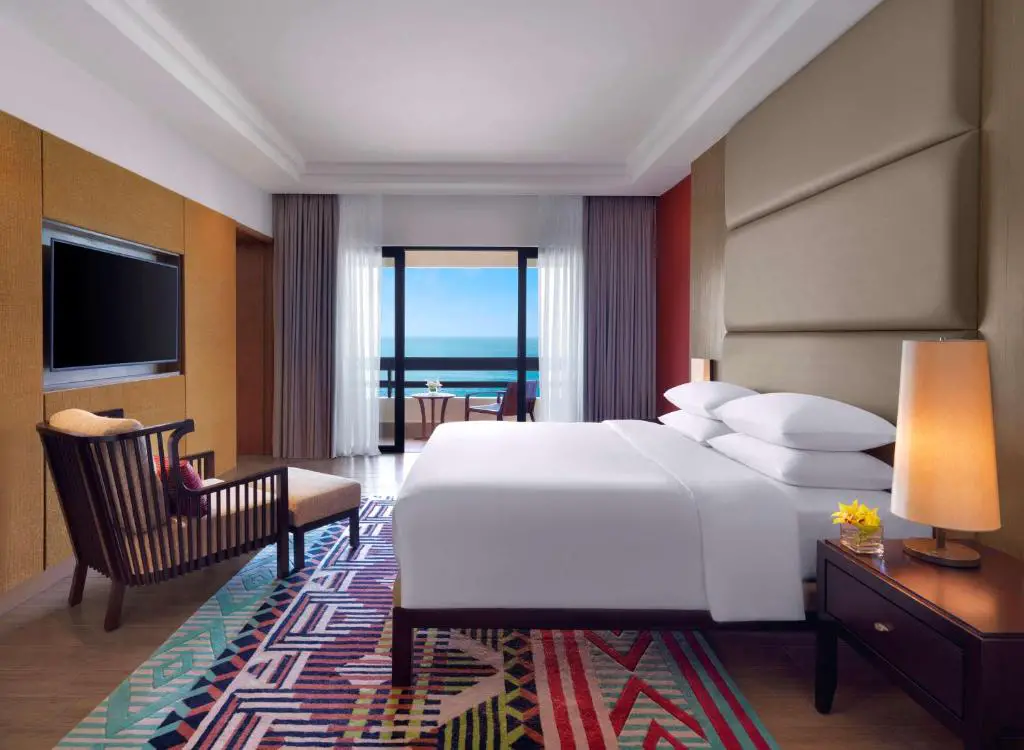 Perched on the enchanting shores of Teluk Chempedak, Hyatt Regency Resort offers a luxurious getaway with rooms featuring private terraces, two stunning outdoor pools with inviting lounge areas, a range of thrilling watersports, and a rejuvenating spa.
Just a short 15-minute drive from the town center and a stone's throw away from delectable seafood restaurants, this haven is easily accessible, requiring a scenic two-and-a-half-hour car ride from Kuala Lumpur.
The rooms at Hyatt Regency Kuantan Resort exude elegance with their spacious interiors, wooden flooring, and tasteful furnishings, complete with minibars, tea/coffee makers, and hairdryers. The ensuite bathrooms are thoughtfully equipped with toiletries to enhance your stay.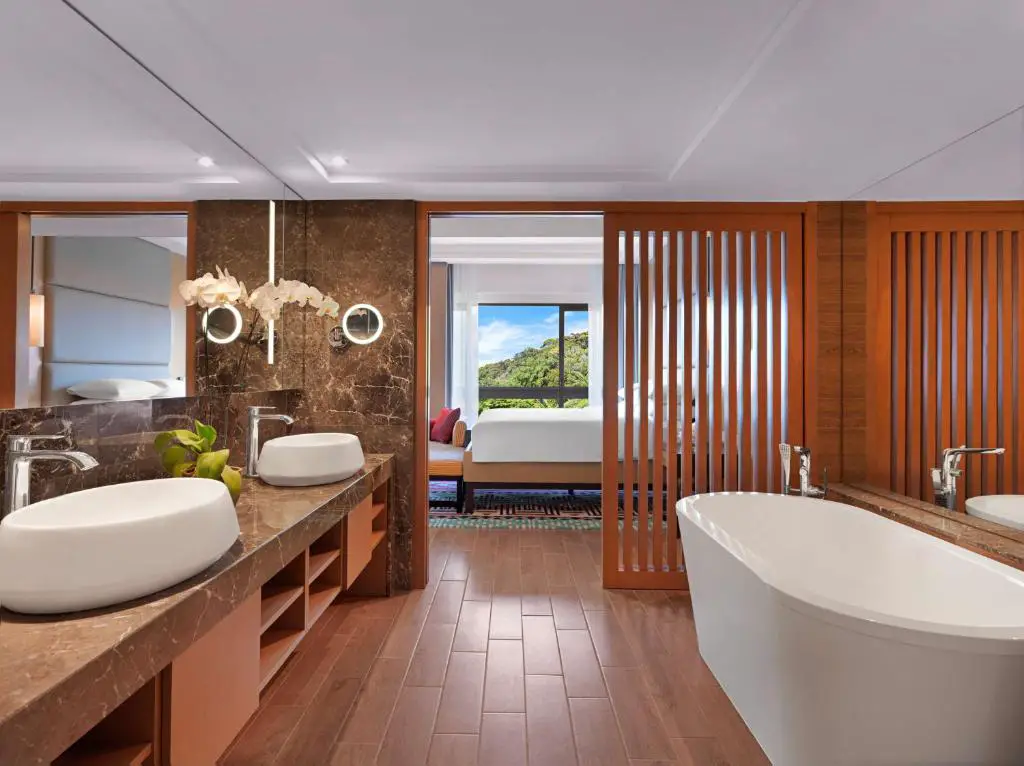 Embrace an active lifestyle with facilities like tennis courts and a well-equipped gym, while the tour desk assists in arranging unforgettable excursions to nearby attractions.
Feast on the authentic flavors of local cuisine at Kampung Restaurant, boasting panoramic views of the mesmerizing South China Sea, or indulge in the culinary delights of the award-winning Italian Bistro, where you can witness the magic of an open concept kitchen in its split-level restaurant.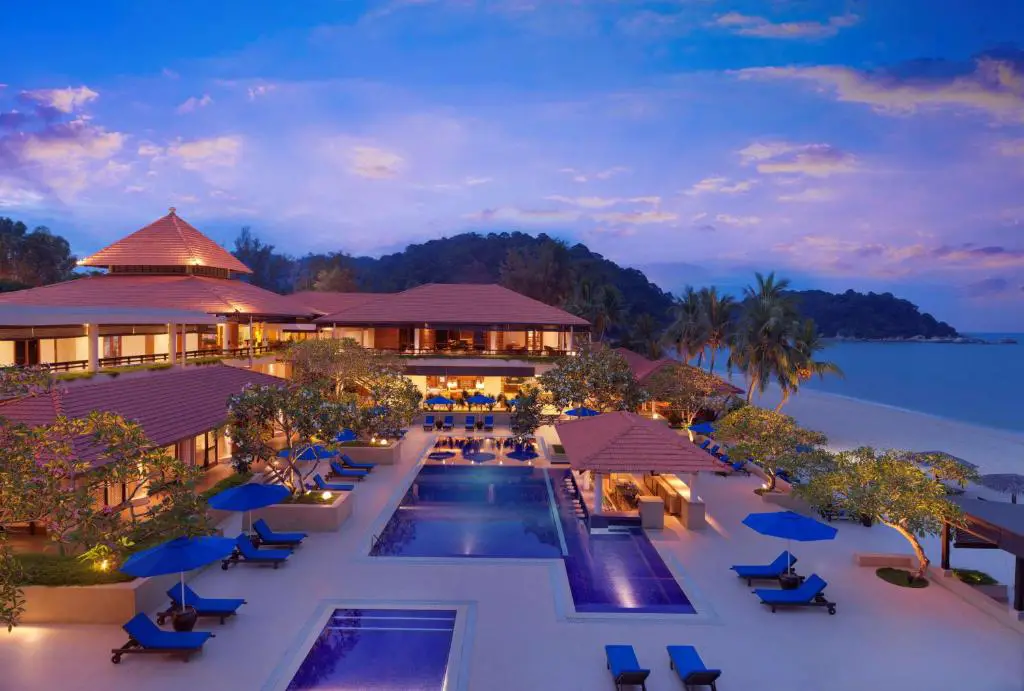 For a unique experience, Coals on the Beach offers a tantalizing menu accompanied by the soothing sounds of the ocean.
Location: Telok Chempedak, 25050 Kuantan, Malaysia
4. 5 Star Hotel in Kuantan – Zenith Kuantan [Review]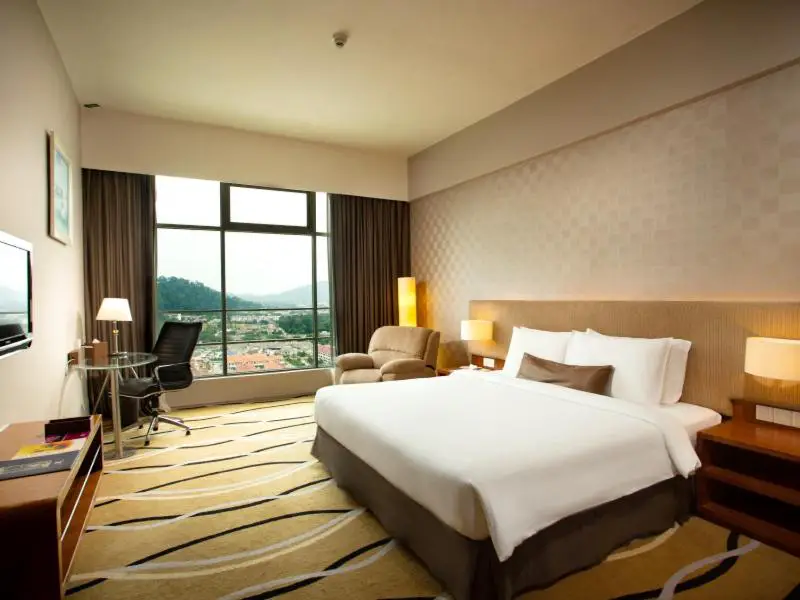 Nestled in the heart of Kuantan Town, Zenith Kuantan is just a leisurely 5-minute stroll from East Coast Shopping Mall.
This 5 star hotel in Kuantan offers a rejuvenating escape with its infinity pool and spa, while delighting guests with multiple dining options and complimentary Wi-Fi access in public areas.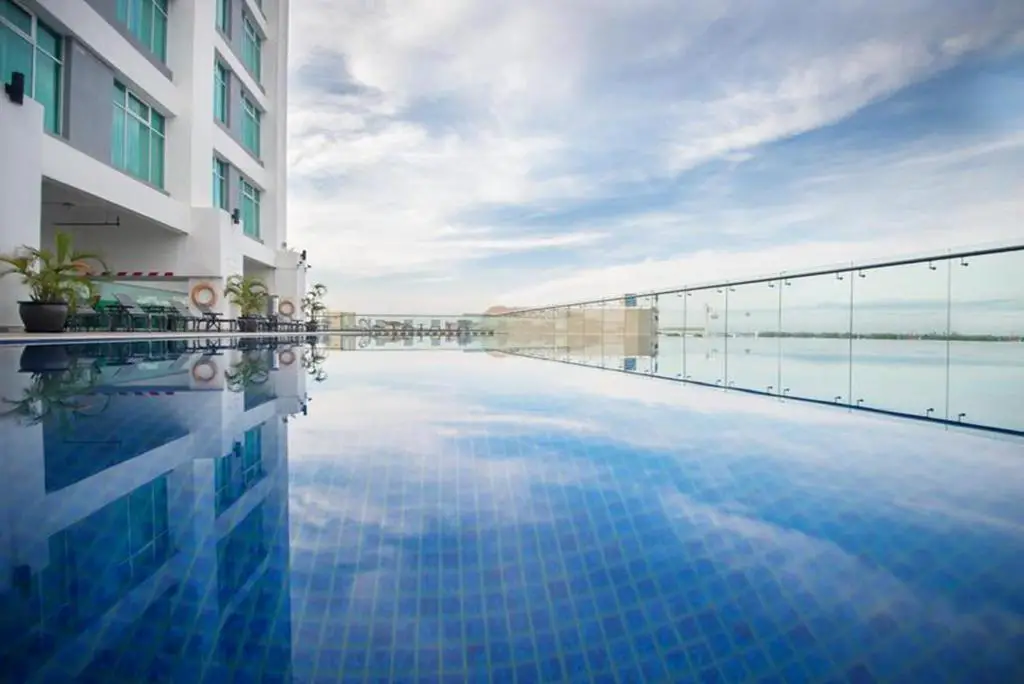 As part of an integrated building, housing a convention center and an array of retail and dining choices, Zenith Kuantan provides a convenient and vibrant experience.
Reachable with a short 45-minute flight from Kuala Lumpur International Airport, this hotel offers spacious contemporary rooms adorned with a flat-screen TV offering an extensive selection of movie channels and 24-hour room service.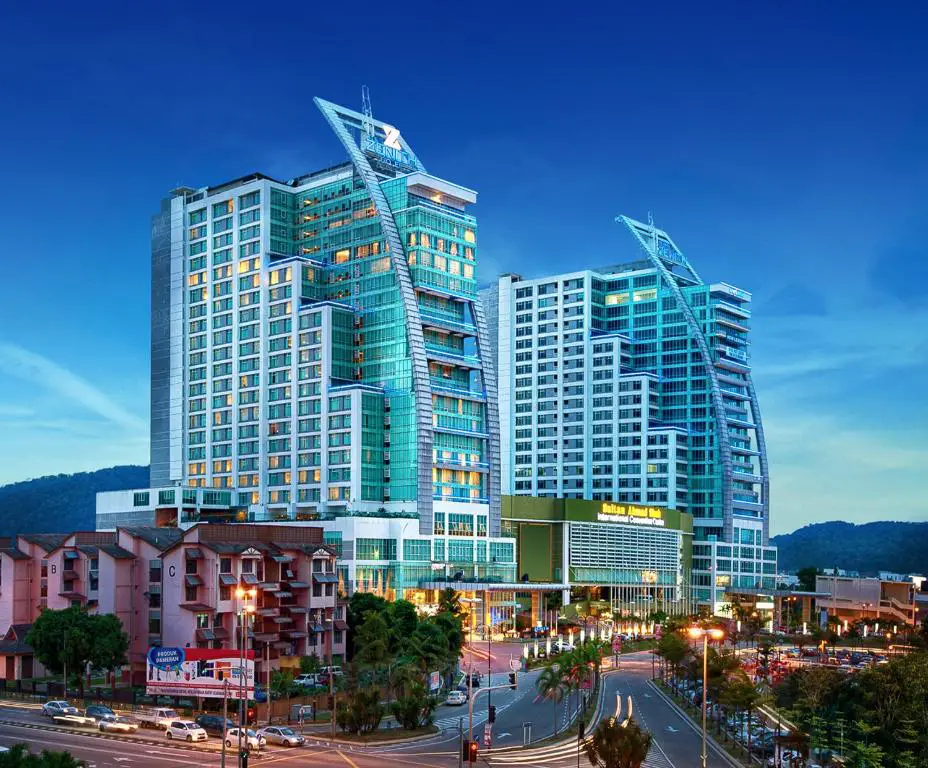 Indulge in the comfort of private bathrooms equipped with hairdryers, while additional amenities like tea/coffee making facilities and minibars enhance your stay.
At Zenith Kuantan, guests can stay active at the fitness center, seek travel assistance from the dedicated tour desk, or enjoy the convenience of a business center and a children's playground.
The Dining Room Coffee House caters to all-day dining desires, featuring an open kitchen and an enticing range of international dishes, while The Lounge provides the perfect ambiance to unwind and savor refreshing drinks.
Location: Jalan Putra Square 6, Putra Square, 25200 Kuantan, Malaysia
Why You Should Stay in a Luxury 5 Star Hotel in Kuantan?
When it comes to experiencing the ultimate indulgence and comfort in Kuantan, staying in a luxury 5-star hotel is an absolute must. Let me tell you why.
First and foremost, these lavish hotels offer unparalleled amenities and services that cater to your every need. From opulent rooms adorned with exquisite furnishings to state-of-the-art facilities like infinity pools and rejuvenating spas, they ensure that your stay is nothing short of extraordinary.
Additionally, the impeccable hospitality provided by the attentive staff will make you feel like royalty throughout your entire stay. Their warm smiles and personalized service create a welcoming atmosphere that is truly Malaysian in nature.
Furthermore, these hotels are centrally located, allowing you to easily explore the vibrant city of Kuantan. Whether you're in the mood for shopping at nearby malls, indulging in delectable local cuisine, or immersing yourself in the rich cultural heritage of the region, everything is conveniently within reach.
Last but not least, the gastronomic experiences offered by luxury 5-star hotels in Kuantan are a culinary delight. From world-class restaurants serving a fusion of international flavors to stylish lounges where you can unwind with a refreshing drink, your taste buds will be treated to a gastronomic journey like no other.
In conclusion, staying in a luxury 5-star hotel in Kuantan is an experience that will leave you with unforgettable memories.
The combination of lavish amenities, impeccable service, convenient location, and tantalizing dining options make it the perfect choice for those seeking the epitome of luxury and comfort during their visit to this enchanting Malaysian city.
FAQ
What are the top amenities offered by the best 5-star hotels in Kuantan?
– Luxurious rooms and suites with upscale furnishings
– Infinity pools and rejuvenating spas
– Gourmet restaurants and stylish lounges
– Fitness centers and business facilities
– Exceptional concierge and room service
Are these 5-star hotels located near popular attractions in Kuantan?
Yes, the best 5-star hotels in Kuantan are centrally located, providing easy access to shopping malls, local dining establishments, and cultural sites. They are strategically positioned to offer convenience and opportunities for exploration.
Are there family-friendly amenities available?
Yes, many 5-star hotels in Kuantan offer family-friendly amenities such as children's pools, playgrounds, and babysitting services.
Can I find fine dining options within the hotels?
Absolutely! The best 5-star hotels in Kuantan boast gourmet restaurants that serve a variety of international and local cuisines. You can indulge in exquisite dining experiences, from open kitchens to panoramic views, ensuring a memorable culinary journey.
Are there any additional services or facilities offered?
Yes, apart from the luxurious accommodations and amenities, these hotels often provide services such as airport transfers, tour arrangements, and event spaces for special occasions.
How many 5 star hotels are there in Kuantan?
At the moment there are only four 5 star hotels in Kuantan.
Enjoy Your Stay at the Best 5 Star Hotel in Kuantan!
In conclusion, when it comes to the best 5-star hotels in Kuantan, you can expect a delightful blend of luxury, comfort, and exceptional service.
These luxury hotels offer top-notch amenities, including beautiful rooms, inviting pools, and indulgent spas. With their convenient locations, you'll have easy access to popular attractions, shopping, and dining options.
The attentive staff ensures a warm and welcoming experience, while the fine dining choices satisfy even the most discerning palates.
Whether you're seeking a relaxing getaway, a family-friendly retreat, or a memorable culinary journey, the best 5-star hotels in Kuantan have got you covered. So, book your stay and prepare to be pampered in style.
Read Next: