Looking for a hotel or resort in Pulau Redang? Check out these best hotels & resorts in Redang Islands for your family vacation, honeymoon, and trip!!
Pulau Redang, an incredible island off the coast of Malaysia, captivates visitors with its breathtakingly clear waters, stunning sandy beaches, and an underwater world bursting with colorful coral reefs—a dream destination for snorkelers and divers.
Nestled amidst lush greenery and serene surroundings, Pulau Redang offers a perfect getaway from the busy city life, inviting people from all walks of life to unwind and revel in the island's sheer natural beauty.
To help you to find the right Pulau Redang resort, we have created a list of the best hotels & resorts in Pulau Redang for your family vacation, honeymoon, or trip.
Let's dive right in!
Best Hotels & Resorts in Pulau Redang: Quick Overview
Here are the best resorts in Pulau Redang for your quick overview. All of these Pulau Redang resorts have high review rating and will give you a great experience during your stay:
Top 8 Best Hotels & Resorts in Pulau Redang
Without further ado, here are some of the best Resorts in Pulau Redang that are sure to impress you!
1. Resort in Pulau Redang – The Taaras Beach & Spa Resort [Review]
If you're searching for a luxurious resort in Redang island, look no further than the Taaras Beach & Spa Resort. Situated on the island's picturesque northern coast, this resort boasts a serene beach with soft, powdery sand, away from the bustling beaches on the east coast.
Once you step foot in this haven, you'll be captivated by its luxurious rooms featuring oversized, comfortable beds. Indulge in a rejuvenating massage at the spa, where your mind, body, and soul will be pampered.
Don't forget to take part in exciting activities like kayaking in the ocean or enjoying a relaxing bath with an ocean view from your bathtub.
Whether you're planning a romantic getaway or a family vacation on Redang Island, the Taaras Beach Resort has got you covered. They offer a range of room options, from doubles to family accommodations, including cliff top rooms or beachfront havens.
For those seeking the ultimate accommodation, the resort also offers an incredible five-bedroom villa with breathtaking cliff-top views, a private infinity pool, an elevator, and a personal butler.
Immerse yourself in paradise as you gaze upon the crystal-clear waters surrounding the resort, and don't miss the opportunity to witness the sea turtle hatchlings being released into the sea during hatching season.
The Taaras Beach Resort is not just about luxurious rooms and amenities. It offers a range of facilities including a tour desk, a swimming pool, a karaoke room, a day spa, and even cooking classes.
Families will appreciate the supervised playroom for kids. If you're seeking a secluded and unforgettable experience on Redang Island, the Taaras Beach Resort is undoubtedly the best choice.
2. Resort in Pulau Redang – Laguna Redang Island Resort [Review]
The Laguna Redang Island Resort is hands down one of the best resorts on Pulau Redang. Situated at the southern end of Redang's main beach area on the east coast, this resort offers a serene getaway while still being conveniently close to dining and shopping options.
Here, you'll find everything you need, including two eateries, a food court, three bars, a karaoke lounge, a disco, an outdoor pool with a jacuzzi, a day spa, a gift shop, a PADI-certified dive center, and a recreation center where you can rent equipment.
For some indoor entertainment, you'll find pool tables, board games, and a range of exciting tours to embark on.
With comfortable beds, flat-screen TVs, mini-fridges, and tea/coffee makers, each unit provides the perfect retreat, and the upgraded rooms with balconies offer stunning views of the pool or sea—we highly recommend the Deluxe Sea Room.
The surrounding beach and jungle are simply breathtaking. It is one of the beautiful beaches in Malaysia.
The Laguna Resort strikes an excellent balance, offering a stunning location alongside nearby dining options. They even operate their own ferry to and from the mainland, ensuring a seamless and hassle-free journey.
3. Resort in Pulau Redang – Redang Island Resort [Review]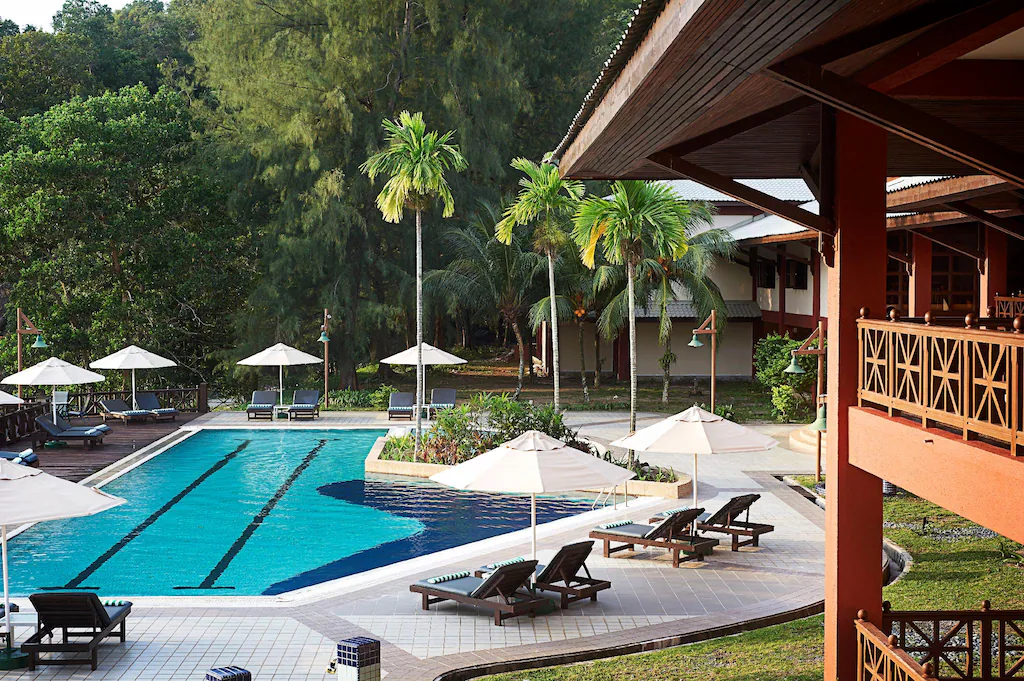 Escape to the Redang Island Resort, a tropical paradise located on the tranquil southern side of the island, nestled along the picturesque Teluk Siang bay area.
Brought to you by Berjaya Hotels & Resorts, this laidback getaway is perfect for immersing yourself in the island's natural beauty, from the shimmering azure waters to the lush rainforest.
You'll find a range of exciting activities to enjoy, including island boat tours, turtle watching experiences, jungle trekking, and sunset evening walks.
After a day of adventure, retreat to your chic Malay-style chalet, which features wooden decor, modern amenities, an en-suite bathroom, minibar, and a private balcony offering views of either the rainforest or the sea.
All the rooms at this Pulau Redang accommodation are charming chalets, allowing you to choose between a serene rainforest or a mesmerizing sea view. Each chalet is equipped with a TV, air conditioning, tea and coffee making facilities, a minibar, and a private balcony.
At the Redang Island Beach Resort, you'll discover a range of amenities to enhance your stay. Take a dip in the pool or let the children enjoy their own pool area. The resort can also organize various island activities for your entertainment.
Furthermore, you can make use of the well-equipped outdoor gym, relax in the games room, unwind by the swimming pool, and savor delightful refreshments at the coffee house, bar, and lounge.
While the Redang Island Resort is a budget-friendly option among the hotels in Redang Malaysia, it's important to note that the beach near the resort is not as impressive and requires a slightly steep walk.
However, fear not, as the resort provides a complimentary shuttle service to take you to the more beautiful beaches on the northern side of the island, near the Taaras Beach & Spa Resort.
The Redang Island Resort, known as one of the best hotels in Redang, offers pleasant views and is situated away from the main tourist areas, making it a more affordable option compared to other choices on the island.
4. Resort in Pulau Redang – Redang Bay Resort [Review]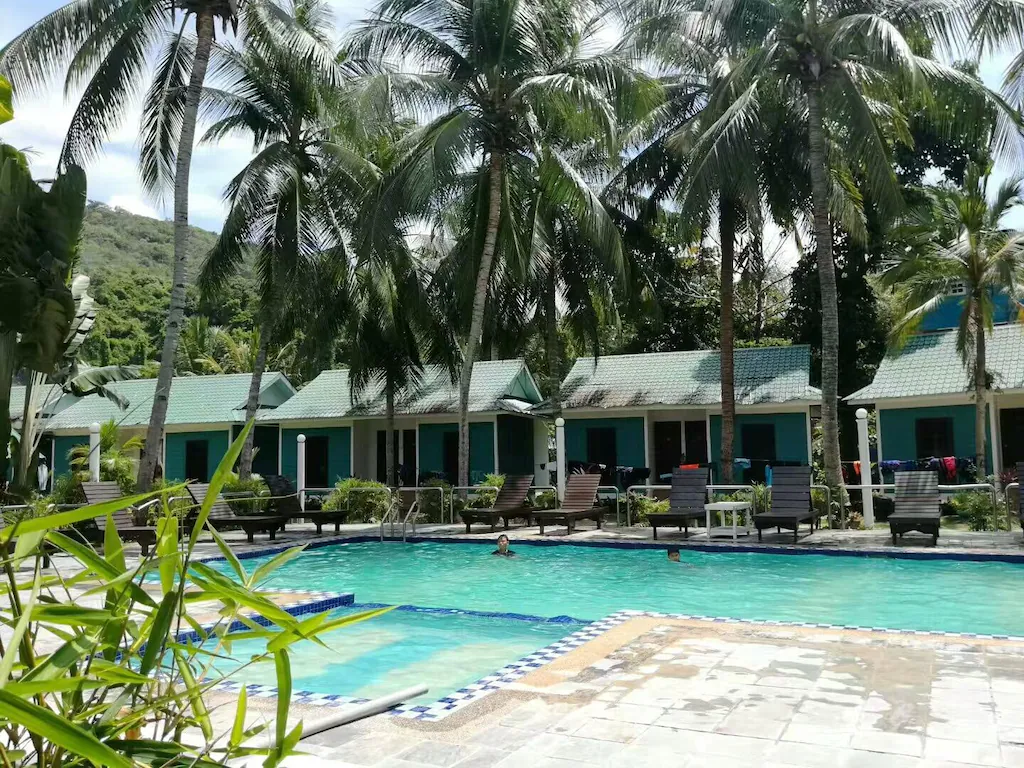 Discover Redang Bay Resort, a fantastic beach resort located just north of the Laguna on Redang Island. With its stunning beach setting and convenient access to nearby restaurants and facilities, this Redang Island resort provides an ideal holiday getaway.
At Redang Bay Resort, you'll be delighted by the beautiful beach right at your doorstep, complemented by a refreshing swimming pool, a dive center for underwater adventures, a souvenir shop, a restaurant serving delectable meals, and a beachfront bar with live music in the evenings.
If you're seeking a budget-friendly option with direct beach access and are traveling alone, Redang Bay Resort offers dorm beds at affordable rates.
While the price may not be considered cheap, it becomes a good value when you consider that all meals are included—an important factor to keep in mind, as dining expenses can quickly add up on Redang Island.
The resort provides various room options, including quad rooms and basic chalets for two people, all equipped with air conditioning. When comparing prices, remember that the rates at Redang Bay Resort already include meals, making it an even more cost-effective choice.
For those looking for a more budget-friendly resort in a prime location with inclusive meal packages, Redang Bay Resort is an excellent choice. It's especially suitable for solo travelers with the option of dorm beds. Just keep in mind that as a more budget-oriented option, it's best to adjust your expectations accordingly.
5. Resort in Pulau Redang – Sari Pacifica Resort [Review]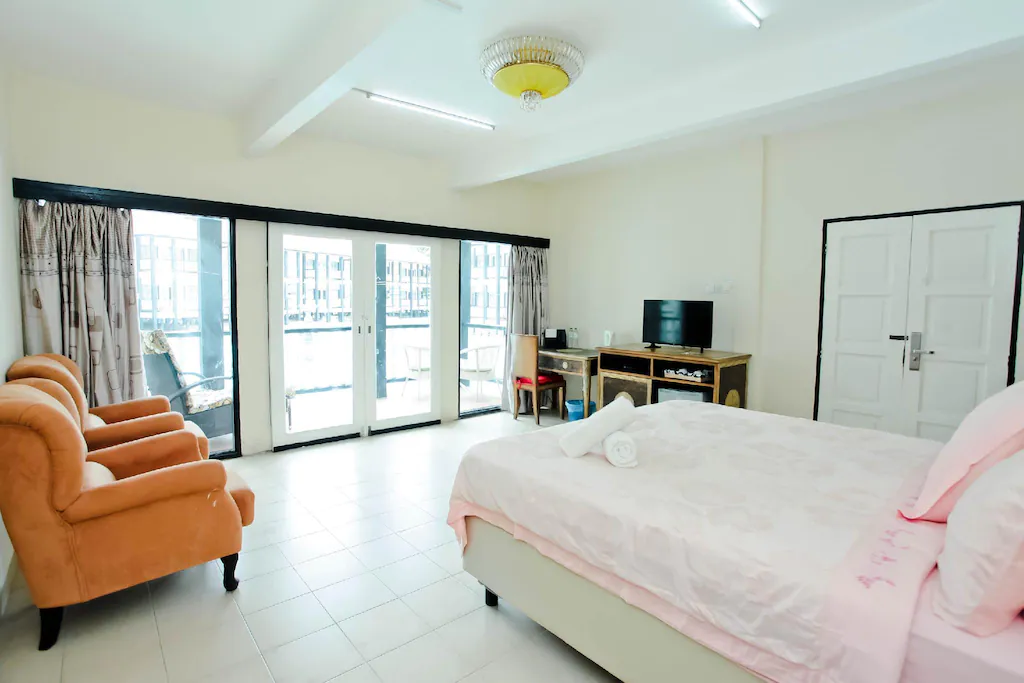 Experience the perfect beachfront getaway at Sari Pacifica, a stunning boutique resort located on the northern end of Redang Island's eastern strip of beaches.
Combining English Renaissance vibes with island living, this resort stands out with its unique build inspired by English Tudor architectural styles. Prepare to be charmed by the warm and friendly staff, excellent facilities, and the resort's beautiful design.
The resort's top-notch amenities include a beachfront pool where you can relax and soak up the sun, a well-equipped gym to stay active, a rejuvenating day spa for ultimate relaxation, and a lively poolside bar for refreshing drinks.
Additionally, the resort features a restaurant offering a variety of delicious cuisines to satisfy your taste buds.
Choose from a range of villa options at this Redang accommodation, accommodating two to four people. You can also opt for a seafront villa to enjoy breathtaking beach views or a villa with a garden or pool view. Each villa is equipped with air conditioning, a mini-bar, and a TV for your comfort.
Sari Pacifica offers different room rate options, including all-inclusive packages or options with breakfast and dinner. The food served at the resort is of good quality, although the restaurant area itself could benefit from a renovation.
With over 70 villas available, including the coveted seafront villas that provide direct beach access, you can choose the accommodation that suits your preferences.
 For a special experience, consider the Lagoon Villas or Country Villas overlooking the resort's beautiful "Lily Pond," featuring a captivating 3-tier fountain.
Enjoy the resort's best features, including a lovely beachfront pool and enticing all-inclusive options. With its great location, Sari Pacifica is an ideal choice for those seeking a resort with a pool on the main part of the island, set on a stunning beach.
6. Resort in Pulau Redang – Redang De' Rimba Resort [Review]
Redang De' Rimba Resort is an excellent budget option and stands out as one of the best hotels on Redang Island. It offers good, albeit basic, accommodations at the most affordable price compared to other options.
Situated a short walk away from Teluk Dalam beach and Taaras Resort, Redang De'Rimba Resort does not have direct beachfront access. It's important to note that some rooms require climbing many stairs, so this option is recommended only if you don't mind the ascent.
Facility-wise, the resort lacks amenities apart from a restaurant, which is decent but not exceptional. However, there are other dining options available nearby, and a great alternative is to dine at the restaurants located at the nearby Taaras Resort.
While tours can be arranged at Redang De'Rimba Resort, foreign visitors may find the tour desk at Taaras Resort more comprehensive and helpful, offering a wider range of information and assistance.
The resort offers twin, double, and quad rooms, each equipped with private bathrooms, TV, air conditioning, and balconies for your comfort and convenience.
If you're looking for affordable accommodation on Redang Island, Redang De'Rimba Resort is your best choice. Not only is the hotel itself cheaper, but you'll also find more budget-friendly dining options in the vicinity.
Considering the price and if budget is your primary concern, this resort offers a good deal on the island. Despite its basic amenities and the need for a short walk to the beach, you can still enjoy the beautiful beach and dine at the restaurants of Taaras Resort without the high price tag.
7. Resort in Pulau Redang – Redang Paradise Resort [Review]
Redang Paradise Resort is another affordable resort on Pulau Redang. These cozy wooden chalets provide direct access to the beach and are equipped with air conditioning, comfortable beds, and private bathrooms.
With the ability to accommodate up to five people, these chalets are particularly suitable for budget-conscious groups or families. For an additional cost, you can opt for a chalet with a sea view.
The resort primarily focuses on providing a beachfront experience and therefore does not offer extensive facilities.
However, if you don't mind the absence of a pool or other amenities and are comfortable with a slightly older room, the attractive price point makes this resort an appealing option.
On-site, you'll find a restaurant where breakfast is compulsory. Typically, breakfast is included for two people, with an additional charge for any extra guests.
In terms of location, which is a crucial factor when deciding where to stay in Pulau Redang, this resort excels, especially considering its affordable rates.
For budget-conscious travelers seeking accommodation on the popular beaches of Redang Island, this resort is worth considering. However, if you have the means to afford something better, it would be advisable to explore other options.
8. Resort in Pulau Redang – Redang Holiday Beach Resort [Review]
Redang Holiday Beach Resort in Redang Island is a superb vacation destination that offers breathtaking views, especially of the sunrise, as it is situated at the edge of the island.
The crystal-clear waters provide a mesmerizing sight, and it's even possible to spot baby sharks swimming near the shore, adding to the unique experience. This resort comes highly recommended and offers excellent value for the price.
With its wonderful location at the end of the beach, the resort provides a sense of privacy and tranquility. Additionally, there is a shisha bar adjacent to the resort, which adds to the enjoyment and relaxation of the guests.
The rooms at Redang Holiday Beach Resort are clean, maintaining a good standard for an island resort. However, there is room for improvement when it comes to the washrooms. Nevertheless, the overall cleanliness and comfort of the rooms contribute to a pleasant stay.
One of the standout aspects of this resort is the friendly and helpful staff. Their warm hospitality adds an extra touch to the overall ambiance and makes guests feel welcomed and well taken care of.
FAQ
Are there budget-friendly resorts in Pulau Redang?
Yes, there are budget-friendly options available, such as Redang De'Rimba Resort and some chalets at Redang Bay Resort.
Do the resorts in Pulau Redang offer amenities like swimming pools?
Yes, many resorts in Pulau Redang have swimming pools, including The Taaras Beach & Spa Resort, Laguna Redang Island Resort, and Sari Pacifica Resort & Spa.
Can I find resorts with all-inclusive packages in Pulau Redang?
Yes, some resorts offer all-inclusive packages that include meals and certain activities. The Taaras Beach & Spa Resort and Laguna Redang Island Resort are known for their all-inclusive options.
Are there water activities available at the resorts in Pulau Redang?
Yes, most resorts offer a range of water activities, such as snorkeling, diving, and boat tours. The Taaras Beach & Spa Resort and Laguna Redang Island Resort have their own PADI-certified dive centers.
Which resorts in Pulau Redang have the best views?
The Taaras Beach & Spa Resort offers stunning views of the beach and surrounding islands. Laguna Redang Island Resort also provides beautiful views of the sea, stunning beach, and lush jungle.
Are there dining options available at the resorts?
Yes, most of the resorts mentioned have on-site restaurants where you can enjoy a variety of cuisines. Some resorts, like The Taaras Beach & Spa Resort and Sari Pacifica Resort & Spa, also have bars for drinks and entertainment.
Do these resorts provide airport transfers?
Yes, many resorts offer airport transfers or can arrange transportation from the mainland to Pulau Redang. It's best to check with the specific resort for their transfer options.
Enjoy Your Stay at the Best Hotel or Resort in Pulau Redang!
In conclusion, Pulau Redang offers a range of hotels and resorts that cater to different budgets and preferences.
The Taaras Beach & Spa Resort stands out as a top choice with its stunning beachfront location, excellent amenities, and all-inclusive options. Laguna Redang Island Resort also impresses with its beautiful views, stunning beach, and various recreational activities.
For those seeking a more budget-friendly option, Redang Bay Resort and Redang De' Rimba Resort provide affordable accommodations with direct beach access.
Sari Pacifica Resort & Spa offers a unique blend of English Tudor-inspired design and warm hospitality.
Overall, whether you're looking for luxury or a more affordable stay, Pulau Redang has something to offer for every traveler.
Read Next: