Looking for a villa or hotel in Langkawi with private pool? Worry not as we have prepared a list of top-rated villas and hotels with private pool in Langkawi!!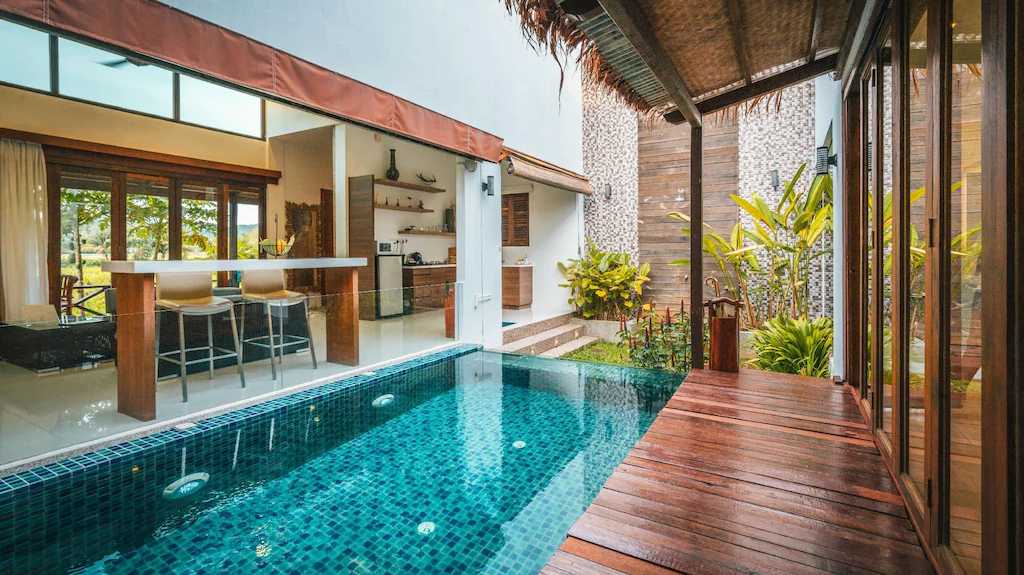 Langkawi is a stunning archipelago located on the northwest coast of Malaysia, known for its pristine beaches, turquoise waters, and lush rainforests.
With its vibrant culture, diverse wildlife, and picturesque landscapes, Langkawi offers a perfect blend of relaxation and adventure for visitors.
To make finding accommodation easier for you, we have created a list of the best villas & hotels in Langkawi with private pool for your vacation.
In this article, you will find the following:
Best hotel in Langkawi with private pool
Best villa in Langkawi with private pool
Let's dive right in!
Best Villas & Hotels in Langkawi with Private Pool: Quick Overview
Here are the best villas and hotels in Langkawi with private pool for your quick overview. All of these villas and hotels have high review rating and will give you a great experience during your stay:
Top 7 Best Villas & Hotels with Private Pool in Langkawi
Without further ado, here are some of the best villas and hotels in Langkawi with private pool. Hope you enjoy it.
1. Hotel in Langkawi with Private Pool – The Ritz-Carlton Langkawi [Review]
Experience the ultimate luxury and exceptional service at The Ritz-Carlton, Langkawi. This magnificent 5 star hotel in Langkawi with private pool offers a range of top-notch amenities including a private beach area, a private pool, tennis court, and free WiFi.
Stay fit and active at the fitness centre or indulge in delectable Asian cuisine at the on-site restaurant, Langkawi Kitchen, followed by refreshing drinks and tantalizing Thai dishes at Horizon Bar. Unwind in beautifully appointed rooms, each featuring a wardrobe, private bathroom with a bath, and a comfortable seating area.
During your stay at The Ritz-Carlton, Langkawi, you'll have easy access to popular attractions such as Oriental Village, Langkawi Cable Car, and Seven Wells. Langkawi Airport is conveniently located just 5 km away, ensuring a hassle-free arrival and departure.
For those traveling with children, the hotel offers a children's playground where little ones can have a great time. Moreover, outdoor enthusiasts can explore the picturesque surroundings by cycling around Pantai Kok.
Whether you're seeking relaxation or adventure, The Ritz-Carlton, Langkawi provides the perfect setting for an unforgettable getaway.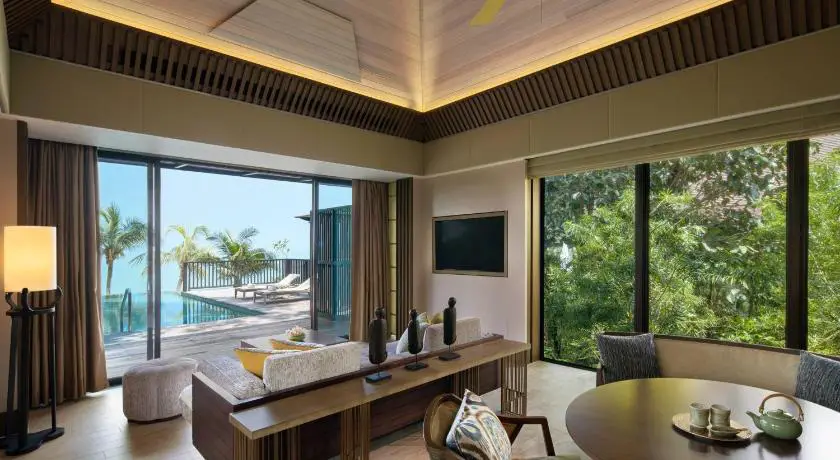 Price: Starts at RM2,050 ($438) per night
Location: Jalan Pantai Kok, 07000 Pantai Kok, Malaysia
2. Hotel in Langkawi with Private Pool – The Datai Langkawi [Review]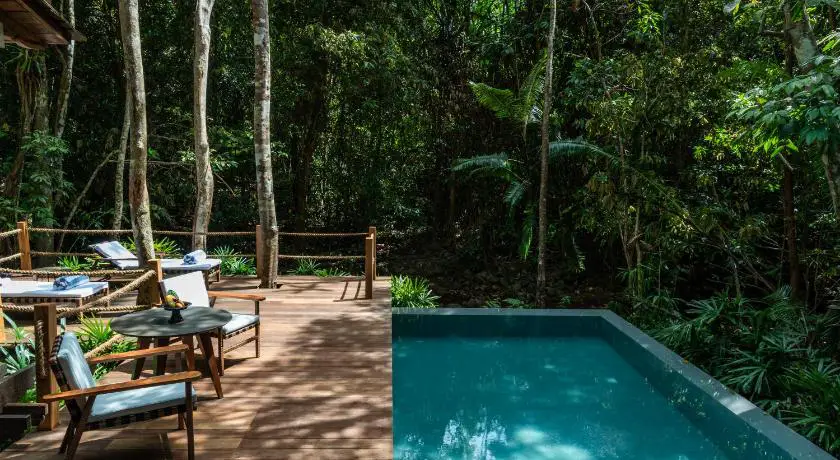 Immerse yourself in the natural beauty of Langkawi at The Datai Langkawi, a prestigious 5-star resort nestled amidst lush forest and boasting a stunning private beach in Datai Bay.
Indulge in a range of exquisite room options, including one or two-bedroom beach villas, rainforest villas, or balcony villas, catering perfectly to both romantic getaways and family vacations.
For an extra touch of luxury, opt for the Rainforest Pool Villa, complete with a private pool.
At this beachfront paradise, you'll find a wealth of facilities and activities to enhance your stay. Take a dip in one of the three pools, enjoy thrilling water sports, pamper yourself with spa treatments, and engage in holistic activities like yoga and pilates.
Discover the Tea, Spices, and Herbs Lounge, offering a sensory experience, or participate in nature activities to connect with the surrounding environment.
Golf enthusiasts will be delighted by the resort's 18-hole championship golf course, providing an exceptional golfing experience in one of the most breathtaking settings in the world.
Meanwhile, the well-appointed rooms at The Datai Langkawi offer scenic views of the tropical landscape and feature a living area with a private balcony, as well as spacious en suite bathrooms with a dressing area and bathtub.
Indulge your taste buds at the resort's dining options. The Gulai House, situated in the rainforest, is an open-air restaurant serving delectable Malay and Indian dishes. The Dining Room offers a variety of Western and local favorites, while The Pavilion tempts with mouthwatering Thai cuisine in an enchanting outdoor setting.
Located on Langkawi Island, The Datai Langkawi provides luxurious accommodation with complimentary Wi-Fi, and provide access to the resort's golf course, well-equipped spa, and swimming pool.
Take advantage of the available mountain bikes to explore the surroundings, and maintain your fitness routine at the fitness center and two tennis courts at Els Club Teluk Datai, just a 5-minute drive away. The resort is approximately a 40-minute drive from Langkawi International Airport, ensuring easy access to this enchanting destination.
Price: Starts at RM2,371 ($507) per night
Location: Jalan Teluk Datai, 07000 Teluk Datai, Malaysia 
3. Hotel in Langkawi with Private Pool – Four Seasons Resort Langkawi [Review]
Escape to a secluded tropical paradise at the Four Seasons Resort in Langkawi, nestled within a lush jungle setting and boasting a magnificent 1.8-kilometer beach along the captivating Andaman Coast.
Immerse yourself in luxury and tranquility at this 5 star Langkawi beach resort with private pool, offering three exceptional restaurants, vibrant bars, and a rejuvenating spa.
While you relax by the 55-meter adult pool overlooking the sea, your children can embark on thrilling adventures and enjoy engaging activities at the kid's club. Take advantage of the resort's day spa and partake in daily yoga and fitness classes to enhance your well-being.
Indulge in lavish accommodations at this top-rated luxury Langkawi resort, featuring one-bedroom Malay-style villas and pavilions that can comfortably accommodate up to eight people, depending on the room type.
Choose from garden or sea views, and revel in the luxurious amenities provided, including private pools or direct beach access. For larger groups or families, the three-bedroom family villas offer spacious indoor and outdoor lounging areas, two bathrooms, and a private pool, accommodating up to six adults and two children.
If you're seeking an exclusive retreat away from the crowds, the Four Seasons Resort is the perfect choice among Langkawi's luxurious beachside hotels with a private pool.
Located just a 20-minute drive from the airport, surrounded by both the enchanting jungle and stunning beachscape of the Andaman Coast, this resort offers a wealth of exciting activities for your next family getaway.
Discover the true essence of relaxation and adventure at one of the best 5 star resorts Langkawi has to offer.
Price: Starts at RM1,717 ($368) per night
Location: Jalan Tanjung Rhu, Tanjung Rhu, 07000, Langkawi
4. Hotel in Langkawi with Private Pool – The St. Regis Langkawi [Review]
Escape to a world of luxury and natural beauty at The St. Regis Langkawi hotel with private pool, where you'll find yourself surrounded by lush rainforest and a pristine private beach, all complemented by an enticing outdoor infinity pool with stunning views of the Andaman Sea.
Indulge in a range of exquisite amenities, including a spa, fitness center, and five dining options, while enjoying the convenience of free WiFi and parking.
Immerse yourself in elegance within the stylishly furnished rooms and suites, each featuring private balconies, spacious living areas, and state-of-the-art home entertainment systems. Pamper yourself in the en suite marble bathroom with a relaxing bath and premium toiletries.
Start your day with a delightful buffet breakfast showcasing an open kitchen concept at L'Orangerie, or indulge in overwater dining with picturesque views at Kayu Puti. The St. Regis Bar offers a curated selection of spirits and wines, while The Drawing Room and Gourmand Deli serve delectable baked goods and coffee.
Families are catered to with a range of amenities and services, including spa treatments for relaxation and a dedicated concierge to assist in arranging day trips and excursions. The friendly and multilingual staff are always ready to provide assistance, whether it's arranging airport transfers or taking care of your laundry needs.
The St. Regis Langkawi's prime location positions you just 5 km away from Kuah town and a mere 2.7 km from Kuah Jetty. Langkawi International Airport is easily accessible, located just 20 km from the resort. Indulge in the ultimate luxury escape where nature meets elegance at The St. Regis Langkawi.
Price: Starts at RM1,700 ($364) per night
Location: The St Regis Langkawi, Jalan Beringin, 07000 Kuah, Malaysia 
5. Hotel in Langkawi with Private Pool – The Danna Langkawi [Review]
Experience the perfect blend of colonial architecture and modern amenities at the elegant Danna Langkawi hotel, an ideal choice for discerning travelers seeking a secluded retreat away from the tourist crowds.
Nestled amidst the lush trees at the foot of Gunung Machinchang, this 5-star resort stands out among the Langkawi private pool luxury resorts, boasting a private beach in Pantai Kok.
Indulge in the luxurious offerings of the Danna Langkawi, including a mesmerizing infinity pool, a well-equipped fitness center, and a rejuvenating day spa. Delight in a variety of dining options, such as the exquisite Planter's restaurant, Terrace, Straits & Co, and The Verandah Lounge.
Immerse yourself in the beautifully decorated guest rooms, suites, or villas, adorned with wooden furnishings.
Every room at this Langkawi resort showcases floor-to-ceiling windows, allowing you to soak in the breathtaking views. Each room is equipped with air conditioning, tea and coffee making facilities, a comfortable sitting area, a flat-screen TV, and a private balcony offering stunning beach or mountain vistas.
For families seeking spacious accommodations, the suites or beach villas are perfect choices. Suites feature separate living rooms and bedrooms, while villas offer the added luxury of a private infinity pool and deck.
Despite its secluded location, the Danna Langkawi is conveniently close to key attractions on Langkawi, as well as a short drive from the airport and Telega Harbour.
Discover the beauty of untouched nature and picturesque surroundings at the Danna Langkawi, one of the best hotel resorts in Langkawi with private pool, providing an unparalleled luxury vacation experience.
Price: Starts at RM1,620 ($347) per night
Location: Telaga Harbour Park, Pantai Kok, Langkawi, Malaysia, 07000
6. Villa in Langkawi with Private Pool – La Villa Langkawi [Review]
La Villa Langkawi is an ideal choice for those seeking a private pool beach villa in Langkawi which is closer to the vibrant attractions of the island.
Situated just a short drive away from the bustling Pantai Cenang beach, guests have easy access to a wide range of dining, shopping, and recreational options.
The private pool options at La Villa Langkawi are particularly impressive. Guests can choose between one-bedroom villas with either a regular yet satisfactory pool or a deluxe private pool.
Each villa is beautifully designed and features spacious living areas, fully equipped kitchens with stovetops, microwaves, and kettles. The bedrooms are furnished with comfortable king-sized beds.
What sets La Villa apart is its strategic location near Pantai Cenang and the allure of its exquisite villas.
It stands as the sole private pool villa in Langkawi that offers proximity to the vibrant action at Pantai Cenang, making it an excellent choice for those who prefer being near the lively atmosphere.
Price: Starting RM563 ($102) per night
Location: Jalan Pantai Tengah, Pantai Tengah, 07000 Langkawi, Malaysia
7. Hotel in Langkawi with Private Pool – The Westin Langkawi Resort & Spa [Review]
Experience a revitalizing escape at The Westin Langkawi Resort & Spa, a Langkawi 5 star hotel with private pool where you can enjoy the luxury of four outdoor pools, six dining options, and a recreation center.
This beachfront property provides a relaxing stay with free WiFi in all rooms, as well as complimentary parking for guests.
Step into elegant rooms adorned with modern interiors and calming tones, each thoughtfully appointed with amenities such as a plasma TV, minibar, and turndown service.
The contemporary en-suite bathrooms feature glass-frosted rainshowers and luxurious toiletries, offering a touch of indulgence. Some units even boast a private balcony and pool for added exclusivity.
Satisfy your culinary cravings at Tide, where you can relish casual dining and a variety of fresh seafood, or visit Seasonal Tastes Restaurant for a healthy eating experience.
For light snacks and refreshing drinks, unwind at Breeze Lounge or Splash, the poolside bar. Private dining arrangements can also be made upon request, ensuring a personalized dining experience.
Engage in recreational activities at the center, whether it's a friendly game of pool or an energetic round of squash. The tour desk is available to assist you in organizing bike tours or island hopping adventures, allowing you to explore the wonders of Langkawi.
Adults can partake in morning yoga sessions, while children can enjoy beach exploration through the kids' program.
Conveniently located, The Westin Langkawi Resort & Spa is just 1.8 km away from Langkawi Fair Shopping Mall and 1.1 km from Kuah Jetty. Langkawi International Airport is a mere 20 km from the resort, ensuring a hassle-free journey.
Price: Starts at RM1,073 ($229) per night
Location: Jalan Pantai Dato Syed Omar, 07000 Kuah, Langkawi, Malaysia 
Why You Should Stay in a Hotel in Langkawi with Private Pool?
Staying in a hotel in Langkawi with a private pool offers a host of compelling reasons to enhance your stay.
Firstly, it grants you the luxury of having your own exclusive swimming space, providing ultimate relaxation and convenience. You can take a dip whenever you please, without sharing the pool with other guests.
Privacy is another enticing aspect of a hotel with a private pool. You can enjoy intimate moments and peaceful solitude without the presence of strangers. It's your personal sanctuary where you can unwind and create lasting memories with loved ones.
Beyond the allure of exclusivity and privacy, a private pool adds an element of luxury and sophistication to your accommodation. It becomes a focal point of indulgence, elevating your overall experience to new heights.
Whether you're lounging by the poolside or taking a refreshing swim, the private pool offers a sense of opulence and tranquility.
In conclusion, opting for a hotel in Langkawi with a private pool provides an unparalleled level of relaxation, privacy, and luxury. It's a worthwhile choice that allows you to enjoy a personalized, serene, and elevated vacation experience.
FAQ
Can I expect a high level of privacy with the private pool facilities?
Yes, these villas and hotels prioritize privacy. The private pools are designed to offer a secluded and exclusive experience for guests.
Are these accommodations suitable for families with children?
Yes, many of these villas and hotels cater to families and offer family-friendly amenities alongside private pool facilities. It is recommended to check with the accommodation regarding their specific family-oriented services and facilities.
Are there additional recreational facilities available apart from the private pools?
Some accommodations may offer additional recreational facilities such as spa services, fitness centers, or access to nearby beach clubs. The availability of these facilities can vary, so it is recommended to inquire directly with the accommodation.
Are meals included in the stay at these accommodations?
The inclusion of meals may vary depending on the accommodation. Some may offer meal packages or on-site dining options, while others may operate on a room-only basis. It is advisable to check with the accommodation for their specific dining arrangements.
Enjoy Your Stay at the Best Hotel in Langkawi with Private Pool
In conclusion, Langkawi offers a selection of top-notch villas and hotels with private pool facilities, allowing guests to enjoy a luxurious and exclusive experience.
Whether you're seeking relaxation, privacy, or family-friendly accommodations, there are options available to cater to diverse preferences.
It is advisable to research and book in advance to secure the desired private pool accommodation to ensure a memorable and indulgent stay in Langkawi.
Read Next: