Looking for the best budget hotel in Ipoh? Then check out these top-notch yet affordable & cheap hotels in Ipoh to save money while traveling!!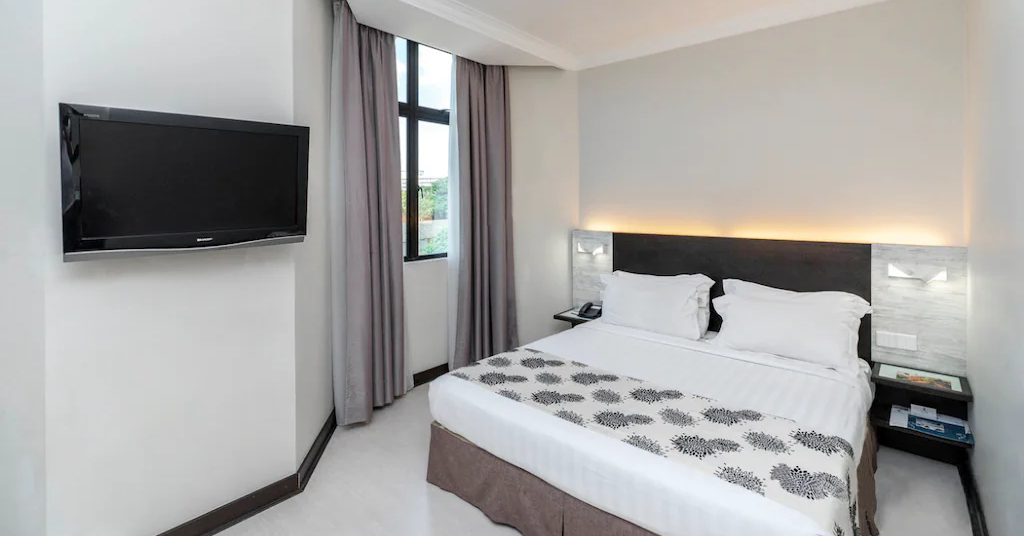 Looking to explore the beauty of Ipoh without breaking the bank? Well, you're in luck! Today, I'm here to introduce you to the absolute best budget hotels in Ipoh.
Whether you're a solo adventurer, a group of friends, or a family seeking an affordable getaway, these budget hotels in Ipoh have got you covered.
Remember, folks, when it comes to budget hotels in Ipoh, you don't have to compromise on comfort or style. These fantastic options prove that affordable accommodations can still provide a memorable and enjoyable experience.
So pack your bags, hit the road, and get ready to embark on an amazing budget-friendly adventure in the breathtaking Ipoh!
Top 13 Best Budget Hotels in Ipoh: Cheap & Affordable!
Without further ado, here are some of the best budget hotels in Ipoh that are sure to satisfy you!
1. Budget Hotel in Ipoh – Sojourn Guest House [Review]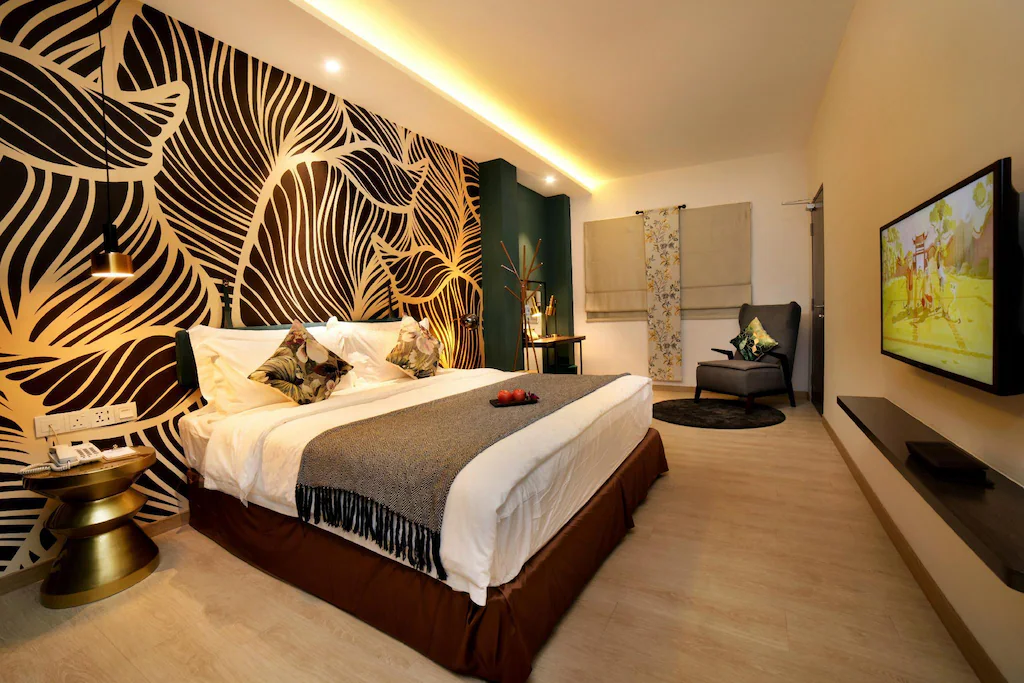 Nestled in the heart of Ipoh's charm, Sojourn Guest House Ipoh harmoniously blends soothing pastel tones with warm wooden floors, creating an ambiance that beckons.
Their offerings encompass a diverse range of facilities and services, from dining and spa experiences to complimentary private parking, attentive room service, and personalized concierge assistance. Inside the accommodations, you'll discover essential amenities like air conditioning, a comfortable seating area, a flat-screen TV, and more.
Secluded tranquility defines Sojourn Guest House Ipoh, with secure private parking thoughtfully integrated into their well-maintained premises.
Should you be traveling by car, Ipoh Old Town is a short drive away, easily reachable within under 10 minutes. For a moment of indulgence, explore the shared Herbalife facial center, a hidden retreat on the property.
Distinctive features that stand out include exceptional value, ensuring a fulfilling stay, considerate details in the room for added comfort, a serene ambiance fostering relaxation, engaging interior design that captures the senses, spacious rooms offering ample comfort, and a convenient location for effortless exploration.
The hotel lounge offers an array of tea choices and refreshing Coway water, each floor hosting a communal pantry to cater to your needs, and the convenience of onsite dining at Mama Kim restaurant, adding a flavorful touch to your stay.
Price: Starts at RM160
Location: No.145, Jalan Sultan Abdul Jalil, Greentown, 30450 Ipoh City, Ipoh, Malaysia
2. Budget Hotel in Ipoh – Ban Loong Hotel [Review]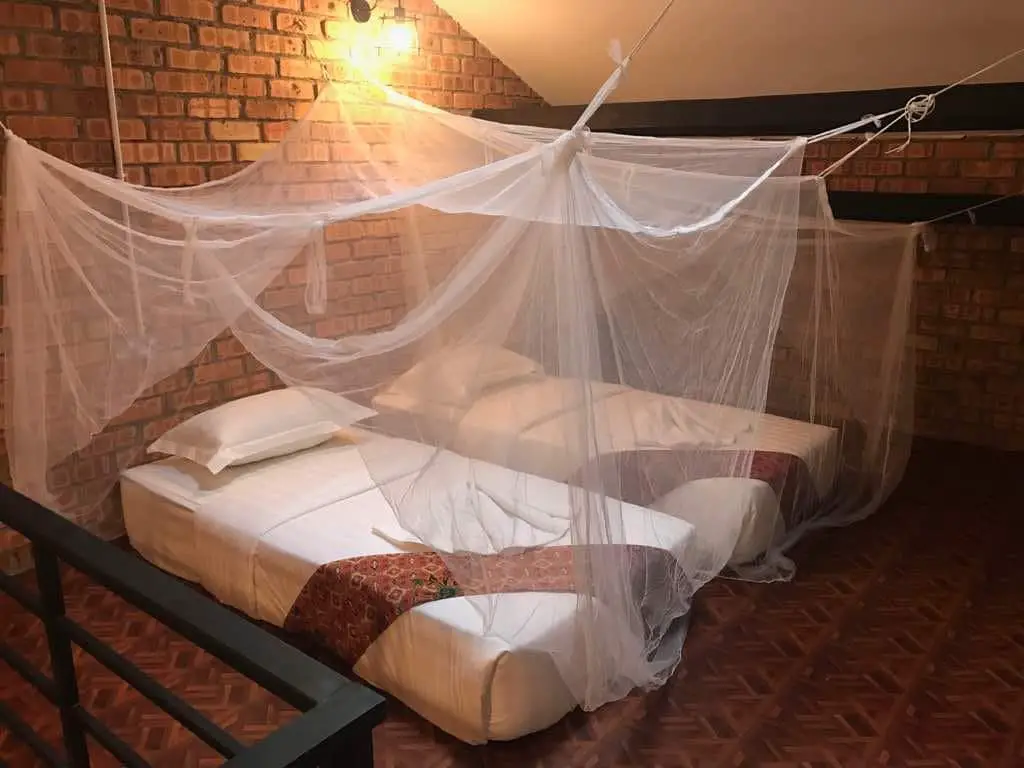 Nestled at the heart of Ipoh, Ban Loong Hotel enjoys a prime location, perfectly suited for budget-conscious travelers seeking proximity to Ipoh's lively scene. The rooms, though modest, exude brightness and cleanliness.
Alongside air-conditioning and a seating area, the rooms offer more than expected. The hotel offers conveniences such as a shared lounge, complimentary Wi-Fi throughout, and even free private parking, alongside street parking options.
One of the highlights for me was the hotel's favorable proximity, making attractions and eateries easily accessible by foot.
The rooms themselves provide ample space, ensuring comfort during the stay. Moreover, the staff's accommodating nature contributes positively to the overall experience.
Price: Starts at RM120
Location: 51 Leech Street, 30000 Kampung Kuchai, Ipoh, Perak Malaysia
3. Budget Hotel in Ipoh – The Tudor [Review]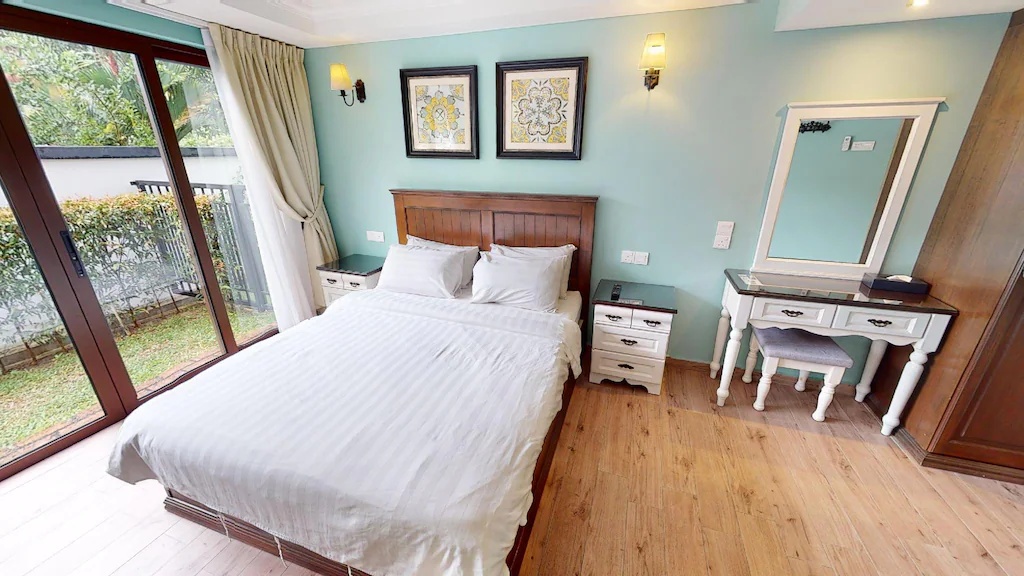 The Tudor, a charming budget hotel housed within a grand colonial-style bungalow, exudes a delightful British decor and ambiance. Just a brief 6-minute drive from the city, it conveniently sits a stone's throw away from the Ipoh Parade shopping mall, fine dining establishments, and other shopping centers.
The air-conditioned accommodations offer complimentary Wi-Fi, a flat-screen TV, a fridge, and a private bathroom with a bidet, while certain rooms feature a garden-view patio. The hotel goes the extra mile by providing free private parking, ensuring a hassle-free stay.
Here, tranquility guarantees a restful night's sleep, while ample photo opportunities are an added bonus. What you'll appreciate are the meticulously maintained, tastefully furnished spacious rooms, complemented by lovely window views. A secure parking space adds to the convenience, further enhancing the peaceful atmosphere. The attentive service seals the deal, creating an all-around excellent experience.
Helpful to note, The Tudor is conveniently located near DR Seenivasaram Recreation Park and is a mere 8-minute drive from Gunung Lang Recreational Park. However, please be aware that breakfast is not offered at this establishment.
Price: Starts at RM180
Location: 2 Persiaran Anderson (Persiaran Raja Musa Aziz), Ipoh City, 30300 Ipoh, Malaysia
4. Budget Hotel in Ipoh – De Cafe & Rest House [Review]
Nestled in the heart of Ipoh, De Cafe & Rest House warmly welcomes budget-conscious backpackers seeking excellent value.
Just a short stroll from Ipoh Old Town, this inviting haven features snug dormitories and communal spaces that foster connections. Adding to the vibrant atmosphere, the establishment houses a popular café where social interactions flourish.
Balancing comfort and convenience, De Cafe & Rest House offers air-conditioned rooms and chic dormitories with individual pods, designed for those traveling on a shoestring budget.
The dining experience showcases an array of delectable Malaysian and Western dishes. Complimentary Wi-Fi coverage spans the property, ensuring seamless connectivity, while luggage storage eases the travel load.
Noteworthy aspects include innovative dorm arrangements that provide enhanced privacy, adaptable power outlets catering to various plug types, and a stylish café serving as a dual-purpose workspace.
The commitment to cleanliness is evident, and the friendly demeanor of the owner and staff contributes to a warm and hospitable ambiance. With an array of food options, a central location, and attentive service, De Cafe & Rest House serves as an ideal base for exploration.
For a seamless stay, keep these insider tips in mind: The café occupies the first floor, while the second and third floors are dedicated to male and female dormitories respectively. During peak seasons, consider planning ahead to manage potential shower queues.
Price: Starts at RM44 for 1 pax
Location: 35, Jalan Sultan Iskandar, 30000 Ipoh, Perak
5. Budget Hotel in Ipoh – French Hotel [Review]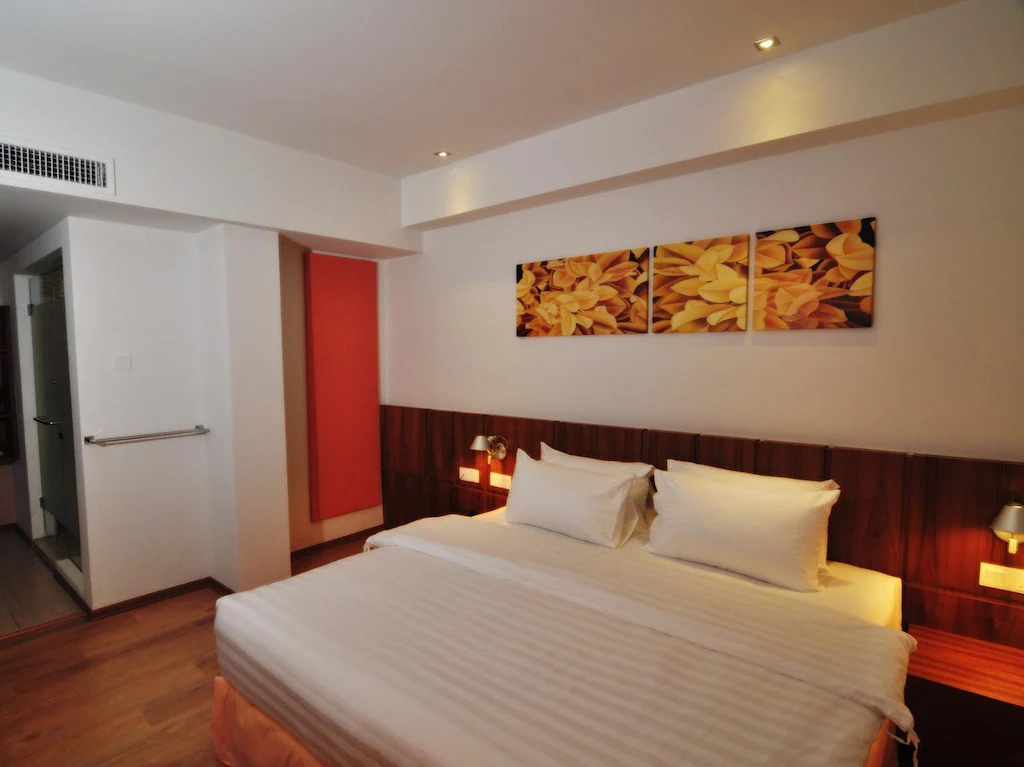 Nestled conveniently for budget-conscious travelers, this affordable Ipoh hotel offers a strategic choice. It is situated just a short walk away from the lively Old Town, granting easy access to Ipoh's prime dining and shopping spots.
French Hotel, though economical akin to an Ipoh backpacker hostel, presents the advantages of a complete hotel experience. With a total of 48 smoke-free guest rooms, adorned with wooden floors and spacious beds, the lodging options encompass superior, deluxe, and super-deluxe selections, featuring twin, queen, or king bed configurations.
Each room at this Ipoh guest house is thoughtfully outfitted with complimentary WiFi, a flat-screen TV, solar-powered showers, bottled water, tea provisions, safes, minifridges, and air-conditioning.
The rooms exude comfort, boasting a modern and minimalist design. The establishment houses an on-site deli restaurant and a charming boutique. While parking amenities are available, it's important to note that the hotel's location is a short distance away from the designated parking area.
French Hotel blends the cost-efficiency of an Ipoh hostel with the privacy and conveniences of a hotel. Its proximity to Old Town ensures seamless exploration, while unique features such as solar-powered showers enhance the overall guest experience. Guests will appreciate convenient access to an array of dining options, complimentary WiFi for seamless connectivity, tranquil, spacious, and tidy rooms, as well as the provision of essential toiletries.
Complimentary guest parking is located approximately 100 meters from the hotel. Additionally, a 24-hour convenience store is conveniently situated nearby. For travelers seeking an economical and secure haven that places them in proximity to the heart of the city, French Hotel stands as an excellent and practical choice.
Price: Starts at RM120
Location: 60, Jalan Datuk Onn Jaafar, Kampung Jawa, 30300 Ipoh, Perak
6. Budget Hotel in Ipoh – Grayhaus SOHO Ipoh [Review]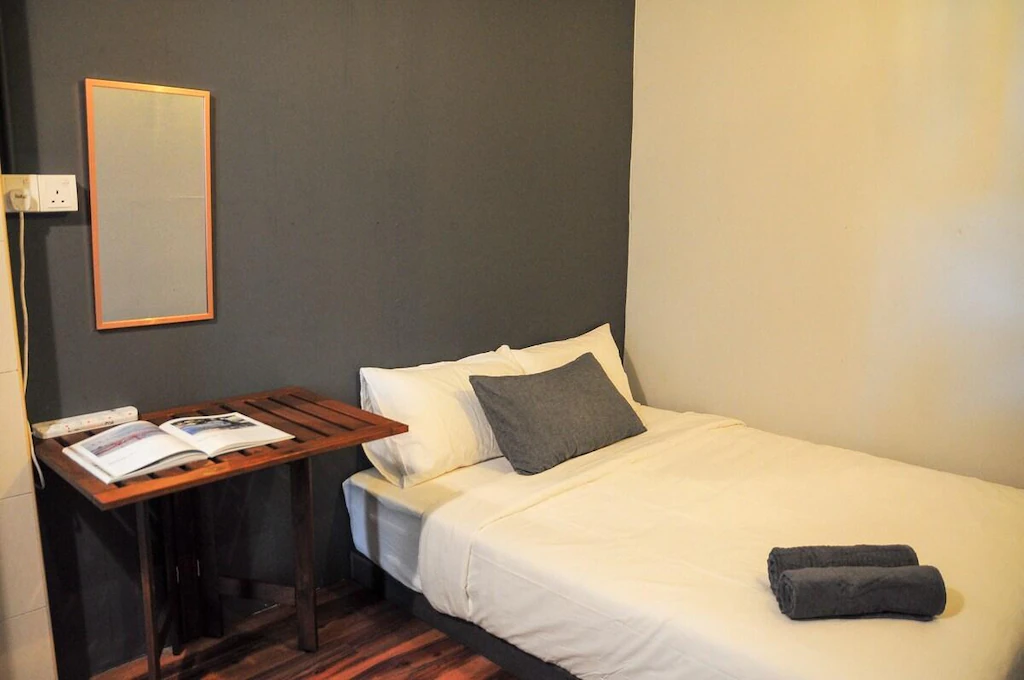 Grayhaus Soho Ipoh emerges as a top contender for budget-conscious travelers seeking a central city stay. Situated in the heart of Ipoh New Town, merely a short distance from Ipoh Parade, this guest house presents charming rooms that seamlessly blend shabby-chic aesthetics with the comforts of a boutique retreat.
Each room, tastefully adorned, offers air-conditioning, with select rooms boasting inviting balconies. The provision of complimentary Wi-Fi throughout the establishment ensures connectivity, and street parking options are available.
During my stay at Grayhaus Soho Ipoh, several aspects stood out and left a positive impression. The hotel's strategic location in the heart of the city facilitated easy exploration, allowing me to conveniently access various attractions and amenities.
The staff members exhibited warmth and attentiveness, making the stay even more pleasant. Moreover, the room provided a well-maintained and adequately equipped space, reflecting their commitment to guest comfort.
While benefiting from its central locale, it's important to note that staying at Grayhaus Soho Ipoh may expose guests to urban sounds and limited parking availability. However, if these factors do not pose significant concerns, the guest house emerges as an attractive choice for those seeking an economical yet comfortable stay within the city center.
Price: Starts at RM80
Location: 119 Jalan Sultan Idris Shah, Kampung Jawa, 30000 Ipoh, Malaysia
7. Budget Hotel in Ipoh – D Eastern Hotel [Review]
Nestled within a short stroll from Ipoh New Town, D Eastern Hotel offers convenience and accessibility to city attractions. A mere 8-minute walk leads to the renowned Restoran Tauge Ayam Lou Wong, embodying their strategic location.
The highlights that capture attention encompass their spacious and meticulously maintained rooms, thoughtfully furnished for a comfortable stay. Notably, their family rooms stand out, providing ample space for a cozy retreat.
Additionally, the hotel's favorable proximity to both Ipoh Old Town and Ipoh New Town ensures an array of culinary and cultural experiences at your doorstep.
Ensuring a hassle-free stay, D Eastern Hotel extends the convenience of a private car park, enhancing the overall experience. The affable and helpful demeanor of the staff adds a welcoming touch, further elevating the quality of your stay.
While reveling in the benefits of their prime location, it's worth considering that some noise may permeate due to its adjacency to a main road. The hotel's positioning, though, allows for easy access to renowned dining establishments and biscuit shops. Additionally, the presence of a lift simplifies mobility for guests.
Price: Starts at RM98
Location: 118, Jalan Sultan Idris Shah, 30000 Ipoh, Perak
8. Budget Hotel in Ipoh – M Boutique Hotel [Review]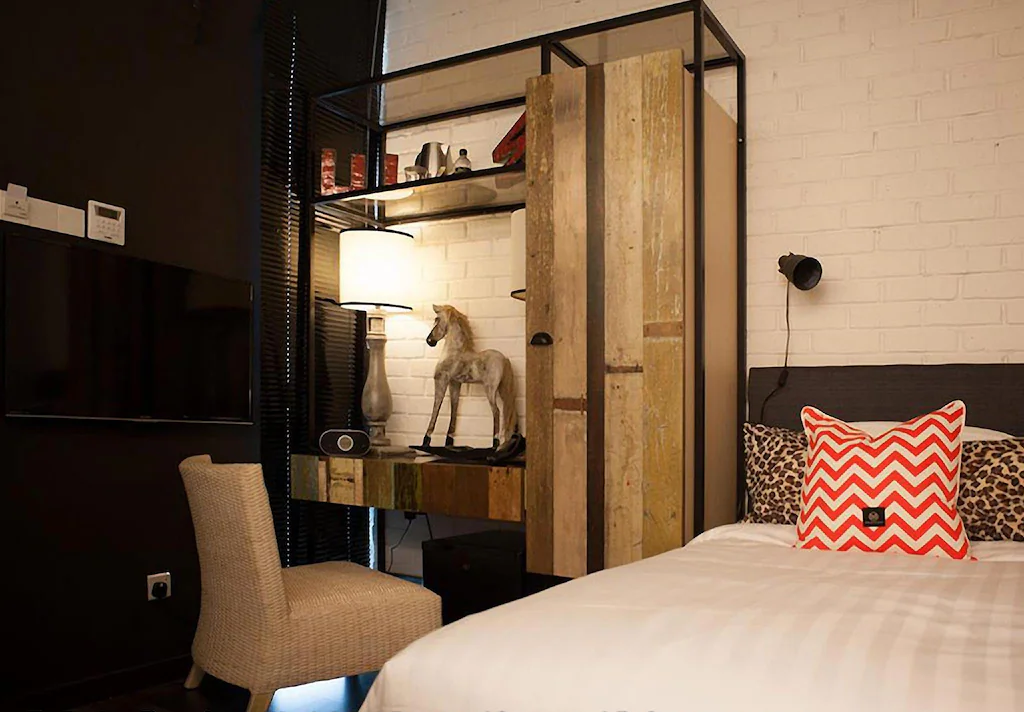 M Boutique Hotel stands out as a savvy choice for budget-conscious travelers seeking quality accommodation in Ipoh. Situated south of Old Town, this hotel offers an attractive blend of modern and vintage interior décor that adds a unique touch to your stay.
Boasting an array of inviting suites and standard rooms, M Boutique Hotel caters to various preferences. The premiere rooms and suites create a charming ambiance suitable for romantic escapes, while family rooms provide additional space and comfort. Free WiFi and air-conditioning are standard amenities in all rooms, ensuring a comfortable experience.
Beyond accommodations, M Boutique Hotel extends its offerings to include a self-service laundry, a 24-hour gym, a boutique store, a bar, and a coffee shop, providing convenience and variety under one roof. The hotel's design theme pays homage to the architectural heritage of historical Malaya, evoking a sense of nostalgia and cultural appreciation.
Among the notable features, the hotel's aesthetically pleasing rooms and convenient private car park at the back enhance the overall experience. Its prime location allows for easy exploration of popular attractions within walking distance, offering a glimpse into Ipoh's vibrant scene.
However, it's worth noting that standard rooms lack windows, which may potentially affect those who prefer a more open ambiance. Despite this, M Boutique Hotel remains a compelling and affordable choice for an enriching stay in Ipoh.
Price: Starts at RM160
Location: 2, Hala Datuk 5, Kampung Kuchai, Ipoh
9. Budget Hotel in Ipoh – MÙ Hotel [Review]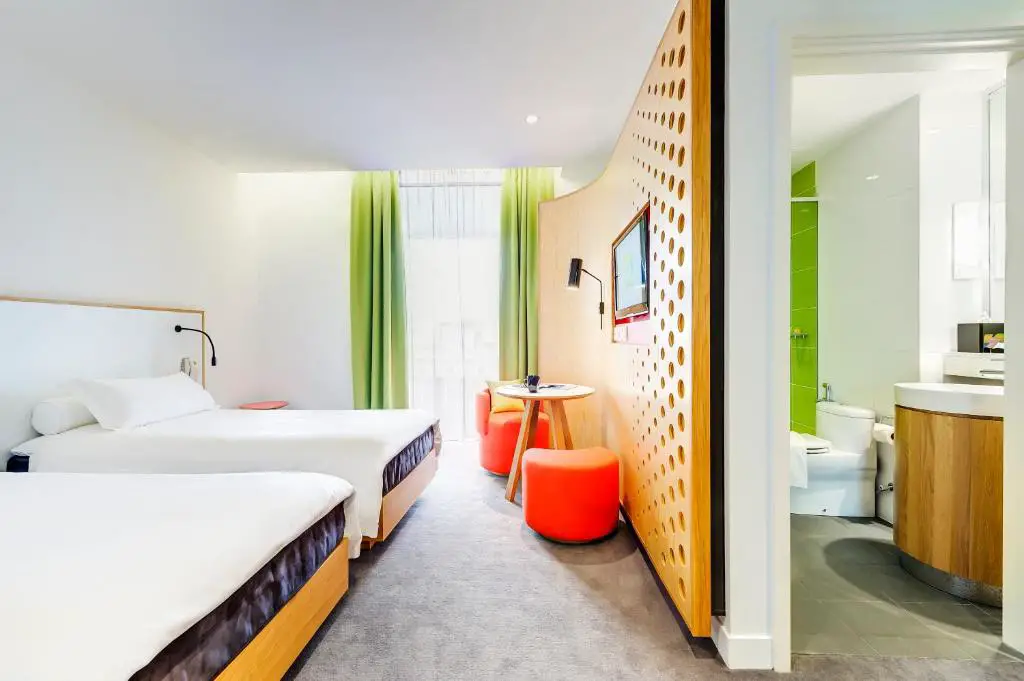 MU Hotel Ipoh offers excellent value for your budget. Positioned near Ipoh Parade mall and surrounded by a variety of eateries and souvenir shops in Ipoh New Town, their prime location ensures convenience.
This budget-friendly option boasts a compact gym for those interested in staying active during their stay. Beyond that, MU Hotel Ipoh presents an array of appealing features. Guests can indulge in a satisfying breakfast that includes both Malay and Western cuisine, served by their attentive staff.
The hotel's advantages extend to its proximity to Ipoh Parade Mall, robust Wi-Fi connectivity, and easy access to renowned eateries in the old town area. The comfort of their beds and the option to unwind at the rooftop bar further enhance the overall experience.
Travelers will appreciate the provision of in-room coffee-making facilities, an ironing board, and iron. MU Hotel Ipoh also offers a free shuttle service to Ipoh old town, ensuring convenient exploration. Additionally, their range of room options caters to diverse preferences.
The presence of a small gym adds to the hotel's offerings, catering to guests seeking to maintain their fitness routine. With a blend of thoughtful amenities and a strategic location, MU Hotel Ipoh presents an enticing choice for a fulfilling stay.
Price: Starts at RM175
Location: 18, Jalan Chung On Siew, Taman Jubilee, 30250 Ipoh, Perak
10. Budget Hotel in Ipoh – M Boutique Hotel Station 18 [Review]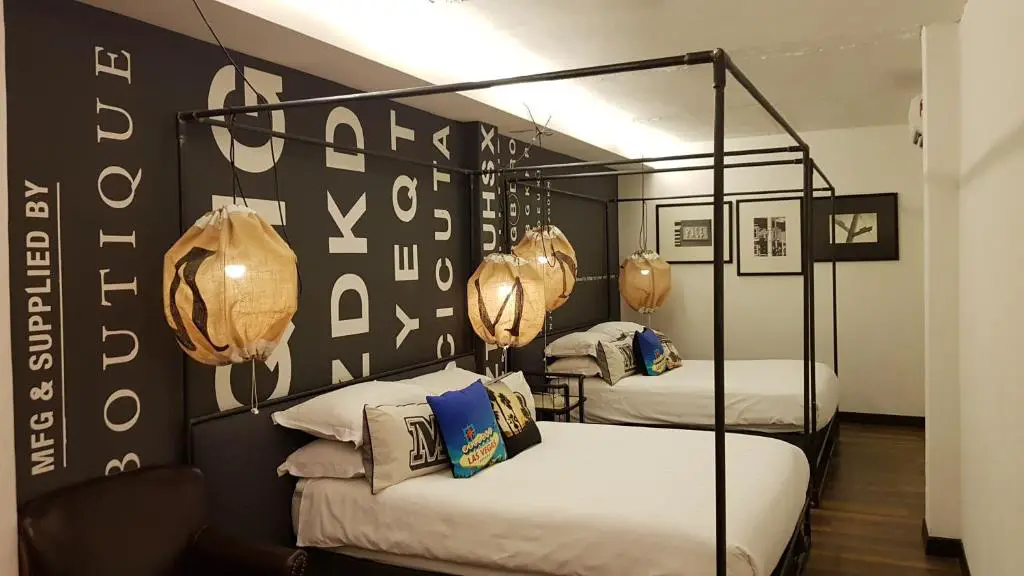 M Boutique Hotel Station 18 distinguishes itself in Ipoh's budget hotel scene with its distinctive and contemporary decor, offering modern and well-appointed rooms. These rooms are equipped with essential amenities such as air-conditioning, a mini-bar, and complimentary Wi-Fi, complemented by convenient services like round-the-clock front desk assistance, room service, and daily housekeeping. Additionally, guests can enjoy meals at the hotel's restaurant and make use of the provided free private parking.
What stood out for me during my stay were the cleanliness and spaciousness of the accommodations, ensuring a comfortable experience. The staff's friendly and accommodating nature added a pleasant touch to the overall stay. Notably, the hotel's strategic location grants easy access to various shops and dining establishments, contributing to a convenient and enjoyable visit. The availability of ample free parking space further eased any travel concerns.
However, it's worth mentioning that breakfast service is not provided at the hotel, and its slightly removed location from the town center might be a consideration for some. Despite this, M Boutique Hotel Station 18 emerges as an ideal choice, especially for travelers with vehicles seeking a unique and tranquil haven that remains well-connected to the heart of the town.
Price: Starts at RM160
Location: No 15-23, Jalan Pengkalan Barat 35, Taman Pengkalan Jaya (Station 18), Ipoh City, 31650 Ipoh, Malaysia
11. Budget Hotel in Ipoh – Symphony Suites Hotel [Review]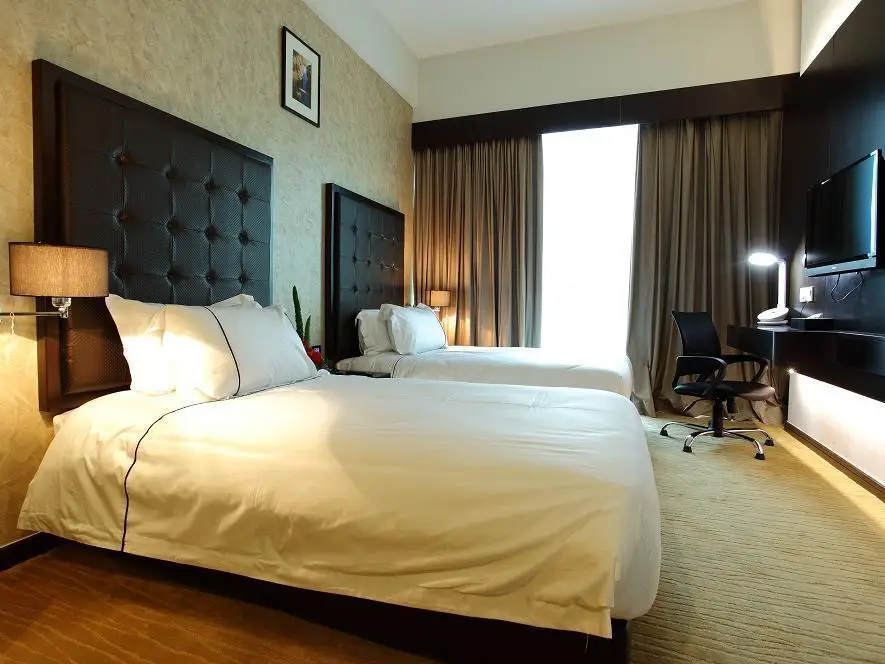 At this budget-friendly Ipoh hotel, a satisfying breakfast awaits each morning, complemented by its proximity to nearby cave temples—Kek Lok Tong and Sam Poh Tong are within easy driving distances of 12 and 5 minutes respectively.
One of the standout features of this hotel is its convenient location near the airport and the Leburaya Utara-Selatan, making it an excellent choice for travelers seeking accessibility. The breakfast service, offered buffet-style, provides a simple yet satisfying start to the day, with the added benefit of being included in the stay.
The accommodations boast spacious rooms, offering ample comfort during your visit. Additionally, the presence of bathtubs in some rooms adds a touch of luxury and relaxation to the stay. For guests arriving with vehicles, the hotel provides the advantage of free secure and covered parking facilities.
In essence, this budget hotel in Ipoh strikes a balance between comfort and accessibility, offering a satisfying breakfast, spacious rooms, and the convenience of nearby cave temples—an ideal choice for those looking to explore and experience the city's attractions.
Price: Starts at RM170
Location: No 41, Lapangan Symphony Business Park, Jalan Lapangan Symphony, 31350 Ipoh, Perak
12. Budget Hotel in Ipoh – Regalodge Hotel [Review]
Regalodge, nestled in Ipoh's New Town, offers convenient access to the city's vibrant dining and nightlife scene, with a brief 10-minute taxi ride connecting you to the Ipoh railway station.
A variety of room choices awaits at Regalodge, ranging from standard twin/queen options to premium, superior, and deluxe selections. The hotel's distinct room styles, encompassing contemporary, colorful, and classic designs, cater to diverse preferences. Despite some dated aesthetics, the rooms are well-maintained and ensure a clean environment.
The standard rooms feature a lively and colorful theme, housing twin beds within their compact layout. Amenities such as WiFi, a kettle, minifridge, flatscreen TV, air-conditioning, a safe, hair dryer, and toiletries are thoughtfully provided. Additionally, breakfast with multiple options is included.
The in-house Limestone's Restaurant offers a range of dining choices, while a spa facility on the first floor invites guests to indulge in relaxation.
In summary, Regalodge offers a clean and budget-friendly stay, delivering exceptional value for your money. Its strategic location allows for easy exploration of Ipoh's attractions, although occasional slow WiFi speeds may be encountered.
Price: Starts at RM165
Location: 131, Jalan Raja Ekram, Perak, Ipoh City, 30450 Ipoh, Perak, Malaysia
13. Budget Hotel in Ipoh – Merton Hotel Ipoh [Review]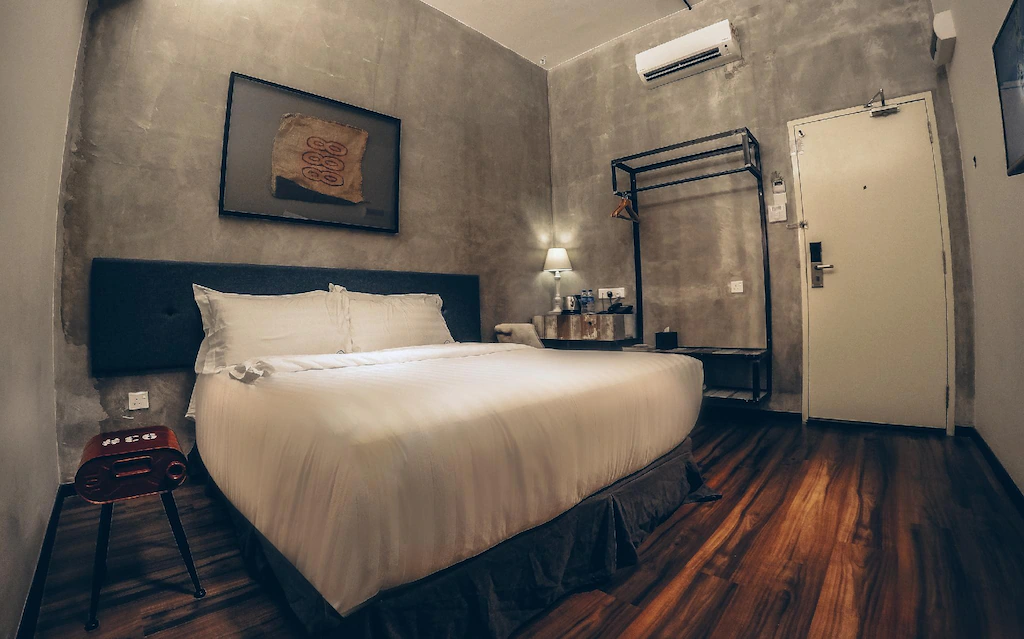 Merton Hotel offers uniquely furnished rooms, showcasing a creative use of recycled materials in their design.
The hotel provides attractive features such as appealing furnishings, the convenience of an available elevator, coffee and tea making facilities, a safe box, a full range of toiletries, and a hairdryer in each room. The accommodations are characterized by their modern and clean design, and the staff is friendly and accommodating. Complimentary parking is also available for guests.
It's important to note that breakfast is not included with the stay. Additionally, the hotel's location is a short 10-minute drive away from the Ipoh town center. While the walls may be thinner than expected, the Wi-Fi connection is reliable. With a variety of room options available, guests can choose according to their preferences.
Price: Starts at RM120
Location: 25, Jalan Lapangan Symphony, Symphony Business Park, Ipoh City, 31350 Ipoh, Malaysia
Why You Should Stay in a Budget Hotel in Ipoh?
Staying in a budget hotel in Ipoh is a smart move that puts your wallet and experience in perfect harmony.
With cost-effective options, you'll unlock the chance to explore more, savor local cuisine, and immerse yourself in the heart of this vibrant city. Say goodbye to unnecessary expenses and hello to affordable comfort.
Opting for a budget hotel doesn't mean compromising on quality. These hotels provide clean and comfortable rooms, ensuring a good night's sleep after a day of adventures. Plus, you'll have extra funds to savor Ipoh's renowned culinary scene, indulging in mouthwatering street food and traditional dishes.
By choosing a budget-friendly stay, you free up your budget for sightseeing, shopping, and creating lasting memories. Experience the cultural richness of Ipoh, from its historic landmarks to bustling markets, all while keeping your expenses in check.
Whether you're a backpacker seeking value or a savvy traveler aiming to make the most of your trip, a budget hotel in Ipoh is the way to go.
FAQ for Budget Hotels in Ipoh
Are budget hotels in Ipoh comfortable and clean?
Absolutely, these budget hotels offer clean and comfortable rooms, ensuring a pleasant stay without breaking the bank.
Do budget hotels in Ipoh provide essential amenities?
Yes, budget hotels provide essential amenities such as free Wi-Fi, toiletries, and air-conditioning to ensure a convenient and enjoyable stay.
Are budget hotels in Ipoh located near popular attractions?
Many budget hotels are strategically located, offering easy access to popular attractions, local markets, and delicious dining options.
Do budget hotels offer parking facilities?
Most budget hotels provide free parking facilities, allowing you to explore Ipoh conveniently, even if you have your own transportation.
Are there family-friendly budget hotels in Ipoh?
Absolutely, some budget hotels offer family rooms and amenities, making them suitable for travelers with children.
Is breakfast included in the budget hotel stay?
While some budget hotels offer breakfast options, it's best to check with the specific hotel to confirm if breakfast is included.
Enjoy Your Stay at the Best Budget Hotel in Ipoh!
In conclusion, when it comes to finding the best budget hotels in Ipoh, you're in for a practical and enjoyable experience.
These budget-friendly accommodations offer clean and comfortable rooms, equipped with essential amenities to make your stay convenient. With strategic locations near popular attractions and friendly staff, you can explore Ipoh without hassle.
Whether you're a solo traveler, a family on a budget, or simply looking for a comfortable place to rest, these budget hotels provide a reliable and affordable option.
So, get ready to discover the charm of Ipoh without breaking the bank – your wallet and comfort both in check.
Read Next: