Looking for the best book café in Klang Valley? Here're the top book cafes in KL & Selangor that are cozy and quiet for reading, study & work!!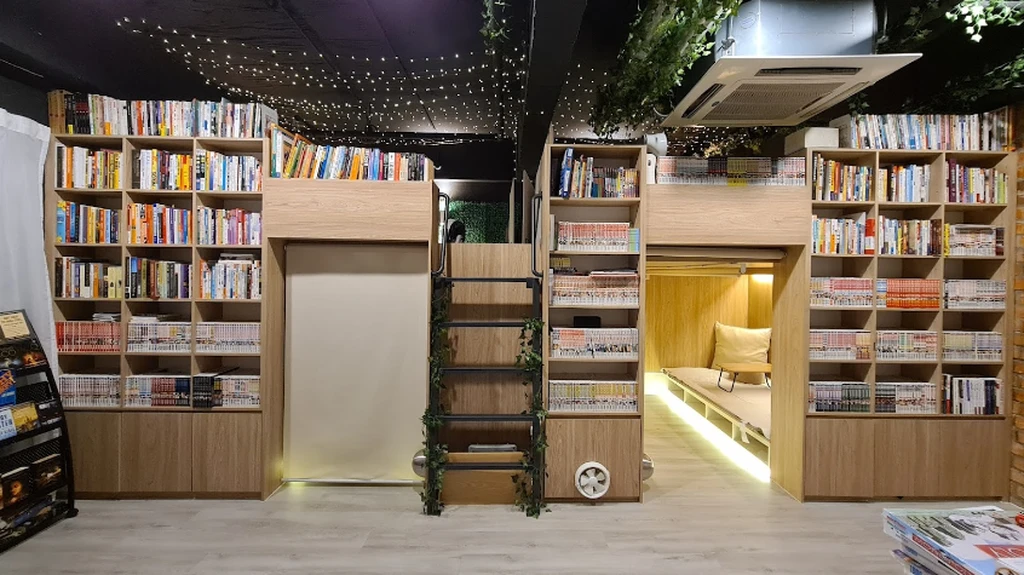 Welcome to the awesome book cafes in KL and Selangor! These cozy corners are where books meet your coffee cravings, creating the perfect blend of reading and sipping in the heart of Malaysia. It's time to discover some of the best spots where you can lose yourself in the pages of a good book while savoring your favorite brew.
In these book cafes, you'll find the soothing aroma of freshly brewed coffee and shelves stacked with a diverse collection of reads. It's a haven for bookworms and coffee enthusiasts alike. Whether you're a solo explorer looking for a quiet escape or a group of friends searching for a relaxing hangout, these book cafes have got you covered.
So, if you're ready to embark on a literary journey fueled by the warmth of your favorite drink, join us as we explore the best book cafes in KL and Selangor. Grab a book, order your coffee, and let the pages transport you to new worlds while you bask in the cozy ambiance of these unique cafes.
Take Note:
Malaysia is Hot & Sunny! Don't go outside without Sunscreen!
Don't Miss Out These:
Top 10 Book Cafes in KL & Selangor for Reading, Study & Work
Without further ado, here are some of the best book cafes in KL & Selangor. Let's check them out now!
1. Book Café in Selangor – Bukku Cafe [Review]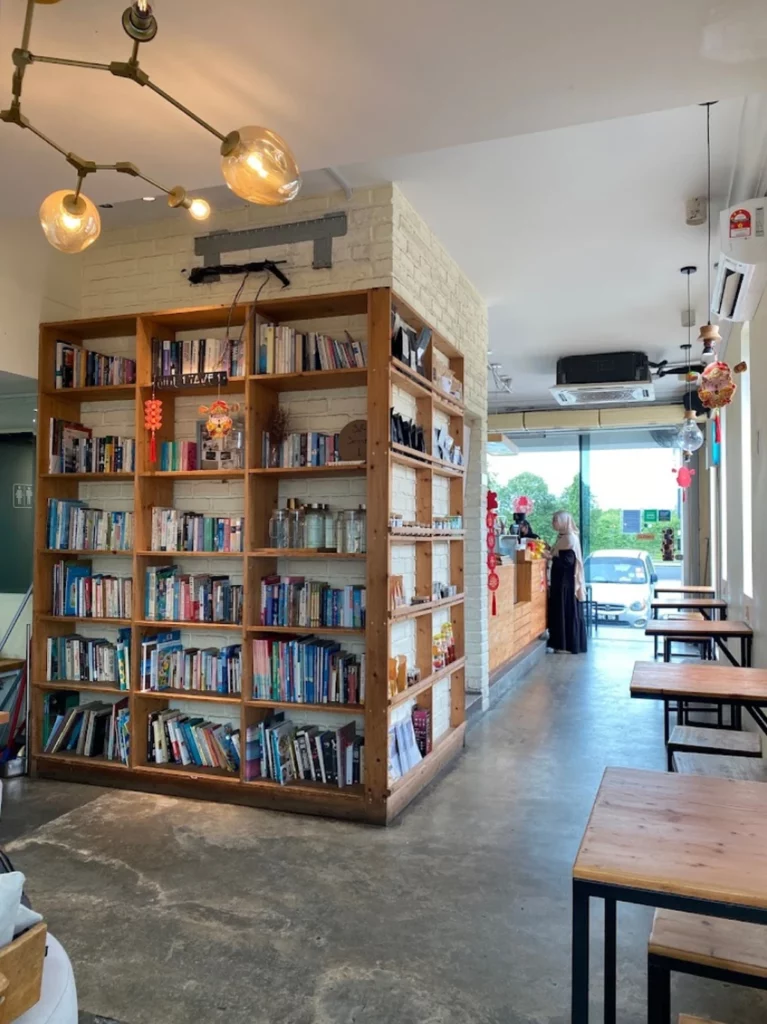 This book cafe in Selangor offers a delightful forest-like indoor ambiance where you can relax in air-conditioned comfort. It's the perfect spot for bookworms and those seeking a tranquil reading experience.
Step into this quaint European-style book cafe and you'll discover a treasure trove of English and Chinese novels, Lonely Planet guides, and children's books lining the shelves. But here's the unique twist – if you have books to spare, you can exchange them with those on the cafe's bookshelves located on the first floor, fostering a sense of community among book lovers.
While you immerse yourself in the world of literature, don't forget to savor the cafe's delectable offerings. Bukku Cafe specializes in pastries, desserts, and a range of MSG-free Western dishes. Locals and visitors alike highly recommend their Salted Egg Croissant and Belgium Chocolate Drink, which are simply delightful.
With two levels of cozy indoor seating and an outdoor area reminiscent of a serene park, finding the perfect spot to enjoy your book and a meal is a breeze at Bukku Cafe. Whether you're looking for a chill place to read, a culinary treat, or both, this book cafe has it all.
Address: No.1, Jalan Singgahsana 4A/KU2, Bandar Bukit Raja, 41050 Klang, Selangor
2. Book Café in Selangor – MeTime BookCafe [Review]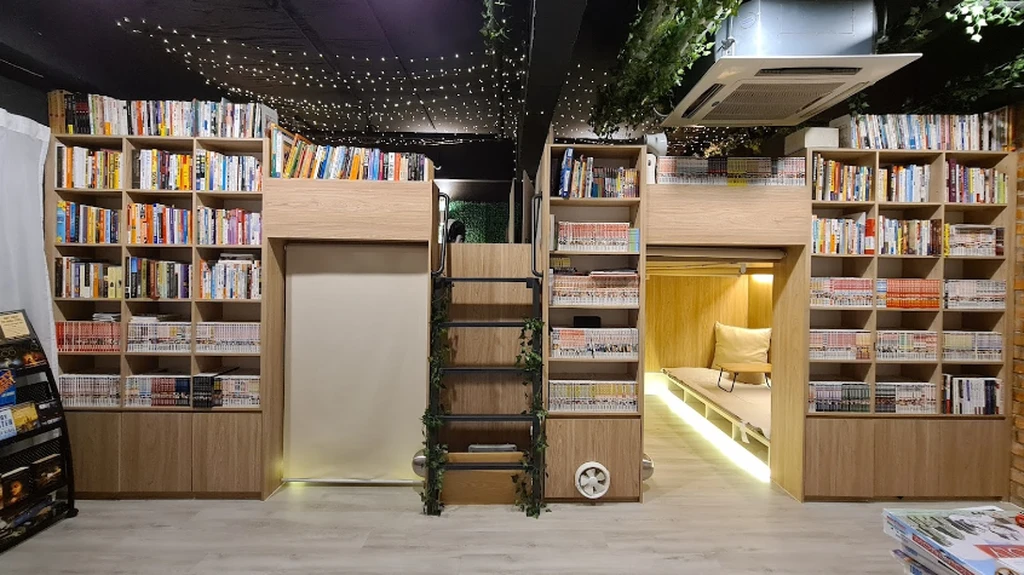 If you're searching for a quiet escape, this book cafe in Petaling Jaya is one of the best book cafes for creating your own Me Time. It offers an intimate and well-cared-for atmosphere, perfect for those seeking a private meeting place or simply some moments of solitude.
While the cafe's main focus is on coffee and tea, they also provide an array of snacks to accompany your beverages. But what truly sets this place apart is its extensive collection of board games and comic books. It's a haven for both coffee enthusiasts and gamers.
The best part? The pricing is incredibly reasonable, considering the excellent service and ambiance. Whether you're looking to dive into a good book, work on your laptop (thanks to the provided WiFi), or engage in card games with friends, this cafe has you covered.
With its cozy and inviting atmosphere, complete with pillows, blankets, bean bags, tables, books, and even shower facilities, it's the perfect spot for those in need of a quiet and relaxing space.
Address: 1.010b ,Level 1, The square, Jaya One, Jln Profesor Diraja Ungku Aziz, Seksyen 13, 46200 Petaling Jaya, Selangor
3. Book Café in Selangor – Pages Book Cafe [Review]
Looking for a calm and peaceful place to unwind in Klang Valley? Look no further than Pages Book Cafe. This cafe is a haven for bookworms in Kuala Lumpur and Petaling Jaya, offering a delightful combination of literature and refreshments.
Established in 2018, Pages Book Cafe provides a cozy atmosphere where you can lose yourself in the pages of a good book. Whether you're into novels or children's books, they've got a good selection to cater to all readers. As you explore the literary treasures, you can enjoy freshly baked sourdough bread, delectable cakes, and a range of smooth coffee drinks.
Speaking of their freshly baked sourdoughs, they are a must-try for bread enthusiasts. And if you're a coffee lover, you'll appreciate the smoothness of their coffee, making it the perfect companion for your reading journey.
Additionally, one of the perks of visiting Pages Book Cafe is the convenience of easy parking.
Address: F-G-43, Taipan Damansara 2, Jalan PJU 1a/3, Ara Damansara, 47301 Petaling Jaya, Selangor
4. Book Café in Selangor – BookXcess The Starling [Review]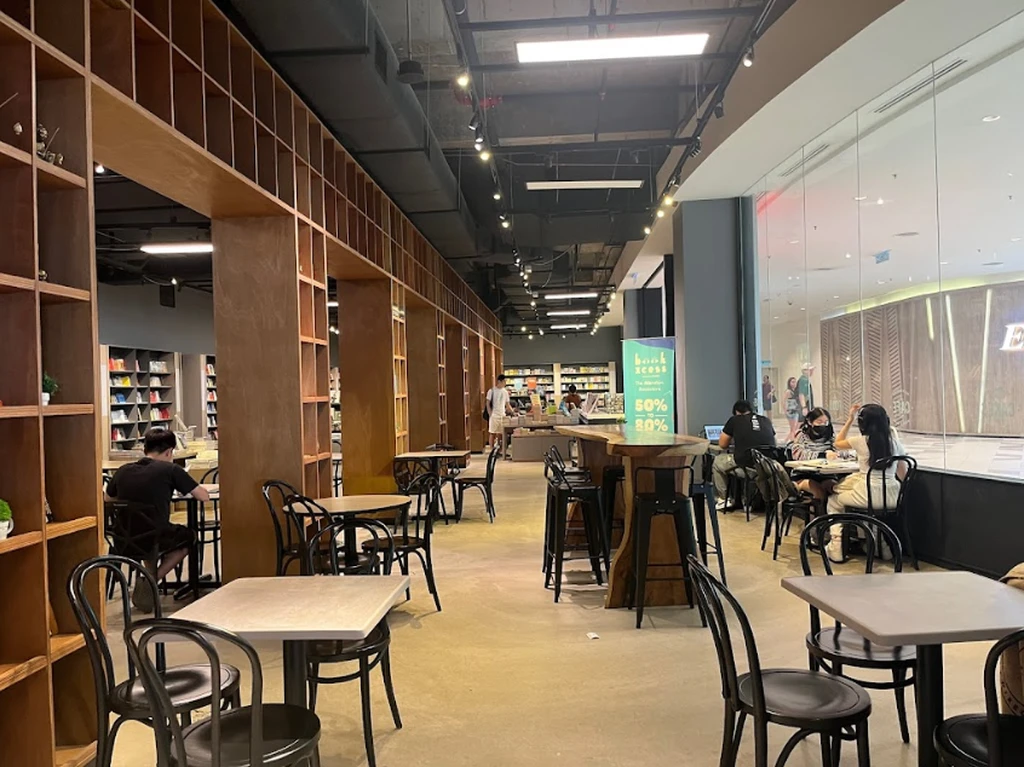 If you're on the lookout for one of the best book cafes in KL & Selangor area, you're in for a treat at this establishment. With a diverse range of books and reasonable prices, it's the ideal spot for book enthusiasts. The atmosphere here is just right for indulging in a good read.
This book cafe in Petaling Jaya isn't just a bookstore; it's a haven for those who appreciate the joy of reading. You can comfortably browse through their vast collection of books, which includes cooking books, comics, fiction, and collectibles. And here's the best part: you can take your chosen book to the cafe area, where you can enjoy a cup of good coffee and a variety of delectable cakes while you delve deeper into your reading.
Speaking of the cafe, it's not just about books; it's also about offering a great coffee experience. The coffee is of high quality, and the cakes are both diverse and affordable.
Address: T-331B, The Starling, 6, Jalan SS 21/23, Damansara Utama, 47400 Petaling Jaya, Selangor
5. Book Café in KL – Jing-Si Books & Cafe [Review]
Looking for a fantastic book cafe in KL? Well, you've just found one! This book café in KL is a gem, especially if you're seeking a serene and peaceful place to hit the books.
It's the go-to spot for those who love a chill and relaxing atmosphere, making it a haven for students and learners alike. The best part? It's incredibly quiet, and people here respect the need for peace and quiet, so you can focus without any disruptions.
When it comes to a conducive study environment, this place has got it all covered. You'll find plenty of sockets to charge your devices, ensuring you stay powered up throughout your study session. Plus, they take cleanliness seriously, with spotless toilets that add to the overall pleasant experience.
The friendly and attentive staff here are the icing on the cake. They create a welcoming atmosphere, making sure your visit is as comfortable as can be. And let's talk about the prices – they're super reasonable, so you won't have to break the bank to enjoy a great reading environment.
While they don't serve food, there's no need to worry. Just make sure to fill your stomach before heading over. And if you're wondering about parking, they've got that covered too with free parking available in the basement area. So, if you're looking for a top-notch book cafe in KL for study, this is the place to be!
Address: Tzu Chi Jing-Si Hall, 359, Jln Kepong, 52000 Kuala Lumpur, Federal Territory of Kuala Lumpur
6. Book Café in Selangor – Lit Books [Review]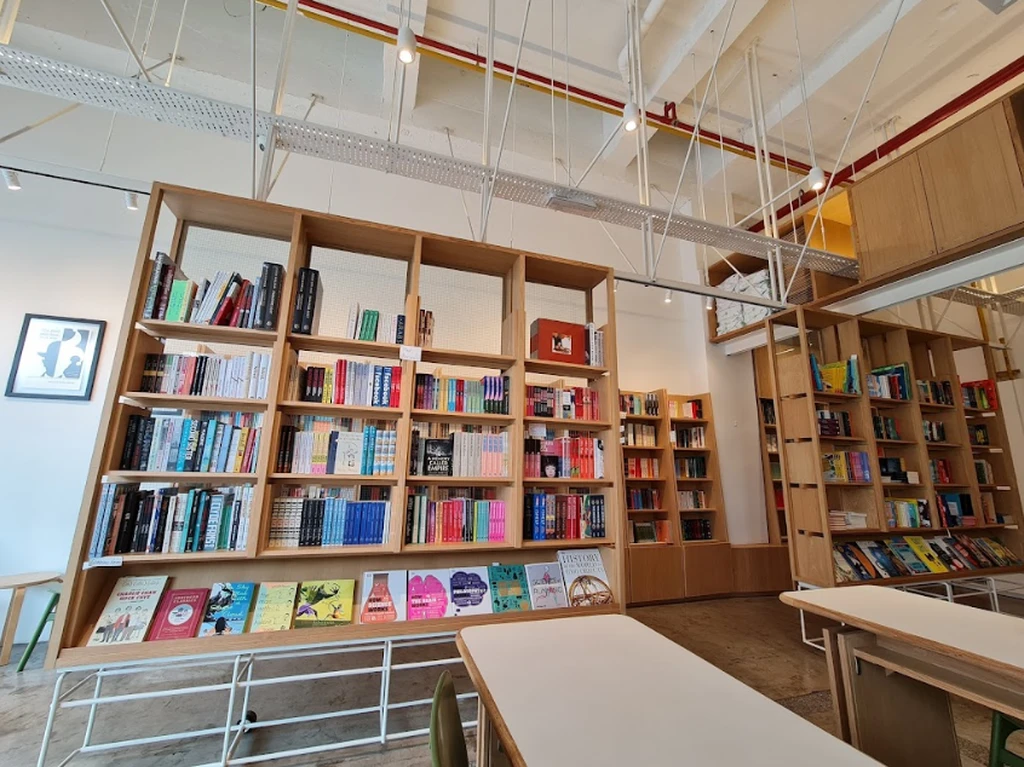 If you're searching for one of the best book cafes in Selangor, look no further than this gem. The cozy ambiance and the treasure trove of amazing books make it a standout spot.
Lit Books is more than just a bookstore; it's an experience crafted by passionate readers. Run by a dedicated couple, their selection of books spans across fiction, nonfiction, children's literature, and literary merchandise, all carefully curated for your perusal. The atmosphere inside is inviting and cozy, and the bookshelves are meticulously organized, making it a joy to explore the titles on display.
What sets Lit Books apart is not just their collection but also the personalized service. The knowledgeable owners are always eager to suggest books tailored to your tastes, ensuring you find your next literary adventure. And if you can't make it to the physical store, their well-maintained website offers an excellent selection that's regularly updated.
Address: P-1-11 Tropicana Avenue, 12, Persiaran Tropicana, 47410 Petaling Jaya, Selangor
7. Book Café in KL & Selangor – First Step Coffee Malaysia [Review]
Looking for an ideal book cafe in KL? Look no further because this KL book cafe has got you covered. It's a fantastic spot to hit the books or get some work done. The cafe itself is quite spacious, and what's really cool is that they've divided each table with bookshelves. This not only adds to the ambiance but also creates a quieter and more private atmosphere for focused study or work.
And guess what? Every table comes with a nearby plug so you can keep your phone or laptop charged up while you're at it. Plus, their coffee is pretty nice too, which is always a bonus.
This cafe goes beyond the typical coffee shop vibe. It's designed with a library concept in mind. You'll find 'private tables' nestled in between bookshelves, offering a good amount of personal space. That means you can reading or work without worrying about your conversations being overheard by someone seated too close. It's a fantastic place to get your study groove on, and they've got reliable Wi-Fi to keep you connected.
The atmosphere here is spot on – it's nice, quiet, and peaceful. Whether you're planning to read, study or work, this cafe provides the perfect backdrop for a productive session. Plus, the environment is super comfortable, and the service is top-notch. So, if you're in the hunt for a KL book cafe with a spacious and private setup, this one is a definite winner.
Address: Jalan Solaris 1, Solaris Mont Kiara, 50480 Kuala Lumpur, Wilayah Persekutuan Kuala Lumpur
8. Book Café in Selangor – The Ink Library Cafe [Review]
If you're seeking a book cafe experience in Selangor that combines the love of literature with a cozy ambiance, Ink Library Cafe fits the bill perfectly. This hidden gem, nestled within Grandeur Labs in the Eco Grandeur development in Puncak Alam, offers a unique setting for book enthusiasts.
While it's true that most of the books here are for display purposes, fear not, for there is a dedicated rack stocked with actual books and magazines. The cafe predominantly features indie English magazines sourced from the US and UK, along with a diverse collection of fiction and coffee-table books in English, Chinese, and Malay. These literary treasures are thoughtfully arranged on aesthetically pleasing bookshelves, creating an inviting atmosphere for readers and learners alike.
The interior of Ink Library Cafe is a delightful blend of charm and comfort. From cute, cozy chairs to the soothing backdrop of calm music, it's an ideal space for diving into a good book or engaging in focused study. If you're someone who needs to work remotely, you'll appreciate the convenience of available plug points at most tables.
In addition to the literary experience, the cafe offers a menu of Western dishes, including pasta, pizza, and burgers, making it a great spot to refuel while immersing yourself in the world of words.
Address: EcoWorld Gallery@Eco Grandeur, 42300 Puncak Alam 6332, B49, 47000 Sungai Buloh, Selangor
9. Book Café in KL – Monalisa Bookstore [Review]
Nestled just outside the Pavilion Bukit Jalil shopping mall, this charming book cafe offers a serene escape for bookworms and relaxation seekers in KL & Selangor. While you'll need to park your car at Pavilion due to limited parking on-site, the cafe itself spans two inviting floors.
Step inside, and you'll be greeted by an elegant and marvelous interior, adorned with ambient lighting that sets a cozy mood. However, it's worth noting that the air conditioning might not be Arctic-level cold.
For book lovers, this place is a treasure trove. The shelves are brimming with an array of interesting books, predominantly in Chinese, with English volumes awaiting discovery on the upper floor.
Need to refuel? No worries. There's a quaint cafe tucked inside, serving up coffee and cakes to satisfy both your intellectual and gastronomic cravings. Plus, you'll find plenty of comfy chairs scattered about, inviting you to unwind and escape into the world of words.
If you're hankering for more than just a literary feast, the cafe also offers a delectable selection of cakes and Japanese cuisine, making it an all-around great spot to indulge in some quality me-time and bid adieu to stress.
Address: F-8-1, PUSAT PERDAGANGAN, Persiaran Jalil 1, Bukit Jalil, 57000 Kuala Lumpur, Wilayah Persekutuan Kuala Lumpur
10. Book Café in KL – Yue Coffee Bar [Review]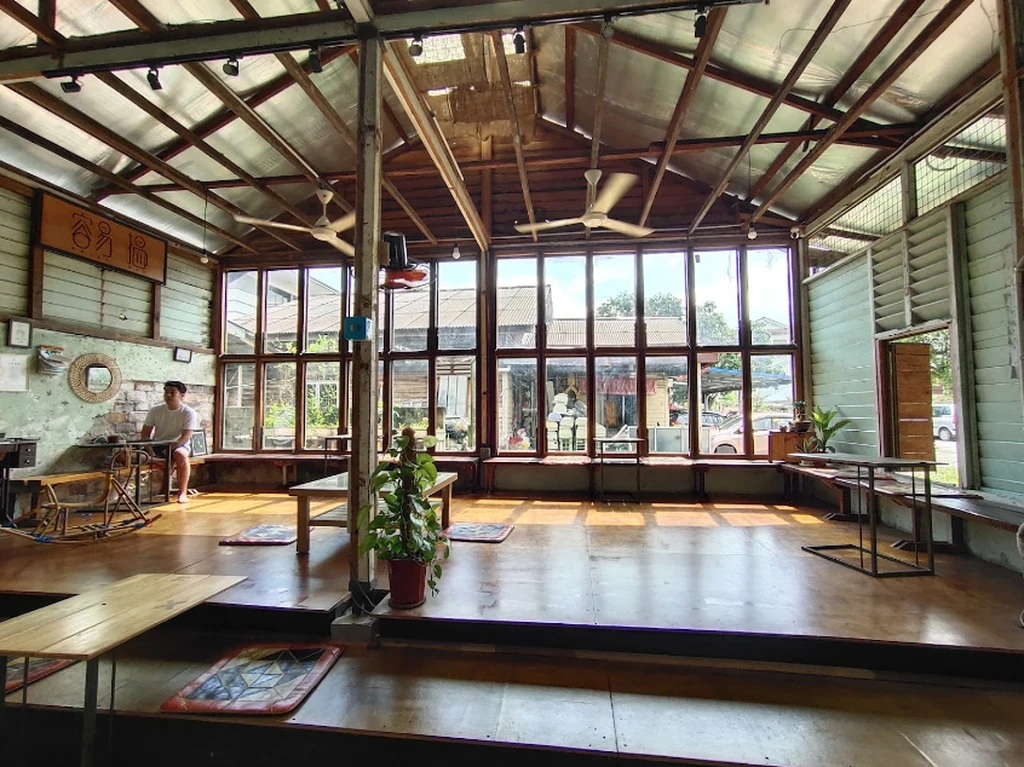 Yue Coffee Bar, nestled in the heart of KL, is a hidden gem that oozes coziness, making it the ultimate spot to unwind with a steaming cup of coffee and a good book. Simplicity reigns in its interior, but the focal point is undoubtedly the stunning coffee bar, where the knowledgeable staff share their coffee expertise.
This KL book cafe isn't just about coffee; it's a serene oasis that invites you to relax and enjoy a cuppa while surrounded by a selection of books. Whether you're a bookworm or just in need of a quiet place to decompress, Yue Coffee Bar has got you covered. You'll find an ample collection of books to dive into, and if you're here to catch up on work, worry not – they've got convenient plug points for your laptop.
In essence, Yue Coffee Bar is a haven for those seeking a beautiful and laid-back cafe experience, complete with a cozy book corner that elevates it to a must-visit spot.
Address: 46a, Jalan Mutiara Barat 6, Taman Taynton View, 56000 Kuala Lumpur, Wilayah Persekutuan Kuala Lumpur
Why Choose a Book Cafe in KL & Selangor?
Choosing a book cafe in KL & Selangor offers a unique and enriching experience that goes beyond the ordinary. Here are some compelling reasons why these cafes are a fantastic choice:
Escape the Daily Grind
KL & Selangor can be bustling and hectic, making it essential to find an oasis of calm. Book cafes provide a serene escape from the urban hustle and bustle, allowing you to unwind and recharge amidst the company of books.
A Haven for Readers
If you're a book enthusiast, these cafes are a dream come true. They offer a curated selection of books that cater to various tastes, from fiction to non-fiction, ensuring there's something for everyone. It's the perfect place to discover new authors and genres.
Fuel for the Mind and Body
Besides books, these cafes serve delightful coffee, tea, and snacks. Imagine sipping on a freshly brewed cup of coffee while immersing yourself in a captivating novel. It's a sensory delight that stimulates both your mind and taste buds.
Inspiring Ambiance
The ambiance in book cafes is carefully crafted to encourage deep reading and relaxation. Comfortable seating, soft lighting, and peaceful surroundings create an atmosphere where you can lose track of time engrossed in a good book.
Work and Study Friendly
Book cafes often provide free Wi-Fi and power outlets, making them ideal for remote work or study sessions. The tranquil setting can enhance productivity and focus.
In conclusion, choosing a book cafe in KL & Selangor is about embracing a lifestyle that celebrates reading, relaxation, and a deeper connection with your surroundings. Whether you seek a peaceful reading nook, a space to work or study, or simply a cozy spot to enjoy coffee and a book, these cafes offer it all. So, why choose a book cafe? Because it's where the pages of your favorite books come to life.
FAQ for Book Café in KL & Selangor
Do book cafes in KL & Selangor provide Wi-Fi?
Yes, most cafes offer free Wi-Fi for customers. It's common to find power outlets as well, making them suitable for remote work or studying.
4. What types of cuisine can I expect at cafes in KL & Selangor?
Cafe menus in KL & Selangor are diverse, offering a range of cuisines from Western and Asian to fusion and specialty dishes. You'll find everything from coffee and desserts to full meals.
Are there vegetarian or vegan options available at cafes?
Yes, many book cafes in KL & Selangor offer vegetarian and vegan menu items, including plant-based beverages, dishes, and desserts. They cater to various dietary preferences.
Can I buy books at book cafes in KL & Selangor?
Yes, book cafes often sell books, magazines, or offer a book exchange system where you can purchase or swap books.
Let's Visit The Best Book Café in KL & Selangor Now!
In conclusion, the best book cafes in KL & Selangor offer a haven for book lovers and coffee enthusiasts alike. These cozy spaces provide not just an escape from the bustling city life, but a sanctuary to unwind, read, work, or simply enjoy a cup of coffee. With their diverse book selections, warm atmospheres, and delightful treats, these cafes make for perfect getaways to nourish your mind and soul.
Whether you're a local resident or a visitor exploring the region, these book cafes beckon with their inviting interiors, knowledgeable staff, and the promise of relaxation.
They cater to various preferences, from those seeking solitude with a good book to those looking for a spot to work or chat with friends. The fusion of literature and cafe culture creates a unique and enchanting experience that keeps patrons coming back for more.
So, next time you're in KL & Selangor and in need of a literary escape or simply a cozy place to enjoy a hot beverage, consider visiting one of these book cafes. Each one has its own charm and character, ensuring that there's a perfect spot for everyone to savor a good read and a great cup of coffee.
Read Next: