Looking for a 5 star hotel in Penang? Check out these best luxury hotels in Penang for your family vacation, honeymoon, and business trip!!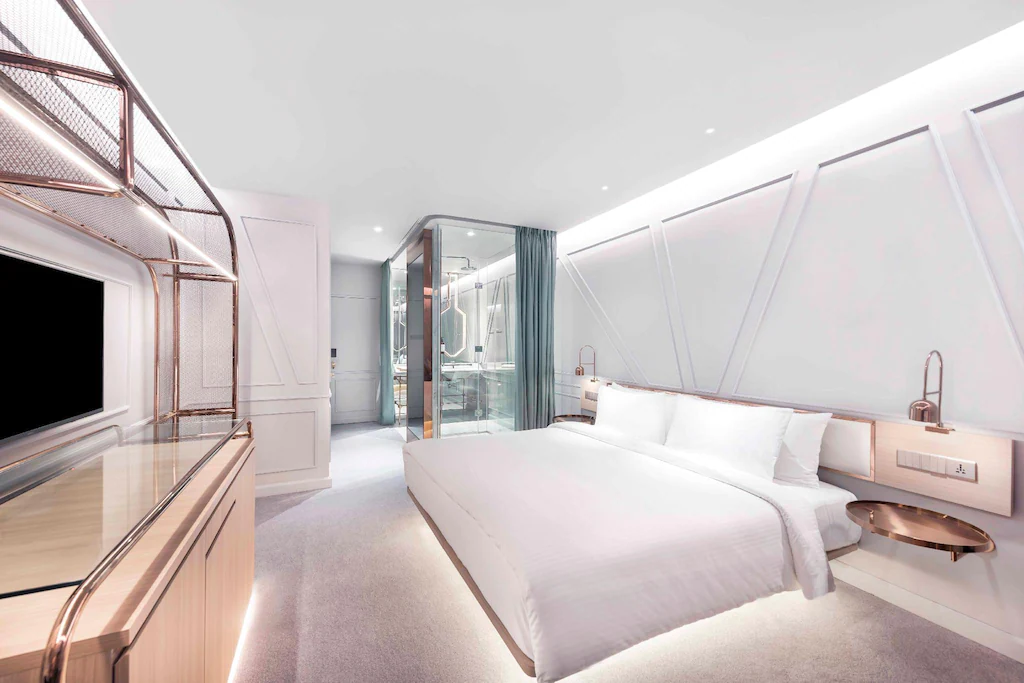 Penang, located on the northwest coast of Malaysia, is renowned for its rich cultural heritage, vibrant street art, and delectable street food, making it a popular destination for tourists and food enthusiasts alike.
The island of Penang offers a diverse range of attractions, including stunning beaches, historic landmarks like George Town's UNESCO World Heritage Site, and a thriving arts scene, making it a captivating blend of old-world charm and modern allure.
To make finding a Penang luxury hotel easier for you, we have created a list of the best 5 star hotels in Penang for your vacation with family, honeymoon, or business trip.
Let's dive right in!
Best 5 Star Hotels in Penang: Quick Overview
Here are the best 5 star hotels in Penang for your quick overview. All of these Penang luxury hotels have high review rating and will give you a great experience during your stay:
Top 10 Best 5 Star Hotels in Penang
Without further ado, here are some of the best 5 star hotels in Penang. These Penang luxury hotels are sure to impress you!
1. 5 Star Hotel in Penang – The Prestige Hotel Penang [Review]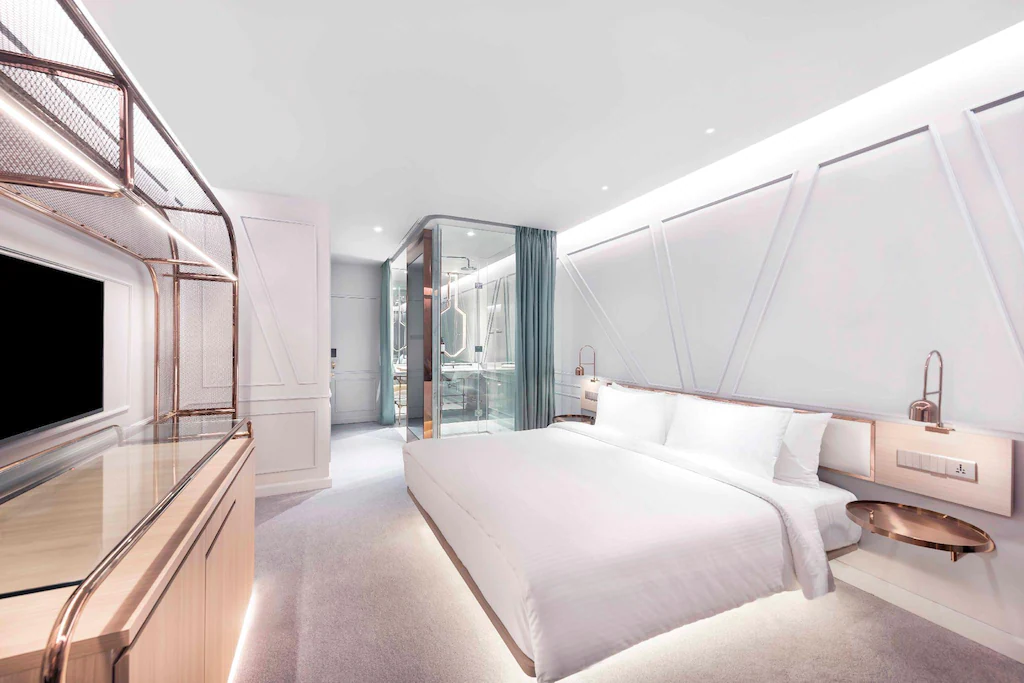 Located in the heart of George Town, just 2.6 km from Northam Beach, The Prestige Hotel Penang offers a captivating stay with its range of amenities and services.
As a 5-star hotel in Penang, it features a fitness center for guests to maintain their wellness, along with convenient free private parking and an on-site restaurant. With the added convenience of free WiFi and a 24-hour front desk, guests can expect a seamless and enjoyable experience.
The hotel is non-smoking and is conveniently positioned only 200 meters away from the Wonderfood Museum.
The rooms at The Prestige Hotel Penang are designed to provide utmost comfort and convenience. Equipped with a kettle for your convenience, each room offers a private bathroom complete with a bidet and free toiletries.
Guests can unwind while watching their favorite shows on the flat-screen TV, or relax in the air-conditioned comfort. Some rooms even boast a separate seating area for added relaxation. The guest rooms also feature a desk and a coffee machine, ensuring a well-rounded experience.
Start your day off right with a delightful buffet breakfast available each morning at the accommodation. The hotel's prime location allows for easy access to nearby attractions, with 1st Avenue Penang just 1.8 km away and the Rainbow Skywalk at Komtar only 2 km away.
For travelers flying in, Penang International Airport is conveniently situated 15 km from the hotel, ensuring a smooth and hassle-free journey.
Experience the charm and convenience of The Prestige Hotel Penang as it provides a welcoming and comfortable retreat amidst the vibrant city of George Town.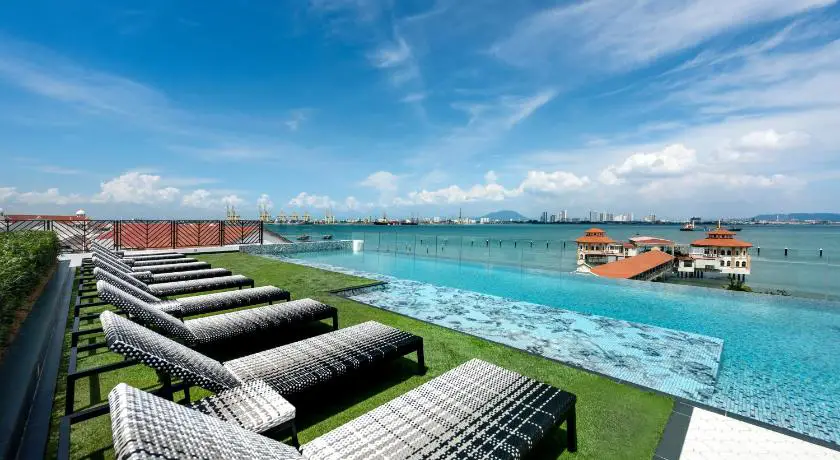 Price: Starts at RM559 per night
Location: 8 Gat Lebuh Gereja, Georgetown, 10200 Penang, Malaysia
2. 5 Star Hotel in Penang – Eastern And Oriental Hotel [Review]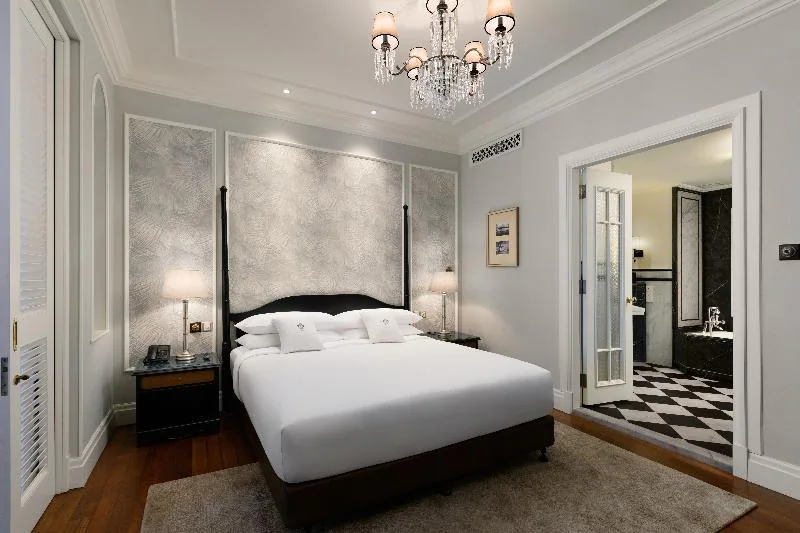 With a legacy dating back to 1885 as Penang's original luxury hotel, the captivating E&O Hotel in George Town continues to enchant guests with its timeless elegance and rich history.
Divided into the new Heritage Wing and the business-oriented Victory Annex, this seaside hotel offers a range of luxurious suites, ranging in size from 58m² to 522m², complete with air-conditioning, complimentary WiFi, flatscreen TVs, and private balconies, while also providing family rooms for those traveling with loved ones.
Immerse yourself in the hotel's array of services, which includes complimentary yoga classes, a fully-equipped business center, an organic spa, and a state-of-the-art fitness center.
Indulge in culinary delights at the Poolside Terrace, a bar and restaurant boasting breathtaking views of the Andaman Sea or savor exquisite meals at Sarkies restaurant or the Planters Lounge.
Additionally, the hotel features an on-site gallery dedicated to showcasing the captivating history and heritage of Penang.
For an unrivaled 5-star experience in George Town, E&O Hotel stands as the ultimate accommodation choice, combining its iconic status as the original luxury 5 star hotel in Penang with modern comforts and exceptional service.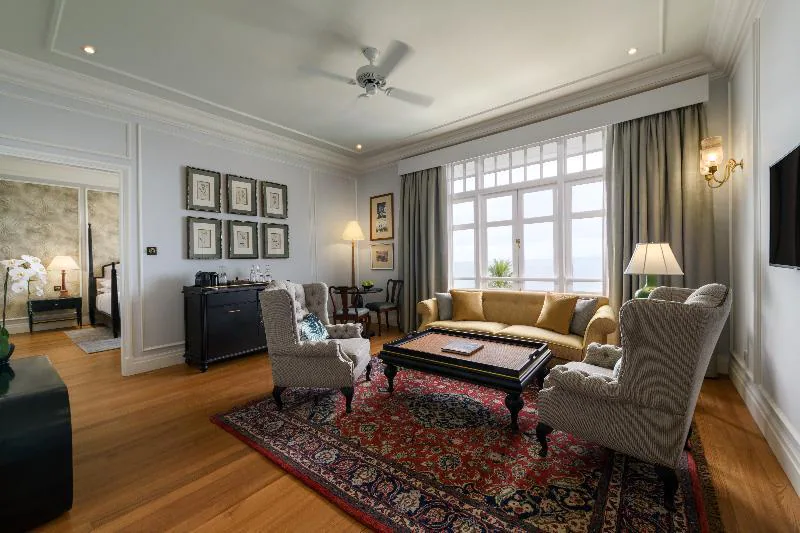 Price: Starts at RM828 per night
Location: 10, Lebuh Farquhar, George Town, 10200 George Town, Pulau Pinang
3. 5 Star Hotel in Penang – Angsana Teluk Bahang [Review]
If you're seeking hotels in Penang with private pool options, make sure to check out the Angsana in Teluk Bahang, but be sure to book the specific Pool Suite as not all rooms have a pool.
Situated in the tranquil northwestern tip of Penang Island, the Angsana is an innovative and well-designed 5-star hotel with comfortable, beautifully furnished rooms and suites that offer breathtaking ocean views.
Among the range of rooms and suites available at Angsana, the impressive two-bedroom Pool Suite stands out. It boasts a private swimming pool and features two separate bedrooms with king-size beds, a private kitchenette, two en-suite bathrooms with spacious bathtubs, a living room, dining area, smart TVs, and much more.
The suite's standout feature is the way the swimming pool wraps around it, allowing direct access from both bedrooms. Additionally, there's a small decking area where guests can sit outside and enjoy the pool and view.
At the Angsana hotel, you'll also find three outdoor swimming pools, including an infinity pool with a beautiful view (check if your room includes free access), a kids' pool with a water slide, and another outdoor swimming pool.
The hotel even provides a kids' playroom. The interior design of Angsana is inspired by the vibrant and colorful Peranakan culture, adding a celebration of local art and heritage.
Guests can enjoy buffet, continental, or American breakfast options daily, and there's a children's playground and dart-playing facilities available.
Located in the quiet and serene Teluk Bahang area, the Angsana hotel is the sole accommodation option in this region. It occupies a pristine beachfront location, offering guests a clean and peaceful beach experience. Teluk Bahang is also an ideal base for exploring Penang's attractions.
Within the vicinity, you'll find the thrilling ESCAPE Adventure Park just 200 meters away, the fascinating Entopia insect and reptile conservatory (only 500 meters away), Taman Rimba Teluk Bahang, and the Penang National Park – the world's smallest national park.
The national park offers trekking opportunities and is home to two main beaches, Monkey Beach and Turtle Beach. The nearest airport, Penang International Airport, is located 35 km from Angsana Teluk Bahang, Penang.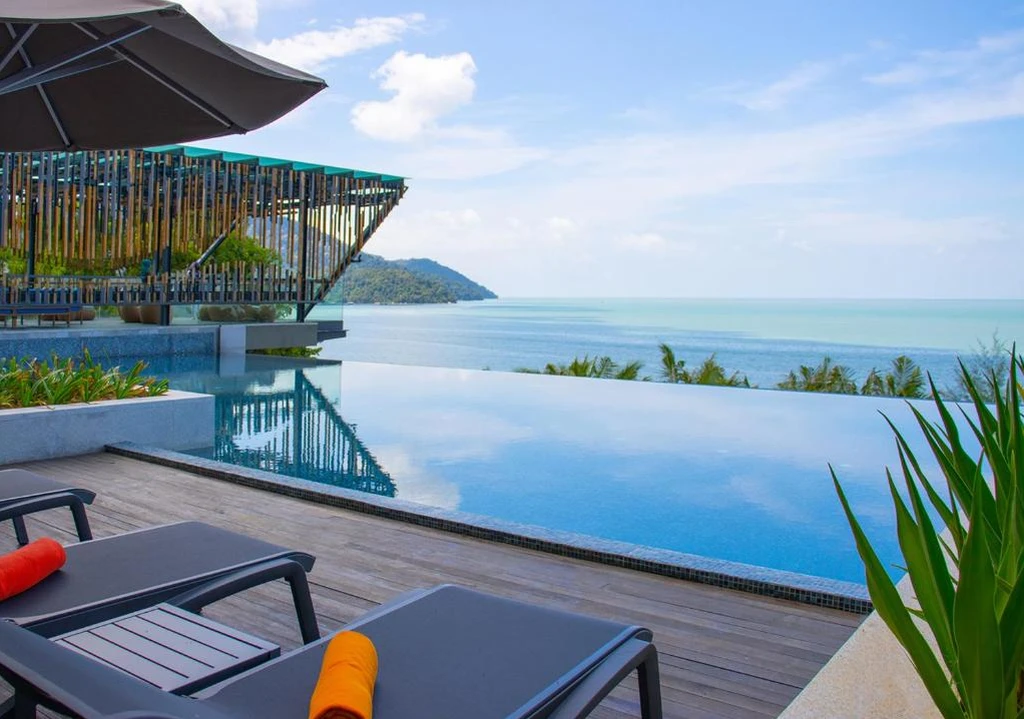 Price: Starting from RM455 per night
Location: 11, Jalan Teluk Bahang, 11050 Teluk Bahang, Malaysia 
4. 5 Star Hotel in Penang – G Hotel Kelawai [Review]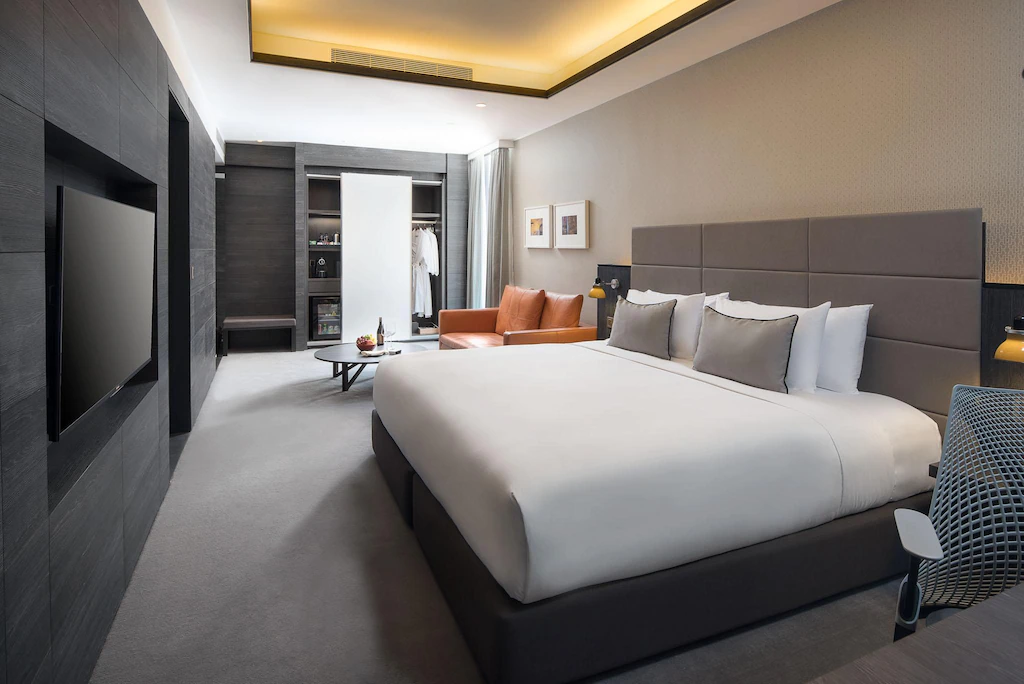 The G Hotel Kelawai is a 5 star hotel in Penang that offer an exclusive experience to its guests.
With five types of rooms available, ranging from Deluxe Rooms to Executive Lounges, this hotel on Gurney Drive is designed to cater to diverse preferences.
Located on the 24th floor, guests can indulge in the panoramic views while enjoying the offerings of the coffee house, lobby lounge, and chill-out bar. The outdoor infinity pool is a sight to behold, providing a stunning backdrop for relaxation, and the fitness center allows guests to stay active and offset the indulgence of the delectable cuisine.
All rooms are equipped with essential amenities, including WiFi, air-conditioning, flatscreen TVs, and minibars, ensuring a comfortable stay. For those seeking contemporary and design-conscious accommodations in close proximity to George Town, this hotel presents itself as the ideal choice. Its blend of modern comforts and stylish aesthetics makes it a top contender in the luxury hotel scene.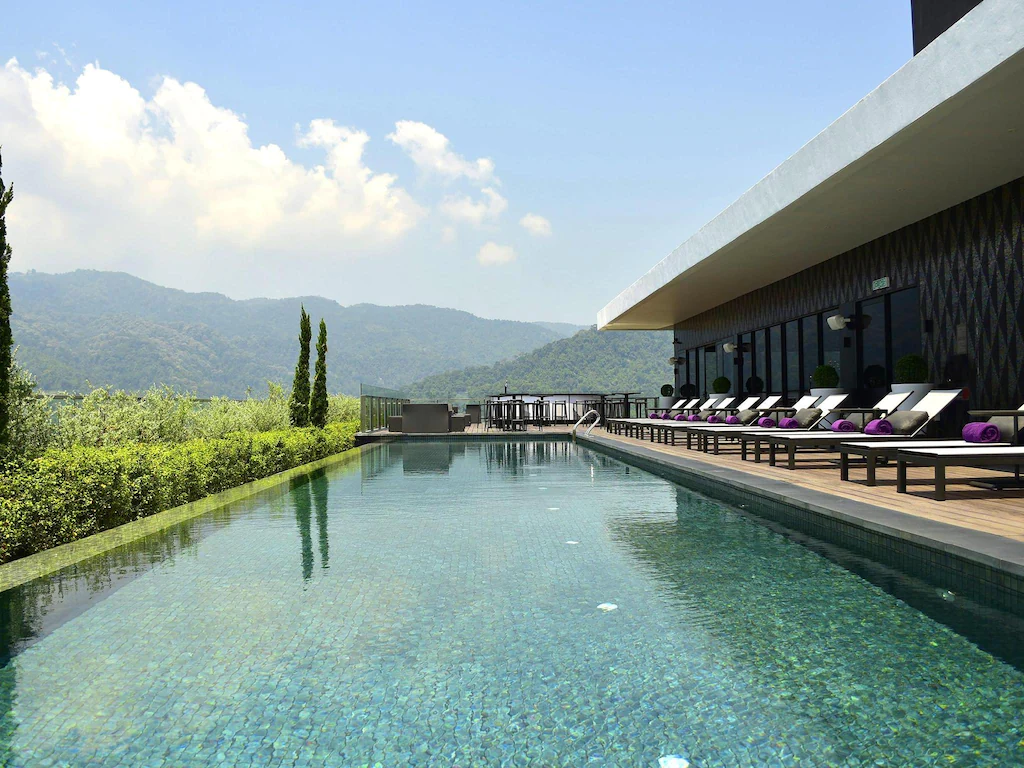 Price: Starts at RM540 per night
Location: 2, Persiaran Maktab, Gurney Drive, 10250 Penang, Malaysia
5. 5 Star Hotel in Penang – Shangri-La Rasa Sayang [Review]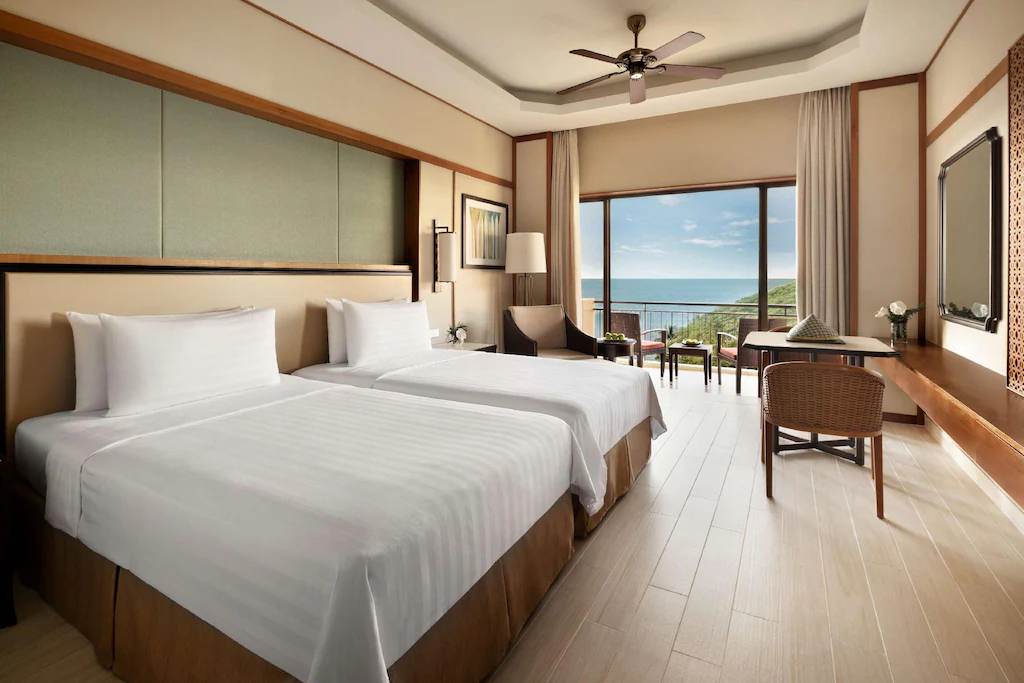 Immerse yourself in the luxurious offerings of this 5-star resort hotel in Penang, where a lagoon-style pool and century-old trees adorn its lush property.
Spanning across two wings, the hotel boasts 304 guest rooms, with the upscale Rasa wing offering a heightened level of luxury and exclusive access to an adults-only swimming pool. Families will find solace in the Garden Wing, which provides a range of nine room types, varying in size from 42m² to 114m².
Experience the tropical paradise from the comfort of your room, as each accommodation features a balcony overlooking the vibrant tropical gardens, the captivating lagoon-style pool, or the majestic Andaman Sea.
Whether you're an avid sports enthusiast or seeking relaxation, this resort has it all. Engage in a variety of activities such as golf and tennis to stay active, or pamper yourself at the serene Chi spa, which offers 11 villas and a yoga pavilion for ultimate relaxation.
With a plethora of options available, you have the freedom to tailor your stay at this resort and spa to suit your individual preferences and needs.
Price: Starts at RM750 per night
Location: Batu Feringgi Beach, Batu Ferringhi, 11100 Penang, Malaysia
6. 5 Star Hotel in Penang – Ascott Gurney Penang [Review]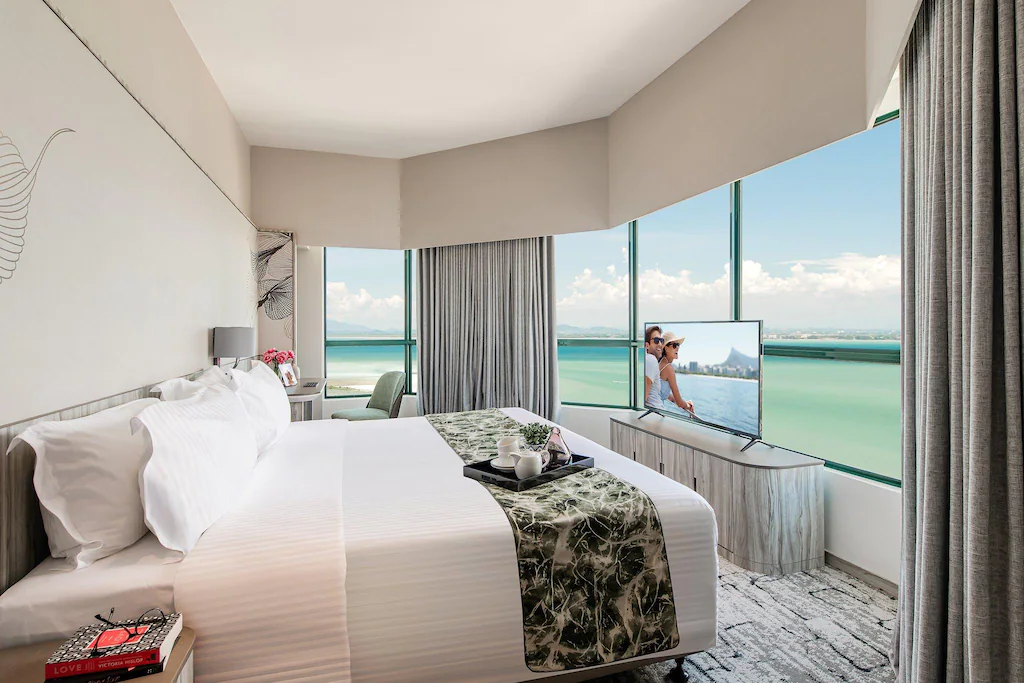 Located conveniently on Gurney Drive, this 5 star hotel in Penang offers a prime location near shopping, dining, and the vibrant capital of George Town, making it a convenient choice for travelers.
The spacious rooms come in various options, including studios, one-bedroom, and two-bedroom accommodations.
Many of these rooms offer magnificent sea views, while all provide essential amenities such as air-conditioning, tea and coffee making facilities, and flatscreen TVs, guaranteeing a luxurious experience befitting a Penang 5-star accommodation.
Indulge in the hotel's numerous facilities, including a magnificent rooftop infinity pool that offers stunning panoramic views, a well-equipped fitness center for those looking to stay active, an outdoor playground for children, and an indoor playroom to keep the little ones entertained.
Additional amenities include a yoga room, BBQ terrace, WiFi access, and a convenient coin-operated laundry facility.
When it comes to dining options, the hotel leaves no stone unturned. Guests can enjoy a variety of restaurants and bars, including a poolside bar that serves as the perfect spot for sunset drinks, ensuring that hunger is never an issue during your stay.
Price: Starts at RM488 per night
Location: No 18, Gurney Drive , Gurney Drive, 10250 Penang, Malaysia
7. 5 Star Hotel in Penang – PARKROYAL Penang Resort [Review]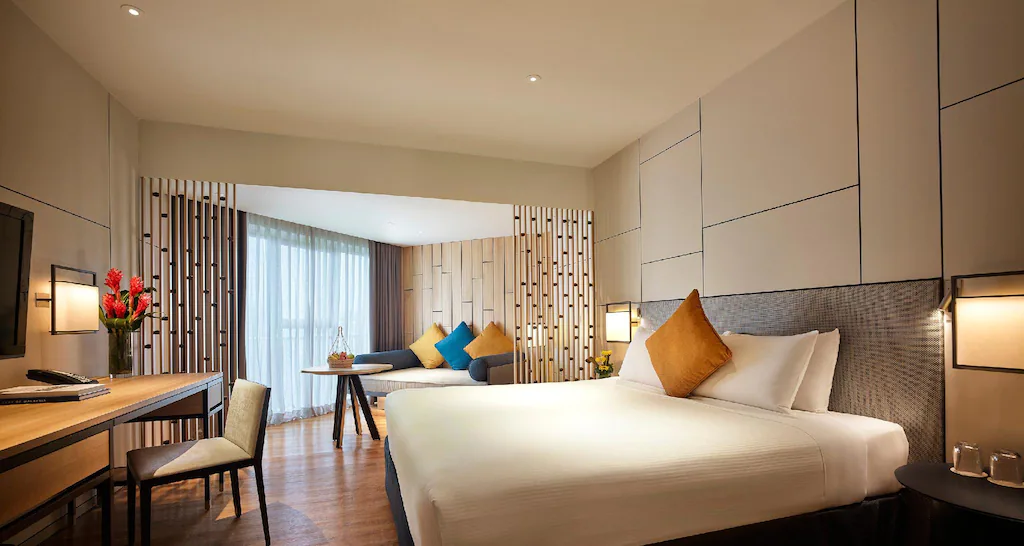 Indulge in a truly luxurious 5-star experience along Batu Ferringhi beach by choosing PARKROYAL Penang Resort as your destination.
With its stunning tropical surroundings and breathtaking panoramic sea views, this 5 star resort in Penang has become a favored choice for weddings and unforgettable getaways.
The rooms exude a crisp and modern ambiance, yet maintain a sense of relaxation through soothing natural colors and tasteful wooden accents.
Every room is equipped with WiFi, as well as coffee and tea making facilities, ensuring convenience and comfort for all guests. Families can take advantage of the availability of spacious family rooms.
Step outside and be greeted by a free-form swimming pool that boasts two large water slides and a separate wading pool, providing endless fun for children. The resort also offers exciting features such as the new Amazonia waterpark and an indoor kid's club, ensuring young ones are well-entertained.
For adults seeking relaxation and rejuvenation, there is a luxurious spa, a well-equipped fitness center, and a convenient business center.
Furthermore, the resort is home to several award-winning restaurants serving a diverse range of delectable local and international cuisines.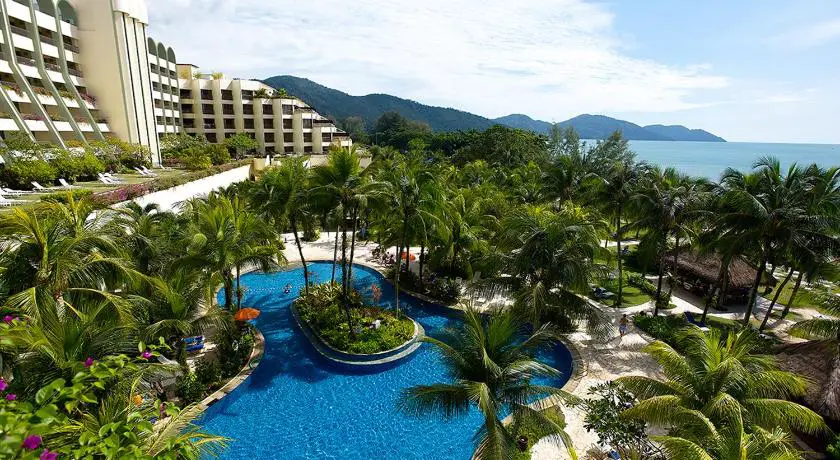 Price: Starts at RM592 per night
Location: Batu Ferringhi Beach, Batu Ferringhi, 11100 Penang, Malaysia
8. 5 Star Hotel in Penang – Hard Rock Hotel Penang [Review]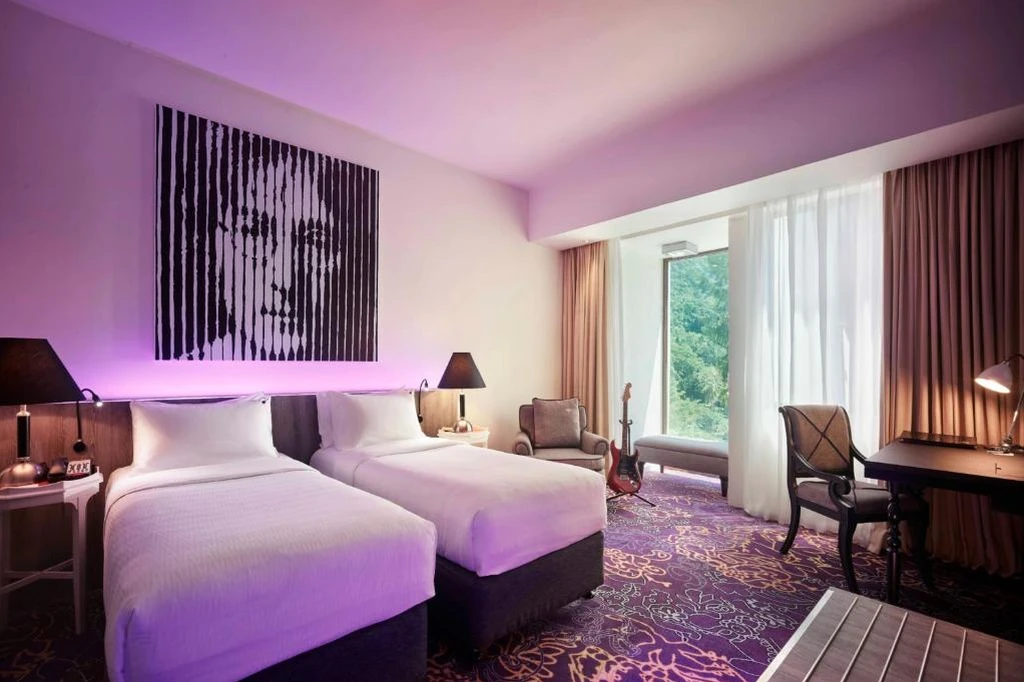 Immerse yourself in the vibrant atmosphere of Hard Rock Hotel Penang, where contemporary accommodations meet the stunning beauty of Batu Ferringhi Beach.
While the hotel doesn't provide entirely private pools in its rooms, it offers an enticing alternative with its swim-up rooms featuring a private pool deck. For those seeking the convenience of a private pool and the freedom to swim and relax at their leisure, the swim-up rooms at Hard Rock Hotel are the perfect choice.
Experience the luxury of the Lagoon Deluxe Room, complete with a shaded deck and comfortable loungers, providing a serene setting overlooking the largest freeform swimming pool in Malaysia, spanning an impressive 26,000 square feet.
The highlight is the hotel's magnificent freeform pool, boasting underwater music and three distinct sections for swimming and enjoyment. With water slides, an interactive play area, and stylish poolside cabanas, both kids and adults will find endless entertainment options.
Indulge in the one-of-a-kind Lagoon Deluxe First suite, offering direct access to the expansive swimming pool. The hotel's exceptional hospitality, coupled with breathtaking ocean views, creates an idyllic paradise for guests to unwind and enjoy.
Guests can indulge in a relaxing massage at Rock Spa, visit the hair salon, or stay active at Body Rock Gym. The hotel also provides a children's and teens club, as well as a business center.
Dining options include Starz Diner, serving a delightful array of local and Continental cuisine, and Pizzeria, offering Italian-inspired dishes in a casual setting. Hard Rock Cafe provides an authentic American dining experience, while the rustic Sandbar is the perfect spot for drinks.
Guests can also enjoy cocktails and snacks at The Shack, the swim-up bar offering stunning sunset views. In-house guests receive exclusive discounts on food, beverages, and merchandise at Hard Rock Café Penang and the Rock Shop.
Free WiFi is available throughout the property. The elegant rooms offer picturesque views of either the surrounding greenery or the ocean and are adorned with designer furnishings.
Equipped with BOSE sound systems, 50-inch LED screen TVs, and free high-definition movies on demand, these rooms ensure a comfortable and entertaining stay.
Hard Rock Hotel Penang is conveniently located within a 5-minute walk from the local night market, a 30-minute drive from the UNESCO World Heritage Site of Georgetown, and a 45-minute drive from Penang International Airport.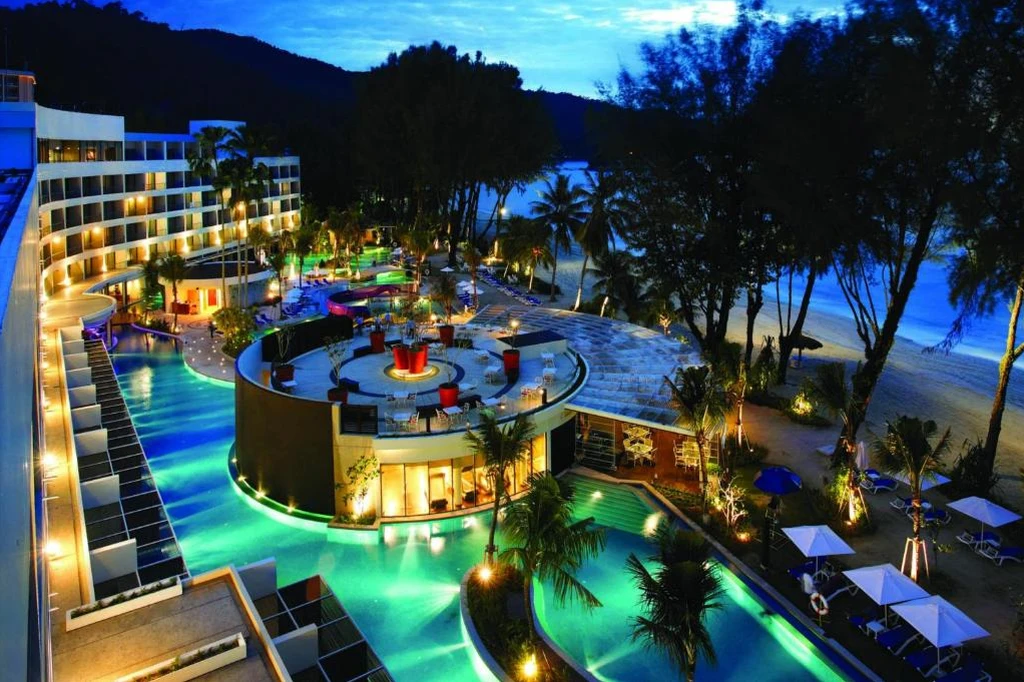 Price: Starting from RM640 per night
Location: Batu Ferringhi Beach, 11100 Batu Ferringhi, Malaysia
9. 5 Star Hotel in Penang – G Hotel Gurney [Review]
Discover the epitome of luxury at G Hotel Gurney, one of the best 5 star hotels in Penang.
This remarkable hotel offers seven enticing room types, catering to various needs, including family-oriented Deluxe rooms and suites, as well as Executive rooms designed for business travelers. Couples seeking a unique experience will find solace in the Duplex rooms, boasting two floors of exquisite comfort.
Prepare for a culinary adventure, as G Hotel Gurney spoils guests with an impressive selection of 12 dining and beverage establishments. Among the offerings, you can indulge in a ramen bar and enjoy al-fresco dining amidst a perfect ambiance.
The sleek ground floor lobby houses the remarkable G Lounge, home to Penang Island's longest bar, stretching an impressive 46 feet. This trendy spot serves up the latest urban-inspired cocktails, ensuring an unforgettable experience.
Beyond exceptional dining, the hotel provides an array of additional luxuries for guests to enjoy. Unleash your productivity at the well-equipped business center, maintain your fitness routine at the fitness center, and take refreshing dips in the inviting pool.
These remarkable amenities are just a glimpse into the lavish experiences awaiting you at this distinguished 5-star gem among Penang hotels.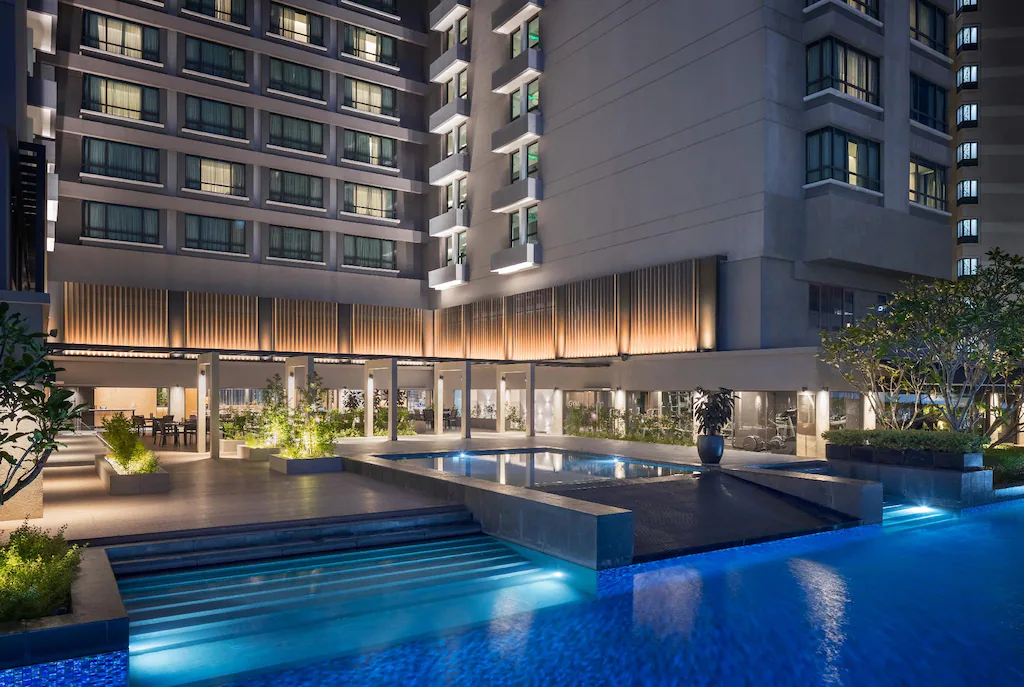 Price: Starts at RM666 per night
Location: 168A, Persiaran Gurney, Gurney Drive, 10250 Penang, Malaysia
10. 5 Star Hotel in Penang – Lexis Suites Penang [Review]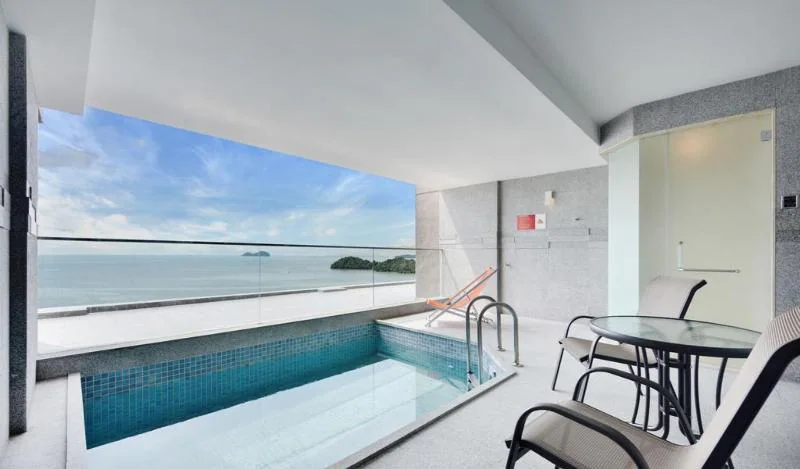 Look no further for the best option in Penang when it comes to hotels with private pool suites than Lexis Suites. Prepare to be amazed at the value you'll get for your money at this exceptional property.
 Situated in Bayan Lepas on the south coast of Penang, Lexis Suites Hotel is a towering structure offering luxurious accommodations.
The private pool suites at Lexis Suites are not only spacious and indulgent but also provide stunning views. In addition to the opulent suites, the hotel boasts outstanding facilities and amenities, including a kids playroom, an outdoor swimming pool, and a private beach. It's hard to find a reason not to love this place!
At Lexis Suites, you have two types of rooms to choose from: the Executive Pool Suite and the Premium Pool Suite. Both options come with your very own private swimming pool. The pool's design ensures complete privacy.
The Premium Pool Suite offers the advantage of extra space, along with a large ocean-facing pool. This impressive suite also features two double beds, accommodating up to four people, and even includes a steam room.
The staff at Lexis Suites are known for their exceptional friendliness and helpfulness.
However, it's important to note that the main drawback of Lexis Suites is its location. While there's nothing wrong with the area itself, Bayan Lepas is quite far from many popular attractions in Penang.
Traveling from the south to the north of the island can take an hour or more, and most of the island's best attractions, such as Georgetown, the botanical gardens, Batu Ferringhi, ESCAPE, the national park, and Entopia, are located in the north.
In short, if you're seeking hotels in Penang with private pool suites, Lexis Suites is undeniably our top pick.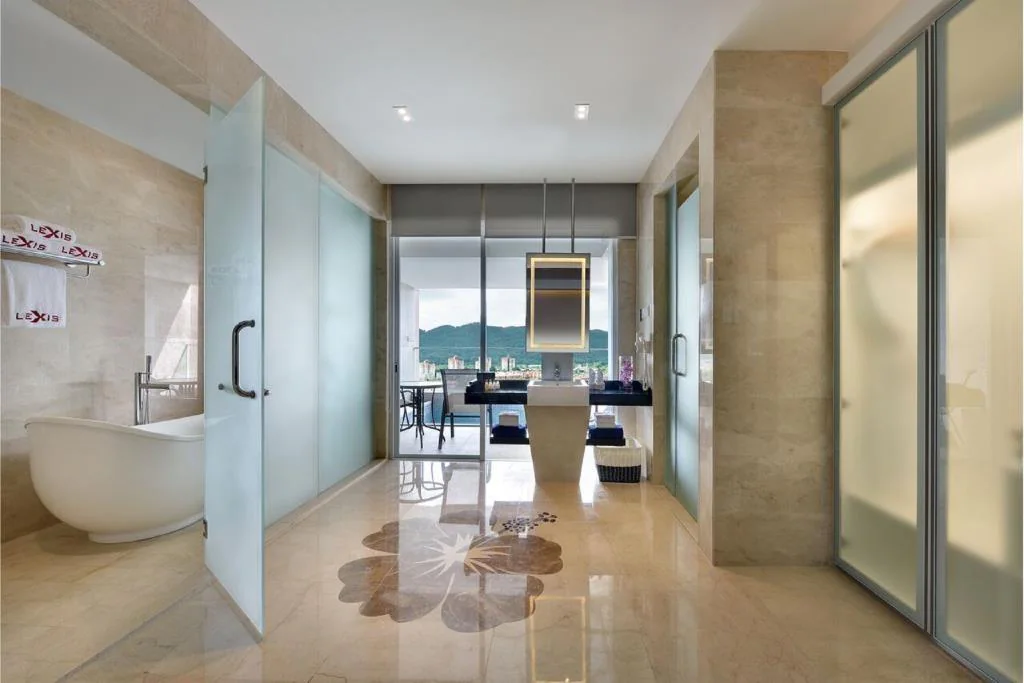 Price: Starts at RM602 per night
Location: 28, Jalan Teluk Kumbar, 11920 Bayan Lepas, Pulau Pinang
Why You Should Stay in a Luxury 5 Star Hotel in Penang?
When it comes to choosing accommodations for your stay in Penang, there are compelling reasons why you should consider indulging in the experience of a luxury 5-star hotel.
First and foremost, staying in a luxury 5-star hotel in Penang guarantees an unparalleled level of comfort and sophistication.
From the moment you step foot into the grand lobby, you'll be greeted by a world of elegance and refined aesthetics. The rooms and suites are meticulously designed, combining stylish decor with state-of-the-art amenities to create a haven of relaxation and indulgence.
Furthermore, these prestigious hotels pride themselves on providing impeccable service. From the warm and friendly staff who cater to your every need to the personalized attention to detail, you'll feel like a VIP throughout your stay.
Whether you require assistance with travel arrangements, dining recommendations, or any other requests, the dedicated staff will ensure that your experience is seamless and memorable.
Luxury 5-star hotels in Penang also offer an impressive range of facilities and amenities. From stunning infinity pools with panoramic views to world-class spas and fitness centers, these establishments provide a haven of relaxation and rejuvenation.
Whether you want to pamper yourself with a soothing massage or engage in invigorating workouts, these hotels have you covered.
Additionally, dining at a luxury 5-star hotel is an experience in itself. With multiple award-winning restaurants offering a diverse array of cuisines, you'll embark on a culinary journey like no other.
From local delicacies to international flavors, each dish is prepared with the utmost care and creativity, leaving your taste buds thoroughly satisfied.
Ultimately, staying in a luxury 5-star hotel in Penang elevates your entire travel experience. It allows you to immerse yourself in a world of luxury, comfort, and unparalleled hospitality.
Whether you're visiting for leisure or business, these prestigious establishments ensure that your stay in Penang becomes a cherished memory that you'll treasure for years to come.
FAQ
Are there family-friendly options available at 5-star hotels in Penang?
Yes, many 5-star hotels offer family suites or interconnected rooms and other amenities like kid's clubs, playgrounds, and activities for children.
Can I expect a convenient location when staying at a 5-star hotel in Penang?
Yes, many 5-star hotels are strategically located near popular attractions, shopping areas, and dining options. Some hotels offer stunning beachfront or city center locations
Are 5-star hotels in Penang suitable for business travelers?
Absolutely, most 5-star hotels provide business amenities such as meeting rooms, conference facilities, and high-speed internet access. Dedicated business centers and services are also available.
Do 5-star hotels in Penang have accessible rooms for guests with disabilities?
Yes, many hotels offer accessible rooms designed for guests with disabilities or mobility challenges. These rooms feature wider doorways, grab bars, and other accessible features.
Enjoy Your Stay at the Best 5 Star Hotel in Penang!
In conclusion, Penang offers a range of top-notch 5-star hotels that provide exceptional experiences for travelers.
These luxury hotels boast luxurious amenities, impeccable service, and convenient locations. From well-appointed rooms to exquisite dining options and leisure facilities, these hotels cater to both leisure and business travelers.
Whether you're seeking a family-friendly retreat or a sophisticated urban escape, the best 5-star hotels in Penang deliver a memorable stay with their warm hospitality and attention to detail.
Read Next: