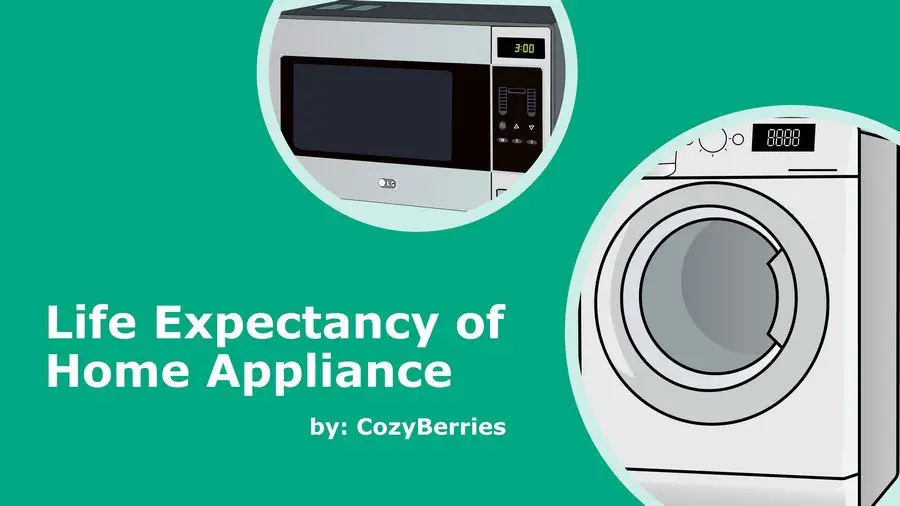 Curious about the life expectancy of home appliances in your home?
As consumers, we always look for products that last longer in lifespan, especially home appliances.
I believe no one likes to change their home appliances every 1 to 2 years, right?
With the increasing cost of electrical appliances, most consumers would want their appliances to last for as long as possible.
Fortunately, most bulky and expensive appliances like refrigerators, dishwashers, air-conditioners, washing machines, and dryers from reputable brands are built with high-quality materials and components, which allow them to last for their full life expectancy or more than that.
By knowing the expected lifespan of a particular home appliance, you then can decide which appliances are worth your attention in maintaining them to avoid repairs or replacements.
The Life Expectancy of 9 Major Home Appliances
Here's the list of the life expectancy of home appliances:
Refrigerators – 15 years
Gas stoves – 14 years
Electric hoods – 13 years
Electric stoves – 12 years
Freezers – 12 years
Dryers – 11 years
Washing machines – 10 years
Microwaves – 10 years
Dishwashers – 9 years
Air Fryers – 8 years
How Long Do Refrigerators Last?
Refrigerators made from reputable brands are one of the most durable home appliances, despite operating 24 hours non-stop to keep your foods fresh and frozen.
To extend the lifespan of your refrigerator, vacuum the air intake frequently to prevent clog and protect the compressor from overload.
Clean the rubber door gaskets regularly with a mild cleaning agent and cloth.
How Long Do Gas Stoves Last?
With proper maintenance, gas stoves can last about 14 years or even more.
Besides, most gas stoves are easy to maintain, just clean the grates from time to time by using a mild detergent.
Also, make sure you don't drop any tiny things into the burner's holes.
How Long Do Electric Hoods Last?
On average, electric hoods can last up to 13 years with proper maintenance.
Clean it occasionally with sponge and detergent to wipe off the grease residual.
If the hood is filter-based, make sure you replace the filter every 9 to 12 months depending on usage.
How Long Do Electric Stoves Last?
An electric stove is also a durable appliance that can last about 12 years if well-maintained.
For the stove surface, just wipe it with cloth and detergent after each cooking session, and for the stove body, clean weekly or monthly with a cloth or sponge with detergent.
How Long Do Freezers Last?
A well-maintained standalone freezer can last about 12 years.
Same as the refrigerators, freezers are made to run for 24 hours every day for over 10 years and more.
Vacuum the area of the coils to remove any dust.
Clean the interior of the freezer once every 3 to 6 months with detergent.
How Long Do Dryers Last?
Most dryers have a lifespan of 11 years with regular maintenance.
Clean the debris from the filter screen and drum with a cloth and mild detergent.
How Long Do Washing Machines Last?
Washing machines usually last for 10 years or more with regular cleaning.
Clean the interior drum and filter screen regularly to remove any residual debris.
How Long Do Microwaves Last?
High-quality microwaves are expected to last for at least 10 years with regular maintenance.
Clean the interior of the microwave after each use.
Clean the carousel tray once every few months.
Never run the microwave when there's no food inside.
How Long Do Dishwashers Last?
Dishwashers can last about 9 years with frequent cleaning.
Monitor the dishwasher air vent regularly to ensure it's clean and clear.
Clean the body of the dishwasher once every few weeks.
How Long Do Air Fryers Last?
With regular cleaning routine, an Air fryer can last about 8 years.
Cleaning an air fryer is easy and quick, just take out the basket and pan and wash with dish detergent after each use.
Wipe the interior and exterior body with a slightly wet cloth.
Bottom line
On average, the life expectancy of home appliances is considered long with regular maintenance, they are some of the best investments you can make for your home.
Home appliances are convenient and do a fantastic job of making your life easier.
Read Next: